Come on and— ease on down, ease on down the road! Pick up your left foot when your right foot's down, and head to the Mt. Vernon side of Charm City Town. You've got to— ease on down, ease on down the road! It's time to ease on down, ease on down the road! Pick up your tickets— for this show that is— come on down to Spots and see their show of The Wiz! It's time to— ease on down, ease on down the road! Come on and— ease on down, ease on down the road! The Audrey Herman Spotlighters Theatre is taking you down that yellow brick road in style with their spring production of The Wiz in the back half of their 55th season. Directed by Tracie M Jiggetts, with Musical Direction by Brandon Booth, the urbanized retelling of L. Frank Baum's classic The Wizard of Oz has everything your heart desires when it comes to musical theatre! Just click your heels three times, and think there's no place like Spots! There's no place like Spots! THERE'S NO PLACE LIKE SPOTS! And be prepared to be swept away in a tornado of talent all the way down to the emerald side of town!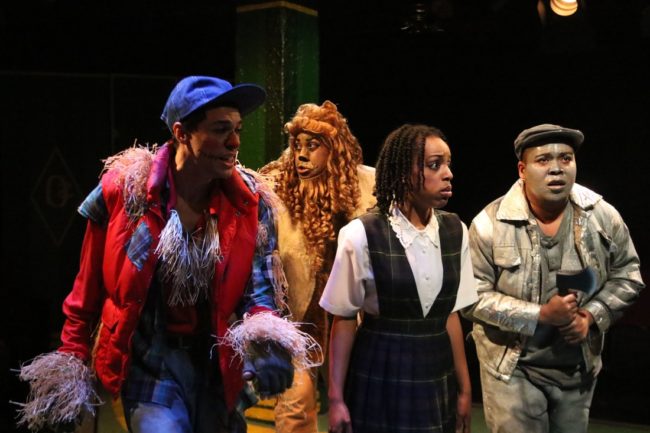 Whipped up like some technicolor dessert smorgasbord, Resident Scenic Designer Alan S. Zemla has truly transformed the four corners of the earth inside the uniquely intimate space of Spotlighters. It's almost a navigational layout of the Oz map in a true nod to the original movie's use of color, bright saturations in every hue imaginable— especially ruby poppies, emerald greens, and glittering gold— filling every available space in and around the support poles to integrate them fully into the set. Each corner covers a whimsical location, everything from the aforementioned poppies to the dark and scary woods, even Aunt Em's dustbowl farm is well-represented. Zemla's attention to detail is beyond praiseworthy, particularly when it comes to his nods to the film— like the enormous mask of the Wizard tucked away inside the gates of the Emerald City. Augmenting Zemla's incredible set, Artistic Director Fuzz Roark lays down his paint skills on the stage's floor and creates a truly artistic and intentionally crooked yellow brick road that swivels out and catches everyone's eye.
Roark, who also serves as the show's Costume Designer, has tucked his own clever nods to the original MGM film from which the show takes its inspiration. Aunt Em's skirt is the same pattern and color scheme as Dorothy Gale's iconic blue checkered dress, for example. Roark is masterful when it comes to outfitting the cast— along with a team of Winkie Construction Assistants (Karen Eske, Cheryl Robinson, and Sarah Watson.) Each outfit is unique and fitted for not only the character on which it is displayed but well suited for each individual performer. By far the cutest are the rainbow selection featured on the adorable Munchkin Delegation (Phoenix Averiyire, Neves R. Jones, and Sofia Raquel Esme D'Ambrosi.) Roark outdoes himself with the stunning couture featured on both The Wizard and for Evillene. There could be a fashion showdown between the high-collared regal top of villainy complete with corset for the wicked witch and that snazzy as sin coat worn by the Wizard. Other outfits that stun, mystify, and enchant include the glorious glittering gown featured on Addaperle in swirls of sky blue and the whimsical dress of dreams seen on Glinda towards the show's finale.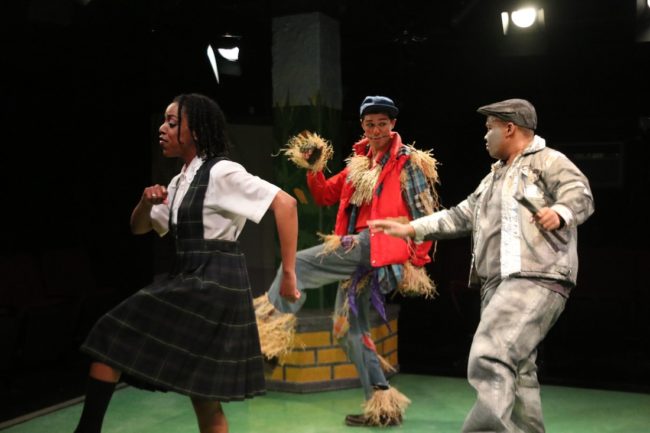 Resident Lighting Designer Al Ramer has a few cues to tweak but on the whole, the blinks and flashes of lightning that roll through the Tornado Ballet and the red flash and flood that fills the Poppy field scene are on point with the show's overall aesthetic. There are a great many moments throughout the production where the lighting gives the audience a real opportunity to appreciate and absorb all of the beauty that Zemla and Roark have put into the set as well as all of the miraculous color that has filled the space.
With a trio of Choreography attached to the production, it's no wonder that the dance routines of Director Tracie M. Jiggetts, Timoth David Copney, and Aliyah Caldwell is wildly wonderful. The Emerald City Ballet, Lion's Dream, and The Tornado Ballet (all featuring the Oz Dance Company, which includes Caldwell in addition to Stephanie Crockett and Kimani Lee) are all outstanding examples of modern ballet routines fused into this 1970's African-American cultural musical adventure. Copney's spin and twirl routine, featured during "So You Wanted to Meet the Wizard" is filled with flare and full of fantastical panache that really punches up the character's presence significantly. The "Ease On Down the Road" choreography is fun, upbeat, and feel-good, encouraging the audience to tap toes and stomp feet while enjoying what they're watching.
Musical Director Brandon Booth, who does a lot of backup vocal singing right from the pit tucked away in the back of the poppy fields, and Director Tracie M. Jiggetts do their best to present a fun, fantastical evening of entertainment. Despite a few vocal blowouts and strains, which are the nature of the beast that is live theatre, both Booth and Jiggetts rally the cast to pull together and put their heart into the performance, making it thoroughly enjoyable for all in attendance. With a well-rounded and fully talented cast, there's a little something for everyone to enjoy in this production of The Wiz.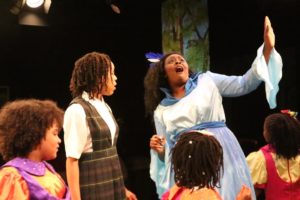 Age don't mean a thing when it comes to ferocity and gumption, with the whole Munchkin Delegation— Phoenix Averiyire, Neves R. Jones, and Sofia Raquel Esme D'Ambrosi— proving that from the moment Dorothy lands in Oz. Lead by Averiyire, who has a sassy streak as bright as her rainbow leggings, puts panache and pizzazz tenfold into her solo feature during "He's The Wiz", which is fully rounded out by the vivaciously sensational Addaperle (Renata Hammond.) Taking the lead on sass and cheeky attitude, Hammond is a hoot in the role, lending her powerhouse vocals, though much toned back to suit the style of the song, to this moment. Reappearing in the second act as the slightly snarky messenger and showcasing her performance versatility, Hammond gets a chance to get her jokes in all throughout the show, but none quite so much as her return as Addaperle late in the show.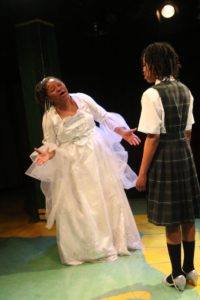 Working our way through the witches, it's hard to imagine a more delectably dulcet tone than that of Glinda (Elaine Foster) when she sweeps into Oz to assist Dorothy with her return to Aunt Em (Darlene Harris, who at this performance spoke rhythmically and beautifully through her solo "The Feeling We Once Had" to compensate for laryngitis-like conditions.) Truly making you believe what you feel for "Believe In Yourself (Reprise)", Foster uses her soothing sound like a lullaby to assuage the soul, showing Dorothy the true path to home. Her voice is equally pleasant in "A Rested Body is a Rested Mind" and the way she comports herself upon the stage in that glamorously elegant gown is magnificent.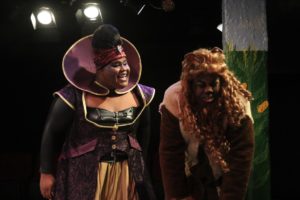 Over the top, bad-to-the-bone witch-with-a-capital-B is what DDm is bringing to the role of Evillene. Fierce doesn't begin to do DDm justice as this snarling, shrieking, banshee of a bad-word. Stage presence alone is enough to make everyone jump up and run for the hills, cowering in sheer mesmerized terror at just how ferocious of a personality is presented. Only having one number in which to make the presence of Evillene felt, DDm is not throwing away their shot. Blasting, belting, and all but belching out "No Bad News", hands down does DDm steal the show in this power-play moment. Larger than life and beyond intimidating, DDm is making waves in those shiny boots and ain't nobody gonna stop that witch— not no way— not no how!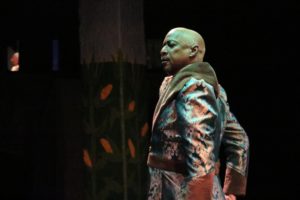 Giving Evillene a good run for their money, The Wiz (Timoth David Copney) is as magnificent and wonderful as everyone expects him to be when he comes swirling out from behind the vivid verdigris gates of Emerald City in "So You Wanted to Meet the Wizard." With a dazzling vocal affectation, Copney embodies all that Wizness-business with majesty and fabulous flare, making him every bit the titular character he ought to be. There is a sincerity to his vocal performance late in the second act, which supersedes all of his fabulous flimflammery; "Believe in Yourself" features Copney's robust singing voice and simply lovely sentimentality as well.
Lion (J. Purnell Hargrove) and TinMan (Shae Henry) and Scarecrow (Justin Johnson), oh my! This trio of characters are some crack-up comics if ever there was a merry band of bumbling ragamuffins. With each one bringing their unique sense of performance style, vocal ability, and genuine sincerity to the performance, they become the iconic characters which all adaptations of The Wizard of Oz knows so well. When their voices blend in four-part harmonies with Dorothy for the quartet sections of "Ease On Down the Road" its vocal bliss, inspiring an audience to mellow out into the jubilation and natural happiness that the show provides.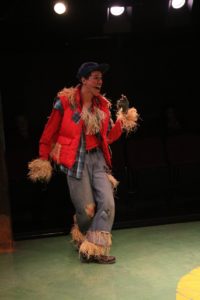 Justin Johnson is all jokes when it comes to that heinous laugh with which he imbues the character of Scarecrow. Patched up in straw and spinning like a twister, Johnson really works his physicality to get the limber nature of the strawman in full gear for "I Was Born on the Day Before Yesterday." Though not deeply steeped in the brains department, Johnson's approach to the character is completely courageous, taking it to depths beyond that of the average stumble-down stick fella. Keeping himself mindfully present, like all three members of the trio, Johnson is a balanced bale of straw when it comes to holding up his third of these comic comrades.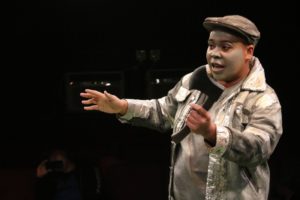 Shae Henry is smart with his jazzy stylings, especially during "Slide Some Oil to Me." With slick vocals that could butter up ten biscuits, Henry lays into the oil of the TinMan character and comes out shining like his silver costume. Despite the character's lack of heart, Henry has plenty to spare, particularly in his tearfully sincere "To Be Able To Feel", the Act I closing number. There is a raw honesty to the way Henry's voice carries this number, truly tugging at the heartstrings as he simply spins the square of the stage and sings from deep inside his own heart.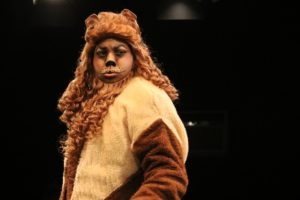 Watch out now! J. Purnell Hargrove ain't no pussycat when it comes to courageously attacking the character of the lion. Throwing more shade than a jumbo beach umbrella and sassing straight through that fourth wall, Hargrove is the cat's meow when it comes to putting on a show. "Mean Ole Lion" is paws to the wall, claws out fierce! Hargrove makes the character a tribute to every sassy, flamboyant personality that's ever graced a stage while simultaneously putting his own racy spin on things. Showcasing his versatility during the much more somber duet "Be a Lion" with Dorothy (Amber Hooper, who at this performance overcame vocal laryngitis-style strain to push through the number), Hargrove proves he has heart in addition to flashy moxie.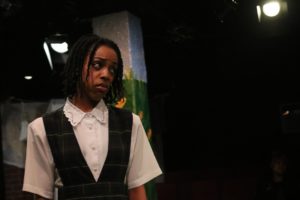 Amber Hooper, whose vivid facial expressions give the audience true insight to all of the emotional journeys that Dorothy is on from the moment she comes running in screaming after Toto, is a delight in the role. With an emotionally balanced voice, "Soon as I Get Home" and "Home" are truly sensational ballads that are deeply tethered to the limitless depths of pathos that she's pushing into the character. Ever changing as the company she keeps along the way, Hooper has a fun side, a compassionate side, a silly side, and everything in-between, which makes her the perfect casting choice for this role.
So do as we said— before it's too late now— and ease on down— ease on down— get 'em up, go on down— and ease on down and ease down to see The Wiz!
Running Time: Approximately 2 hours and 20 minutes with one  intermission
The Wiz plays through April 30, 2017 at The Audrey Herman Spotlighters Theatre— 817 St. Paul Street in the historic Mount Vernon neighborhood of Baltimore City in Maryland. For tickets call the box office at (410) 752-1225 or purchase them online.