Something funny's going on and it isn't very pretty.
This is how it all began: with a murder of a man!
In Columbia City, Maryland— something funny's going on. There's a lot I haven't told yet— there's a musical, a show, and it's real important you go! To Silhouette Stages to see their production of Lucky Stiff, a delightfully humorous musical farce based on the book The Man Who Broke the Bank at Monte Carlo by Michael Butterworth. With Music by Stephen Flaherty and Book & Lyrics by Lynn Ahrens, this zany comedic romp is indeed something funny! The story you're about to hear is strange, I know. And productions of this musical don't happen every day. Directed by Conni Trump Ross with Musical Direction by William Georg and Choreography by Tina DeSimone, there's an awful lot of action, there's physical attraction, and a lot of dogs! So sit back, but not too stiffly, and get ready to go on the ride of a lifetime!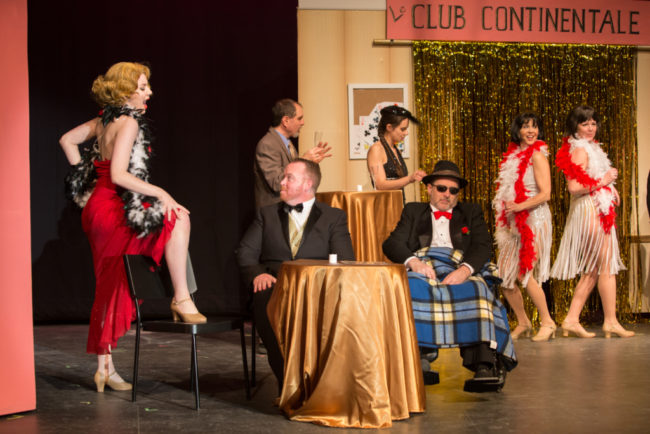 Making this rarely produced production even more special is the fact that Silhouette Stages is partnering with Canine Humane, a non-profit organization dedicated to saving the lives of homeless dogs and providing a safe-haven, humane care, and adoption program for rescue dogs. During the run of Lucky Stiff, Silhouette Stages will host is traditional silent auction, only this time the proceeds from the auction are being donated to Canine Humane. At every show there will be a representative from the local Canine Humane shelter to talk with patrons about how they can get involved with saving the dogs who are desperately in need of shelter and care. As the show focuses quite heavily around the notion of saving dogs, this is a most fitting partnership to have made for the production.
There's an awful lot of action— and a truer statement was never made when it comes to all the hustle and bustle on the stage. Between Director Conni Trump Ross and Choreographer Tina DeSimone, the cast of 17 are shuffled about briskly, blocked smartly, and moved fluidly from scene to scene. Though the show lacks the traditional door-slamming shenanigans often associated with farce, there are plenty of other frenzied movements that Ross and DeSimone work to incorporate over the course of the performance that heighten the sense of comedy in the production. DeSimone even coordinates a snazzy kick line for "Welcome Back, Mr. Witherspoon," though her true dancer's triumph is the tap dancing portraits (Angie Townsend, Lisa Sharpe, Ande Kolp) featured during "Day Around Town."
There's a fortune to be won— and Costume Designer Linda Swann, assisted by Ross, hits the Monte Carlo jackpot when it comes to outfitting the cast for this production. The Roulette Girl (Bailey Wolf) dress is one of the absolute highlights featured in the casino scene, with poker cards trimming the sweetheart neckline of her red and black corset, and a fascinator to match. The sassy cheetah print peplum affair used for Rita exaggerates to hilarious proportions the Jersey trash persona affixed to the character, while the red dazzle dress seen on Dominique enhances her sensual appeal. Swann does a magnificent job of outfitting costumes to each character so that they pop straight off the stage and into this highly saturated fantasy world concocted by Ahrens and Flaherty.
Monte Carlo in all its glamourous glitz comes to fruition under the keen eye of Set Designer Douglas Thomas. With a construction team some two dozen volunteers deep, Thomas' vision of vibrant palm trees, shimmering club interiors, and posh hotel hallways spring to life, mostly painted on the easily rotatable periaktoi. The sets roll on and off with ease, which helps with the scenic shift. Though occasionally some of these transitions are lengthy, Musical Director William Georg gets them covered with interludes of musical substance that keep the audience from noticing too readily that they're somewhat long. Thomas is assisted in his scenic decadence by Property Mistress Ande Kolp, who nails down the details of the show, like the florescent pink satin sheets in the hotel bedroom.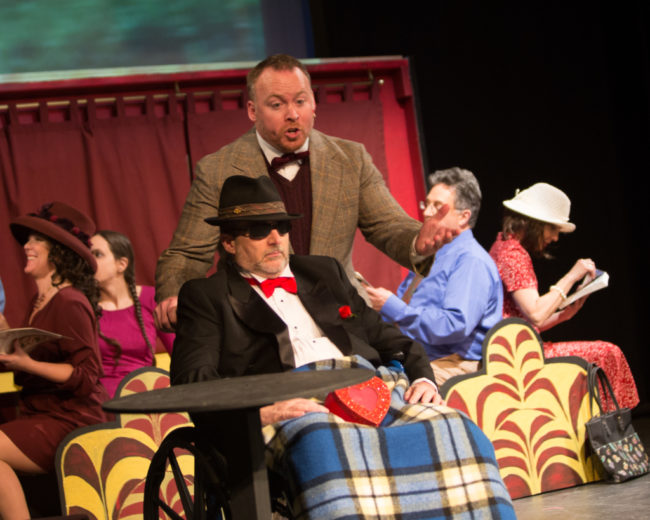 There's a man with panache— the Emcee (Bill Pond)— who showcases his magnetism during "Monte Carlo!" and its reprise at the end of scene nine. Pond, whose brief solos are entertaining but well delivered, also doubles as the solicitor at the top of the show, with a warm albeit aloof British accent. Dominique Du Monaco (Alyssa Bell) appears as a cameo character in much the same fashion. Bell's singing ability isn't the strongest for "Speaking French", a number which she leads for the company, but what she lacks in vocal prowess she more than makes up for with energy, enthusiasm, and sensual presence. Seductively shimmying throughout the number and throughout her interactions with Mr. Witherspoon, Bell delivers the role as intended, the sultry sexpot designed to titillate and tease.
There's a man with an accent— and not just the slew of normal accents that are running amuck in the production. Luigi Gaudi (Todd Hochkeppel) has an outrageously affected Italian accent that lends itself to the hilarious nature of his characterization. Hochkeppel is a hoot as this foreigner, giving little bursts of comedic delight where needed in this already humorous show. Though his chance to show off vocally doesn't arrive until late in the second act, once he gets underway in "Fancy Meeting You Here (Part II)", there is a serious sound that is unmistakably delicious being delivered from his person. Holding his own in a belted sustain battle with the incomparable Rita (Kristen Zwobot), Hochkeppel comes to bat and knocks it out of the park in this number.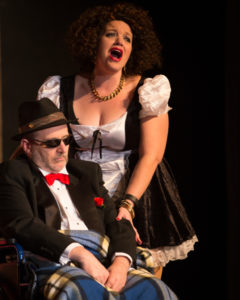 There's a fortune to be won— and a woman with a gun! Kristen Zwobot totes that gun like she totes the character's Jersey accent and attitude: loud, proud, and vivaciously. Zwobot steals the show every time she struts onto the stage, between her nasally affected vocal delivery of Rita's speaking voice and her blasting beltress sound, all eyes would be on her even if she wasn't waving around a firearm. Zwobot is fierce as Rita, creating a powerful sound that maintains the gimmick of Rita's Jersey-trash existence without compromising the integrity of her vocal ability when singing numbers like "Rita's Confession" And "Fancy Meeting You Here." Sassy, sincere, and so over the top you'll scream with laughter, Zwobot is the comic queen in this production. But it runs in the family! Though Zwobot is the woman with the gun, her character's brother, Vinnie (Don Patterson) is as big a hoot, though in a very different fashion! Patterson is blessed with a booming voice that has crystal clear sustainability for his carries, featured mostly during "The Phone Call." His facial expressions are simply to die for, particularly when he's exasperated. Patterson rocks some ridiculous costumes throughout the performance as well, fully owning the hilarity that accompanies them in his physicality.
Did I mention the body isn't cold yet? Tony Hendon (Michael Cornell) is a straight up bonafide corpse. Cornell does such an impressive job of playing dead Tony that its creepy. It's easy to affix the eyes to his body and try to catch him breathing, it's practically impossible. In addition to being statuesquely still, Cornell creates real comedy whenever his limbs go limp, flopping about hither and thither for added hilarity when situations are surrounding him. Cornell even gets a hearty set of laughs from his curtain call. (Seriously, someone should check his pulse.)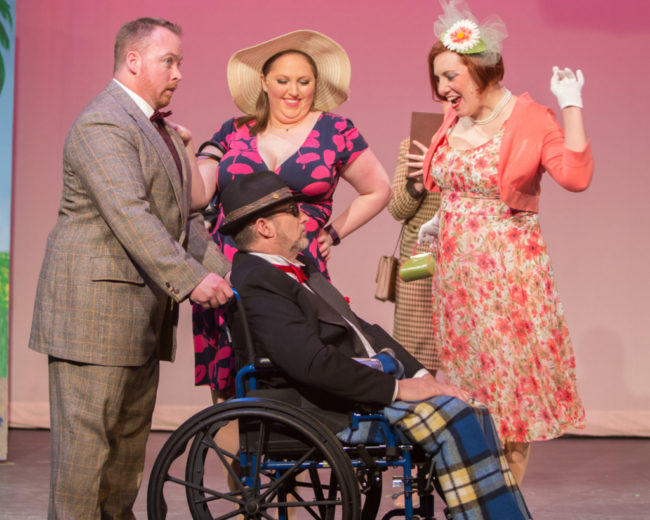 There is one unsuspecting fellow in the middle of it all— Harry Witherspoon (Rob Wall) and the poor chap has no idea what he's in for. Wall delivers a stiff British accent of no particular origin and carries the character's physicality equally as rigidly. Wall's voice is splendid, particularly when he delves into the sweet emotional number, "A Woman in My Bathroom" in the second act. Full of curious vigor for other numbers like "Good To Be Alive," Wall does an exceptional job of balancing the humdrum daily life of the character against the peculiar circumstances in which he's found himself. And once he meets Annabel Glick (Maddie Bohrer) there's no telling what will happen! Bohrer has a warm and unique sound that adds a layer of earnest heart to the character, particularly when singing her solo "Times Like This." When the pair sing together for "Nice" the sentimentality and overall sound is exactly as the title of the number expresses. Bohrer and Wall play well together, and their enthusiasm for their respective passions drive a great deal of the comedic tension throughout the production.
Something funny's going on here— and you won't want to miss out! Don't get caught without a ticket— we know without a doubt! That this could be your only chance here— to see a crazy show like this! Silhouette Stages' Lucky Stiff, dear— is one you won't want to miss!  
Running Time: Approximately 2 hours and 5 minutes with one intermission
Lucky Stiff plays through March 24, 2017 at Silhouette Stages in the Slayton House Theater of Wilde Lake Village Center— 10400 Cross Fox Lane in Columbia, MD. For tickets call the box office at (410) 637-5289 or purchase them online.