A lie is such a small betrayal. And a murder mystery can be such a grizzly arranged spectacle. Hold onto your hats and your sanity when it comes to Bowie Community Theatre's latest offering to the stage— Lucille Fletcher's Night Watch. A chilling suspense-driven drama, Directed by Randy Barth, this maddening thriller has all the hallmarks of Gaslight, all the decadence of Deathtrap and all the charm that such plays require to set the hairs at the back of your neck on edge. Slowly broiling to a tender explosion of flavorfully thrilling conclusions with the most unexpected twists all along the way, this descent into darkness is delightful and deviously deceptive.

The mood is set; the set is moody; the whole thing comes together to create a thrilling atmosphere before the play even starts thanks to Set Designer Terry Averill and Lighting Designer Garrett Hyde. A posh and affluent interior bathed in an ominous blue light with hints of smoky light flitting through drawn drapes cultivates a feeling of tension in the air. Averill's open-air layout of the luxurious living room— assisted by Set Painting Supervisor Ryan Ronan— gives the illusion that anything suspicious could take place. The mauve walls accented by the warm and light toned wood paneled doors make Hyde's work that much easier when it comes to shifting time and senses of feeling in the space. In addition to this, Hyde fully plays with the window— filtering in moonlight, morning light, and even police car lights to heighten the theatricality of the experience.
Though they are few throughout the production, the sound effects created by Sound Designers Bob Morris and Denny Giblin are exacting in their placement and execution. A sudden but steady rainfall here, or the distant whooping of police sirens there, augments the slow-mounting suspense that perpetually percolates throughout the performance. Giblin and Morris do an exceptional job of balances this smattering of sound effects against silence and opt not to include trite snippets of stringy violins or other tension-laced musical underscores. This allows the weight of these silences to rest more heavily between the breaths and textual delivery of the actors, creating a much fuller sensation of foreboding.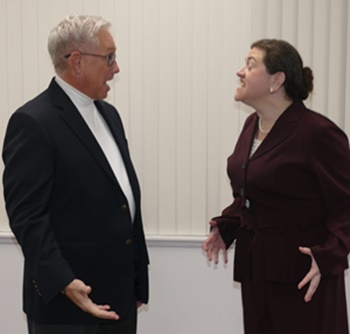 Though the costumes do not speak specifically of 1970's New York City, Costume Designer Valerie Mikles understands the positioning of social class among the characters and outfits the company accordingly. Mikles does a particularly praiseworthy job with the various outfits featured on Elaine Wheeler, keeping her in cool shades of purple and red, mostly bold merlots and richer hues of the shade. This poses as a sharp contrast to the lighter and brighter threads featured on Blanche Cooke, further accentuating their dramatic age difference.
Despite a few minor fumbles of lines, all of which should be noted are recovered most admirably by the cast, the pacing of the show is steadfast and works with the naturally meandering road of the plot. Director Randy Barth ensures that the audience has every opportunity to follow along with Fletcher's convincing, albeit convoluted, mystery play. Barth pushes the three cameo characters— Patrolman Vanelli, Lieutenant Walker, and Sam Hoke, played by John (Jack) Degnan, Ken Kienas, and Jim Pasquale respectively— into the foreground of the action so that their presences are keenly felt. Degnan has the best handle on the New York City accent, while its Pasquale's mannerisms that give him corner-store delicatessen street cred.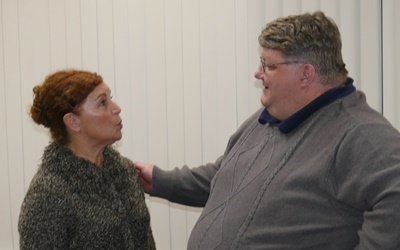 The Wheeler household is practically Grand Central Station for all of the various character who come running in and out throughout the performance to the point where if the pacing were double-timed it could easily be experienced as a farce if it weren't so dark and devious. There's Helga (Nina Harris) and Dr. Tracey Lake (Joanne Bauer) and the foppishly fabulous Curtis Appleby (Rob Allen) as well. Harris may not deliver a strong German accent but she does deliver a fiercely loyal character, particularly when it comes to picking favorites of the Wheelers. Bauer, who's character is only briefly encountered at the end of the first and beginning of the second act, grounds herself in the play's reality quite quickly with a stoic yet sneakily underhanded sarcasm, earning a few dark chuckles from the audience to add a necessary sprinkling of levity to the show. But Allen runs away with his scenes, sparkly larger-than-life personality preceding and following him in and out of the living room like a rolled out red carpet and fabulous cape all sewn together in one. Opting not to attempt a British accent, despite the text indicating such a choice might be prudent, Allen's hilarious performance is sprightly and fantastic.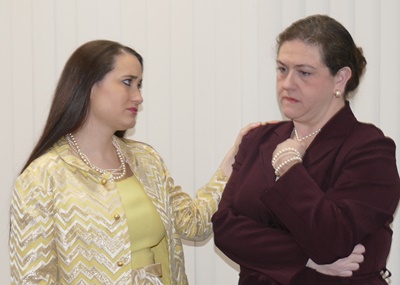 Blanche (Terra Elaine Vigil-Wynn) is a dear thing, popping in and out of scenes, holding herself with reserved poise. This too is true of John Wheeler (Scott Beadle) when it comes to reservations and poise. Vigil-Wynn is the stronger of the two performers, giving somewhat more convincing portrayals in both her interactions with Beadle's character and with Elaine Wheeler (Wanschura.) Immediately imbalanced and perpetually teetering on the edge of her sanity, Wanschura delivers a stunning portrayal of Elaine that keeps the audience rolling and reeling right along with her as the play progresses forward. The particulars are difficult to discuss without giving away major moments in the production and that would be a true crime, but it must be said that when Wanschura goes off the rails— either in a fit of fear or in total meltdown into utter insanity— it's harrowing to the point of setting your teeth on edge.
Overall quite the impressive little spine-shivering adventure, Night Watch is one to watch out for.
Running Time: Approximately 2 hours and 15 minutes with one intermission
Night Watch plays through March 26, 2017 at Bowie Community Theatre at The Bowie Playhouse— 16050 White Marsh Park Drive in Bowie, MD. For tickets please call the box office at (301) 805-0219 or purchase them online.