Who knows what other people hear when they hear Mrs. Miller sing, but what she hears when she sings it the beauty of the music because music makes her happy; music makes her joyful. Find what makes you happy and do your thing. That's exactly what Signature Theatre is doing with this world premiere production of Mrs. Miller Does Her Thing, written and directed by Pulitzer Prize winner James Lapine. Starring the incomparably talented Debra Monk as Mrs. Elva Miller, this touching theatrical anecdote chronicle the shooting star that was Mrs. Miller and her fleeting flirtation with fame.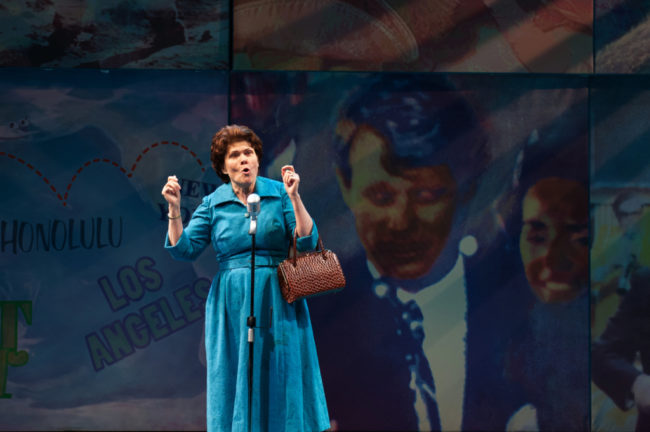 The show's aesthetic is refreshingly simplistic. The background is covered in images of notable people, places, and events of Mrs. Miller's era, each segmented into a square not unlike its own album cover sleeve. Scenic Designer Heidi Ettinger's collage is then augmented at critical moments throughout the performance by Lighting Designer Jeff Croiter. The show shifts to Hawaii; a light focuses to that section of the wall. Vietnam gets underway, another light arises on that picture. Ettinger and Croiter work in tandem to create subtle shifts in spatial and temporal location in this fashion. Ettinger's use of a simple turn table revolve and sliding panels carefully ensconced in the picture mural allows for an inherently necessary theatricality to occur as well.
Photographically capturing the essence of the 60's and early 70's in the show's sartorial selection, Costume Designer Jennifer Caprio presents a poppy palette of vibrant colors and patterns, particularly for the "backup kids", with each of these characters having a signature shade that follows them through the course of their progression. Caprio finds outfits as unbelievably outrageous as Mrs. Miller's singing when it comes to suiting up the titular character for her performance routines. This is best experienced during "These Boots Are Made for Walking" and the number performed as a part of the USO tour for the soldiers in Vietnam. Caprio furthers the absurdity of the novelty character by flanking the backup kid singers in matching attire.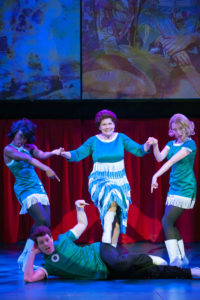 James Lapine's play with music is inspiring; the play presents an intimate and heartfelt cross-section into the life of Elva Miller, her music, and her upwardly parabolic encounter with fame. Lapine's broad plot arc is sturdy; there is opportunity to tighten little moments that detract from Mrs. Miller's story in a superfluous fashion, though those occur infrequently enough as to not cause too great a distraction. Lapine is successful in balancing the sentimentality of the piece with the overall reality of the narrative. As the show's director, Lapine does keep the production's pacing moving swiftly. This is aided largely by Ettinger's revolve placed center stage, but nevertheless the overall momentum and progressive tempo are praiseworthy factors.
With the play having several musical presentations, especially once Mrs. Miller goes on tour, there is an inherent need for dancing. Choreographer Josh Prince keeps the footwork simple yet engaging, energetic but clean. The dancing is performed on the whole by the backup kids' trio, with a few zany steps thrown in to further perpetuate the novelty joke that Mrs. Miller becomes. Prince fits a robotically spastic series of movies to the titular character during "These Boots Are Made for Walking", which creates a stark contrast to the actual dance moves delivered by the trio in this moment. While dancing is not a central focus or driving force in the performance, it's executed well enough to deserve a nod of praise in Prince's direction.
The backup kids' trio— Bobby, Carol Sue, and Denise (Jacob ben Widmar, Kaitlyn Davidson, and Kimberly Marable respectively)— are peppy and plucky, filled with the vigorous energy that youthful performers of that era are required to have. Though at times Marable is pitchy (only heavily noticeable in her solo late in the performance) the pair blend well when performing the backup harmonies for Mrs. Miller. Widmar, playing the diva-topped Bobby, becomes the prickly thorn in the bunch early on; his character is penned with a dramatic flair and Widmar delivers with gusto in that regard.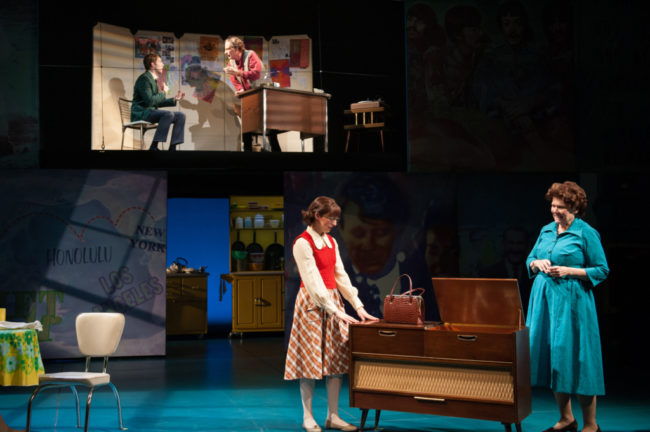 Much more level-headed, despite his downward spiral of digression, Simon (Corey Mach) is an appropriate balance to the bubbling bunch of previously mentioned performers. Mach drags his character through an emotional mire that starts with determination and ends with desperation and frustration, bumping through a myriad of other negative pathos all along the way. The chemistry Mach develops with the Joelle character, played by Rebekah Brockman, feels organic and ferments despite his own character's deterioration as the plot progresses. Brockman is outfitted to look the part; she starts the show as a studious square and ends in a similar fashion, transitioning through the rebellious hippy phase somewhere in the middle. Convivial, despite being timid of voice, Brockman is well suited for the role and holds her own in the more emotionally challenging scenes exchanged with Mrs. Miller.
Taking the cake as all round character funny man Will LeBow takes up over a half dozen different roles throughout the performance, each one complete with its own set of humorously unusual quirks. LeBow's character work is flawless, particularly his imitation of Ed Sullivan. The refined snobbery that LeBow attributes to the Salesclerk at Tiffany's is as impressive as his seedy mannerisms when playing the sleazebag Larry Drummond. LeBow finds an attribute in each of his characters, whether it's an affected accent for his Photographer character or a hunched posture for Dr. Shapiro, and uses that as a grounding point to make them uniquely distinctive from one another, furthering the plot forward each in turn.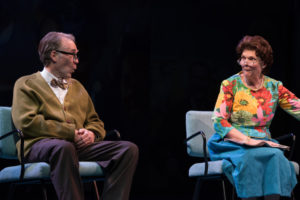 Living in the periphery and shadow cast by the larger-than-life Mrs. Miller, Mr. John Miller (Boyd Gaines) is not a cameo character but rather a life-line of support despite his infrequent stage time. Gaines possesses a powerful stage presence, which commands attention whenever he's brought into focus. The emotional fortitude with which he imbues the character is truly touching, particularly when delivering lines about dignity. Gaines creates an equality of feelings in his emotions; there are moments of frisky delight as well as downtrodden desperation and one echoes just as clearly as the other, all of which feel deep, compassionate, and honest.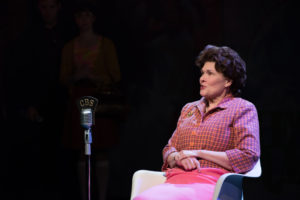 Debra Monk is a sensational as Mrs. Miller. This comes as no surprise given her deep bench of performances over the years. Funny, articulate, emotionally sound, and deeply grounded in the naïve yet beautiful reality of the character, Monk generates an energy that charges and subsequently carries the show from start to finish. Delivering a tremendously heinous sound, warbling with vibrato in a Merman-esque style, Monk astounds the audience by taking her exceptionally trained and pristine voice into this character to sing in the style of Mrs. Miller. Lapine has penned a few moments where her radiant vocal talent in its natural state is allowed to glimmer through, and those moments are sublime. The transition from those rare moments into the remainder of the singing that occurs in the show is no simple one, but one that Monk masters nonetheless. Her commitment to this caricaturized character is quite striking and her performance on the whole comes from a place of earnest belief in the joy of music.
As they say in the show, let's give it a shot! Get yourself out to Signature Theatre and see Debra Monk work theatrical miracles as the titular character of Mrs. Miller Does Her Thing.
Running Time: Approximately 1 hour and 45 minutes with no intermission
Mrs. Miller Does Her Thing plays through March 26, 2017 in the Max Theatre at Signature Theatre— 4200 Campbell Avenue in Shirlington, VA. For tickets call the box office at (703) 820-9771 or purchase them online.