Hey, pal! Feeling blue? Don't know what to do? Hey, pal— I mean you! Come on and shoot a president! Pretty darn appealing prospect, isn't it? Especially when you listen to their stories and hear it in their songs; you learn that angry men don't make the rules and guns don't write the wrongs! Everybody's got a right to their dreams! So come on, and shoot a president! But if you'd rather not take the rap sheet and fry up in the hoosegow, come on and watch Phoenix Festival Theatre as a part of Live! At Harford Community College do it instead. That's right, every shot gets a prize with their current production of Stephen Sondheim's Assassins. Directed by Todd Starkey with Musical Direction by Stephanie Carlock Cvach, this politically pungent and powerfully potent musical stirs up a sense of visceral patriotism; people cannot be jailed for their dreams.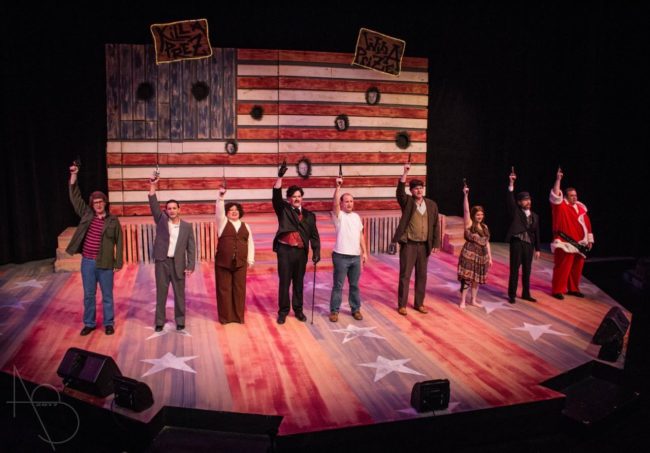 There's nothing more American than the feeling of walking down a midway at a carnival or fair and staring at the shooting gallery. Bathing that concept in the patriotic colors and patterns of Old Glory, Set Designer Moe Conn fabricates an unsettlingly impressive slice of Americana as the backdrop for this production. The floors are fade-washed in red and blue stripes, dotted with big white stars, while the background itself has the American flag peppered in eight specific places with bullet holes containing the images of the presidential assassination attempts within them. Conn's scenery works delightfully with Lighting Designer Todd Mion's approach to the piece, and marrying these two elements together like a creative preacher is Sound Designer Scott Campo.
Throughout the production as the assassination attempts occur, the presidential bullet hole in question is lit with a warm, tightly focused spotlight. If the attempt is a success, a bright green checkmark is projected over the stage, accompanied by a winner's bell ding and the portrait vanishes from the hole, replaced with a proper blacked out cover. If the attempt is a failure, a whammy-style buzzer echoes through the house and is joined by a big red 'X' light projection. Campo, Conn, and Mion are a triple-threat trio of designers who put an finely poised finesse on the production values of the show, fleshing out this carnival shooting gallery concept conceived by Director Todd Starkey.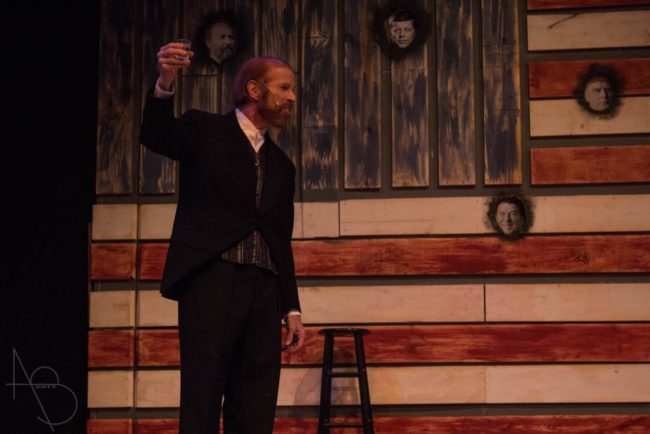 Filling out the appropriate eras— no simple task as the show features moments from the Civil War forward through the Reagan era— in sartorial selection, Costume Designer Becky Flickinger reconstructs the iconic looks of these well-known historical villains. The filthy Santa suit worn by Samuel Byck, the sleazy suspenders seen on The Proprietor, Flickinger focuses on nuances in her costume design to make each of these characters stand out. These costumes, placed against the aforementioned scenery and lighting, put a polished finishing touch on the show's overall aesthetic.
The ensemble, who is featured very briefly on the stage, has two moments wherein their voices truly shine. Appearing briefly at the top of "How I Saved Roosevelt" and more fully during "Something Just Broke", the quintet ensemble (Chris Barsam, Sarah J. Chrzanowski, David Rusinko, Sarah Elizabeth Sickels, and Gabriel L.M. Webster) creates warmly energetic harmonies for both of these numbers. Barsam, who doubles as President Gerald Ford, does an impeccable job of imitating the 38th POTUS in both speech pattern and mannerism. Little Adrien Amrhein also deserves a nod for his precocious little temper-tantrum when playing in the scene as Sara Jane Moore's son, Billy.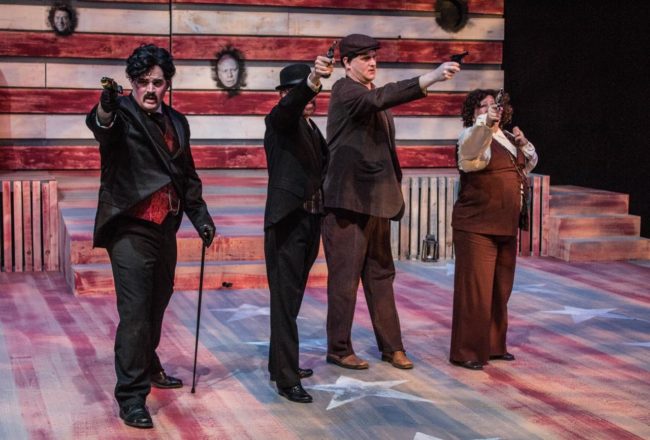 Lynette "Squeaky" Fromme (Emily Boling Mackay) and Sarah Jane Moore (Laurie Sentman Starkey) make a lousy attempt on Gerald Ford's life, but their interactions leading up to that moment are hysterical. Starkey embodies a healthy dose of comedic relief in her highly characterized role. Mackay showcases her vocal prowess in "Unworthy of Your Love", a duet shared with Hinckley (Aaron Dalton.) Masterfully disguised as the spitting image of John Hinckley, Dalton has a glorious voice and makes this duet his moment of radiance. In addition to having a sensational vocal sound, his character work with Hinckley is spot on, bordering on scary with how well he embodies the quirk of this particular historical assassin.
Opinionated wannabe ambassador to France, Charles J. Guiteau (James Fitzpatrick) is an odd character indeed. One of only four successful assassins featured in the production, Fitzpatrick's deep resonate voice is a welcomed spirit in "The Ballad of Guiteau." Haunting in a fashion most harrowing when he starts in with his lines of, "I'm going to the lordy," Fitzpatrick nabs the attention of the audience and gives it a good shaking. So too does Steve Flickinger, playing Giuseppe Zangara. Though Zangara's assassination attempt is unsuccessful, his on-stage electrocution is riveting. Flickinger approaches the character with a hard accent, giving the man a robust flavor, which grows exponentially when he starts singing in "How I saved Roosevelt." The scenic effects, particularly the lighting utilized at the end of this number, feed on the naturally intense energy Flickinger puts forth to make the number electrifying.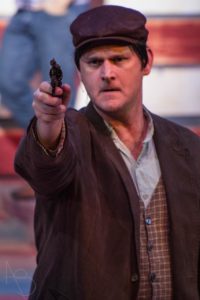 Though less sure of a solid accent, Mark Lloyd's characterization of Leon Czolgosz is quite striking. Defecting to angry broken English rather than falling into an accent with wavering consistency, Lloyd effectively delivers the frustration and fury of the character in his spoken scenes, and even unearths a humanity in the character when interacting with Emma Goldman (Sarah Elizabeth Sickels.) Lloyd's voice takes the lead in the quartet "The Gun Song" shared with Booth, Guiteau, and Moore. "The Ballad of Czolgosz", is his second opportunity to showcase his emotional connection to the character's plight, again putting on display his deep booming vocal prowess.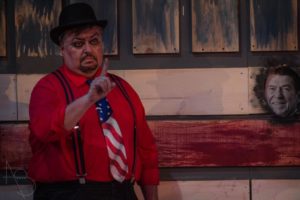 Spinning the opening yarn, Chip Meister poses as The Proprietor and mentally massages the audiences' mindset for the delectable roller coast ride that they're about to take. His creepy character, who much like a phantom comes and goes to oversee the assassination attempts, lingers and loiters, offering a hand (or a gun, sometimes a handgun) when needed. Meister puts pizazz into the opening number, "Everybody's Got the Right" and effectively gets the musical underway with a great stroke of unsettling motivation.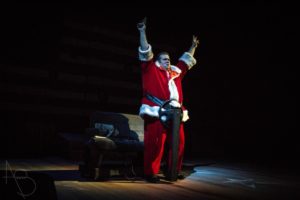 Samuel Byck (Bobby Mahoney) may be the only assassin who doesn't get his own featured musical number, but that doesn't mean Mahoney lets him slip through the cracks. Carrying this larger than life character with fervent gusto, Mahoney delivers those in-between scenes (found occurring amid the musical numbers that tell the tales of these assassins) with striking alarm. Loud, terrifying, and absolutely hysterical when the moment calls for it— especially during his impersonation of 'Dick Nixon'— Mahoney really drives home the dream of Samuel Byck, who like all Americans, simply wants his voice to be heard.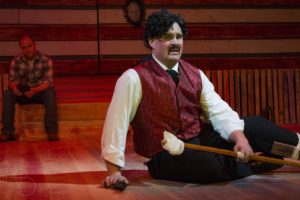 Squaring off face to face at multiple points throughout the production John Wilkes Booth (Jake Stuart) and The Balladeer (Andrew Worthington) vi for the title of show-stopping leading man. Stuarts takes the lead initially with his performance in "The Ballad of Booth." With a strong, unyielding accent, a firm and unwavering determination, Stuart fills out the number wholeheartedly and treats the audience to his impressive vocal talents as well. Worthington, not to be counted out too early on, patters his way through this and every other ballad in which he sings with exacting articulation, perfectly formulating words while still maintaining his musical and tonal integrity.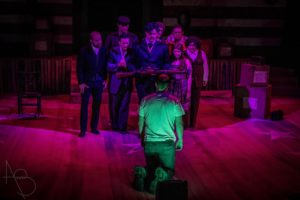 Following in the footsteps of the Neil Patrick Harris Broadway production, Worthington is double-cast as The Balladeer and Lee Harvey Oswald. The moment of transformation is mind-blowing. Worthington leads the determined opposition in "Another National Anthem" against the Propriety and The Assassins, clinging to his hopeful resolution as they march and sing their way to triumphant infamy. Worthington proves his acting chops once taking up the persona of Oswald, especially in the confrontation against Stuart's Booth just before the play draws to its conclusion. From the moment the decision is made through to the aftermath (purposefully vague details here as to not spoil just how these things are handled) watching Worthington, Stuart, and the remaining assassins is tumultuously confusing sensation as it is deeply rewarding yet highly repulsive as well.
Sondheim's somewhat convoluted musical, with a strong cast and fantastical creative team, could not arrive at a more relevant time. It's time to step up and shoot— well, shoot on over to Phoenix Festival Theatre and get tickets to see Assassins.
Running Time: Approximately 90 minutes with no intermission
Assassins plays through March 11, 2017 at Phoenix Festival Theater as a part of Live! at Harford CC in the Chesapeake Center of the Harford Community College Campus— 401 Thomas Run Road in Bel Air, MD. For tickets call the box office at (443) 412-2211 or purchase them online.