Nants ingonyama bagithi Baba! Sithi uhm ingonyama. You may not recognize it in print, but when you hear it? You know it. And the English translation? Here comes a lion! Oh, yes, it's a lion! And oh yes— here comes The Lion King Jr. to The Children's Playhouse of Maryland this spring! Breaking onto the stage for a sold-out run, CPM delivers the stellar children's community theatre area premiere of one of Disney's finest musical stage adaptations. Directed by Liz Boyer Hunnicutt, with Musical Direction by Charlotte Evans, the circle of life has begun!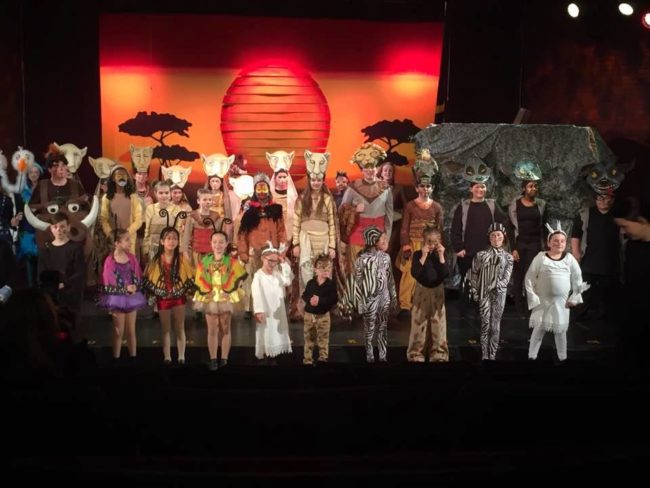 With a stunningly imaginative set co-created by Scenic Artist Laura Miller and Set Designer & Constructor Diane M. Smith, the Prideland comes to life before audiences' eyes. With Pride Rock towering off to the side, the rising, vibrant sun over the African Planes, and the green jungle curtain for when Simba wanders into a new friendship is all skillfully fixed into place by Smith and Miller. There's even a wicked bone cage for the elephant graveyard! All of this Disneyfied enchanted scenery is augmented by the work of Smith, who also serves as the show's Lighting Designer. Swirling gobos, dancing party lights, colors galore, even twinkling stars! Smith ensure the production is just as magical from the illumination perspective as it is in the scenery.
When one thinks of The Lion King on any stage, immediately the grandeur of the Broadway production comes to mind. Costume Coordinator Sharon Byrd and Makeup Designers Lauren Lowell and Kerry Morrison take colorful inspiration and approach these enchanted Disney animal costumes with a vivacious flare. And there is no skimping when it comes to the animals. Giraffes (on stilts!) are present at the birth of Simba, an elephant and rhinoceros even parade through the house to attend the presentation of the young future king. Every animal imaginable, from the leaping antelope to the glittery butterflies of Serengeti arrive under Byrd's careful and clever coordinating skills. Lowell and Morrison tie these incredible sartorial selections together with tribal inspired paint for the lions and characters such as Rafiki. It's a veritable smorgasbord of aesthetic awesomeness that pulls you right into the Prideland, the Shadowland, and everywhere in-between.
The only thing in the production that might be flashier than the Costume and Makeup Design work (and when the kids are being grass or ensemble dancers, Byrd, Lowell, and Morrison have impressive strategies for these changes as well!) is the Choreography of Amanda Dickson. Though simple, Dickson's choreography is certainly not lacking in energy or movement. Dickson's approach to the dancing is time-tested, pumping the kids full of enthusiasm as they wiggle, shimmy, kick, spin, and leap to their favorite Disney songs for the larger numbers which feature as much movement as possible. Dickson gets to show off the finer nuances of her skill during "Can You Feel the Love Tonight", which features an interpretive ballet routine performed by Maia Vong and Sam Whitman. This, along with many of the more intimately executed dance routines, showcases Dickson's wide range of choreographic knowledge and her ability to import it to dancers of all ages and skill levels.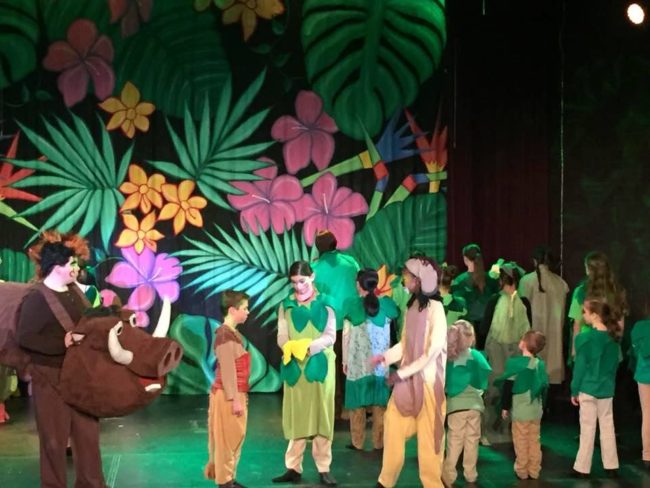 Between the Lionesses (Erin Acerno, Evelyn Acerno, Sophie Claudio, Rose Glennon, Maia Vong)—  who perform with Sarabi (Emily Ricci) and Sarafini (Kathryn Schudel) during "The Lioness Hunt" and later during "The Mourning"— The Wildebeests (Allyson Gray, Brooke Henshaw, Ethan Holler, Summer Reed)— who keep high intensity during "The Stampede"— and The Hyenas (Addison Barry, Bella Comotto, Gabriella Galoni, Royce Hartin, Gwen Lowell, Mason Petr, Noah Walter, Sarah Ward)— who march with frightening rhythm through "Be Prepared"— there are so many talented things happening with these young performers, it simply must be seen to be believed. Even the little Butterflies (Nora Acerno, Amy Claudio, Molly Foggo,) who sparkle when they swoop in for the opening number are delightful to gaze upon. Can you spot all the animals? Like the Cheetah (Colton Roberts) and the Egrets (Sophie Claudio, Gabriella Galoni, Summer Reed, Gracie Roberts,)? It's almost like a game of African Safari Bingo!
The three main hyenas: Banzai (M'Kaila Brown), Shenzi (Emily Davis), and Ed (Zachary Byrd) are the bumbling henchmen to Scar (Dylan Morrison.) Brown and Davis do all of the talking, with a wicked sense of humor and Byrd gets all the laughs from the audience by grunting and making silly faces just like his animated movie counterpart. Morrison, as the beastly and villainous Scar, has an impressive hold on his affected British accent, paying homage to Jeremy Irons from the movie. His slinking presence is quite nasty indeed and when he goes into his song, "Be Prepared" there is a ruthlessness to it. Smartly understanding the sarcastic and nefarious duality of Scar, Morrison is the bad guy we all love to hate.
Not bad guy but bird brain, Zazu (Jacqueline Hicks) creates quite a posh British accent as the King's major domo (and major Dodo!) Hicks accompanies Young Simba (Sammy Jungwirth) and Young Nala (Claire Schafer) on their misadventure to the Elephant Graveyard and gets a few moments of song in to show you how jazzy she can be. Schafer adds a lovely sound to "I Just Can't Wait to Be King", the feature song that Jungwirth knocks out of the park. Jungwirth, who is gifted with a gorgeous high octave and the ability to belt notes clearly and consistently, owns this number and shares all the enthusiasm it contains with everyone listening. Trying to follow in father Mufasa's (Sam Whitman) footsteps, young Jungwirth is going to be the main event for all of the first act every chance he gets!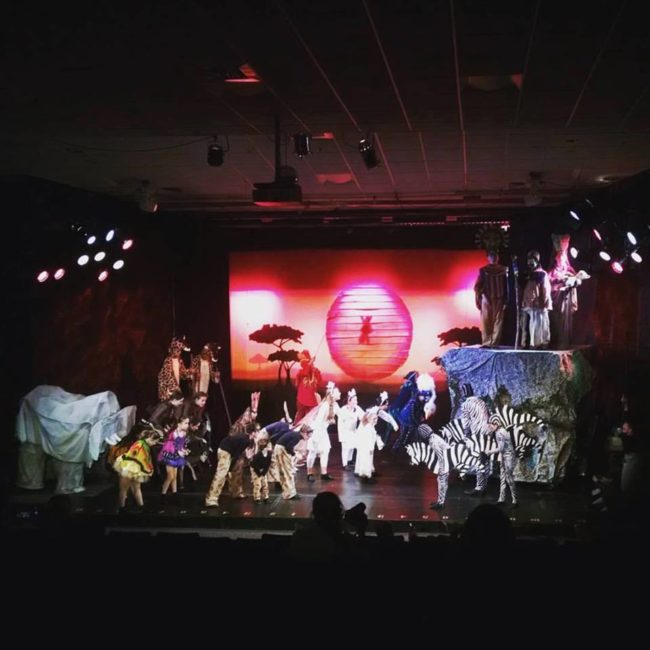 Whitman, as the noble and proud Mufasa, lends a deep sound to "He Lives in You" and "They Live in You", when explaining the spirit of past kings to his young son. Speaking with a heavy sound to express his authority, he is quite kingly when trying to guide young Simba, especially when trying to protect him. Watching the iconic Stampede scene and its tragic ending, compliments of Fly Master Ed Lake and Fly Chief Bill Sullivan, really brings home everything Whitman does for the character.
Speaking of characters, the jungle has a couple of them and their names are Timon (Ryann Nicole Reich) and Pumbaa (Sam Patterson.) A comical and charismatic duo, Reich and Patterson understand the humor and delivery as well as comic timing of these two supporting roles, offering laughs and silliness everywhere they go. Both Reich and Patterson have strong voices, which is very important as they lead what is arguably the most important number of the second act: "Hakuna Matata." With Reich and Patterson as the helm of this number, the motto is true— no worries! Both handle their costumes exceptionally well, particularly Patterson— whose Pumbaa outfit is cumbersome and ungainly.
Simba (Jules Einhorn) and Nala (Grace Glennon) blossom from their younger counterparts in Act I (played by Jungwirth and Schafer respectively) and are ferocious of voice, congenial of playfulness, and chock full of talent once they both make their arrivals in the second act. Glennon's haunting rendition of "Shadowlands" is tragically beautiful, showcasing her vocal talent as well as her emotional connection to the tragedy that is occurring around her character. Blending beautifully with Einhorn for their duet in "Can You Feel the Love Tonight?", Glennon again is given a moment to showcase her sensational abilities and is well-matched against Einhorn. Taking the lion's share of his own solo moments, Einhorn is an exciting and delightful Simba, putting his excellent voice to good use in "Hakuna Matata", the aforementioned love-duet, and "He Lives in You." His emotional connection to the character is quite strong as well, particularly when he returns to the Prideland to reclaim his rightful title as king.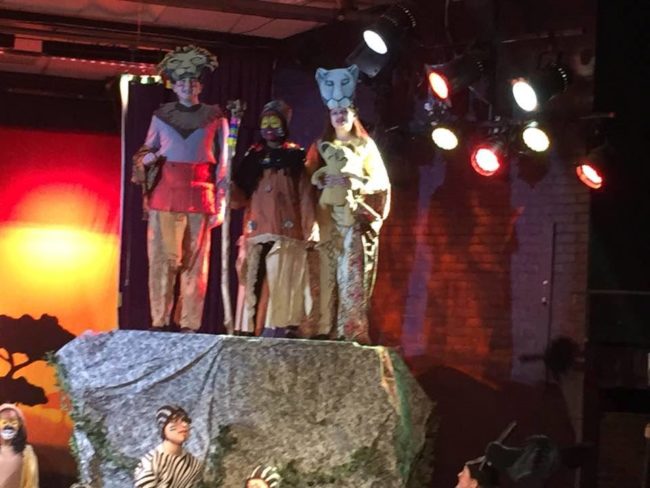 Opening the show with the iconic cry, Rafiki (Nyani Hawkins) welcomes the audience to The Lion King Jr. Hawkins has a sensational voice that is well suited for these tribal calls found in "Circle of Life" and when she starts "He Lives In You" again her voice reigns supreme. Understanding the comic nuance of her character, Hawkins balances her performance between astonishing singing and little comedic moments— most often involving her shaman stick— making for a perfect presentation of the sagely monkey.
Hakuna Matata! Because this show is no worries— nothing but a tremendously talented group of youth performers having a spectacular time putting on the area premiere of The Lion King Jr.
Running Time: Approximately 1 hour and 35 minutes with one intermission
The Lion King Jr. plays through March 19, 2017 at the Children's Playhouse of Maryland in the Lecture Hall of the Administration Building at the Community College of Baltimore County Essex Campus— 7201 Rossville Boulevard in Baltimore, MD. For tickets call the box office at (443) 840-2426 or purchase them online.
The Lion King Jr. is SOLD OUT for the entirety of the run. Call the box office for details about the wait list and for more information on the upcoming production of West Side Story.