Leave your troubles outside. Life is disappointing? Forget it! The Kensington Arts Theatre have no troubles here. Here…theatre is beautiful…their production of Cabaret is beautiful. Even the orchestra, conducted by Musical Director Stuart Y. Weich, is beautiful. And now presenting their 2016/2017 season opener, Directed by Craig Pettinati, the toast of Washington Community Theatre— Kander and & Ebb's Cabaret! Willkommen, bienvenue, welcome— Im Cabaret! Au Cabaret! To Cabaret!
Mein Damen und Herren, Mesdames et Messieurs, Ladies and Gentlemen— KAT is proud to present their production team! Sound Designer Jeff Clausen! He makes things go boom, ya. Lighting Designer Dan Patrick Leano! He gives the Kit Kat Club all the extra ambience required with his skillful use of shadow and brightness. The Costume Design Triplets Erica Clare! Hannah Herold! And Eric Scerbo! They make 'the actors look sexy and keep from them from being naked on stage! Set Designer John Decker! He's built that crazy two-tier nightclub in Berlin just before the Third Reich comes to power. The Property Design Triplets Kelsey Jenkins! Kristen Danek! And Nancy Carlin! They add details to every scene, mmhmm! Makeup and Hair Designer Scott Beadle! You know the funny thing about Hair and Makeup design? There's nothing funny about hair and makeup design! Clausen, Leano, Clare, Herold, Scerbo, Decker, Jenkins, Danek, Carlin, and Beadle! Each and every one— a Designer! Don't believe me? Come see the show!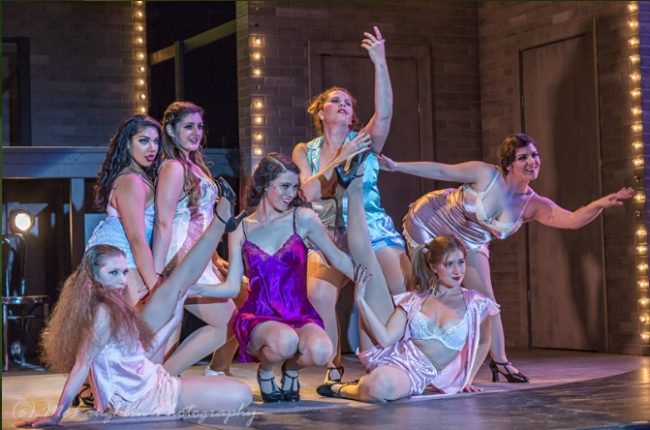 And now we give you, and don't forget to give her back when you've finished with her, the toast of dancing— Fraulein Cassandra Williams! The choreography is hot, hot, hot! And it's all thanks to Williams' modern approach to movement throughout the production. "Money" is a strong display of her circular rhythms that come into play quite frequently while "Don't Tell Mama" showcases more of the naughty and playful side that Williams' work has to offer. The dance break featured during the entr'acte at the top of Act II is most lively— even includes Rosie (Geocel Batista) and Herman (Solomon Parker III) hopping into the house to bring some willing participants up to dance!
You see? Everybody at KAT has a perfectly marvelous working mate. Some people, have two people! Director Craig Pettinati has Assistant Director John Nunemaker! Beedle-dee-deedle-dee! And they like it! Nunemaker supports Pettinati's vision every step of the way— including playing out "Two Ladies" with two gents in girlish drag, shadowing the role of the little boy, who sings the initial instance of "Tomorrow Belongs to Me", as the character 'Young Emcee', and other creative decisions throughout the process. Pettinati's use of the two-tiered space, particularly when it comes to the Emcee hamming up reactions and responses on the upper deck— like during "It Couldn't Please Me More"— gives the show an authentic feel and helps to keep the pacing on track, though there are a handful of moments where it could use some tightening.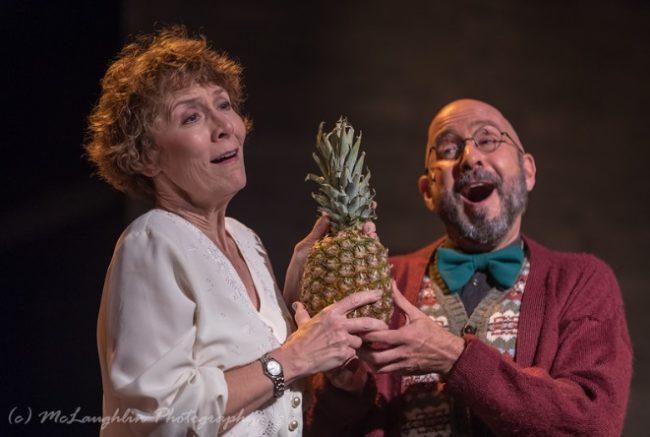 With too many Kit Kat Boys and Girls to mention suffice it to say the ensemble is stellar. But don't take my word for it— come down to Cabaret and see for yourself. Their dancing will delight you, their singing will satisfy you, and their acting will amaze you. We started off by saying everything was beautiful, did we not? Even the older folks are beautiful— Fraulein Schneider (Liz Weber) and Herr Schultz (Chuck Dluhy) are simply beautiful! Weber and Dluhy play adorably well together, their coy chemistry too cute for words. Weber holds her own when it comes to the thick German accent, rigorous but still understandable. She carries it through both solos, "So What?" and "What Would You Do?" Dluhy pairs her in duet for "It Couldn't Please More" and "Married" with a rich sound. He is sharp with his comic wit and falls into delicate with dance during "Married" while the Chanteuse (Jessica Bay Graber) lends her lyrical vocals to the number. Graber, who doubles as Fraulein Kost, who is also Fritzie from the club, lends a hilarious tension to the scenes that she plays out with Weber.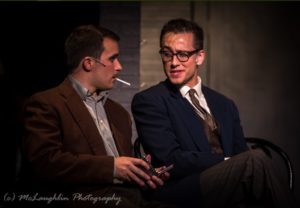 Ernst Ludwig (Garrett Zink) may not find the party amusing but his accent and drastic shift in demeanor are on par for the course. Though given only a moment of song to showcase his vocal abilities in "Tomorrow Belongs to Me (Reprise)" opposite Graber and the rest of the cast, Zink does so with hearty aplomb. Surprisingly present throughout the production, Matt Trollinger as Cliff Bradshaw, makes his mark on the story; it is a rarity that the character of Cliff feels so profoundly integrated to the point of principal role as the way Joe Masteroff has written him into the book is quite dismissive. Trollinger, who like Zink, only has brief moments to let his vocal prowess radiate, does so with perfection in both "Perfectly Marvelous" and "Finale." His control over the character's journey as well the emotional articulation of every situation is astonishing.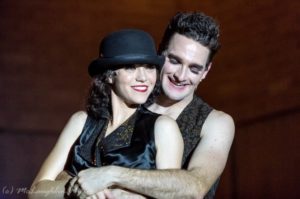 The moment you've all been waiting for, the true toast of Mayfair, Fraulein Sally Bowles (Sarah Jane Bookter) is there to spice up the story every step of the way. Though her English accent is a bit muddled, bordering on the need to drop it entirely, Bookter more than recovers this slight to her character with her flirtatious attitude, vivacious physicality, impressive singing voice, and deep-rooted emotional connection to each of her songs. "Don't Tell Mama" and "Mein Herr" are the truly enticing numbers they're meant to be, while Bookter takes a much more serious approach to "Maybe This Time." The surprise number that really shocks the audience is the pure rage which she channels into "Life is a Cabaret", opening our eyes to the reality that she is experiencing as Sally in that moment.
Oh! I think the Emcee (Jonathan M. Rizzardi) is perfectly marvelous, don't you? He shouldn't have to explain anything. For example, if Rizzardi should deliver his own unique version of the Emcee completely distinctive from Alan Cumming and Joel Grey, and it just so happens that he does deliver his own unique version completely distinctive from Cumming and Grey, well if anyone should ask why, I'll say— "because he's a genius!" Finding delicious little moments to make his eclectic character erupt with life, Rizzardi creates the Emcee in his own image, rather than nodding to the greats that have come before him. His ad-libbed introductions of the Kit Kat Club dancers are hilarious and sharply on point, defining early on who he is as the Emcee. With a glorious voice, which echoes through every number but especially in "I Don't Care Much" and a personality that packs a punch, Rizzardi is re-inventing the role of Emcee and it is beautiful.
Where are your troubles now? Hmm? Still with you if you haven't come to see Cabaret at Kensington Arts Theatre. Don't delay! Get yourself—  Im Cabaret! Au Cabaret! To Cabaret!
Running Time: 2 hours and 35 minutes with one intermission
Cabaret plays through November 19, 2016 at Kensington Arts Theatre located in the Kensington Town Hall— 3710 Mitchell Street in Kensington, MD. For tickets call the box office at (206) 888-6642 or purchase them online.
To see the multiple video-feed interviews from Cabaret rehearsals, click here.