Producer Joy Martin says it's going to be a good year at Yellow Sign Theatre if David Keltz performs on Halloween. An annual tradition since the theatre's inception five years ago, one of America's leading Poe performers, David Keltz, returned to the well-trod boards of Yellow Sign to deliver a thrilling tale of the macabre. The performance started just moments after 11:30 on Sunday October 30, and finished a few moments after midnight on Halloween of the 2016 calendar, thus fulfilling the prophecy of a "good year to come." Presenting Poe like no one else can, Keltz regaled the half-full house with the master of the macabre iconic The Tell Tale Heart.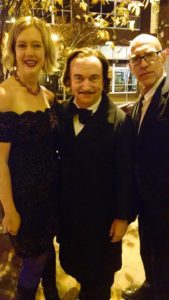 If one has never experienced David Keltz as Poe, then one has truly never experienced Edgar Allan Poe. Baltimore is known for its "Poeversion", desperately clutching to the historical figure (who did far less of his work here than is believed, though did spend his final moments within the confines of Charm City) to lay claim to a cultural history in the literary canon. Particularly in the month of October (and again in January during the month of Poe's birth) Baltimore becomes inundated with Poe-related performances, events, portrayers, etc. Keltz, who is no stranger to the poet, has been performing as Edgar for over 25 years. His mastery of the man is strikingly profound and the encounter of one of his stories is as close as one gets to meeting the man himself.
Channeling the energy of Edgar Allan Poe, fully aware that he has departed from the mortal coil, Keltz addresses the audience as if he were the spirit passing through the veil of this life and the next, which at Halloween is at its thinnest, returning to us to share a cherished story from his collection. Keltz wears Poe like a second skin; his cultivates a look that matches the pictures but even more so mannerisms, postures, and gestures that one would anticipate going with such a character. Though there is no particularly accent to speak of (as so many Poe performers try to impress upon Edgar with something from Boston and the north or the south and his time spent there) there is a powerful command of patois that leaves the audience feeling as if they've had an intimate conversation with the writer.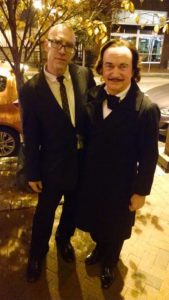 Exposing layers of Edgar to which many are not familiar, Keltz dissects the madness and expresses his extreme sensitivities to an unusual degree, which primes theatergoers for the tale which he is about to impress upon us. Once the story begins, listeners are drawn into the reality of it; the words dripping from his lips splatter like lurid ink creeping from the fountain tip of his tongue as they seep into the woven threads of timeless parchment. Our ears become that parchment, soaking up every line of these jet black sounds. Keltz manipulates language like only Poe could, stimulating and twisting ordinary words into extraordinary ones to drive shivers up the spine as he races through to the maniacal climax of The Tell Tale Heart.
With good fortune and Godspeed, Mr. Keltz will continue this annual tradition and return to the Yellow Sign Theatre for the 2017 Halloween season, gracing all with his powerful presence of Poe.
The Tell Tale Heart ran a one-night performance on Sunday October 30, 2016 as a part of the Club Charles' Five Nights in Hell Halloween spectacular featured at The Yellow Sign Theatre. For more information on upcoming performances at Yellow Sign Theatre, visit their Facebook page.