Order. Tension. Balance. Stop the clock. Listen. Hear the tick…tick…BOOM! Venture inside Jonathan's head as he's about to turn the big 3-0. With nothing to show for it but promises he's broken to his high-bar expectations, Tick, Tick…BOOM!— Jonathan Larson's pre-Rent sensational musical— is a high-octane emotional journey that tells the story of life in SoHo in 1990 where one artist struggles to make his dreams come true on Broadway. But is Broadway truly the magical street of dreams? Or is it just a cheap commercial whore? Directed by Mae Gilligan with Musical Direction by Kevin Kearney, this musical will have you stopping your own clock, and listening to the world as you know it. Are you following your dreams? Are you happy?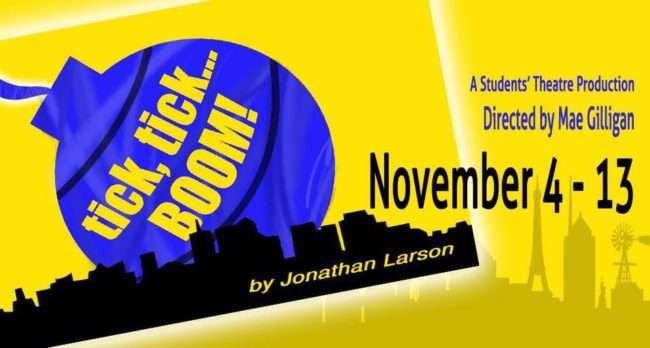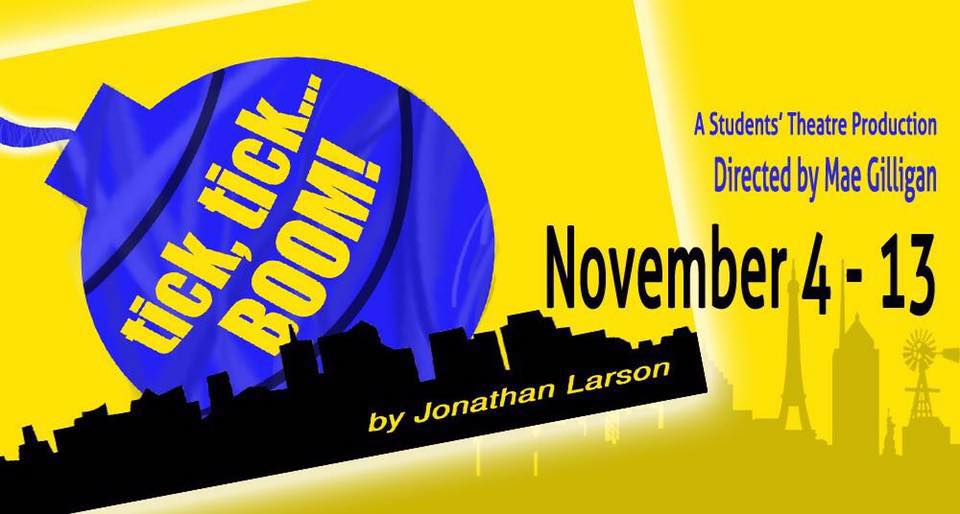 A simple silhouetted New York City Skyline against the underlit tiered steps is what Set Designer Simon Ellerbe gives the audience as far as visual clues. Keeping production values simple when it comes to the design elements of the performance allows the audience to focus on the importance of the story being told. Adding to this the intimacy of Highwood Theatre's performance venue, there is a rich tale waiting to greet the ears of every theatergoer in attendance. Tip Letsche, as the show's Costume Designer, takes a similar approach. There are little things— a pashmina scarf and glasses or a brown leather bomber jacket— to help distinguish one character from another, and of course Letsche includes the show's iconic green, green dress, which is a decadent mermaid style emerald affair with shimmery rhinestone buttons down the front.
Lighting Designer Toly Yarup deserves a great many accolades for the keen approach to colorfully illuminating the show. Taking lyrical hints and dropping matching colors onto the set every time a color or hue is mentioned in a song, Yarup infuses multiple moments throughout the performance with these brightly aligned pairs. When daylight or night time is addressed, the lighting colors and brightness match as well. Yarup's design works well within Director Mae Gilligan's vision, augmenting the performers in critical emotional moments.
Gilligan has a keen understanding of spatial relationships in her blocking, using the placement of the performers in both their dialogue heavy moments and during their songs to more thoroughly articulate the emotional intention of their trajectories. Her choreography, particularly during "Therapy" where she has Susan and Jon circling one another over and over in both clockwise and counterclockwise directions, is smart and cleanly executed. There are levels of built-in symbolism with Gilligan's blocking and choreography and this further articulates her vision for the story as it unfolds.
Kevin Kearney leads a lively band, including himself on piano with Will Valdes on drums, Colin Sidley on bass, and Joey Lambert on guitar. The balance that echoes from this live, uncovered stage pit is sublime and the complexities of the score and what it takes to play them as well as Kearney and the band are playing them does not go unrecognized.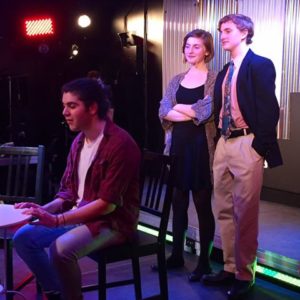 Max Rome, Madison Middleton, and Dylan Kaufman are the three performers featured in the production. The trio have exceptionally harmonious blends, their voices working as one for numbers like "Jonny Can't Decide", "Real Life", and "Sugar" with the latter being an opportunity for the trio to cut loose and have a funky good time on the stage. They work exceptionally well together, particularly when it comes to Middleton and Kaufman picking up the extra roles like Jon's father or his agent, Rosa. The dynamic with which they work, sharing the burden of the show equally with one another, makes the production a strong success.
Dylan Kaufman, as Mike, has a grounded sensibility about his character. This feeds into the scripted lines about him being a sellout. With a rich and welcoming voice for solo features during "Real Life", and a rocker attitude for his turn at "No More" it's easy to see how Kaufman can succeed in any role that he takes on. Driving the tension between him and Max Rome during the critical turning point of the production, that moment becomes the quintessential catharsis on which the entire rest of the show hinges. With equal efforts from both Kaufman and Rome to bring that moment to fruition, the pair is simply unstoppable on stage together.
Madison Middleton is a delight in the role of Susan, Karessa, and Rosa. Getting to showcase her upper range in the full spectrum of her soprano ability, in addition to throwing in some powerful belts, Middleton delivers all of her songs on point. "Come to Your Senses", sung as Karessa, is a powerhouse 11 o'clock number that really showcases all of her vocal talent and ability, in addition to showing how grounded the emotional connection is that she shares with her character in that moment. Middleton is particularly hysterical with her overly affected gesturing when taking up the role of Rosa, the haughty Broadway agent.
Max Rome takes the audience on a narrative journey, drawing us inside of Jonathan's head from the moment we hear the ticks. There is something raw, earnest, and congenial about the way he plays Jon, which makes us want to explore his story rather than dismiss him for the whiny 90's jerk that he has the potential to be. Rome has a solid voice that does exceptionally well with all of his solos, and blends well in duets and trios too. Rome, like his two co-stars, is inspirational in his ability to ground the character to its tumultuous emotional roots. "Why" is the pinnacle moment that really expresses all Rome has to give to the character, and the narrative bits surrounding this moment are truly remarkable.
Tick, Tick…BOOM! is not one you'll want to miss. It's rarely produced and even less frequently so with such stellar talent all around.
Running Time: Approximately 1 hour and 45 minutes with one intermission
Tick, Tick…BOOM! plays through November 13, 2016 as a Students' Theatre production at The Highwood Theatre— 914 Silver Spring Avenue in Suite 102 located in the heart of Downtown Silver Spring, MD. For tickets call the box office at (301) 587-0697 or purchase them online.