Is there anything more outrageous than an honest critic? It might be the way that The Audrey Herman Spotlighters Theatre is kicking off their 55th season with Howard Zinn's Marx in Soho. Directed by Sherrionne Brown, with Phil Gallagher in the titular role, this evening of socialist banter is an engaging theatrical endeavor that will grip the audience and give them pause to think about whether or not society is going in any direction at all, let alone the right direction. Has so much changed in 150 years or are we still spinning our tires in the mud? Howard Zinn's poignant drama will spark a conflagration of revolution in your heart if not your mind and you will leave the theatre with ponderous thoughts.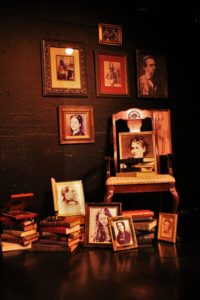 Creating a vastly simple yet elegantly visual set, Director Sherrionne Brown goes to great lengths to work an office style space into the theatre-in-the-square of Spotlighters. Each corner becomes significant in its own right, covered in portraits that are meaningful to the man, family members, contemporaries, and pictures of the like. It's Brown's use of calming sky blue and welcoming high glossed oak, on the columns and floor respectively, that create an inviting space in which Marx sets down his tale. This in itself creates a delightful discord given the erupting nature of so many of his anecdotes and the passion with which he rails so vehemently from one moment to the next. An aesthetic calm juxtaposed against a perpetual maelstrom in motion within the body of the actor makes for a fascinating evening of theatre.
Lighting Designer Fuzz Roark and Costume Designer Andrew Malone do their part as well, following along the boundaries of simplicity which Brown has set down for the show. A basic waist coat and otherwise polished outfit is Malone's sartorial selection, giving Marx the appearance of being wealthier than he is ever able to purport. Though this choice gives the audience hope that there are higher things awaiting the common man in the afterlife. Roark's interior lighting is at its most basic, but there are subtle moments that strike a chord with the eye, particularly during the more somber moments where Marx is seated and delving calming into a mellow story.
Approaching the show with gusto, Director Sherrionne Brown augments all of the Zinn's relevancy with an expressible through-line to modernity. Blocking a one-man show in the round is a challenge at the best of times and given Marx' propensity for action, finding the balance of his moments of stillness and his moments of movement arise as a particularly difficult feat for this show. While Brown masterfully displays her intimate working knowledge of the theatre's space there are moments where Marx just keeps moving. Although these moments are focused they feel, in places, superfluous and ultimately detract from the more elaborate moments where he is bursting with double barrels blazing in fury or outrage. This motion-related discord aside, there is nothing but praises to be spoken for Brown's heartfelt vision that overrides the production on the whole.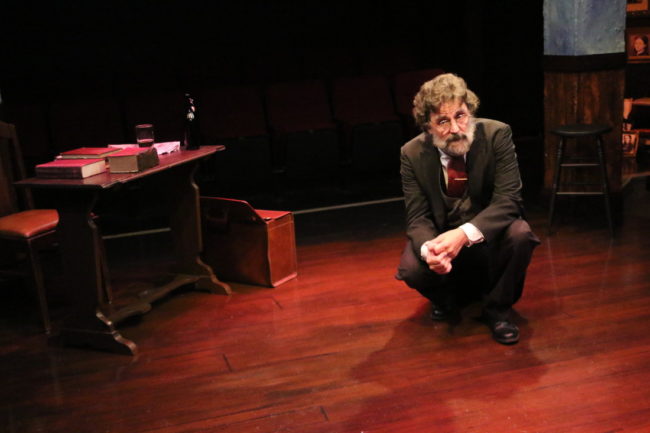 Brown and actor Phil Gallagher work exceedingly well together. There is an off-stage dialogue happening between the pair that drives the show without ever being visible; the conversation between director and performer which informs the show's intentions is so smoothly absorbed into Gallagher's portrayal that one can scarcely believe he's not actually Karl Marx. With great consistency he delivers the broken German affected accent, doing so in such a fashion that allows the audience to hear his roots without stumbling over his words. The only downfall to Gallagher's performance therein lies his balance with volume. In the more emotionally touching moments, especially those which are tender in their delivery, Gallagher trails off losing words and the back ends of sentences to the space. This is unfortunate as when he's in full volume, he's perfectly articulate and wildly engaging with the text.
One of the most remarkable things that occurs in this one-man performance is Gallagher's ability to portray more than just Karl Marx. As the anecdotes carry along, characters from the man's life come into play. His wife, Jenny, his daughter, Eleanor whom he called Tussy, and most notably Mikhail Bakunin— a raging boorish brute with Rabelaisian attitudes toward everything. It is in these moments that Gallagher transforms himself with a flip of tone, a slip of the tongue, and a shift in his physical energy and where it is situated in his body that grabs the audience and draws them into the reality of Karl Marx' history. There is a moment late in the performance where Gallagher flips back and forth between being Bakunin and Marx with rapid accuracy and it is one of the most enthralling exchanges in the show.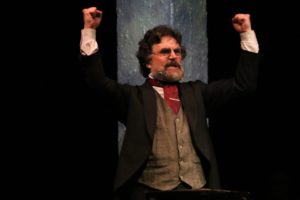 Possessed of an insatiable passion that burns brightly from within him, it is clear in Gallagher's portrayal of Marx that he was the father of a revolution. Communism, socialism, Marxism, all rolled up into one pulsating, throbbing heartbeat and expounded upon by Gallagher's ferocious stage presence, this performance is moving on multiple levels. The sheer outrage that pours from him when it comes to social injustice is so intense that it becomes a palpable energy, reaching out and shaking the audience with its visceral talons. Juxtaposing the blazing storm of impassioned intensity against the more solemn and serious moments, wherein Gallagher coaxes the audience into the simpler side of Marx' life, there is something utterly captivating about the way Gallagher carries the entirety of the show for its duration.
There is something for everyone in the production, even those unfamiliar with Marx and his theories and practices. Sherrionne Brown and Phil Gallagher are a well-fit match; the pair delivers swift justice to Howard Zinn's work and give a clear-cut voice to the not dead (well, physically dead) and not forgotten Karl Marx.
Running Time: Approximately 100 minutes with no intermission
Marx in Soho plays through September 18, 2016 at The Audrey Herman Spotlighters Theatre— 817 St. Paul Street in the historic Mount Vernon neighborhood of Baltimore City in Maryland. For tickets call the box office at (410) 752-1225 or purchase them online.