Suppose within the girdles of the Greenbelt Arts Center's walls are now confined two mighty forces— The Rude Mechanicals: a community theatre troupe that delivers judiciously trimmed and readily accessible Shakespearean plays— and Henry V: Shakespeare's middle Henry history play. Directed by Rebecca Speas, this muse of fire finds its place among the Bard's canon in true Rude Mechanicals style and delivers swiftly the plot, the point, and the perfectly pared-down rendition of what is otherwise a lengthy history lesson in the trajectory arc of Prince Hal to King Harry. All in a late-summer night's work upon imagined wings do these scenes fly before the eyes resulting in a little over two hours' stage traffic.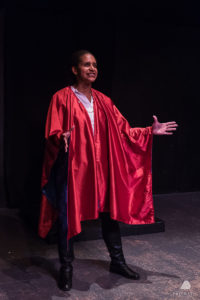 Director Rebecca Speas makes her full-length directorial debut with this production and does so with great aplomb. Applying the laws of simplicity to both the play's setting and overall time frame, Speas manages to keep the piece feeling timeless and yet in the era where it belongs. Inspiring this simplicity to both Costume Designer Sarah Richardson and Lighting Designer Irene Sitoski, Speas ensures that character development and the overall humanity of the show's plot is augmented and presented as the production's central focus. Richardson, as the show's sartorial selector, showcases a fine array of dress blacks with only red sashes and jewels to represent England and blue ones (complete with matching silk berets) to represent France. Similar minimalist approaches illuminate Sitoski's light work, though there is a bit of a heavy hand when it comes to the red-floods featured nearly for the duration of the second act, particularly once the battle has begun.
Speas' approach to the play is unique in the sense that not only is it timeless and yet simultaneously appropriated to its natural era, but there is also something visually striking about her ordering of the scenes. While it is only the opening and closing that are presented in this unusually intriguing fashion— for fear of spoiling the surprises little else can be said on the matter— it appears to be all that is needed to catch a glimpse inside of her working vision for the show's overall aesthetic. In addition to the curious realignment, Speas has a sharp eye for picturesque blocking and demonstrates a working knowledge of the space rather soundly. Though there are some moments where the pacing stutters and a line or two finds itself jumped over, slipped upon, or dropped, these are but minor human errors that will no doubt tighten as the production speeds along, and otherwise do not impact the overall understanding of the performance.
The downfall to Henry V is that like most of the history plays it lacks the excitement of the dramas or the laughing punches of the comedies. Speas finds a way to negate this downfall in her more than judicious trimming of scenes and characters. Though initially seemingly superfluous, the first encounter the audience receives with Katherine, princess of France (Leanne G. Stump), is rather an ingenious showcase of comic relief. The aforementioned includes a giddy frolicking Stump playing opposite a somewhat cheeky but equally as lighthearted Alice (Liana Olear) while the pair titter about trying to learn Katherine some English words by teaching her parts of the body. Stump's facial expressions matched alongside her giddy accent make for quite the bit of comic amusement, and these sentiments, along with Olear's cheeky responses are echoed again near the play's conclusion.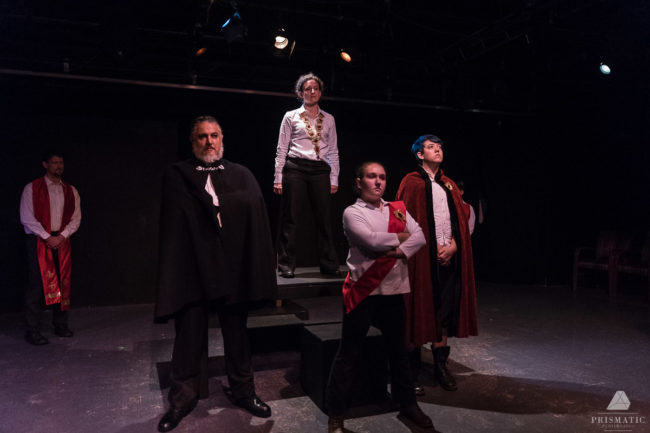 Both Olear and Stump, like so many of the actors featured in the production, double up their roles with Stump appearing early on as the Earl of Westmoreland and Olear appearing as Lord Scroop, one third of the dirty bird trio of those guilty of treason. Boneza Hanchock and Sean Eustis round out this trio as the Earl of Cambridge and Sir Thomas Grey, respectively, and aligned together they make for some surly and rather unscrupulous fellows. Eustis is better noted for his Dogberry-like portrayal of Captain Fluellen, playing most often against Captain Gower (another one of Olear's characters, though this one is prone to none-too-subtle nips from a flask) and making for a bit of comic relief all his own. Hanchock should be noted for her portrayal of Michael Williams, with a firm attitude that carries the character well when encountered.
Though limited in scenic arrival, Montjoy (Jaki Demarest) makes quite the impression from the word go. We know Demarest by her habit, which is to sweep into a scene but for a few brief lines and somehow command the entire stage with impeccable presence. Gripping the audience and giving them cause to hang upon her every word despite the brevity of her speech, Demarest delivers a strikingly present Montjoy, and doubles later as the Queen of France, opposite Rudes' veteran Joshua Engel. Affecting his voice to that of a weary and down-trodden elder for his portrayal of the King, Engel brings a sharp contrast between this character and the rather sprightly Dauphin (Sarah Pfanz.)
Spry of limb and brimming with spunk, Pfanz brings an indefatigable petulance to the character of the Dauphin, which is perfect given the adolescent nature underscored in the dialogue. Eager and bright-eyed with both animated facial expressions and engaging bodily responses, Pfanz is a delightful addition to the cast. The scene worth noting is the great lengths at which Pfanz goes "to horse" opposite of Hanchock, and makes a hilarious bit of humor arise in an otherwise somber moment of seriousness. This, like so many moments featured in the production find their footing in the actors ability to humanize what is happening with their characters.
 So too can such praise be said of Pistol (Diana Dzikiewicz), Nym (Charlie Green), Bardolph (John Wallis), and Boy (Rebecca Korn.) Each bearing their own uniquely weighted quirky playful energies to the history, this quartet of performers makes for some wondrously engaging scenic play, particularly early on in the show and again much later during the heavy battle of Agincourt. Dzikiewicz in particular, who lives up to her character's namesake in ferocity, is a splendid accompaniment to the performance as she plays the live violin, bowed psaltery, and harp at various points throughout the play; this adds a most delightful soundtrack to more poignant moments in addition to the audio effects created by Sound Designer Eric Honour.
Setting the ominous tone of the show early on, Paul Davis— who like so many plays multiple roles— lays siege to his lines as the Duke of Exeter and expounds them with a fierce tempest and clap of thunder. This is done without shouting but rather by projecting his voice in the acoustically unfortunate Greenbelt Arts Center's black-box space. A man of many talents, it's his portrayal of the frightened Frenchman that is worth noting for both the vividly expressive facial responses and the absurdly accurate accent.
A chorus is made of many; in this production it is made of Lisa Hill-Corley. With a succinct conviviality and overall congenial sense of how to engage an audience in the Bard's language, Hill-Corley is the appropriate vessel to ferry theatergoers into the world of Henry V. With aptly assessed levels of gravity and levity each narrative monologue is delivered in kind to prime the audience with emotional cues. Hill-Corley also takes to the minor role of Hostess, but is most noted for her scenic splendor wearing the cape of the chorus.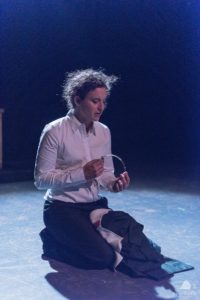 With a reverent charge that surges behind each nobly delivered speech, Allison McAlister takes on the titular role of the play with panache. Infusing King Henry with determination and an astonishing amount of humility, McAlister invests her energies and efforts well into crafting the complete arc of the character. Brimming with confidence at the best of times, McAlister is careful not to let that surefire sense of righteousness stray too far over the line into arrogant territory. Harrowing to behold is the moment when McAlister exposes the rich inner turmoil of the king's ultimate decisions in the monologue featured late in the battle of Agincourt. This moment is delivered with such solemnity and severity that it jostles the heartstrings quite intensely.
A remarkably well executed production, The Rude Mechanicals have a fine summation of Henry V on their hands. A brief run of just two weekends' time keeps their company and one should acquaint themselves with such a production lest you miss out on a truly inspiring performance.
Running Time: Approximately 2 hours and 15 minutes with one intermission
Henry V runs through September 10, 2016 with The Rude Mechanicals at Greenbelt Arts Center— 123 Centerway in historic Greenbelt, MD. For tickets call the box office at (301) 441-8770 or purchase them online.
To read the interview with Director Rebecca Speas and titular character Allison McAlister, click here.