Let me tell you a story.  You'll have to listen well since the cicadas and crickets have devious plots.  Plots as thick and syrupy as Cassius' (Utkarsh Rajawat) to slide vengeance into the noble heart of Brutus (Shannon Ziegler) under the guise of freedom.  Baltimore Shakespeare Factory's production of Julius Caesar is like a story told with a group of friends and family: a campfire tale told in a semi-circle of Tikki torches in the swirling beauty on the ground of the Evergreen Museum and Library.  The stage itself is unassuming flat platforms planted in front of a tent and a hill bookended by trees.  Two paths lined in solar lights remind the audience gently that this is a walking lane, and sitting here will result in being run over by actors.  Physically unassuming but magical, this simple setting puts the audience right in the thick of it.
Clean and simple lighting from three instruments cast all too real shadows on the cast and audience alike, bringing to life the shadows in the hearts of the characters.   The air is thick with insects and humidity trapped smoke.  The audience sits on the grass, on blankets or in cleverly apportioned and remembered lawn chairs in a split thrust around the stage.    At once we are all transported.  We are the mob of Rome, the Senate, the gods. Actors are costumed in stylish and beautifully rendered colonial garb which range from blacks and whites to bold greens, muted blues, pinks, and burgundies.  Costume Designer and Managing Director of BSF April Forrer anchors the play in its transported time with skill and wit. 

The director, Associate Artistic Director Chris Cotterman, has staged the production with exquisite use of space.  Cotterman uses the corners of the platform stage as confrontation points, the hill as a public pulpit, and— look out— the tent as a dressing room/military tent/everyone's homes. Even the curve of Tikki torches stands on entrance and exit surrounding the audience in performance at all times. Phil Vannoorbeeck, the Assistant Director and Stage Manager, and his "crew of a few" worked sound effects like foley artists, kept the actors from disappearing as the evening slid into night, and kept the audience from losing their way in the dark.  I have worked with a lot of crews, this one, though tiny, was exceptional.  While the atmosphere was intoxicating on its own, the campfire does not a story make, that is in the telling.  
A good story starts with a good solid, "Time Was…" or "Once upon a Time…"  BSF gives that too to the wonderful cast each wearing so many literal and figurative hats it is a blur of fantasy and reality.  Josh Thomas and Alice Stanley (Music Directors) weave heart through the play in acoustic harmonies sung and played by the cast.  With music and wit strummed by Thomas on the guitar, who plays so many parts in this show the entire review would be listing them, drives the feeling of being invited and haunted at the same time.  I was particularly stirred by Micaela Mannix (Cinna the Conspirator, Messala, Plebian 4, Servant) and Shannon Ziegler's (Marcus Brutus) interlude of the Dylan classic, "The Times They are A-Changin'."
This cast is just brimming with talent.  Katie Gallagher limps in as the Soothsayer warning Caesar of the Ides, and a few scenes later is entrenched with the conspirators as Metallus Cimber.  On point the entire time, she draws the eye with her excellent physical work on stage, and the ear with her potent voice.  Liz Galuardi, playing Calpurnia and what feels like half of Rome, ranges from a deeply comedic servant to a pleading suffering wife and does so with grace and fluidity.  And if you participate in the raffle you'll get to say hi right to her! 
Terry O' Hara, channels energy and physical deftness into both his roles, Casca and Volumnius. Zachary Rosen playing Publius, Lucius, Young Cato, Varrus, and a Messenger, transitions between roles with aplomb, and takes each role to higher places than expected.  He runs very fast too, so hold your wine tightly, and help him find his shoes afterwards.  Kelly Hutchison plays Murellas, Ligarius, Plebian 3, and Titinius; her voice carries you with each. Hutchinson is a strong and skillful performer, keep an eye out for this one.  IJ Wittenberg will have you wiping off your skin with the flattery of Decius Brutus, keeping you smiling and engaged through the Carpenter, Poet, Clitus, and soldier. As the fight captain working with Tegan Williams, Fight Choreographer, the physical combat and multiple death scenes, even the carrying on and off of bodies is fluid and has the impact that is intended. Especially the murder of Caesar, a visual moment that will remain etched in my mind's eye for some time to come. 
Davon Harris (Cobbler, Trebonius, Plebian 1, Lucillius) has more character in his small frame than some entire casts I have worked with.  I am pretty sure a bug flew directly into the man's mouth during the performance and he just kept on rolling.  Josh Thomas plays the other half of Rome, most notably and my personal favorite rendition of this character ever: Cinna the Poet.  A formidable presence on stage, he knows when to chew the set, and when to pull the heartstrings.  The distance between his comical if tragically ending Cinna the Poet, and the subtle duty bound and honorable Strato, is worth coming to the show for.  Micaela Mannix has a powerhouse voice that carried even through the dense and humid air, most notably as the much beleaguered Messala. Mannix is able to grab the audience's attention when needed and slide into the tapestry of the story in the next instant.  Another one to watch out for.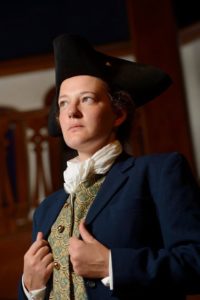 As for the leads I hardly know where to begin.  I have seen hundreds of plays and been in hundreds more, yet the cohesion in this group of individuals is powerful and glorious. Utkarsh Rajawat as Cassius has the audience with him, against him, with him again, flowing with his liquid portrayal of the vengeant yet loving conspirator, a performance not to be missed.  Katherine Vary steals your heart as Portia, and makes you want it back as Octavian.  Vary's voice is one of the most potent and graceful I've heard and it was wonderful for the audience to see and hear that voice again during the interlude singing.  Fred Fletcher-Jackson plays Antony with subtlety and style.  His choices on stage are moving and sometimes unexpected, which I was grateful for.  The grand pulpit speech was excellent and multi-faceted, but Fletcher-Jackson really shines in his moments with Octavian.  Keep an eye on that one too.  Anne Shoemaker as Julius Caesar is potent, expressive, commanding and just plain terrifying as the ghost of Caesar.  This actress was born to play this role.  Wait 'til you hear her sing and the end of the play!  Shannon Ziegler…
Yeah.  New paragraph.  This actress was moving.  Not just all over the stage and through the audience and in combat and between Cassius and Portia like a polyamorous delivery boy, but moving the world and our hearts as well.  You connect with the character as an audience member, but only if the actor playing Brutus can really pull you into the sleepless, dilemma-ridden world of logic and honor and being a good person in a really terrible situation.  I think I speak for the audience there that night when we would happily watch and listen to Shannon Ziegler read a dictionary on a stage.  Wonderful Performance.  
So with that I suggest you bring some cash to drink a little wine, a lawn chair for your posterior, and your imagination open to being blown away.
Running Time: Approximately 2 hours and 30 minutes with one intermission
Julius Caesar plays through August 14, 2016 outdoors in the Meadow at Johns Hopkins Evergreen Museum & Library— 4545 N. Charles Street in the Charles Village District of Baltimore City, MD and plays August 19th and 20th at 8:00pm and August 21st at 4:00pm indoors in the Great Hall Theater of St. Mary's Community Center— 3900 Roland Avenue in the Hampden neighborhood of Baltimore, MD. Tickets are available for purchase at the door or in advance online.