Miracles happen all the time in the world of R&B. So too do they happen in the world of MT— Musical Theatre. ArtsCentric is currently presenting a stupendous miracle, thankfully for more than just one night only with their stellar production of Dreamgirls. Directed by Kevin S. McAllister with Musical Direction by Cedric D. Lyles, this visionary display of storytelling is laced with exceptional talent, determined dedication, and earnest heart and soul that will leave you dreaming of more and yearning to come back and see it again and again.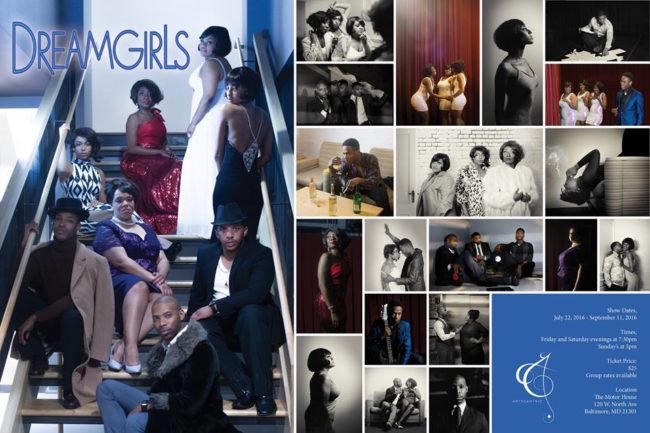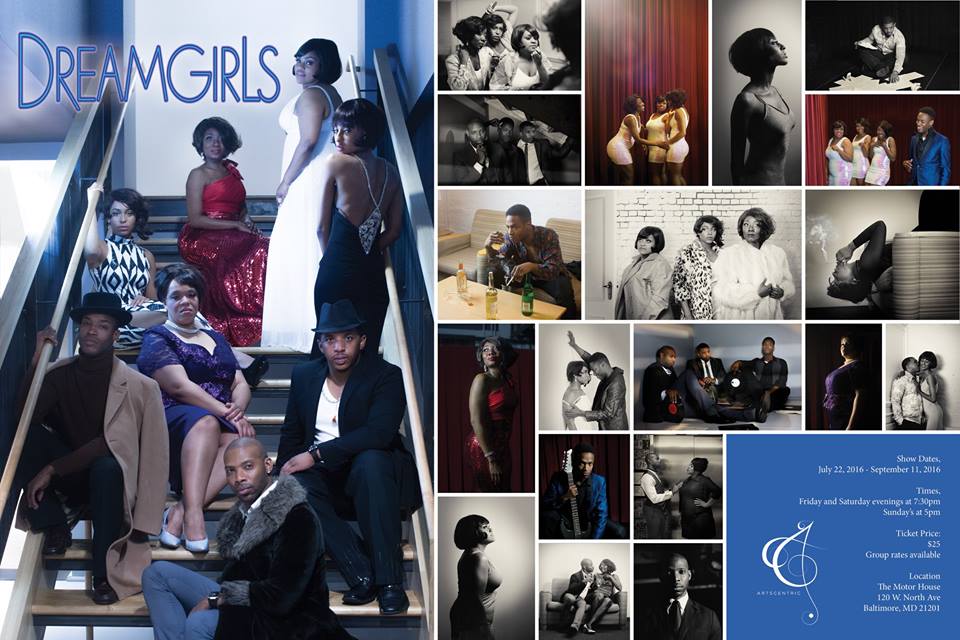 Jeff Harrison's set design may be simplistic, but it's accessible and allows for the show's focus to fall where it ought to when it comes to a powerful musical like Dreamgirls, on the story. Enhanced by the spectacular lighting display fabricated by Lighting Designer Helen Garcia-Alton, every time a musical number explodes upon the set there is a driving currant of energy that moves it along. Garcia-Alton's illuminating work is consistent throughout the production, adding pumps of razzle-dazzle flare for bigger dance numbers and drawing the emotional focus to appropriate levels for more serious and intense slow songs.
Augmenting both the scenic impression and the wild nature of the light show, Projection Designer Riki K adds a unique and creative flare to the production through her use of projections. Rather than physically draping streamer curtains, K uses projections of these shimmering dazzlers to create the ambience of The Apollo and other stages on which the Dreams perform. Combined with Harrison's trio of secret spinning panels, the effects of how scenes transition and transform are situated on a professional precipice that gives the show's overall aesthetic a polished look of modernity without ever taking it out of its natural era.
Just dream of all the fantastical outfits that are waiting to greet your eyes compliments of Gown Designer Sierra Evans and Costume Assistant Sammi Parrish. A fond fan of the mermaid style gowns, Evans outfits the Dreams to look their best nearly every time they appear on the stage. With a balance between flashy and glitzy, and a gradual build through the passage of time and growing arc of the group dynamic, the gowns are well suited to the characters at each phase of their story. Evans' work is particularly stunning when it comes to the finale gowns as well as those featured on Effie once she performs solo in her big return. Parrish, as the costume assistant, deserves a nod for the non-gown costumes, in particular the flavorful outfits featured on Jimmy Early— especially when it comes to some of his jackets and coats. Evans ensures that the look for Jimmy matches Jimmy's outrageous personality every time he changes clothes.  
Fierce is a word that one easily associates with the vocal tenacity, overall raw attitudes, and general showmanship of the performances featured in this performance. Ferociously intense is the descriptor that must be applied to Shalyce Hemby's Choreography. Ripe with enthusiastic energy and a variety of moves that jive with the tempo and jump with the show's overall pulse, Hemby infuses each dance routine with a vivacious vibrancy that cannot be beat. "Steppin' to the Bad Side" as well as "One Night Only (Disco)" have moves that flash with flare and speak to the rhythm and tempo of the song in addition to the skill set of the dancers. The music gets moving in the audiences' ears and Hemby ensures that the dancing follows suit, so intently that it's difficult to resist the urge to jump up and dance with them.
A well-balanced live orchestra in an intimate space is a tall order, but it is one that Musical Director Cedric D. Lyles not only lives up to but delivers with gusto. Keeping the pit lively, upbeat, and leveled so that they never overplay or underplay a musical selection is a mark of professionalism and keen understanding of the show that Lyles showcases with striking consistency throughout the performance. This, in addition to his work with the group harmonies and trio blends, which occur more often than not throughout the production, are just a handful of his talents witnessed in Dreamgirls. When the music sounds as good as it does under Lyles' direction, the talent that Director Kevin S. McAllister has fitted into each of the principle and ensemble roles is truly able to shine.
With an ensemble loaded full of leading quality talent, it's no wonder that larger ensemble numbers— or even numbers where 'backup harmonies' have to underscore the main stage personality— come blasting through all at once. McAllister's decision to pull the focus tightly into the story is augmented by these talented casting choices. There are moments of exciting new discovery in McAllister's approach to the show as well. Threads are woven together in seemingly underrated moments of the performance, creating nuance and articulation among the minutia of some of the character relationships. One of the most harrowing and striking moments in the production is that final moment leading into the intermission because of what McAllister has done with the blocking and how he has chosen to stage just a fraction of a moment— for fear of spoiling the majesty and sheer shock factor I won't say exactly what— but it is a moment that sends the audience into the intermission with a sound slap of reality that is difficult to swallow and simultaneously brilliant to behold. A true visionary when it comes to connecting the dots of this well-loved show, McAllister is breathing new life into Dreamgirls.
The entire cast has got heart and soul; it wouldn't be right not to say so. Everyone from the Stepp Sisters (Shayla Lowe, Jasmine Wynn, Shalyce Hemby, Taylor Washington, Brianna Holloman) to The Tru-Tones (Larry Boggs, Ricardo Blagrove, Terrell Kellam, Barron Singleton) and everyone in-between. But the sensation of soul lives in Jimmy Early (Bryan Jeffrey.) With a vocal range that defies description and a powerhouse sound to support that incredible range, Jeffrey is rolling through the role like a blaze of fire that can't be put out. With a body that never stops moving, and an attitude that never stops grooving, Jeffrey is scene stealing every chance he gets, whether it's his spastic dance moves or his big finale of "Jimmy Got Soul" the rap performed in Act II. There aren't enough words to describe the overall energy that Jeffrey brings to the character and subsequently to the show.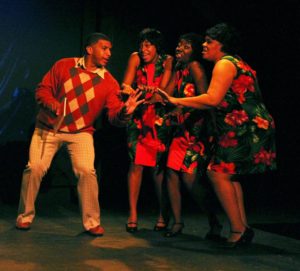 Though their energies are more muted and delivered in a subtler manner, both C.C. (Tevin Brown) and Curtis (Shaun Mykals) bring ferocious presences all their own when it comes to crafting their characters. Brown, who is painted on the tender side of the coin with readily available compassion and understanding, even when things get ugly in dealing with Effie, has a delectable voice that is well suited for the role. Though C.C. doesn't have any true solos to call his own, there are a great many solo moments in various numbers where his talented vocals are featured, the most memorable by far being the emotionally charged delivery of "I Miss You, Old Friend." His voice is radiant with twisted emotions of guilt and frustration during "It's All Over," the number that leads into the crushing scene of the act one finale.
Mykals, as the slick-talking viper who slithers his way into the scene a bit too conveniently, is superb in the role. With an unctuous roil of energy, which serves as the perfect opposition to the spastically exuberant Jimmy 'Thunder' Early, Mykals speaks like he sings— too smoothly to be trusted. His voice is disarming, a sensually vile slink of sound, particularly during "Cadillac Car" and again during "Steppin' to the Bad Side." Showcasing a surprising versatility, when the number "When I First Saw You" arises early on in the second act, his voice alights on the tune with shocking empathy, a light and freer sound that what was previously delivered. This is not only a mark of versatility but a true display of how readily Mykals transitions with the character and invites the audience to follow along with Curtis' story arc, a lesser followed progression of growth, which is closely observed in McAllister's vision of the show.
The Dreams live up to their namesake consistently throughout the performance. Even Michelle (Tonnia Boykins), the fourth Dream, holds her own in this sea of tremendously talented performers. Boykins, who isn't introduced until the end of the first act, and has no true solos, has a masterful voice that resonates over the top and into the audience when it has to for her moments in "It's All Over." Boykins also displays a gentle side of her vocal capability in the second half during the "Quintette," paired off with C.C. for that portion of the song.
Shrill, spastic, and perfectly matched for Jimmy, Lorrell Robinson (Alana Linsey) is a punchy powderkeg of fire just waiting to be lit and explode both physically and vocally all over the stage. Watching Linsey take the character from an overly enthusiastic and simpering love-stricken young lady to a wizened and emotionally grounded mature woman is one of several rewarding moments featured in McAllister's visionary re-imagining of the show. Linsey never loses her spunky upbeat energy but rather transforms it to fuel her mature decisions, and uses it in a new and robust fashion for numbers like "Ain't No Party." The sinfully soulful sass that streams out of her at the end of that solo is sharp enough to smash the shimmery bubble in which she and Jimmy have been pretending to live up until that point. Linsey delivers sharp harmonies as well in all of the group Dream numbers, and her 'backup' routine moments are filled with vivid facial animation and fully engaged body movement, making her the one to watch wherever in the background she may be.
Deena Jones (Sequina DuBose) is a dream all wrapped up in her own beautiful bubble of existence when it comes to the Dreamettes and later the Dreams. Possessing a powerhouse voice that rivals Effie (Crystal Freeman) quite soundly, DuBose too sets herself on the path of discovery with the character of Deena, truly unearthing each of the transitory moments that the character encounters as she encounters them. Watching DuBose in this role draws attention to the vicious circle in which Deena Jones fines herself trapped, particularly once she starts into Curtis' vision success and has to pour an unwilling soul into "One Night Only (Disco)." The shout-out showdown between DuBose and Freeman from the moment Deena starts singing lead builds in fury, intensity, and vocal sensationalism from "Heavy/Stop Bringing Us Down" through to "It's All Over." Singeing Effie with her voice in those face-offs, DuBose is a contender for most emotionally invested when it comes to whose dreams are on the line.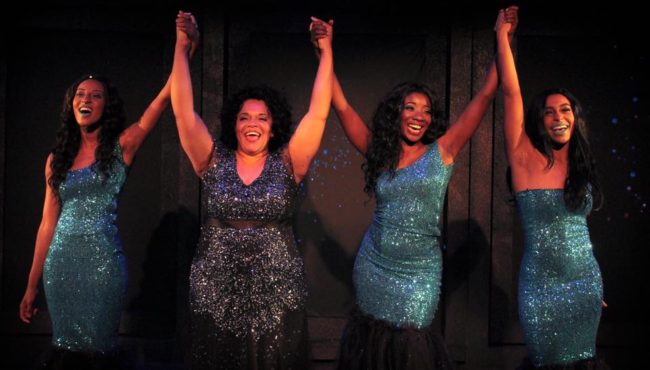 As for Miss Effie White, played by the incomparable Crystal Freeman, she will be telling you that you are going to love her. And there is simply no other way to put it. Freeman is flawless as Effie and pulls the audience through an emotional journey that sears the heart, bursts the soul, and fills the eyes and ears with the most astonishing and sensational performance one could ever hope to achieve when delivering Effie in all of her unapologetic emotional turmoil, growth, and change. Freeman's voice is phenomenal; her stunning sound, loaded with power and worlds of churning emotions, blasts through each of her moments of conflict. Played to the height of emotional clarity where anger is felt in a half dozen flavors of fear, jealousy, disappointment, frustration, grief, and disbelief, every song she sings draws the audience into her story.
Freeman's rendition of "I Am Changing" is possessed with a wild spirit that fully articulates her character's transition on multiple levels and is the second most evocative moment she delivers in the performance. Leaving the skin spiked with goosebumps, chills radiating up and down the spine, and the heart pounding wildly in the chest, Freeman melts her heart and soul into "And I'm Telling You I'm Not Going." With painstakingly accurate facial expressions in this— and all of her moments in song— the number is harrowing to experience, and receives a thunderous ovation from the audience. Truly the role of a lifetime, Effie White has never felt more versatile, more lively, and more perfect than when delivered by Crystal Freeman.
A show that truly flies on the wings of emotional investment from everyone, with sounds that catch the ear, sights that dazzle the eye, and feelings that touch the heart, ArtsCentric's production of Dreamgirls is the summer smash that must be seen!
Running Time: 2 hours and 35 minutes with one intermission
Dreamgirls plays through September 11, 2016 at ArtsCentric on the main stage of The Motor House— 120 W. North Avenue in the Station North Arts District of Baltimore, MD. Tickets are available for purchase at the door or in advance online.
To read the interview with Crystal Freeman on playing Effie White, click here.