The core values of the United States Marine Corps (according to their website) are "honor, courage, and commitment." The best Marines respect the chain of command and obey orders without question. But what if an order involves an immoral or even illegal act? Should a Marine have the honor, courage, and commitment to challenge that order? Or should he blindly follow military protocol – even if it could have dire consequences, including possible arrest and court-martial? Does a commissioned officer have the right to decide who lives or dies based solely on his personal belief that those who do not respect the chain of command risk lives and threaten freedom? Or is he bound by the same laws as the Marines and civilians he is claiming to protect by making such decisions? These weighty topics are underlying themes in Aaron Sorkin's A Few Good Men, Off The Quill's latest production at the Greenbelt Arts Center – directed by the highly talented Patrick Mullen.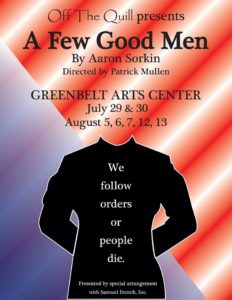 As the play begins, we find out that two United States Marines, Lance Corporal Harold Dawson (Pedro Aviles-Gamez) and Private First Class Louden Downey (Patrick Joy) have been arrested and are pleading guilty to the murder of a fellow Marine, Private Santiago. However, there is some doubt in the mind of naval investigator and lawyer, Lieutenant Commander Joanne Galloway (Leanne Dinverno) about their motives. She suspects that they may have been carrying out an order from their commanding officer, Lieutenant Jonathan Kendrick (Roderick Bradford.) She wants to be assigned the case, but instead, it is given to Lieutenant Daniel Kaffee (Andy De) a relatively inexperienced Navy lawyer who'd rather plea bargain than fight for the pair's innocence. But he is soon swayed by Galloway to examine the case in more depth with her and his colleague, Lieutenant Sam Weinberg (Adrian Vigil.) Through their investigation, they discover a web of lies and cover-ups so convoluted that it makes one doubt the trustworthiness of those who would be in charge of our national security.
This is a play with many twists and turns – and a large number of characters – and it would be nearly impossible to make mention of every chilling detail of this well run production. However, there were a few aspects and performances worth giving special mention. Leanne Dinverno, as Joanne Galloway, the only female in the play, was crisp and precise in her delivery – quite appropriate for a character with such a militaristic, no-nonsense persona. However, the moments of humor that peppered Dinverno's portrayal both humanized Joanne and showed how diverse both the character and Dinverno really are. Andy De showed a wide range of emotion and personality in his depiction of Daniel Kaffee, starting out as a sometimes amused, somewhat bemused lawyer-slash-comedian who it seems is just looking to move on to the next case. However, as time goes on – as more evidence is discovered – each obstacle that stands in the way of winning the court-martial serves to increase his level of frustration. The frustration slowly builds to a fever pitch, until he eventually breaks down emotionally and reveals his true motives. De brought the audience through this arc beautifully. He was interesting to watch – whether he was cracking a joke or quietly reflecting on the case or his life.
Donald Cook played Captain Matthew A. Markinson, a company officer who knew the real story behind what happened to Private Santiago, but was sworn to secrecy through the Marine "honor code." Cook did an excellent job of playing a man who felt he had an obligation to respect the chain of command, but wasn't happy doing so. Cook's facial expressions and body language clearly showed the conflict that was going on inside him. As Lieutenant Kendrick, Roderick Bradford was smooth and polished. He took a character who might ordinarily be seen purely as a villain, and instead crafted him into someone who was just willing to do whatever it took to ensure that respect for the chain of command is kept intact – for the good of the unit – and because "God is watching." Michael Dombroski, as Lieutenant Colonel Nathan Jessup, the Marine base commander who famously tells Kaffee, "You can't handle the truth!" performed his role with cunning and narcissistic bravado, as befits a man like Colonel Jessup. In a way, it was uncomfortable to watch Dombroski, but this was only because he so skillfully portrayed such a despicable character.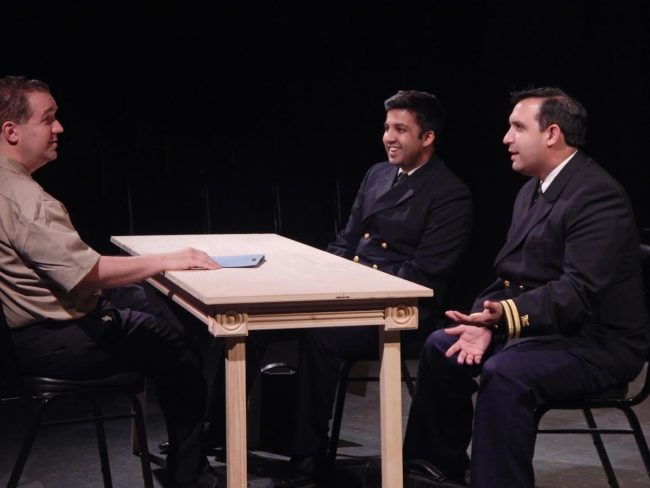 Other performances of note were given by Peter Orvetti, as Captain Randolph, the court-martial judge; James Heyworth as Lieutenant Jack Ross, the prosecuting attorney; and the accused – Pedro Aviles-Gamez as Corporal Dawson and Patrick Joy as Private Downey.
The set was sparse, mostly tables, desks and chairs, and in neutral tones – as one would expect to see in a Marine base and courtroom. Blackouts and set changes were minimal, but what made them interesting were the cadences used in lieu of the music you might ordinarily hear between scenes. For those unfamiliar with the term, a cadence is the traditional call-and-response work song military personnel sometimes chant when they are marching or running. It is entirely possible that these cadences were written into the script, but what made it special in this production was that the initiator of each line was none other than director Patrick Mullen – calling from the light booth to the rest of the actors scattered around the theater. When they responded, you felt like you were a Marine too, marching right along with them. The fight choreography, which Off The Quill Productions has become well known for, was impeccable, and the costumes, though not exciting, were entirely appropriate for the setting of the show and lent authenticity to everyone's performances.
The danger of staging a show like A Few Good Men – a play that becomes a popular film – is that people expect it to be exactly like what they have seen in the movie theater. However, as is often the case, the play and movie differ quite a bit. In this production, thoughts of the film fade to the background as the story unfolds and more details are revealed. Whether you ascertain that the honor code of the military should be respected at all costs, or that you must stand up for your own personal convictions, this show will definitely give you pause. In conclusion, just like the top military units, this production of A Few Good Men is being run like a tight ship – with razor sharp precision and stellar performances. And if you don't come and see it, then "You can't handle the truth!"
Running Time: 2 hours and 20 minutes with one intermission
A Few Good Men plays through August 13, 2016 at Greenbelt Arts Center— 123 Centerway in history Greenbelt, MD. For tickets call the box office at (301) 441-8770 or purchase them online.