On the twenty eighth day of the month of August in the summer heat of 2016, the human race suddenly encountered a sensational production of a science-fiction musical thriller in Winchester, Virginia. And this terrifyingly brilliant production surfaced on the stage of Shenandoah Summer Musical Theatre as its '16 summer closer. Little Shop of Horrors, bop-sh'bop! It's a Little Shop of Horrors! Be sure and stop to catch this masterpiece, Directed by Robin Higginbotham with Musical Direction by John Clanton, as it sprawls across the stage for a limited two weekend engagement! With a stellar cast and astonishing production values, it's easy to say that the show— and all its plants— are out of this world.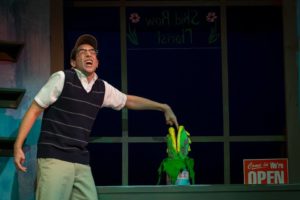 The thrilling science fictional nature settles over the set under the vision of Scenic Designer Michael "Jonz" Jones, who sets the show's aesthetic in a cartoonish animated vein. This primes the audience readily to suspend their disbelief and thoroughly enjoy the mayhem that's about to unfold. Jones' enormous comic book window card, which ascends from above to start the show, is marvelously beautiful— as is the rest of the sketched outlines that fill in the derelict exterior of Skid Row. It's the nuanced touches, like the actual winding clock and the rack of sadistic torture cuffs revealed on the back of Orin Scrivello D.D.S.'s roll away dental office, that really make the set memorable and pop to the audience's attention.
Costume Designer Jennifer Flitton Adams takes the costumes in a more realistic direction, bleeding naturalism into their appearance, which gels surprisingly well against the animated style of Jones' set. The most notable praiseworthy work in Adams' wardrobe are the glittering red gowns used on the do-wop girls during "The Meek Shall Inherit." Adams also keeps Seymour looking appropriately nerdy, even once he cleans up from the dorky slob couture into the sophisticated and money-laden botanist.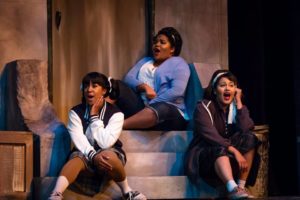 Jones and Adams and Director Robin Higginbotham create a humorous sense of cheesy science fiction fear by the show's conclusion, which perfectly fits the bill for the way the story wraps. Without commenting too thoroughly on the specific production aspects for fear of spoilers, let it be said that the show's finale will leaf you feeling thoroughly satisfied, satiated even, as if the show just consumed you in all of its fantasticalness. Higginbotham also deserves a nod for the little steps of choreography worked into the show, featured primarily on the do-wop trio. Suited to the show's decade and musical style (which is highlighted and conducted from the pit flawlessly by Musical Director John Clanton), the little moments of dancer excitement bring just enough flavorful movement to the show to keep it feeling like  proper musical theatre performance.
One cannot discuss a strikingly stellar production of Little Shop of Horrors and not talk about Audrey II in all of its incarnations. And although no formal puppet credit is given, the collaboration of Higginbotham and Technical Director Brandyn Graves results in four chimerical plants, the final stage of which earns a well-deserved ovation from the audience upon being revealed. This living puppet craftsmanship, along with other plant-based entanglements, really gives the show the extra bite it needs to hook the audience fully.
Musical performances are exceptionally strong with no cast out of place among the nine-person ensemble. Dorian McCorey, Jordan Leigh McCaskill, and Adia J. Seckel carry the do-wop vibe of the performance as Chiffon, Crystal, and Ronnette respectively. Blending blissfully together in three-part harmony for "Prologue (Little Shop of Horrors)" and "Da-Doo", this trio of talent sets that yesteryore feel in play right from the show's beginning. Each of the trio is given several moments to showcase their vocal prowess throughout the performance. McCaskill finds her moment with a tremendously powerful sound during a solo feature of "Skid Row." Seckel's moment to shine comes during her feature in "Don't It Go to Show Ya Never Know" where her voice soars above everyone singing in that number. McCorey lets her voice be heard in "The Meek Shall Inherit", a number where not only her singing but her synchronized dance step are featured.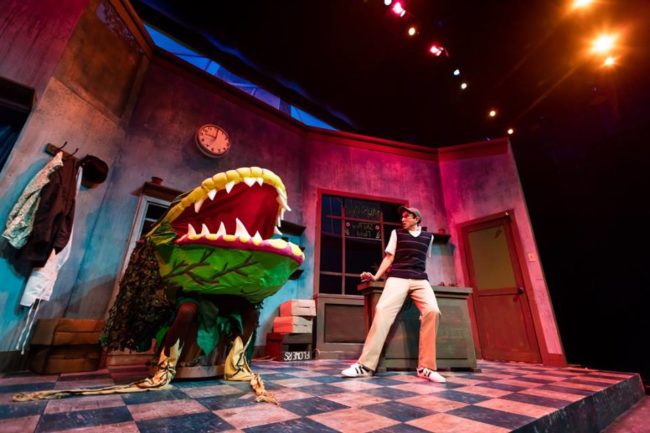 Though never seen, except for a well-deserved curtain call, Trevor Schmidt is the bouncing body of Audrey II in its third incarnation. Bopping in the planted pot, Schmidt makes the extraterrestrial flora lively and frightening during "Feed Me (Git It)" and fully animates this scary sentient being to the beat of the music. Appearing first as the street bum and then vanishing to never be physically seen again, Dan Morton provides the appropriately robust bass-sounding voice for the monstrous plant. Sassy, brassy, and full of twisted soul, Morton's renditions of "Feed Me (Git It)" and "Suppertime" are both wild and wonderful. Engaging with the darkly witted lyrics of both songs, Morton has the audience all but salivating over his vocal performance.
Much more the putz than poor Seymour, Mushnik (Jef Mueller) putters about his shop with a perfectly practiced attitude that puts him on the path to plotting once he fears he'll be left in the dust of his shop boy's newly acquired fame and fortune. Mueller has appropriate body language to define the character and delivers a solid series of patters throughout his musical features. Finding his own moment in the sunlight during "Mushnik and Son", Mueller delves headlong into wooing Seymour with this number. Launching into a full blown tango the scene becomes hysterical as Mueller flounces through it, trying to ensure he'll remain in favor with the lad. With a good show of voice and comedic timing, Mueller is a strong fit for the role.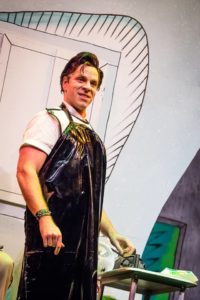 Holy smokes, folks, be prepared to be blown away by the versatile and dynamic force that is Russell Rinker in this production. With Superman-speed phone-booth costume changes, Rinker takes on at least three different characters in "The Meek Shall Inherit", each one delivered with distinctive vocal affectations, adjusted physicalities, and attitude intentions— the funniest of which by far is his appearance as the Editor's Wife complete with fabulous falsetto for both singing and speaking. But Russell's most brilliant performance isn't as the "everyman" that appears all through the second act. It's his portrayal as Orin Scrivello D.D.S., a vile, villainous, scumbag of a creep that has the audience hanging onto his every word and move.
Rinker makes the revolting character disgustingly delightful to the point of utter audience confusion, after all we're meant to loathe the creep that beats up Audrey, aren't we? Channeling some demonic hybrid of Elvis gone to the dark side, Rinker pops his pelvis with panache in "Dentist!", a song which not only allows him to further probe the depths of this repugnant character but also showcase his phenomenal vocal ability. Calm and cocksure when in the dental office, Rinker is frighteningly suave, almost like a sensual demon that's impossible to resist. Increasing your pleasure enormously with his unctuous inlay of "Now (It's Just the Gas)", Rinker goes out with a pop, kick, and bang when it comes to this role.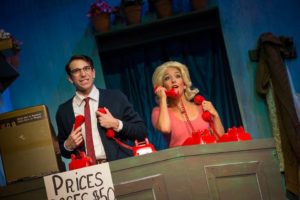 Lovers in love bring any musical theatre show together and a science-fiction double thriller about blood thirsty alien plants attempting to enslave all of earth is no exception. Audrey (Lauren Wright) is a gooey-brained dopey-eyed gal who's too muddled in her own past to see she deserves a guy like sweet, sappy, soppy, and sentimental Seymour (Jeremy Scott Blaustein.) Refusing to take the characters as the stereotypes they're penciled in as, both Wright and Blaustein flesh out the foliage of Audrey and Seymour and make them real, believable people whilst still maintaining the comic integrity of the characters to fit the overall darkly humorous nature of the show. Their accidental chemistry, particularly during "Closed for Renovations" and "Call Back in the Morning", is adorably awkward and perfectly suited for the relationship that sprouts up between them.
Wright has striking vocal consistency with her nasally affectation and toes the delicate balance of letting this voice dominate her character without perpetually sounding like she's whining. Carrying this carefully crafted sound through into songs like "Somewhere That's Green" and "Suddenly, Seymour", Wright nuances her vocal performance in all the right places, really allowing for the hilarity of the former number to ring through while still feeling earnest. With an impressive vocal range and sustainability both of the aforementioned numbers become pure belted bliss as she sings them.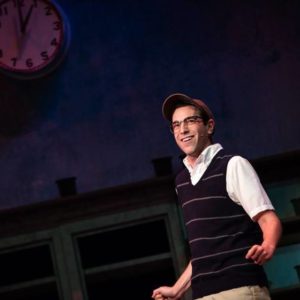 Jeremy Scott Blaustein is the epitome of a nervous nerd, a glum geek, and a dopey dork with his tentative grin, klutzy physical orientation, and his overall adorkable factor. But there is so much more to Blaustein's portrayal than meets the eye. His gorgeously tuned, perfectly sustained, and gloriously beautiful voice was all but molded for "Suddenly, Seymour", delivering his half of the duet with such gusto that you believe love truly can bring out radiant heroes from even the meekest of people. Providing star-quality versatility to the role there are exceptional moments of character actualization handcrafted by Blaustein that make Seymour a multi-dimensional human being rather than just a caricaturized archetype. This is a refreshing and welcomed change to the traditional portrayal of Seymour. Bursting with heroic bravado for his bit in "Now (It's Just the Gas)", Blaustein ensnares the audience with his remarkable vocal ability. Going off the rails by the show's conclusion, Blaustein unravels everything he's built into the character and takes him in a maniacal maelstrom of power and determination for one radiant moment of attempted vengeance. Vocally astonishing, with flawless consistency and a tremendously keen sense of stage presence, Blaustein's your man for this role.
It's a must-see for the summer with all of the talent blossoming on the stage. Just remember when you head to Shenandoah Summer Music Theatre, whatever else it is you do— DON'T FEED THE PLANTS!   
Running Time: 2 hours with one intermission
Little Shop of Horrors plays through August 7, 2016 at Shenandoah Summer Music Theatre in the Ohrstrom-Bryant Theatre on the Shenandoah University Campus— 1460 University Drive in Winchester, VA. For tickets call the box office at (540) 665-4569 or purchase them online.