Seminar by Theresa Rebeck, now playing at Landless Theatre Company, is a witty, revealing look at the realities of being a young aspiring artist today. The story follows four New York twenty-somethings as they begin to navigate a graduate writing seminar led by a bold and caustic instructor. As he breaks them down one-by-one, the students start to question their willingness to bend for their craft. Do they have what it takes? Will they make it through the course? Or will they give up on their dreams, get fat, and run away to Ohio? Only the play will tell…and anything might happen! As Leonard says, "Writers in their natural states are about as civilized as feral cats."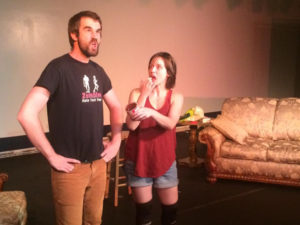 Direction by Terri Magers was engaging and well-executed, creating many memorable moments throughout the piece. The blocking moved nicely and pacing flowed steadily without too many noticeable roadblocks—always a plus for a 90-minute show sans an intermission. Scene transitions ran smoothly, mainly through the aid of short musical selections. One or two of the songs were a touch maudlin and questionably shifted the mood but they still added appropriate commentary. Overall, this choice was effective and well-designed. It seemed that the most frequent cause for any stagnation in the play came from line fumbles, of which there were quite a few. With just a bit more rehearsal, I believe these kinks would have been worked out. As the show runs, these faux pas will likely be resolved.
The set was minimal and worked especially well in the space. It provided everything the actors needed without any "fluff" and really allowed the audience to pay attention to performances. Lighting was similarly minimal but effective, not detracting at all from the story being told. This company gets a big thumbs up for resourcefulness and show selection—this is a great choice that does not require many bells and whistles and seemed to work really well in their venue (the new East Street Arts Center). Costumes were expectedly pedestrian and mostly paired well with the characters they adorned. Tech overall worked to make this a successful production. Production Manager/Sound Designer Amanda Williams clearly did a wonderful job and definitely deserves a shout-out!
Moving forward, performances in this small cast ranged from slightly off-target to exceptional. Now to be fair, a piece like this is difficult to cast well, as there are only five people carrying the entire production. From a "character-type" standpoint, the actors were well-suited to their roles—they had a really great look and sound for their individual parts. Kudos to the production team for their choices in those areas. From an acting standpoint, however, it was clear that some character development required a bit more fleshing out.
Ian Hoch (in the role of Douglas) provided the occasional chuckle with his showy, overblown rhetoric but overall lacked the basic pretension that he was clearly supposed to exude (looking in from a textual standpoint). In the few moments he had to really take the stage, the performance ended up feeling a bit two-dimensional and definitely could've used more layers. Perhaps the lack of depth was a choice; if so, it did not quite land as intended.  
Dalton Korrell (in the role of the "average Joe" Martin) had a few similar issues embracing and embodying his character as fully as he could've. He had a great many moments of awkward hilarity, particularly in scenes with Izzy (played by Surasree Das), but his dialogue often seemed rushed and character choices, when apparent, lacked a good deal of understanding and motivation. Hoch and Korrell are clearly very talented individuals and with a bit more development and time to work, I have a feeling these performances would've been better executed.
Surasree Das provided a welcome pop of coy cuteness with her portrayal of the resourceful Izzy. A young woman who knows what she wants and how to get it, she is not afraid to "go there" and Das clearly understands the importance of her character's dynamics. The duality of Izzy was delivered perfectly, consistently wavering between simpering girly-girl and methodically enterprising young artist. She provided many moments of laugh out-loud fun whether she was batting her lovely lashes or suggestively sucking her lollipop, and she equally embraced the more serious turns whenever a scene called for it—a skilled performance indeed.
The pompous seminar leader Leonard, a role originated by the late great Alan Rickman on Broadway, was played here with a refreshing new twist by the multi-talented Andrew Lloyd Baughman. Looking more like a hippie motorcyclist than a university professor, Baughman delivered the character in way that was oddly likable albeit crude and sarcastically piggish. On occasion, his jabs at the students felt more like friendly buddy-jokes and less like jarring criticisms, but many times these were balanced out with the harsh and negative content of his "teachings" as the show progressed. Providing a fantastic antagonist to Martin and Kate for much of the story, he played the character with a perfect nonchalant condescension and really made it his own. A performance full of wry comedy and nuance, Baughman's Leonard entertains and keeps you wondering right up until the last few moments of the play.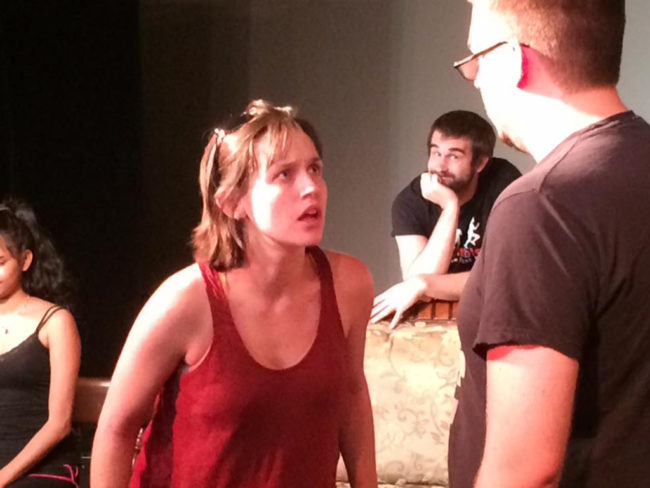 It isn't always easy to stand out in a small ensemble show, but the person who successfully kept me captivated through this entire production was the gifted Claire Coyle in the role of Kate. Giving every other actor onstage a run for their money, Coyle had a well-developed, completely fleshed-out character from start to finish. I believed every word she said as she journeyed across her character's arc and became quickly fascinated with her portrayal of a real human being. Her sincerity and theatrical power really shone through, especially in her scenes with Baughman. She also presented the most varied and vocally-dynamic character choices of the evening, giving an enjoyable, exciting performance full of surprises! I had not seen this actress perform prior to Friday evening, but certainly hope I will have the privilege of watching her onstage again. Anyone who wants to watch some really superb live theatre, go watch Miss Coyle perform this role. You won't regret it!
If you've never seen this witty ensemble play crafted expertly by the awesome Theresa Rebeck, it is more than worth the trip to Frederick and the price of a ticket to do so. And if you have seen it before, why not come delight in its humor and charm once again? With a great story, a well-paced running time of only 90 minutes, and some incredible performances, this production is sure to satisfy and leave you thinking about its outcome well after leaving the theater. Get your tickets now, for this limited run will only be around through next weekend!
Running Time: 90 minutes no intermission
Seminar plays through July 30, 2016 at Landless Theatre Company in the East Street Arts Center— 919-C N. East Street in Historic Downtown Frederick, MD. Tickets are available at the door or in advance online.