"The theatre community here <Washington DC> is something other cities can only dream of." An earnest and rewarding quote pulled directly from the lips of David Ives, this year's recipient of "Outstanding Original Play or Musical Adaptation" at the 32nd Annual Helen Hayes Awards Ceremony. Just one of 236 nominees being celebrated over the course of the evening, Ives' statement captured the tone of the evening early on with the aforementioned quote given during his award acceptance speech. Crackling with the dizzying electricity that only an awards ceremony of this caliber can bring (and at a much more relaxed pace in comparison to the 31st Annual ceremony which set a record completion time of just 70 minutes), the evening was a dazzling success of celebrations recognizing 35 theatres and 79 productions for their outstanding work in Washington DC.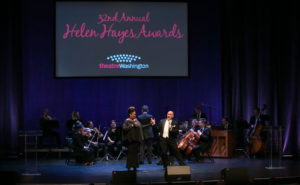 Only the second year with the "split categories" implemented in judging techniques, The Helen Hayes Awards have found a firmer footing in the ease and reverence of the evening's proceedings. Giving recipients a full 45 seconds for their acceptance speech (a vast improvement over the rushed 30 seconds of the previous year) in addition to a screen projection of people they'd wished to thank, returned a great deal of dignity and respect to the event as an awards ceremony. Admittedly there were some humorously earnest moments when recipients came to the podium to accept their awards with this new policy in place as more than one winner had no list of "people to thank" projected behind them, citing the fact that they had never imagined they would win and simply not submitted one.
The evening included a star-studded list of presenters, including hosts E. Faye Butler and Lawrence Redmond. Butler closed the ceremony with a stellar performance of "(You Make Me Feel Like) A Natural Woman", inviting the audience to sing along with her. This was a fitting way to close the ceremony as 13 of this year's 236 nominations came from shows that were featured as a part of the Women's Voices Theater Festival— a year-long showcase dedicated to female playwrights making world premieres across Washington. A dozen presenters kept the evening lively and rolling as 48 winners were announced, though the most memorable among the bunch was Woolly Mammoth Theatre Company member Emily Townley who decided (on a dare) to balance the prestigious trophy atop her décolletage, much to the amusement of the audience.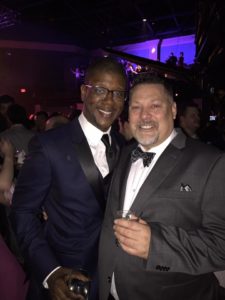 Acceptance speeches spanned the gauntlet from highly humorous—  Martyna Majok, recipient of the Charles MacArthur Award for Outstanding Original New Play or Musical (for her script Ironbound which debuted as a part of the Women's Voices Theater Festival at Round House Theatre), said in her acceptance speech, "Oh wow! I didn't think I was going to win so I just got drunk!"— to heartfelt acknowledgements— Kevin McAllister, recipient of Outstanding Lead Actor in a Musical HELEN Production (for his performance of Coalhouse in Ragtime at Toby's Dinner Theatre), who said in his acceptance speech, "I just want to thank three people from the bottom of my heart. Firstly, Larry Munsey, he's an amazing, amazing director. The second is the love of my life, Mr. Cedric Lyles, who is here. And the third is The Queen of Dinner Theatre, my Jewish Grandmother, Miss Toby Orenstein…"— and everything in-between.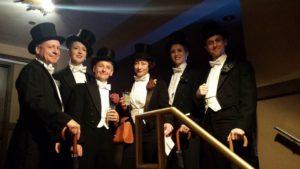 Perhaps the most unique and memorable of the acceptance speeches, or rather in this case acceptance performances, was not given by any individual, but rather by a collective of individuals. Receiving the award for Outstanding Ensemble in a Play HELEN Production, Happenstance Theater (for their show IMPOSSIBLE! A Happenstance Circus) brought all six company members— donned dapperly in their matching black top hats, white bowties, and black coattails— up to the microphone where a squabbling of words broke out before they corralled themselves together and sang a quick "thank you" to Theatre Washington in true Happenstance style. Any member of the audience who's ever been fortunate enough to attend a Happenstance Theater performance immediately recognized their stylish flare and applauded the scene vehemently. The company took home a total of three awards, including the aforementioned win, as well as Outstanding Costume Design, HELEN Production, and The Robert Prosky Award for Outstanding Lead Actor in a Play, HELEN Production, given to company member Mark Jaster. 
By evening's end there was a noticeable trend in theatres who had "pulled a Hamilton" and swept their respective production categories. In the HAYES category, Shakespeare Theatre Company walked away with a whopping 12 wins out of their 22 nominations, with their production of Salomé raking in seven wins including Outstanding Ensemble in a Play, Outstanding Director of a Play, and Outstanding Play. No other theatre in the HAYES category came anywhere near the number of wins awarded to STC, but in the HELEN category it was quite a different story. Constellation Theatre Company walked away with seven wins of their 16 nominations, all from their production of Avenue Q, with GALA Hispanic Theatre hot on their heels taking in six wins of their 14 nominations, all from their production of Yerma.
The evening's festivities did not conclude once the ceremony held at The Lincoln Theatre came to its close. Living up to the continued tradition of DC's "DramaProm", the after party was hosted just around the corner at The 9:30 Club where all of the theatre nominees and recipients joined together on the dance floor for a splendid evening of recognizing each other's exceptional work in the 2015 calendar season of theater in Washington.
The Helen Hayes Awards Ceremony is an annually occurring event presented by Theatre Washington to celebrate and honor the diverse talent spread across 93 eligible theatres in the Washington DC metropolitan area. For a complete list of the 2016 nominees and winners, click here.