"Love means never having to say you're sorry." The line from Erich Segal's novel popularized by the 1970 film adaptation of Love Story never gets old. 46 years later the dynamic acting duo from the film have reunited— this time on the stage— for a performance of A. R. Gurney's Love Letters, appearing for just eight performances in the heart of Charm City's Bromo Arts District at the Hippodrome Theatre. Actors Ali MacGraw and Ryan O'Neal arrived in Baltimore on Monday morning and were thrown a Charm City welcome that every Baltimorean would be proud of, hon.
Rolling out the red carpet in front of the historic Hippodrome Theatre, located in the city's "Bromo Seltzer Arts District" (a neighborhood arts initiative instituted during Mayor Stephanie Rawlings-Blake's term in office), the stars were greeted by Hippodrome Theatre president Ron Legler and ushered inside where they were met by the mayor herself. Stating that it was her pleasure to be there and that she was absolutely thrilled to be welcoming the two extraordinary actors to town, Rawlings-Blake proceeded to declare a celebration of theatre across Baltimore and thanked the stars for gracing the city with their dynamic talent.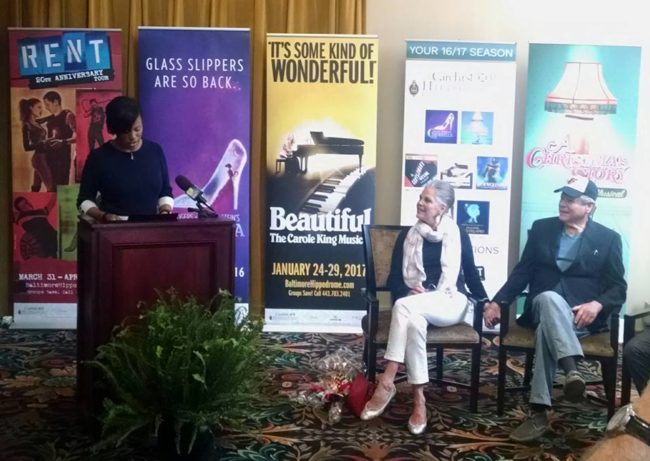 "It's always a treat when we can host critically acclaimed performers and productions on this stage," Rawlings-Blake said, referencing the Hippodrome Theatre stage in the France-Merrick Performing Arts Center. The mayor went on to officially declare today— Monday June 6, 2016— as Ali MacGraw and Ryan O'Neal Day in Charm City. "I am designating June 6th through June 12th as Ali MacGraw and Ryan O'Neal week in Baltimore," she read from an official city-issued proclamation, stating that the proclamation ended with the following: "…whereas the city of Baltimore is fortunate to have world class venues like the Hippodrome Theatre at the France-Merrick Performing Arts Center that draws popular Broadway shows and their stars to our city for performance. We wish the entire production a successful run this week."
The mayor concluded her welcoming speech by further thanking the actors for coming to town and by "…urging all citizens of Baltimore to join in this celebration of old friends and loves." Her remarks were well received among those in attendance to the welcoming event, including MacGraw and O'Neal, who were gifted sprightly summer flowers and an Orioles' baseball cap respectively. The actors went on to field a handful of questions from various local media outlets.
TheatreBloom, represented by Founding Reviewer Amanda N. Gunther, posed the question:
What would you say doing a show like Love Letters has taught you about your lives together as performers and separately as individuals?
Ryan O'Neal: That's a tough question. You started with a tough question right away. It's nice to work if you're an actor, that's a big deal, it's very important.
Ali MacGraw: You mentioned— "…a story like Love Letters…" well, Love Letters is a revue of at least 50 years of two people's lives. They meet in the second grade and they're presumably somewhere in our age bracket. I'm finding it to be great, especially in terms of people who come to see it, I'm seeing that there are people from our pasts, our long ago pasts who are coming out and seeing this show. I went to school in New England and I saw some of my friends from back then that I hadn't seen since then. It's really impossible for me not to feel like I'm reviewing my life too. Are you?
Ryan: Baltimore is our ninth city. So we've seen America, and they've seen us, for better or for worse. That's always an adventure in life. We're very lucky, actually, to have gotten this opportunity. We're honored and we hope it shows in our work.
Ali: I agree.
Ryan: It's about time! It's about time you agreed.
Ali: I find that everything I say to Ryan is a "no." So I just thought I'd say that this time so we could start this off in a different way. But thank you, it was a good question. And one we haven't had, so that's amazing.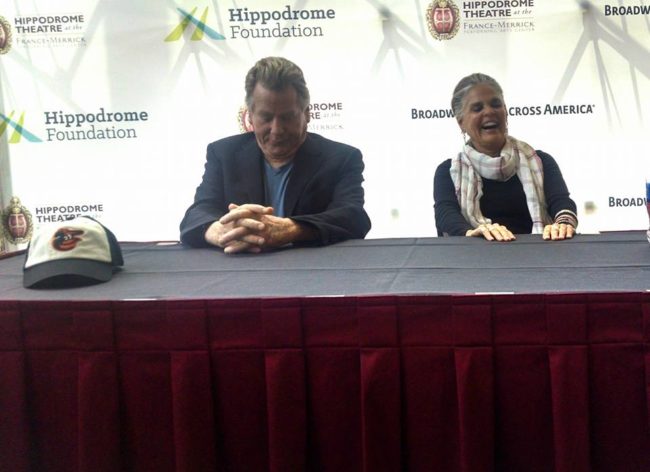 The pair fielded other questions from other publications, including addressing the fact that the hardest part of doing a show— according to O'Neal— "…this part right here. This interview part." With MacGraw agreeing with him for the second question in a row during the conference. Both MacGraw and O'Neal expressed again how thrilled they were to be working as a part of the show and what a joy it's been for them on the journey thus far. They encouraged everyone in attendance to come and see the show while it plays The Hippodrome, through Sunday June 12, 2016.
Love Letters plays through June 12, 2016 at The Hippodrome Theatre in the France-Merrick Performing Arts Center— 12 N. Eutaw Street in the Bromo Seltzer Arts District of Baltimore, MD. For tickets call the box office at (410) 752-7444 or purchase them online.