The year is 1985! The hair is big. The greed is good. The collars are up. And love is in the air. Actually, it's 2016 and the hair is pretty flat, all things considered, greed is grody, and the collars are thankfully back down where they belong. Love is, however, STILL in the air and more potent than ever as Annapolis Summer Garden Theatre kicks off their 50th season with a production of the 80's-themed The Wedding Singer. In a TheatreBloom exclusive interview we sit down with Director Mark Briner and principal performers Jamie Austin Jacobs and Hayley Briner to discuss the 1980's life and what's it all about down at the docks this summer.
Thank you for taking time out of your crazy 80's lifestyle to join us for this interview, if you could give us a little introduction we'll get started!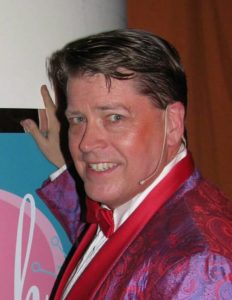 Mark Briner: I'm Mark Briner, at least I'm pretty sure I am, maybe not so much this week. This week I'm crazy director man. But most days I'm Mark Briner and I'm directing this production of The Wedding Singer. This is my second year back here at ASGT (Annapolis Summer Garden Theatre.) I directed their hit production of Catch Me if You Can last summer, which was a huge success and a huge challenge. In-between, I took a little turn and ended up with a job that I wasn't expecting. I ended up with the Suburban Players directing their production of The Wizard of Oz. I really enjoyed that one. That's my last year in a nutshell.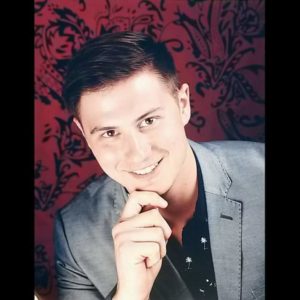 Jamie Austin Jacobs: I am Jamie Austin Jacobs. That's my name, but I actually go by Austin. It sounds less like a girl that way. I guess I've done three shows. As soon as I graduated college— I went to Frostburg, which is close enough to keep in touch with family but just far enough away that my parents have to let me know when they're coming up for a visit? Yeah. So my first show out of college was over at Colonial Players, I did A Few Good Men. That was a really good show. I did that and that was the only thing I've done there. Then I've done two shows here at ASGT. I did Catch Me if You Can last year. I was in the ensemble, one of the agents, and then I played Frank Jr. for the last weekend.
Mark: He was the understudy and ended up going in.
Austin: Yeah, I went in the last weekend. I wish you could have seen it. Oh! And I was in The Wizard of Oz with Mark. I played Scarecrow. Oh and this show, that's the other one with ASGT. I'm doing this show, I guess that's why I'm here, right? Sometimes I talk blonde. But I'm Robbie Hart— I'm Adam Sandler in this show.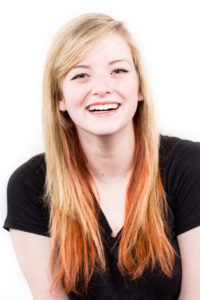 Hayley Briner: Hello, I'm Hayley Briner.
Mark: And I'm Mark Briner.
Hayley: Yes, he is my father.
Mark: I had nothing to do with it. I swear to god. I mean with the casting! Being related to me had nothing to do with the casting. That's always the first question. Of course I had something to do with making her, I'm her father. I know I have a daughter, but it wasn't one of those "Oh, here's my daughter, have a role" sort of situations. Hayley's actually sharing the role with Layne. (Alternating the role of Julia, Layne Seaman.)
Hayley: Thanks, dad. Like I was saying, I play Julia in The Wedding Singer. Last year I played Brenda Strong in Catch Me if You Can. She was the ingénue from the second act. This past year I've been going to school up at Rochester Institute of Technology so there hasn't been a whole lot of acting going on locally. I did a production of Rocky Horror up there, I was Magenta. I invited dad up to see it.
Mark: It was good.
Hayley: Aww, thanks! This is a good show too. Julia's been a lot of fun.
Why is The Wedding Singer the show that strokes your passion? What made you want to be a part of this 80's-themed movie turned stage musical?
Mark: You know, I've seen productions of this performance that almost made me want to back away from the challenge of directing this show. But the more I saw, the more I realized that I really needed to do it because it's such a great show that just hasn't been handled right yet. Now I'm not saying I'm going to get it right, but I'm going to try hard as hell to do it justice. There is so much charm in this show. It really is a fun salute to that day and age of the 80's. Like I told the cast at our first rehearsal, the 80's— and most of them are so young they were just going to have to take my word for it— but the 80's was the last fun decade for fashion, the last fun decade for music, the last fun decade for movies, and the last fun decade of just— ever. Everything has just gotten dark and ugly and dreary since then.
There was so much fun in the 80's. This show is one of those rare shows that actually improves on the movie. The movie was okay but the movie was really just a star vehicle for Adam Sandler. The show beefed up all the supporting parts. So you get all of these great fun 80's personas, all of these 80's stereotypes. Then you throw the ridiculous clothes on them. And the music is all very cleverly patterned over real 80's music so if you listen to these songs you hear Joan Jett, you hear Michael Jackson, you hear Madonna, you hear Van Halen. It's all there. Our wonderful Choreographer, Becca Vourvoulas, she and I are like this team. We sort of made a little pact where we only work with each other anymore. She choreographed my Oz and Catch Me, but she has lifted all of her choreography from old 80's music videos. So we're really just taking all the best parts of the 80's in a nutshell and just cramming it together. I don't think there was enough time when the movie came out between the decade itself and the movie release— in what, '97? '98? For it to really be a great period piece. Now we've got a little more distance between us and the 80's. The book is funnier than the movie script. This show is really just a Valentine to everything that was fun about the 80's.
Austin, why did you want to be a part of this production?
Austin: Because I wanted to be the lead in something for more than one weekend? No I'm joking. I'm 24, so I wanted to do something that was a step away from the culture I grew up in. I love this music. This is a role that's unlike anything I've ever done before? I think the only part that I've played that might be similar is when I did Bloody, Bloody Andrew Jackson. That was at Frostburg at school. I had so much fun with it, and I love musicals in general, so this was a little like that. I don't know. It was calling me. And then Mark called me.
Mark: If the show was calling you and I was calling you then there's a good chance that you're meant to be here.
Hayley: I saw The Wedding Singer on Broadway when I was ten and I fell in love with it. I've loved it ever since. Julia is such a fun role. It's been a challenge for me because I've been learning all of the choreography and blocking over video since I've been seven hours away. I've only had three actual rehearsals, but it's been a fun challenge and I'm loving it.
Mark: She's splitting the role with a wonderful young actress who's been here doing the physical work and kind of helping to teach her over the miracle of the internet.
Austin: So I get to kiss two girls.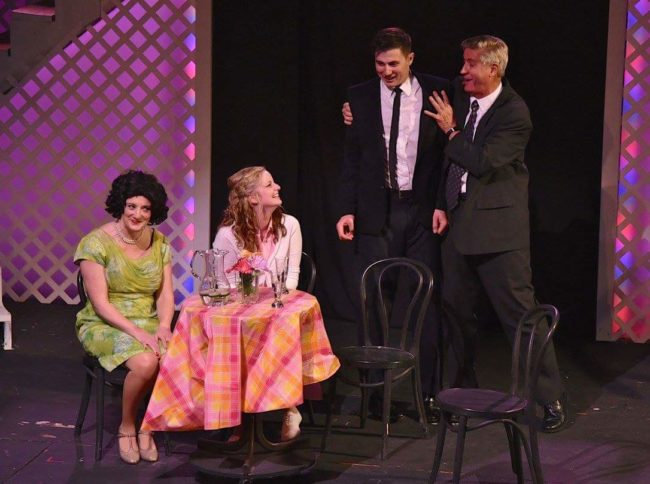 Mark: Clearly the most important fact to be known here. Anyway, Hayley actually saw the show before I did. She came home raving from New York all about it, she'd seen it with her mom and her brother. So when it came through town on tour I figured I had to go see it. And I loved the tour.
Hayley: The tour wasn't even half of what we'd seen on Broadway.
Mark: Yeah, they all told me I had no idea what I'd missed.
Austin: Oh, I forgot something!
Mark: What did you forget?
Austin: The movie.
Hayley: The movie?
Austin: Yeah. That's why I wanted to do the show. I really love the movie. I actually had other plans this summer.
That must be so great to hear, Mark, knowing your show was second choice in his summer plans?
Mark: Actually, it's crazy impressive. He made these plans last summer and he's completely rearranged his schedule to take on this role.
Austin: How's this for commitment for you. I'm working down in Ocean City Monday, Tuesday, Wednesday, and commuting up for the Thursday through Sunday weekend performances. Because this show is so awesome. I've always been obsessed with this movie, it was one of Adam Sandler's last good movies. So when I had the chance to do it— I had to take it. My parents have always been very supportive of me, when I was into sports my dad was my football coach. And he told me that I needed to continue with theatre, that this needed to be my thing. My dad, of all people. So I knew this was right for me.
Mark: Yeah, we had auditions, and I knew there was going to be scheduling complications, but I offered him the role. There were four or five roadblocks that he had to clear between his job and his summer plans and we lucked out that they all just lined up and worked out and here he is. We work well together, we're a good team.
Austin and Hayley, what challenges do you think you'll face knowing your characters are iconic creatures from the film?
Austin: You know, it's funny because when I first playing the show music all around the house my parents kept saying, "I don't remember that song, and I don't remember that song." And I had to explain that the show was a lot different. I'm in love with this music. Like literally obsessed with it. That can be off the record, on the record, I don't even care! It's so witty and funny, but it's not the music from the movie. It all just hits home with me. I mean it took some getting used to because it is so different from the movie, but I like the show version better. So I don't think I've got too much to worry about there. I've told all my friends don't expect the movie, but I know they're going to love it.
Hayley: I'm not worried people are going to be looking at me like Drew Barrymore. I'm going to be honest, I didn't like her in the movie at all. I'm hoping to be more appealing than I found her to be in the movie. I'm trying to keep the quirky side of her? Julia is a quirky character. I want to be more appealing to the audience, because I definitely was not a fan of her in the movie.
Austin: She seemed really sweet in the movie, like too sweet.
Hayley: Yeah.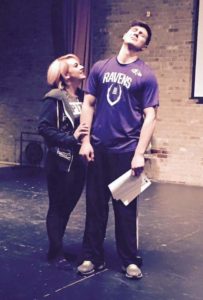 Mark: I think that's the smart thing, when they wrote the book they were tailoring these characters away from the actors in the movie. Robbie was written around Stephen Lynch, who is 180 degrees different from Adam Sandler. It allowed for other interpretations so that people doing the roles weren't restricted to what they'd seen in the movie. It's a lot of the same lines, a lot of the same musical style, but it has allowed for other people to step in and you don't even miss the people from the movie. Again, I think that's largely to do with the distance between then and now. There are some plays where you really have to copy— like with 9 to 5, you have to imitate Dolly Parton and Lily Tomlin or why even bother? But with this one I think it's an underrated script and score. The show script allows these two, and Layne— who's also playing Julia— to come in and bring their own personalities and just enjoy the material.
Now Mark, as the oldest person present, you have a working familiarity with the 80's because you lived through it as an adult. And Austin and Hayley, you probably do not as you both born after the decade was over. What is it like stepping into the 80's culture—
Mark: I would like it put on the record that I'm not that old.
Noted. But what is it like for you to revisit that era?
Mark: I said it before, it was the last fun decade ever! It's great to go back and revisit that and relive through the fashion, relive through the music, relive through the color. It's just fun. Every day back then was fun, everything you did was fun.
Austin: Really?
Mark: Really!
Austin: I had no idea that's what the 80's was. I grew up with Blink-182. I've seen them in concert like twice. Good Charlotte, saw them in concert too!
Hayley: Yeah…My Chemical Romance, Green Day…they were all my bands. Green Day is still my band.
Mark: That is not the 80's.
We know, Mark. So you had nothing but fun in the 80's, Hayley and Austin, what's it like getting to familiarize yourself with a culture that was "nothing but fun?"
Hayley: I think it is so much fun. Just from watching the music videos and seeing the pictures it really does look like how my dad's describing it. The costumes in the show are insane.
Mark: The laugh at every piece of clothing we pull out.
Hayley: They're so colorful and bedazzled! And all the hair! The wigs are so big! I love it!
Austin: I don't like it.
Mark: What?
Austin: I don't like anything about the 80's. I'm just not a fan. I love 70's music. I love the 50's to the 70's. That's my music. Frankie Valli and The Temptations— that's the music I grew up on because of my grandmom. She would pick me up from school and we'd listen to those bands. I never actively listened to 80's music. But when I did, it was this huge step from the 70's. BAM. I'll tell you this too— I dated this one girl who was way too into the 80's. She was all into it. And that was a turn-off for me. Especially now that we're not together anymore, maybe that's part of why I'm not a huge fan. By the way, I'm single. And I even get to sing a song about being single. But anyway, this girl loved Joan Jett and all of that. She was always listening to it and it really soured it for me.
Mark: Didn't you just say you were in love with the music?
Hayley: You said obsessed. Obsessed with it.
Austin: Yeah— I don't know! I am obsessed with the music from the show! Just not the 80's itself. Or Joan Jett. The show is all really good feel good music.
Hayley: It imitates all the 80's songs without being 80's songs.
Austin: Yeah! That's it! It's got a lot of passionate ballads. There's a lot of really passionate songs that I just get lost in.
What's the song that you love to sing the most in the show?
Austin: Oh wow. I have a lot of them. One is "Not That Kind of Thing." That's when Julia and I are singing to each other—
Mark: Where they go out shopping?
Hayley: And we get mistaken for being together, you know, as a couple.
Austin: We're singing to each other about how we're not actually together. I love that song. I also like the opening number, "It's Your Wedding Day." There's so much energy in that number. Oh! And "If I Told You" I love that song.
Hayley: Does it have to be my song? Because, "Let Me Come Home," which is sung by Linda, played by Hannah Thornhill, has got to be one of the funniest things I've ever seen in my life.
Austin: Oh I like "Single" and "All About the Green." Those are the ones I like to watch. Those are the fun ones.
Hayley: I like "Not That Kind of Thing" It's upbeat and we get to interact, so it's fun.
Mark: Do I get favorites? Even though I'm just the Director?
Hayley: No.
Mark: Too bad. You know I started out as a performer. Over the years I decided rather than just play one part I wanted to play them all, so why not direct? I've got good ideas and I think I'm pretty good at it— I mean someone must think I'm pretty good at it, I keep getting hired places. I've got art training so I took that into costumes and I do design work too. But as far as this show goes, actually— side note, years ago I performed in The Wedding Singer. I played Glen, the butthead fiancée, which was a fun role. I fell into that niche of buttheads and stupid people, apparently I do those very, very well. I'm totally off track here— where was I going with that? Oh, right! Favorite song from the show…I love the opening number. It's one of the most perfect opening numbers for setting the energy of the show overall. It's infectious, it's fun. These guys are so much fun to watch. It's one of the best numbers ever performed at the Tony's. I love "If I Told You", the duet. I think it's a very underrated song because there are so many upbeat, fun, great songs and then you get this love ballad that everyone sort of dismisses. But there's so much emotion in it and it's this great take-off of what I feel is "Paradise" from Footloose.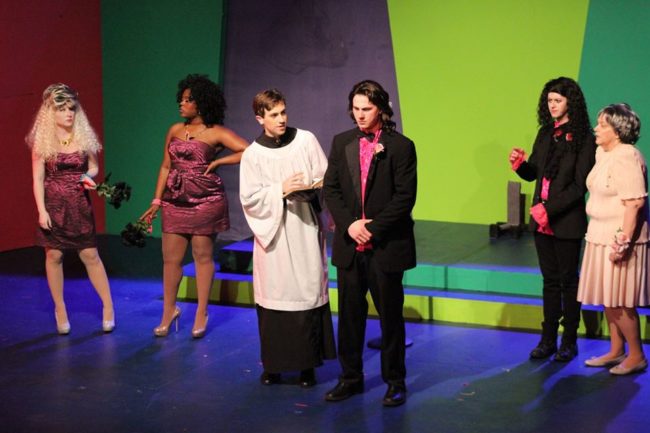 And my other favorite, I can't believe nobody's said this, but it's "Casualty of Love." It takes the place of "Love Stinks" from the movie. It's where Robbie's all heartbroken and has to go sing at the wedding, and he's dark and loses his mind. It's hilarious, it's a show-stopper. It makes me laugh every night.
Hayley, I know you mentioned one of your challenges was having to learn the show from afar and over the internet, would you say that's been your biggest challenge?
Hayley: I think definitely just getting the time to have the script and just sit down and memorize it was pretty big. I had to contend with college and all of my school work. My finals just finished this week, I just finished my sophomore year. I've only had a week total to sit down and memorize everything. That's definitely been my biggest challenge.
Mark: The young lady sharing the role has had scheduling conflicts that aligned perfectly with Hayley's so it just meshed, and I couldn't have asked for a better split.
Austin, what about you? Your biggest challenge?
Austin: Learning to love the 80's. No, honestly, it was finding the time. At work I do a lot of the training, so I'm constantly on call as a manager and because I'm working to run my own store, I was in Atlanta for training, I was in Texas doing a grand opening, I've been travelling a lot. I was supposed to do some other traveling, and I actually had to push that back a bit for this show. So that's been my biggest challenge, really. Oh! And the guitar. I've never played the guitar. Ever. I have a guitar because when I was in high school my parents got me one. I said "I want to play the guitar" they got it for me, and I never played it.
Mark: We all have that guitar.
Austin: Right? But I've learned a lot, I've learned all these chords. But that was a huge thing with my songs, "Oh my gosh, how am I going to sing, and strum chords, and walk?" That was the hardest thing for me, for sure.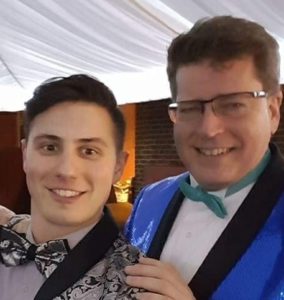 Mark: I want it on the record, he volunteered to learn it. I told him, "You got a band behind you, just strum your fingers we'll cover the sound." And he said, "No, I want to do this. I want it to be authentic." I mean this is a huge role and he had 1,000 other things going on but he was determined to make it happen. He's dedicated. He's a very conscientious actor.
Mark, what has been your biggest challenge?
Mark: It's an enormous physical show. The costumes, the dance numbers— I mean you have all these huge production numbers and Becca's choreography is not easy! I've costumed this show in the past and I told them it was going to be a beast. There are well over 100 costumes, and each one is very specific. Each dance routine has a very specific 80's look to it. There are four period weddings and you can't just recycle the gowns. It's an enormous challenge. I also had a challenge casting it, which is rare. But with this show even your bit parts are people that have to really hold their own. You know, usually with a show you can cast the principals and hope for a strong ensemble, but here I need someone who can be Cyndi Lauper, someone who can be Tina Turner, so I can't just cast whatever turns up at auditions, I really had to go out and find people who would specifically fit all of these very specific roles. It is just a huge show physically. It's a lot of work, thank God I've got a great team of designers and producers behind me who have made it so, so easy.
What would you say being a part of this show has taught you about yourself?
Mark: I have never seen anything like this in decades. This cast, they are all so dedicated. In community theatre it's usually, "Here are my conflicts, I'll be there when I can be there, deal with it." But not with this cast. They've rearranged their lives to make everything happen. When you walk into the room, they all want to be there. They enjoy being at rehearsal. They like each other, they love each other! There is just so much good energy in the room with them. I have come down from Baltimore to choreography and music rehearsals that I have no business being at— not because I'm controlling but because I just love being in the room watching them be creative. That is something that I have missed over the years. I used to love going to rehearsals just to be a part of the show. They've reminded me that this is what theatre is supposed to be like and it put me back in touch about what I love about being an artist in the theatre. Here I've got 20 people in the show who obviously work and think the same way that I used to and they've put me back in touch with that person. They appreciate the opportunity to create this magic, and it's reminded me how much I've missed having the atmosphere to do that in. How fulfilling that is as a person and as an artist, I really owe that to these guys.
What has it taught you guys?
Austin: Hayley? What has it taught you?
Hayley: I mean, I've only had three rehearsals? So I haven't had much time to think about that? The main thing is that I shouldn't ever go for a guy like Glen Guglia because he was a terrible person. And then of course my name would be Julia Guglia, and that's just gross. But the problem with Julia is that her character doesn't have much depth to it? So it's hard to pick out one specific thing that could be a revelation for me to experience. Pick the nice guy in the end, that's the main thing. Money doesn't matter, pick for love. I mean that's a lie, money totally matters, but also love. And it's taught me time management!
Austin? What has it taught you?
Austin: Other than to make out with two women? Actually, three women. But ignore that. What she said, it's taught me time management. It's taught me how to play guitar. Ish. It's reminded me that I want to continue with theatre, definitely. It's taught me that I can do more character acting than I thought I could. They always told me— all my theatre professors— that I had the young ingénue look and I'll always be cast-type that way? But Robbie Hart, even though he's a "leading male" he's rough cut, he's funny, and more of a character track in terms of acting.
Mark: He does have a point. Austin does have a package— the look and what he's done before— for type casting, but in working with him, he's been able to find the humor in Robbie Hart. Between the line delivers and playing with physical comedy, it's amazing watching him grow outside of this box that everybody has put him in. It's been really great to watch that.
What is it that you are hoping people will take away from seeing this show?
Mark: You mean this evening of fabulous 80's fluff? Because let's be straight here, no one's walking away with the cure for cancer after seeing this. I want people to leave their 2016 problems and their 2016 worries outside on the dock. I want them to stop and take a break for two and half hours and just enjoy the music, the color, the fun, and just take that spirit of the 80's with them. For people who haven't experienced it I want them to see what it's about. It's an escape. I want to offer people an escape for just a little while and for however long they're able to experience it afterward. That's my goal with this show, have a little fun on us in the last fun decade ever.
Hayley: I agree completely. I just want them to enjoy it and have a lot of fun with everything they're watching. I think it's a really fun show and I think it's very entertaining and I hope everyone enjoys it.
Austin: I'm trying to think of something different to say, but I agree. I want people to have fun. I want people to think "Wow, that was a lot different from the movie but I had a really great time." That's what I want people to say as they're walking away.
Hayley: That's the whole point of this show, for people to just have fun with it!
Austin: And to take people back. It will definitely take my parents back to that era they remember, all those parachute pants.
Why should people come and see the show?
Mark: This is a wonderful cast. There's eight leads. That's the beauty of it, a nice balance of leads and ensemble. It's just such a fun salute to the last fun decade ever.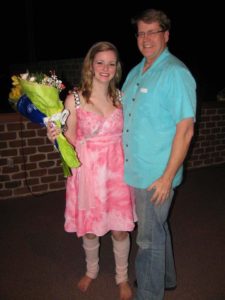 Hayley: Is anyone keeping track of how many times he's said that?
Austin: That's at least four.
Mark: Yeah, yeah. But in addition to being that— a fun salute to the last fun decade ever, there now it's at least five— there are so many people working so hard to make this show hilarious. He's wonderful, both my Julia's are beautiful. Hayley mentioned Hannah Thornhill as Linda, a character who has five minutes of stage time but in the right hands will walk off with the entire show— and we've got the right hands on Linda. It's a big splashy, colorful, evening of fun. They don't do shows like this anymore. They're not writing shows like this anymore.
Austin: There's a happy ending!
Hayley: Yeah, you don't get those too often anymore. The happy endings.
Mark: Yeah, nobody dies. Come see it for the happy ending. Come see it because nobody dies.
Hayley: It's just a good happy show, come see it because it'll make you feel good.
Mark: You will smile.
Austin: You will laugh.
Hayley: You will love it.
Austin: You might even cry. Depends on how badly I play guitar.
Mark: He's amazing. You won't cry because he sucks on guitar. You might cry in other places. I mean, I'll admit, sometimes I cry during the opening number. I know I'm going to cry at the wedding at the end. You get all the feels with this show because I have this great cast with great personalities and they just have it all down. You're rooting for these two characters. There's so much joy in this show, it has really just touched something inside of me. It looks like a fluff piece, it really does, but there is so much heart in this piece. There is so much joy on stage.
The Wedding Singer plays through June 18, 2016 at Annapolis Summer Garden Theatre— 143 Compromise Street at the docks in Historic Annapolis, MD. For tickets call the box office at (410) 268-9212 or purchase them online.