The 32nd Annual Helen Hayes Awards is just around the corner celebrating live professional theatre of all shapes and sizes in the nation's capital city of Washington DC. This year's ceremony will be presented at the historic Lincoln Theatre on Monday evening May 23, where 236 nominees are being honored, representing 202 eligible productions produced in 2015. In a TheatreBloom exclusive interview, we've taken a few quick moments with nominee David James (nominated in the category of Outstanding Supporting Actor in a Musical— Helen Production, The Addams Family, a new musical comedy at Toby's Dinner Theatre) to discuss his rich history with The Helen Hayes Awards. The 2016 nomination marks James' sixth nomination in 32 years, and he is currently in possession of two wins— both in the category of Outstanding Supporting Actor in a Musical— a rare achievement for any Washington DC actor. A win at this year's ceremony would make him the first individual to hold three Helen Hayes Awards in the same category and one of the only, if not the only, individual to hold three wins overall.
Thank you for giving us a moment of your time, David. How have you been since we spoke last and what have you gotten up to since performing in The Addams Family?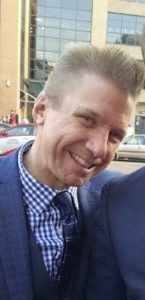 David James: Doing just fine, thanks. Let's see…since The Addams Family? That's been a whole year! Right after Addams I stepped into 1776 as McNair and we did that interview with Matt (actor Matthew Hirsch), I don't remember what you called that series, wasn't it Vote Yes? But that was the one where we talked about sharing the role of the courier, I'd done it at Burn Brae Dinner Theatre back in 1990 and he was doing it then at Toby's in 2015 while I played McNair. After 1776 I took a break and came back to Toby's for Ragtime, which has several nominations this year at The Helen Hayes, including best ensemble, which we're all very excited about. I played Henry Ford and was a member of the ensemble. Over the Christmas holiday I reprised my role as Clarence in Toby's It's a Wonderful Life, her original musical, and we did an interview then too, didn't we? Then there was South Pacific, I was one of the Seabees and now I'm currently playing Smee in Peter Pan. And as we speak I'm rehearsing for Hairspray which opens on June 16, 2016. I'm playing Wilbur.
Wow, you do keep busy! It's no wonder you have a long-standing history with Theatre Washington and The Helen Hayes Awards. How many nominations have you garnered over the years?
David: Including this year I've had five nominations. I was nominated for Outstanding Supporting Actor in a Resident Musical at the— now this part always takes me a minute because I know what year I did the shows, but then have to remember the awards are always the following year. So it was the 1996 awards for Pirates of Penzance at Burn Brae Dinner Theatre. I played the Sergeant of Police. And I realize as I'm going through them in my head they've all been in the category for Outstanding Supporting Actor in a resident musical. At the 1998 awards I was nominated for playing Scarecrow in The Wizard of Oz at Toby's Dinner Theatre. That was my first win. And I believe we were told that was the first time any Dinner Theatre had won an award at The Helen Hayes. And I don't think there was another win from a Dinner Theatre until Tom McKenzie won at the 2004 awards for playing Coalhouse in Ragtime at Toby's. At the 2005 awards I was nominated again for Godspell. And that was my second win. I'm not sure how you get nominated for Outstanding Supporting Actor in a show like Godspell, that's really an ensemble musical, but my solo feature number was "Turn Back, Old Man" and I did it as Carol Channing. That idea was actually a Chris Youstra idea. Toby (Artistic Director Toby Orenstein) wasn't too sure about it, but Chris said, "let's just try it." And it worked.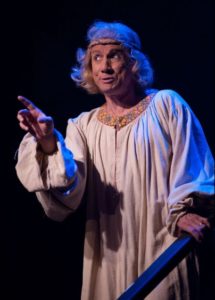 Then, last year, at the 2015 awards I was nominated for Character Man in Spamalot, and that was such a weird moment because as they were announcing the winner, I got all excited thinking they were calling my name. It was David Jennings, who was also in Spamalot but as Lancelot, so I heard them say "David—"and his last name even starts with a J, so that was sort of funny. Really happy to have had so many nominations from that production, we had so much fun with it. Actually Toby's ran that entire category with four of us getting nominated from Spamalot and Jeffrey (Toby's actor Jeffrey Shankle) getting nominated from Shrek. The only non-Toby's nomination in that category that year was from Unexpected Stage Company, Joshua Simon in Dani Girl. And fun fact? Josh was just in Ragtime at Toby's, he played Tateh.
But those are the four previous to this year, and of course this year I'm nominated for playing Grandma Addams in The Addams Family. I'm running against one of my co-stars, Shawn Kettering, he played Uncle Fester. And then there are two other guys nominated from Constellation Theatre's Avenue Q, a guy from Studio's Silence! The Musical, a guy from Creative Cauldron's Turn of the Screw, and a guy from Adventure Theatre's Garfield! The Musical.
So you are still nominated in the outstanding supporting actor category?
David: Yes…they got it wrong, it should be actress! I'm just teasing. It was so much fun getting to play a crazy old grandma though.
Are you excited for the nomination even though this is your fifth one?
David: Yes! Of course! This is the thing; this is an honor. It's a great recognition. As actors, we don't get bonuses, and we don't get raises and promotions and all that kind of stuff that people who work out in the nine-to-five world get. So whenever you're fortunate enough to get a nomination, you're getting recognized by the theatre elite, and that's their way of saying "Great Job!"
This is not your first nomination since the infamous "split" of the Helen Hayes Awards. How does the divide situate with you?
David: That's right. Spamalot was the first nomination I had where there were "Helen" awards and "Hayes" awards. That's an interesting question because I know the split categories generates a lot of discussion and there are a lot of people who have a lot of differing opinions about it. Because I've been associated with The Helen Hayes Awards and Theatre Washington for so long, it definitely took some getting used to. Before, when there was only one place you could be nominated, it was nice to be "playing ball with the big guys" so to speak.
Before the divide, people like myself who work consistently at Toby's Dinner Theatre, and long ago when there were other dinner theatres, we were being evaluated right alongside big the big players like Signature Theatre, Arena Stage, Olney Theatre Center, and all of them. And here we are, a dinner theatre, that's outside of the DC city limits in Columbia. In my opinion, that made the nomination a lot more prestigious. It wasn't about a budget or a pay-scale. It was just good theatre being recognized by the association. Dividing us up into categories, to me, sounded like they were putting a price point on talent, instead of simply looking at talent for talent's sake. But you know what? As long as they're still including us, I say that's all that matters.
Do you think receiving a Helen Hayes nomination has changed the way you perform?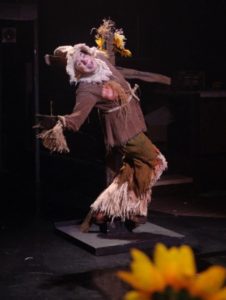 David: In my line of work, especially at Toby's, people pay a great deal of attention to the nights when the Helen Hayes judges are attending certain performances. They get all worked up and I hear things flying around like "I have to do a better job; I really have to impress them." I notice that people like to be aware of when they are there, not that anyone's changing what they're doing in the show, but they feel like they need to be more on-point when they're playing for an audience that they know is judging them. In my opinion, every performance should be on point. You should be out there on stage giving the absolute best performance you can give whether or not judges from The Helen Hayes are there or not. I never in all my years of doing this have set out to specifically achieve a nomination. And if that's what you're out there doing theatre for, you're doing it wrong. When it comes, it's a pleasant surprise, and it's a wonderful validation of good work, but it is not the reason that I do what I do and I'd like to think that it's not the reason any of us get up there and perform.
You mentioned a bit ago that you're running against not only someone who frequently works at Toby's Dinner Theatre alongside you, but Shawn is vying for the same award from the same show. How is that working out for you?
David: Easier than it did when we all got nominated for Spamalot, I'll tell you that much. That year there were four of us— well five of us, because of Jeffrey— but four of us from Spamalot. The show basically ran the category. It makes it really difficult when you're nominated alongside your co-stars because these are people that you spend an incredible amount of time with— especially in our case because runs at Toby's are longer than most other theatres, we're doing 12, 13, 14 week and sometimes longer runs of shows still doing between five and eight shows a week. And you definitely want to be supportive of your fellow co-stars, but at the same time, if you're lucky enough to receive a nomination, of course you want to win!
With Spamalot each character track was so incredibly different and distinct and each one of us was bringing something so incredibly different to the table so it sort of makes you wonder what exactly the judges are looking at to get all of us nominated for the same award from one show. How do you take a group of guys and say "you're all in the realm of best supporting?" I mean, I think I do understand it because it was such a strong show, and we were all so thrilled to have so many nominations and two wins come out of that show.
It's interesting that you point that out considering this year's nomination. Here you have the character of Grandma Addams, who considering the rewrites to the character from the time the show left Broadway to the current version that was performed at Toby's— where she no longer has any songs or true solo features and has very limited stage time— could arguably be said is much more of a cameo compared to the character of Uncle Fester, and yet you and Shawn Kettering both received nominations for the same award.
David: That's the beauty of the nominators that come to see the show, that's all on the judges. These judges who come to see the show, our performances…well some of them touch certain judges others of them do not. Sometimes you feel like the show you're in or the role you're doing is an award-winning show or role and that show or role won't even get nominated. It all depends on what those judges are feeling that night and whether or not the majority of them agree with that feeling so that the nomination goes through. Frankly, I'm honored that my character work with what you call a "cameo character" made such an impression on the judges that they chose to nominate me for outstanding supporting actor.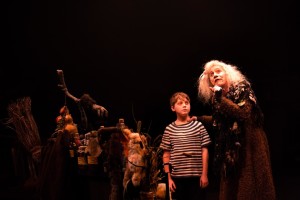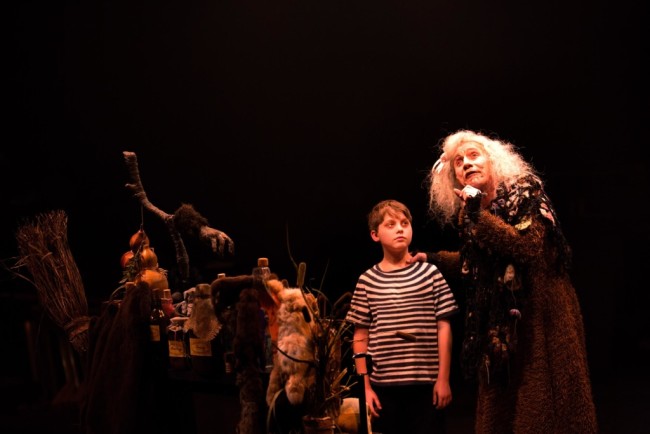 It's such an interesting process to have watched evolve over time, the nomination process. Because back in the day when I got my first nomination, and I was playing with the big-wigs because it was all inclusive back then and there was no divide, there was a different structure to how the nominations were done. You had judges inside the theatre. Each theatre had a judge. That's probably the wrong word because they reported back to the actual judges but I don't remember what they were called. If you were associated with The Helen Hayes, then you had a judge that came from your theatre— and it could be anybody from that particular theatre, someone from the kitchen or the box office, whoever— they would go out and see shows, and if that person thought there was something worth seeing, they'd send out the judges. So you had the nominators— that's what we'll call them— the nominators came first, then you would send the judges out. That was an incredible process to get through because you had two sets of people you had to impress. Over the years that has all changed, they don't have the nominators anymore and now it's just the judges who come and see every single show.
You have two wins under your belt and this could be a third. What would it mean to you to have won a third Helen Hayes Award?
David: That's crazy. There aren't that many people who have won two. I think it would be interesting to see how many people have actually won more than one. I mean, like I said before, this is like getting the most prestigious award that there is to get out there. Getting a nomination, and then getting the actual win, which means they thought your talent and your performance and your portrayal of that character was better than the rest in the field, it's the best review you can get.
Now a year ago when you were actually playing Grandma Addams, as you mentioned, we did an interview as a part of a series featuring the various principal performers in that show and I know we talked a little bit about what it was like getting to break the gender barrier as a man playing Grandma. Can you refresh my memory a bit there?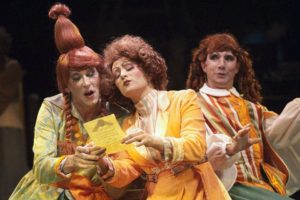 David: Now you know that Grandma Addams was not the first female role I've played. I know I've told you this before. At least I think I have. The first female role I'd ever played on Toby's stage was during Best Little Whorehouse in Texas. Now this is going back 20 years ago, summer of '96. I played, oh what's his name, you know— the TV evangelist. Why can't I think of his name? Oh! Melvin P. Thorpe! Okay so for the show I was playing him, and this was only my third show at Toby's. She needed someone to be Miss Willa Jean in that opening scene when the flashback happens. So she put me in a sequined dress, a Gibson wig, and a wheelchair and there I was. My sister was coming to see the show, and I hadn't told her that I was doing the opening bit, just that I was playing Melvin P. Thorpe. She came to see the show and it was quite a shock for her! See Toby started my on-stage cross-dressing way back in the day. And then Darren (actor Darren McDonnell) and I did the stepsisters in Cinderella, which was well after Whorehouse, with Godspell in-between, where I did "Turn Back, Old Man." I've played several ladies over the years and I love it. Step out of your comfort zone.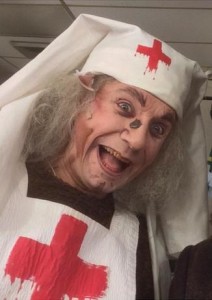 It's all about being given the chance. Our Director, Mark (Director Mark Minnick) and whatever vision he had for that character in his mind, he believed that I could step into that role and be convincing as a 102-year-old grandmother. I actually had people at the theatre on nights when I would be waiting tables, where I would go out at intermission and they would say to me, "Where's our waiter?" Because you start the night waiting tables without makeup and costumes on, looking as I do right now, and Grandma's hair and makeup was so intense that there was no taking it off or toning it down for intermission. I would tell those people them it was me. And they would say, "No, no, our waiter was a guy." And they would argue because they didn't believe that I was the guy who waited on them at the top of the show, that I was a guy. And I guess I must have convinced some of the judges somewhere along the way that I was a grandma of 102 because I got nominated.
Do you think that these award ceremonies still hold merit in this day and age? Are they still relevant?
David: I think they are. And maybe I would think differently if I wasn't nominated, I don't know, I doubt it, but I can't speak from that perspective at the moment. This is a chance for the community of theatre to get together and acknowledge the talent that is present and active in the community. There is so much talent in the Washington DC area, that's why Helen Hayes started this all those years ago. She knew the talent that was in this area, she knew what kind of shows the talent in this area was capable of performing. She wanted to recognize the talent in the area. I think it's really important because you get to see that there is talent outside of New York City and outside of Broadway. That's not to demean the talent in the big apple in any way, but it reminds people that there is talent in addition to what's happening up in NYC. It's important for us to get together and acknowledge the work we do. Let's celebrate the fact that we're all still on stage doing incredible work, that theatre is surviving with incredible talent right here in Washington.
You said you're currently rehearsing for Hairspray. Is that the only upcoming project you're working on?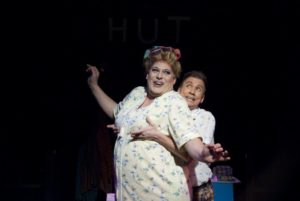 David: Acting in? Yes. I'm reprising my role of Wilbur, which is a role I absolutely love. I've only done it once before, when Toby's did Hairspray back in 2010. I will be directing Christmas Carol over Christmas at Toby's, also something I've done before and love.
What is it like getting to revisit these roles and projects that you've performed and directed before?
David: It's always a way to revisit something and try to create something different and fresh even though it's the same material and even sometimes the same cast members. I like to look at it as a challenge and say, "Okay, this is what we did last time, what worked, what didn't work, and how can we move forward with it?"
Are there any roles left that you have to do before you're finished on stage?
David: Finished on stage? You make it sound like I'm dying! I don't intend to go anywhere anytime soon!
Sorry, what I meant was, for someone who has been acting for the last 30+ years, you've accomplished a great many roles and you've pretty much run the gamut of things on stage, I think I was just curious if there's anything that you want to say you've done that you haven't yet had the chance to do?
David: That's better. Now, I will say that I did see A Gentleman's Guide to Love and Murder on Broadway and that is very intriguing to me. But talk about high standards! That show blew me away; the character work blew me away! The guy who played the character man— all the D'Ysquith family members— I think that is something that I would love to sink my teeth into and would definitely be my most challenging role to date. If I could aspire to that? I think there might be a character in Young Frankenstein that interests me too. It's hard to sit and think about these things because I can give you 101 reasons why I shouldn't be cast in these roles. But as actors that's the natural self-doubt coming out. When people mention things to me, "Oh you'd be great for this role" or "You'd be perfect for that role" I'm always hesitant, but I accept the challenge if it's offered to me.
Do you foresee The Helen Hayes having a strong presence going forward in the future of Theatre Washington?
David: Yes! As long as there's viable, good talent performing out there, it should be recognized. That's what the Helen Hayes Awards are there for.
For more information about the 32nd Annual Helen Hayes Awards, click here.
To read the original interview with David James as Grandma Addams in The Addams Family at Toby's Dinner Theatre, click here.
To read the TheatreBloom review of the Helen Hayes nominated production, click here.