Can I get an amen? AMEN! I said— I said— can I get an Amen? AMEN!!! It's time to be raising the praises over at Church & Company as Twisted Knickers Burlesque proudly presents their bawdylicious Easter show, Res-Erection. Sharing the same name as last year's Easter event, Producer Tapitha Kix and the girls of Twisted Knickers Burlesque are settling into their new space quite nicely. Partnering with Church & Company, the burly girls bring an extra authentic feel to their "church-themed" evening of burlesque by presenting the performance inside an actual church! Service was held on the 26th of March 2016, Easter Saturday, with Deacon Hot Todd Lincoln hosting and a real live church organist to accompany the musical festivities. Hymns were sung, the body and blood of Christ (looking seriously like Cheez-Its and deliciously cheap red wine) were had for communion, and the girls showed Baltimore how to resurrect the holy spirit in time for the holidays!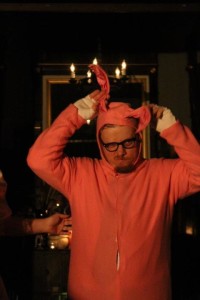 Presenting the audience with a new character, Deacon Hot Todd Lincoln had just a hint of a southern drawl at the beginning of the evening, and his joke repertoire was primed with bad church and sex puns galore. Being a prime punster, Hot Todd Lincoln knows how to work the audience when it comes to their moaning and groaning and his signature line "I will turn this— in this case the congregation— right around" made an appearance once during the evening as well. But it wasn't his emceeing that caught the audience's attention properly, but the true treat of getting to see his work as a side-show performer. Glass walking, jumping, and laying, became a part of the evening's entertainment, along with a guest appearance of a very pink Easter bunny. A bonus cameo nod should also be thrown out in Lord Covington's direction, the house butler to Miss Tapitha Kix, who took to the microphone at the top of the second act to sing his own cover of the Doobie Brothers' "Jesus is Just Alright."
Serving as the show's 'stage kitten' though more of a congregational choir stage hand, Adora Butch was keeping the floors clear of 'stripper droppings' between numbers. Right up until the second act where Adora Butch took the stage and performed a burlesque number of her own. Keeping with the Easter theme, and reminding us that the Lord watches over his flock, Adora Butch's 'too-cute-for-words' sheep routine was anything but baaaahshful.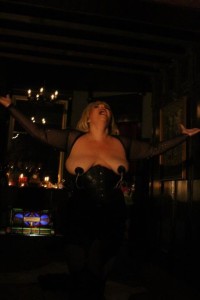 Only performing in the first half of the show, and doubling up as the stage-kitten/cleanup-crew in the second half, Tapitha Kix really rolled the Easter spirit in her opening number. Warming up the house after a full-praise hymnal sing-a-long of "O, When the Saints,", Kix started things off slow and sweet with "Living Waters." This portion of her routine really showcases her impressive dancer's ability complete with ballet and modern technique and moves thrown in. But once things got going, the tent-revival was real and Kix wasn't afraid to bring the holy spirit roaring through the remainder of her number.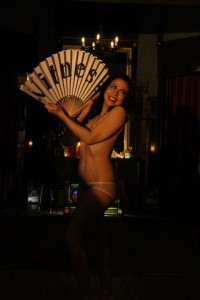 Debuting new material, Tempette LaCoeur enticed the audience with a new fan-focused routine. LaCoeur's fan-work is graceful and elegant while flickering waves of sultry seduction in a tasteful fashion out to the audience. Starting the routine like a door-to-door Jehovah's Witness, the clothes came off, the fans came out, and the seduction of religion began. Printed on the backside of the fans? "Bare Witness" an ironic fitting phrase given the dance LaCoeur performed. Calling back to original sin, the second act featured LaCoeur's "angel/devil" routine, revealing sparkly red devilishous underthings complete with a Satan tail set to a very saucy song.
Spunky, energetic performer Cherie Nuit brought her signature gore-n-shock routines to both the first and second halves of the show. Riffing on the fact that Jesus was in fact a zombie crazing souls, her opening routine featured a children of the corn style mask (completed later with inverted crucifix pasties) and a completely disturbing strip tease in the vein of possession. Nuit's strongest tool is her hyper animated body that rocks and rivets along to whatever tantric fit her character is experiencing in the moment and this was featured in her second act number, "Beautiful Zombie." Nuit's tendency to let her body go spastically along with the music makes her performance a great deal of fun to watch and enjoy.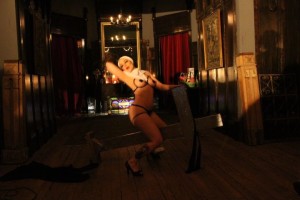 Ruby Rockafella was bringing the house to their knees with her opening set, appearing as Sister Ruby in full sequined habit. Working closely with an oversized wooden cross, Rockafella unapologetically worked over the cross like a proper dance partner, lugging it, waltzing it, and finally riding out it out finish the number. Raunchy, rowdy, and roaring with vivacity, Rockafella found the holy spirit moving through this routine. Rounding out her performance in act two with a crowd favorite— "The Black Dahlia"— Rockafella again reminds us how fascinating it can be to witness a strip tease in reverse, making it look just as sexy to watch her get dressed as it was watching her undress in the first act.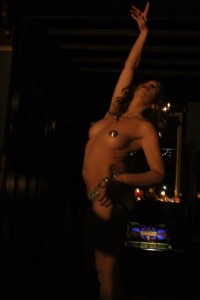 Ruby Spruce was the highlight of the evening with her statuesque figure striking hard poses in both of her routines. Not afraid of a little "floor-play", Spruce gets up and down on all kinds of different levels and really turns out two impressive routines. Her opening routine featured a flower-child couture that could almost be a loose interpretation of the Virgin Mary, though once she gets into the routine it's more like a reflection of Mary Magdalen. The routine that closed the performance, "The Ecstasy of St. Theresa as Dramatized by Ruby Spruce" was mind-blowingly hot. Making martyrdom look fierce and scintillatingly seductive with her ferocious facial freezes and dramatic arrow-stabs, Spruce won every moment of the night's closing routine.
It was a great way to feel the holy spirit of Burlesque, enjoy the entertainments of the evening, and thoroughly revel in the delicious riots of stage-driven sin just in time for Easter. Be sure to catch Twisted Knickers next performance— a prom-themed evening happening at Church & Company on Saturday May 14, 2016. Tickets will be available for purchase soon!
Res-Erection! Played a one-night engagement at Church & Company located just off The Avenue in Hampden at 3647 Falls Road
For more information on upcoming Twisted Knickers shows— like and follow them on Facebook!
Follow Ruby Rockafella here!
Follow Cherie Nuit here!
Follow Tapitha Kix here!
Follow Tempette LaCoeur!
Follow Ruby Spruce here!
Follow Adora Butch here!