Musical theatre these days, boy I tells ya! Might as well go to hell for what's passing on the boards as good entertainment! But you're in luck! Has Epic Productions Inc. got the show for you! It's gutsy! It's spoofy! It's a two-handler— finally a side-splittingly funny musical about Gutenberg! It's just what the Baltimore theatre scene needs and it's just what Epic Productions Inc. is serving up and dishing out with their upcoming production of— you guessed it— Gutenberg! The Musical. Appearing for a limited two weekend engagement at St. Mark's on the Hill, this hilarious musical is sure to bring about a barrel of fun for everyone in attendance!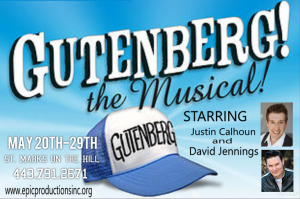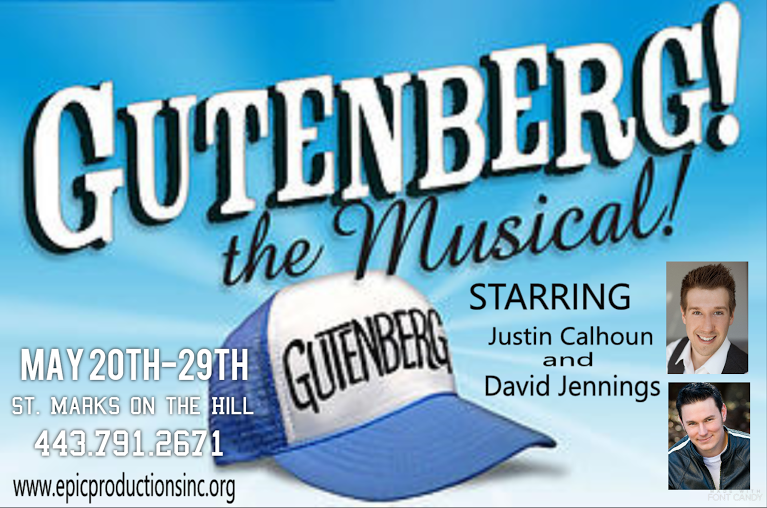 What more could audiences want than a two-man musical spoof that features a pair of aspiring playwrights who are out to perform a backer's audition for their newest project, which just so happens to be a big, splashy musical about Johann Gutenberg, inventor of the printing press! It doesn't get funnier or more meta than that! This gooftacular musical will be sure to split your sides with humor as Bud and Doug go after the big bucks from Broadway funders in hopes of fulfilling their ill-advised dreams.
The production, slated to open on Friday May 20, 2016, will be directed by Epic Productions Inc.'s Artistic Director David C. Jennings. In addition to directing the show, Jennings will play as one of the two characters in the production, opposite of Justin Calhoun, a talented area actor. Jennings is the recipient of a Helen Hayes Award for Outstanding Supporting Actor in a Musical 2015 for his performance of the Lancelot track in Spamalot at Toby's Dinner Theatre of Columbia. Other stage credits include Gaston in Beauty and the Beast and The Pirate King of Pirates of Penzance, both at Toby's, with additional work performed Signature Theatre, NETworks Tours, and Disney Cruise Lines.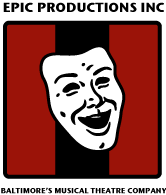 Justin Calhoun's extensive stage credits include Rapunzel's Prince from Into the Woods, Willie Conklin from Ragtime and teenage heartthrob Link Larkin the upcoming summer 2016 production of Hairspray at Toby's Dinner Theatre of Columbia, a role which Jennings had the honor of playing during the company's 2010 production. Both Calhoun and Jennings will fall under the fine Musical Direction of Charlotte Evans who has most recently worked with Epic Productions Inc. in their production of I Love You, You're Perfect, Now Change. Evans has also worked with Stillpointe Theatre of Baltimore as well as Surflight Theater in New Jersey, Crown Uptown Dinner Theatre in Kansas, and The Millbrook Playhouse of Pennsylvania.
Gutenberg! The Musical! will play Friday and Saturday nights at 8pm and Sunday matinees at 3pm from May 20th through May 29th of 2016 with Epic Productions Inc. at St. Mark's on the Hill— 1620 Reisterstown Road in Pikesville, MD. For tickets, call the box office at (443) 791-2671 or purchase them online.