Somewhere over the beltway, way out east— there's a church called St. Demetrios, serving up a big Greek feast. Somewhere over in Carny, The Suburban Players know, they are producing a stage dream for the 41st season show. With Director Mark Briner, and Musical Director Patricia DeLisle, go beyond the rainbow for a true community theatre experience with The Wizard of Oz. Classic and charming, this delightful performance lives up to the standards that The Suburban Players have set over the last four decades of performing quality theatre as a community effort. A truly timeless and familiar piece with all of the iconic characters from the well-traversed pages of Baum's novel and MGM's silver screen sensation, this production is the perfect family-friendly mid-winter pick-me-up to get out of the house and shake away the snowy blues.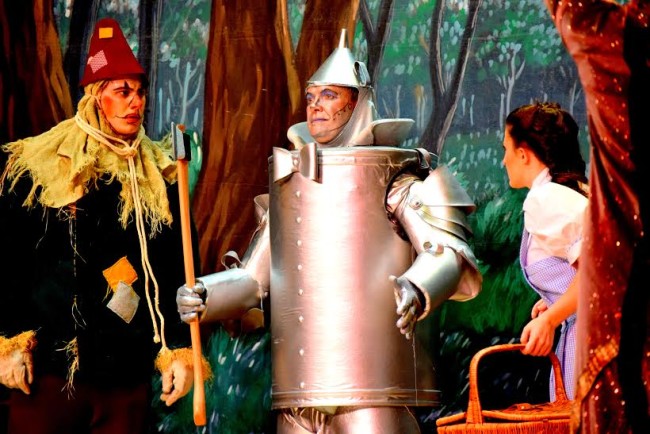 Working with scenic drops from Kenmark Inc., Director Mark Briner transitions the monochromatic grayscale experience of the story's humble beginnings into a magical technicolor experience. Each of the drops more elaborately detailed than the last, the audience is immediately transported on the whimsical journey to Oz with Dorothy after the twister sweeps her up and away from dustbowl Kansas. Lighting Designers Peter Beleos and Angelo Kokkinakos accentuate these lovely scenic paintings with their continual use of rainbow Fresnels, strobing overhead effects, and tightly focused spotlights that draw the attention to the performers during important solo songs.
The whimsy of Oz continues to manifest itself through Costume Designer Tracy Bird (sourcing from CNY Costumes Inc., Looking4Costumes, and Stage Garb Incorporated.) Utilizing a wide array of brightly colored outfits for the various munchkins, Bird pays homage to a great many visual aspects of the original film especially when it comes to the munchkins and the principal characters. Bird's work to define the anthropomorphic characters— the glittery velvet full-bodied trees in the creepy forest or the dapper suits and black porkpie hats to create the crows— is worthy of praise as well. Bird's most fashionable piece is the glamorously glitteriffic gown thrown over the Wicked Witch of the West. Even witches have to have a certain flare and Bird ensures that this wicked woman glows with gusto in that sparkling number.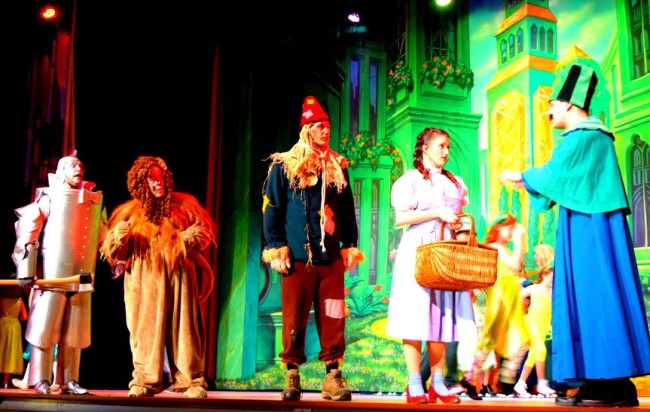 Working with a community of performers that brings all levels of dancing ability spread across a great many ages to the stage is no small feat. Choreographer Becca Vourvoulas concentrates her effort in playing to the strengths of those that have solid dancing talent and creating simple but engaging and energetic routines for those of a more basic dancer's exposure. Vourvoulas' approach to simple but neatly executed routines makes bigger numbers like "Ding, Dong, the Witch is Dead!" feel lively and filled with movement, everything from basic box-step to marching in circles. It's the smaller more intimate numbers, like any of the "We're Off to See the Wizard" segments, where she's able to incorporate a mimeographed copy of the movie's fancy footwork among the key players and concentrate her efforts on the spry spring in their step accordingly. Keep an eye out for twirling twisters, jittery jitterbugs, and some fancy soft-shoe work from the Tinman throughout the performance.
Musical Director Patricia DeLisle keeps the orchestra well blended. Achieving those familiar MGM studio sounds right from the beginning of the score, DeLisle does her best to provide a well-paced, and well-balanced live musical pit throughout the entire performance. Her ability to balance the pit, given how little sound dampening is in place due to their placement, is impressive and for the most part she keeps the players from overblowing the soloists during their featured numbers. Director Mark Briner takes a similar approach to balancing the performance by creating a splendid hybrid of what is expected from the iconic movie while still letting the performers find little niches to call their own. When directing a piece that has a heavy familiar history like The Wizard of Oz, it is a fine line to toe when determining how much should be a recreation and an homage and how much should be original work, and Briner delivers that line toed to excellence in his production. The pacing is quick, the characters are quirky but earnest, and the show moves soundly forward without stumbling or artifice threaded into the heavier scenic changes.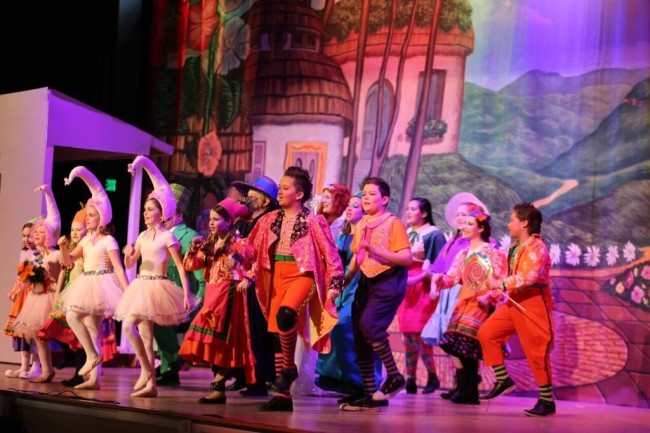 With dozens of performers populating the show it's impossible to mention them all, but each one serves their part from the pippy Mayor of Munchkin City (David Vain) right down to the adorably confused Summer Johnson (our precious live-dog Toto) who captures everyone's heart every time she runs, or toddles her way onto the stage and into Dorothy's arms. Laura May, who serves as the sassy leader of the Apple Trees, is one of several examples of modern-day original humor in this production. May has several one-lined zingers— tree puns that leaf you laughing, if you— that capture a snarky attitude and revitalize those moments of "extra-character-ensemble-work" that are all too often glossed over in an enormous main stage production like this. Another such standout ensemble performance comes from John Machovec, the Emerald City Guard, who delivers movie-reality realness in his portrayal of the iconic gateman.    
Wafting in and out of scenes accompanied by hundreds of tiny bubbles from an on-stage bubble machine, Barbara Hartzell is a lovely floating Glinda. Her voice is airy and light and glides lightly into her solo features during "Ding, Dong the Witch is Dead!" and "Poppies." Portraying the exact opposite of this good witch of the north, Stacey Bonds is larger than life first as Almira Gulch and later as the notoriously nefarious Wicked Witch of the West. With a spine-tingling cackle that is bursting at the seams with melodramatic hilarity, Bonds delivers all the sassy attitude that the script (written for Roseanne Barr) has to offer. There's even a moment at the top of "The Jitterbug" where Bonds gets to showcase her vocal prowess, and what a belt she's got! Comically wicked so as not to scare the little children too much, Bonds settles into the character with a few fiery flames all her own and makes a most memorable exit at the end of the production.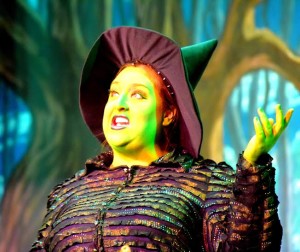 While Bonds is first encountered as Miss Gulch, the nasty old spinster who owns half the county, it's Emily Gale (Kendra Keiser) and her husband Henry (Basil Lambros) who temper this scene with her so that it's not overruled by one malevolent force. Keiser and Lambros— Auntie Em and Uncle Henry as they are known by Dorothy— are sweet country bumpkin folk, with Lambros laying heavy on the 'bumpkin' side of the descriptors. Keiser fusses more matronly over things on the farm, but her delivery of the well-remembered line "…being a Christian woman, I can't say it," draws quite a few laughs from the crowd. The two pair well off one another for their brief experience at the beginning and end of the performance, though see if you can't spot Keiser everywhere else she turns up throughout the Oz-adventure portion of the production.
They're off to see The Wizard (Christopher D. Cahill) who starts live in dustbowl Kansas as Professor Marvel. Quirky and congenial, Cahill provides two distinctive personalities to his dual roles, though both are eerily similar to one another (appropriate given the co-existence of Dorothy's realities) but it's his booming voice, though augmented by microphone tricks, that make him standout as the wizard. Director Mark Briner takes a minimalist approach to the "wizard" scene, using a fourth-wall ploy wherein Dorothy and her ragtag band of buddies gape in disbelief out into the audience seeing a "phantom" wizard that remains unseen to the rest of us. This choice makes Cahill's approach to vocalization that much more important when it comes to taking on the title of "Oz, great and powerful."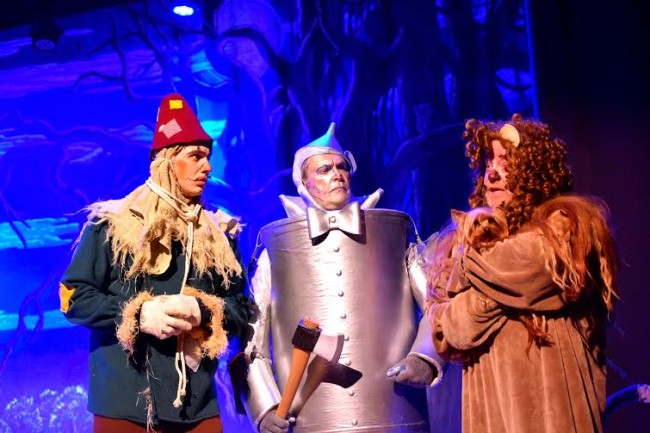 With all the gusto of a tittering field mouse, John Sheldon, the yellow-bellied Zeke turned Cowardly Lion is a spitfire in the role. He puts on his game face of trembling nerves and nervous trembles every time the lion encounters something ridiculous to cower over, but make no mistake as Sheldon is not afraid to use his voice when required. "King of the Forest" is a memorable and thoroughly enjoyable solo featuring Sheldon and all the bravado he can muster in that moment, which wins him great cheers from the house at the number's conclusion. Landing little jokes here and there, he finds comic balance in his character's cowardice and rounds out the quartet of principals quite soundly.
Brainless never looked so entertaining as it does slipped over Jamie Austin Jacobs, first at farmhand Hunk and later as the Scarecrow. With a chipper voice, easy physicality, and genuinely sunny disposition, Jacobs finds a comfortable range of motion both with his body and with his voice when it comes to embodying the straw-stuffed friend who accompanies Dorothy early on in her quest to find the wizard. Jacobs solo "If I Only Had a Brain" is endearing and reminiscent of Ray Bolger and his charming candor.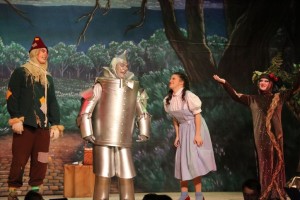 The male voice of the show comes raining in from the hollow tin of Michael Quinn, who fills his portrayal of both Hickory and the Tinman with unrelenting heart. Mastering the physicality of the clinking clanking clattering collection of caliginous junk, Quinn takes to the role with vibrant verve and radiant resplendence. His voice, a rich and full sound as smooth as the shiny silver of his costume, resonates mellifluously through "If I Only Had a Heart." This solo, along with his vocal accompaniments for every "We're Off to See the Wizard" in which he sings, are truly splendid. With a wistful and winsome disposition, Quinn brings heart, soul, and sincerity to his portrayal of the chrome character.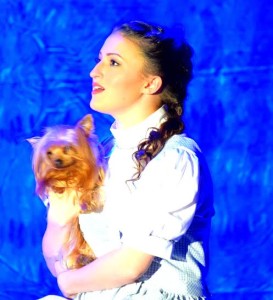 Equally winsome, delightful, and extremely mindful of her stage presence, Miss Lucy Bobbin takes to the Judy Garland-inspired role of Dorothy as if it were written just for her. Possessed of vividly responsive facial expressions— particularly during "The Jitterbug" where she never stops looking confused and frightened— Bobbin lets her face and voice speak as one when it comes to expressing how her character is feeling. Like a songbird, Bobbin delivers classic silver-screen-to-stage reality in the iconic solo "Somewhere Over the Rainbow" and really hones in on connecting the character's emotions to the lyrics of the song. Convivial, beautifully present, and fully aware of Dorothy's strife, Bobbin brings an earnest depth, unveiled in layers, to the character of Dorothy and is an utter delight to watch throughout the duration of the performance.
A great community theatre experience, tickets are selling fast for the remainder of the performances and you won't want to miss your chance to explore what awaits over the rainbow with The Suburban Players in their 41st season production of The Wizard of Oz.
Running Time: Approximately 2 hours and 30 minutes with one intermission
The Wizard of Oz plays through February 28, 2016 at the Suburban Players housed at the Saint Demetrios Greek Orthodox Church in the Hermes Rafailides Center— 2504 Cub Hill Road in Parkville, MD. For tickets please call (410) 248-0852 or purchase them in advance online. Reservations are strongly encouraged as there is unlikely to be walk-up seating.