Now boarding flight 1963, international Boeing Boeing departing from gate Colonial Players of Annapolis with layovers in love and humor, and a terminal destination of Parisian happy endings. Your flight's pilot, Captain Scott Nichols, will bring this zany farce down the runaway for approximately two hours and fifteen minutes with one brief delay midflight to attend to all of your mile-high traveling needs. A fantastically romantic romp through the bumpiest of uproarious turbulences is guaranteed and if you aren't completely satisfied with your hilarious flight for the afternoon or evening, all complaints can be filed in the cubical receptacle upon your departure from the cabin-in-the-round.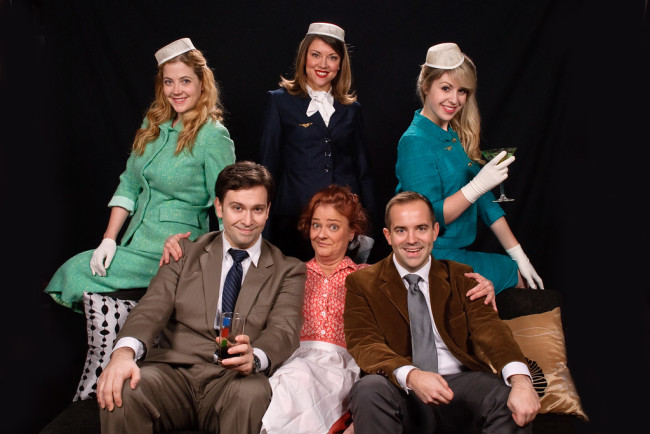 Please locate the many exits carefully ensconced into the CP-Airlines unique "cabin-in-the-round." Aircraft Designs-man Alan Zemla has included five doors for maximum farcical enjoyment throughout this comic encounter. Zemla's interior decoration reflects an art-nouveau aesthetic as he lines the walls with black and white photo prints along the back of the cabin. Achieving a "window-recreation" through the use of his dual-hanging Eiffel Tower portraits, Zemla mocks up the interior to have a proper Parisian Flat feel to it, so that guests traveling through can get a tangy taste of French life circa 1963.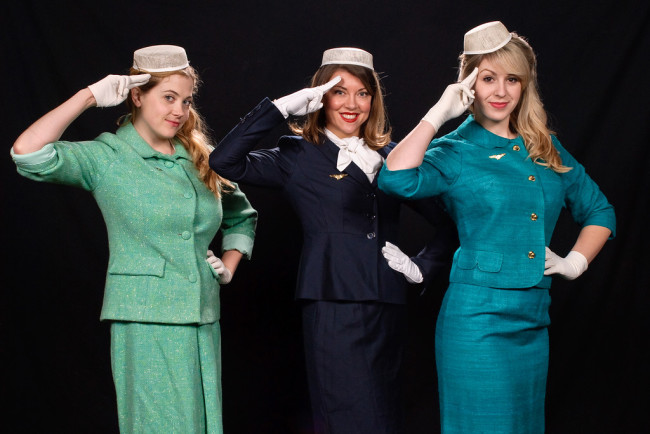 Please note the dazzling and absolutely irresistible hostess couture, specifically threaded for this flight by Fashion Harbinger Christina McAlpine. Giving TWA, Air Italia, and Air Lufthansa their own signature sartorial selection, McAlpine creates a glamorous look for each of these gals of the sky; a carefully handcrafted and tasteful set of togs gives each hostess her own brilliant sparkle and personality while looking just similar enough to be recognized as an airline stewardess. Choosing bright and poppy jewel tones there is a flare of sapphire, jade, and emerald, appropriately assigned to TWA, Air Italia, and Lufthansa respectively coming from McAlpine's closet of crafty costumes, and each one is accompanied by its own matching pillbox fascinator.
Captain Scott Nichols sets a steady cruising pace once the flight gets underway, ensuring maximum laughs, authentic interactions, and purposeful comedic timing that keeps the voyage moving smoothly through all the romantic turbulence encountered between our various characters onboard. Making appropriately hysterical use of the many emergency exits (including the one Zemla has designed with rounded portholes to look like an escape to the galley), Captain Nichols assures passengers of his skillful ability to navigate a flight with a keen understanding of its internal working mechanisms and overall momentum. Despite a hiccup or two— as the internal cabin pressure can from time to time combust at the wrong moments— Captain Nichols proves himself to be a more than competent pilot, delivering a successful flight for all onboard.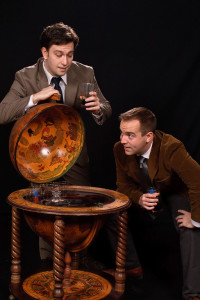 Men are not without their place on CP-Airlines flight Boeing Boeing, and Brandon Bentley, as the savvy Bernard, and Colin Hood, as his quirky tightly-wound friend Robert, settle into the aisles nicely throughout the performance. Bentley lays much of the comedic gold found in his performance into layers of spastic physical responses, many of which manifest in his wildly melodramatic facial expressions. This too can be said of Hood's performance, though in a much different vein. There are a great many moments where Bentley's facial expressions are in direct silent response to something Hood has just said, a catchy aside or a humorous bit that only the audience can enjoy in its true farcical nature, and these looks of panic, fury, and sheer terror become simply uproarious.
Bentley and Hood pair well together particularly in scenes where they are trying to keep a lid on the boiling pot of panic about to explode from the situation in which they find themselves. Bentley's character is prone to flopping about on the furniture when experiences funny fits of meltdown, whereas Hood leans more toward the vocal fabrication of his stressors and anxieties. Bentley's voice also shifts throughout the piece, adding a layer of humor to his character portrayal, as he delivers a reassuring rich baritone sound when addressing his fiancées initially, but has a much higher and most spastically poppy voice when things start to go wrong.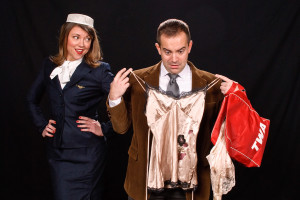 With all-American June Cleaver glamour, and a sense of convivial early 1960's land-of-the-free living in her stylized delivery, Debra Kidwell adapts Miss Gloria Hawkins with the sweet gentility of a New Rochelle house wife before the nuptials. Delicate in her delivered sensibilities but not without her own sharp spunk when it comes to determining a woman's place in the world, Kidwell's performance is well suited for the role. Kidwell further defines the caricature of her character with the flawless mockup of her early 60's makeup style, with here vibrant eyeshadow matching her airhostess suit impeccably.
Robust accents are cause for celebration when they are executed as soundly as Sarah Wade takes to presenting the thick Italian sound of Gabriella. Arguably the most assured of her foreign cadence, though a bit rushed a times, Wade masterfully handles her Italian accent and keeps her lines delivered intelligibly while still imbuing the character with hot-blooded, tempestuous emotional underpinnings. Heated exchanges between her character and both the male characters are what make her moments pop and its quite amusing at various points throughout the production. Heated jealousy blossoms on her face and in her voice throughout the performance as well, delivering moments of delightful comedy again and again.
A fully bombastic character rushes the flight deck with Rebecca Gift's portrayal of Gretchen, the strong, butch German force to be reckoned with on this plane. Defying the norms of personal space, Gift guides Gretchen right up into people's noses— especially poor Robert's when trying to intimidate him— and presents a performance that is utterly larger than life. With a firm grip on her accent, and an even firmer delivery of her stormy mood swings, particularly when it comes to vying for title of "most jealous" between her character and Wade's, Gift bustles right along with vim and gusto in the role.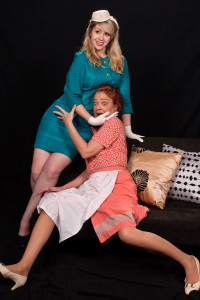 The lead scene-stealer in the production is not one of the fabulous fiancées, but rather the live-in maid, Berthe, as played by Cece McGee-Newbrough. Though her accent wobbles just a bit through phases of the French countryside, her demeanor, delivery, and overall divine approach to the character's comic encounters are sublime. Wildly vivid facial expressions coupled with impeccable comic timing make her performance the comic crackup of the in-flight entertainment. Keep an eye on her when she goes for the liquor (stored cleverly in an old-world style globe), the comic shenanigans that unfold are an absolute riot.
CP-Airlines hopes that you will enjoy flight 1963 Boeing Boeing for all of its farcical elements, all of its standout performances, and all the comforts of comedy it has to offer. This unique line-run has a limited time table so be sure to book your passage soon before it takes off for its final departure on March 12, 2016.
Running Time: 2 hours and 15 minutes with one intermission
Boeing Boeing plays through March 12, 2016 at The Colonial Players of Annapolis— 108 East Street in historic Annapolis, MD. For tickets call the box office at (410) 268-7373 or purchase them online.