What if God was one of us? Or at least close enough to talk to us and tell us what it's like to be Him? What existed before The Beginning? God supposedly created the universe, but who created God? These are concepts former Ringling Brothers and Barnum & Bailey Circus clown Rich Potter explores in the Greenbelt Arts Center production of God, The One-Man Show.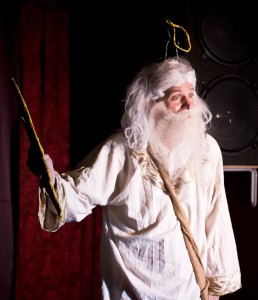 In this fast-paced, irreverent, but hilarious romp through the musings of Yahweh, or whatever you'd like to call Him (he gives a few options,) we discover things we might not have known about El Shaddai. What kinds of things, you ask? Well, for one, He gets bored easily, so He has a few hobbies. For example, the world we live in today – the universe we all call home? Not His first rodeo. As of this production, God has apparently created 47 universes – but only 46 earths. In the extra universe, He thought that by eliminating the earth, He could prevent the eventual appearance of Kim Kardashian. Unfortunately, she popped up behind Mars. Moving on. While you may have known about His penchant for performing miracles, what you may not have been aware of are His skills as a magician and juggler – which begs the question – miracles? Or illusions? Only He knows for sure… We also find out that God is an incorrigible goofball who enjoys making bad puns and flattening whoopee cushions. Anything for a laugh. It seems He really is the "Father" of the universe.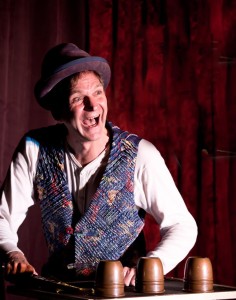 With a one-man show, there is always the risk of the action becoming flat or the audience losing interest, but that is not the case in this production. From the moment he appears on the stage, Rich Potter is full of energy and zest. He effortlessly mixes improvisation with existing script elements. As he performs miracles, chatters on about his life as a deity, and changes his appearance, he involves the audience, and when he feels he's not getting the response he deserves as the Almighty, he isn't afraid to rile them up. Potter uses costumes to change the tone as the piece progresses. He starts out wearing robes, a long, white wig and a halo (to remind us that he is God, not Zeus,) but then puts on a colorful suit to play a few rounds of the magic cup game. Then he puts on a beret and an ascot to become the director of a short play involving two audience members. Potter's use of costumes in this manner is clever and keeps the piece from getting stale. The set is simple, with only a large chair, a clothing rack, and small pieces of furniture to hold costumes and props. Lighting and Sound designer Sean Eustis brings everything together with a backdrop screening of swirling smoke that connotes the world before it existed and includes song choices that lend additional whimsy to the show.
All in all, God, The One-Man Show is a fun, birds-eye-view into the Supreme Being Himself. It will leave you rolling in the aisles and even give you a thing or two to think about. A wonderful way to spend an hour with friends and family. Come and see it!
Running Time: Approximately 1 hour with no intermission.
God, The One-Man Show plays through February 28, 2016 at the Greenbelt Arts Center — 123 Centerway in Greenbelt, MD. For tickets call the box office at (301) 441-8770 or purchase them online.