"One man in his time plays many parts," declares Melancholy Jacques, and that definitely describes Richard Pilcher's magnificent performance(s) in Annapolis Shakespeare Company's production of As You Like It. A mere eight actors pull off four pairs of lovers, two courts of lords, and an array of miscellaneous country bumpkins. Pilcher plays four separate roles, each strong, distinct, and imbued with life. His Jacques is pitch perfect: melancholy without being glum, wise without being pedantic, taking true delight in the wonder of love happening all around him while remaining aloof. Pilcher often has to pull off changes literally while turning on his heel, walking off stage as the choleric Duke Frederick and returning a moment later with the merest of costume shifts but a complete transformation of physicality into the frail, elderly Adam.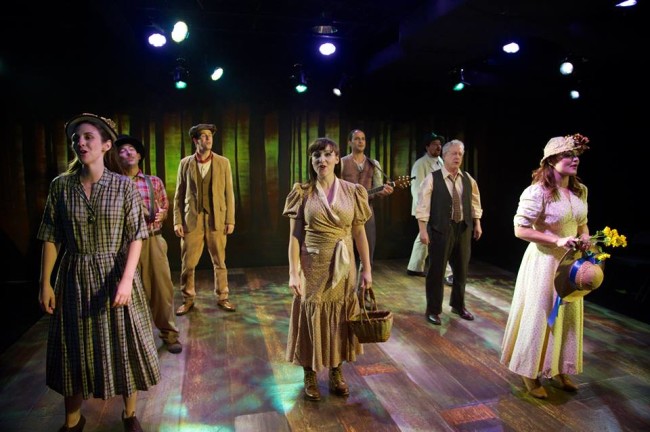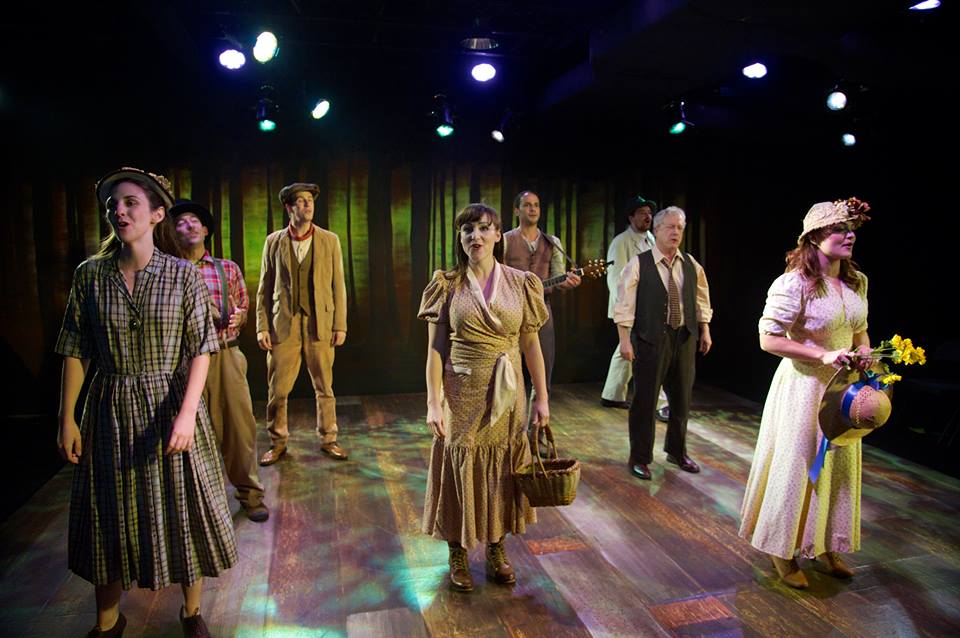 Besting even Pilcher's extraordinary requirements for the quick-change is Renata Plecha, playing both the delightful, bubbly, and clever Celia, as well as the strong, forthright Phoebe. With only three women in a play that centers on four (very different) pairs of lovers, Plecha has to do double-duty in the climactic scene, with only the doffing of an apron to accomplish the transformation, back and forth on stage.  Plecha is wonderful as both characters, and a joy to watch every time she's on stage.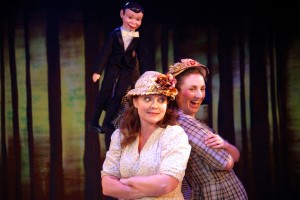 As You Like It is one of the Bard's most female-centric works, one of very few to feature a true female lead, and the largest female role in Shakespeare. Ably played by Teresa Spencer, Rosalind flees the court in the guise of a boy, since a woman alone is both socially unacceptable and in physical danger. Spencer is at her best when working with Plecha: first as Rosalind's cousin Celia, then as the clever shepherdess Phoebe, who has fallen in love with Ganymede, Rosalind's male alter-ego, not just in back-to-back scenes but even within that hectic climax. The lively staging and the commitment on the part of both actors keeps those two intertwining plots (among others) clear. In many productions the character of Phoebe is too often lost among those plots, just one more permutation of the multi-dimensional love tesseract (it's too dense for a triangle), but Plecha's Phoebe is intelligent and astute.
Phoebe can't marry "Ganymede", of course, but she does settle for dimwitted country bumpkin Silvius, one of many parts for Gary DuBreuil. It's not exactly the most forward-feminist moment in Shakespeare, but Plecha makes it work, guided in part by DuBreuil's insightful, sincere speech about the nature of love.  DuBreuil also plays the touchy Touchstone, the play's clown. Touchstone is much admired by Jacques, who seems much taken with Touchstone's spouting. Touchstone is here played less as the wise fool but more as, well, a fool. That puts Touchstone closer intellectually to Silvius; DuBreuil plays both roles very distinctly with both his body and face (and a slight shift in wardrobe). In director Sally Boyett's staging, Touchstone loses a battle of wits to the shepherd Corin (Pilcher, again), an unusually wise and sage portrayal. Their debate shows Boyett's tremendous grasp of the possibilities for ASC's space, bringing out some delightfully funny surprises.
Shakespeare's comedy of love and gender finds its love interest in Jonathan Feuer's Orlando. Orlando flees from an overbearing brother and the same Duke Frederick that Rosalind fears, following a wrestling match that did not go as Frederick planned. That wrestling match, with Reed DeLisle as Charles, was choreographed by Casey Kaleba, evoking a Depression-era fight poster. In the forest, Orlando meets Ganymede… who pretends to be Rosalind… who of course actually is Rosalind. Director Boyett has found some novel and interesting places to take that dynamic of gender confusion and crossed wires (and tangled love interests). Unfortunately, Feuer and Spencer never find that romantic spark. Boyett is not afraid to let the conflicts be tense, but the tensions don't resolve into a joyful love. (Not that it's hard to imagine Rosalind falling in love just with the sound of Feuer's beautiful voice, both speaking and singing.)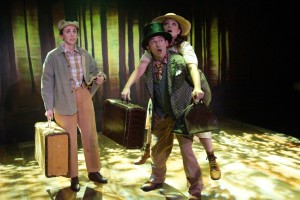 Not that Shakespeare's love scenes are always going to be romantically fulfilling. For example, Touchstone is quite plain that he's planning to leave country girl Audrey soon after he's had his way with her. That's definitely Touchstone's loss: Megan Morse Jans as Audrey is sweet, earthy, lusty, and charming, as well as beautiful. Jans also gets to show off a lovely singing voice as Lady Amiens, with songs composed in the period style, sometimes accompanied by DuBreuil on guitar.
In addition to Shakespeare's songs, several Depression-era songs have been written in, often sung by the cast as a whole. Many of the songs also appear in the film O Brother, Where Art Thou, which seems to have served as the stylistic inspiration for the costumes as well. No costuming credit is given, which is too bad: the costumes are detailed and meticulous. Touchstone's motley juxtaposes a red plaid shirt with a yellow striped tie and an oversized checked jacket (which he doffs to play Silvius); the transitions are quick and elegant. 
The woods themselves are provided by a moody, evocative backdrop painting, designed by Mariana Fernandez. ASC's three-quarter staging doesn't allow for a lot of scenery, but Adam Mendelson's lighting admirably shifts scene to scene, setting both tone and place. 
Boyett makes fantastic use of her space, playing to all three sides, continually in motion and lively in its pacing. As You Like It is only lightly edited but keeps the energy up, without ever losing the audience as it twists through its convoluted plot. In a crucial scene between Rosalind, Orlando, and Celia, Boyett introduces some insightful subtext through movement and focus, tracing out the evolving dynamic of the relationships.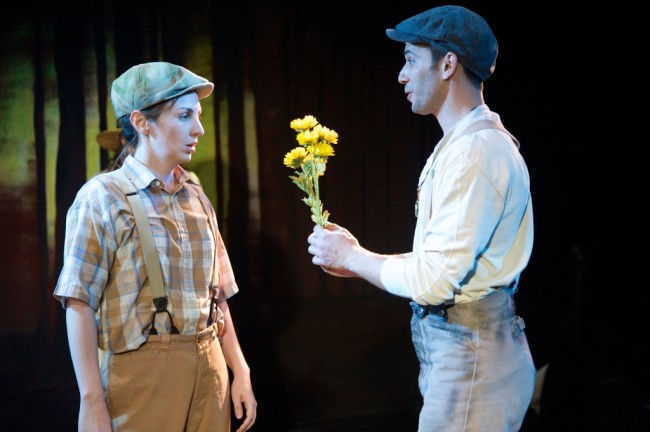 As with Two Gentlemen of Verona last season, Boyett finds some modern ideas in the Renaissance play about relationships. As You Like It is both enjoyable and accessible. Vocal Coach Nancy Krebs makes sure that all of the actors are both clear and natural; the Elizabethan language is perfectly understandable to modern ears. Krebs also provided the dialect coaching that helps distinguish James Carpenter's southern-tinged LeBeau from Oliver, Orlando's nasty brother, and also Rosalind's father (now, the leader of a band of misfits). Carpenter admirably works a few quick-changes of his own in supporting all three characters.
Every actor in the show is beautifully trained without sounding stagey, and the lines trip as effortlessly as if they were written yesterday. As You Like It is engaging, enjoyable, and delightful.
Running Time: 2 hours and 20 minutes with one intermission
As You Like It plays through November 15, 2015 at Annapolis Shakespeare Company at ASC's Studio— 111 Chinquapin Round Road, Suite 114 in Annapolis, MD. For tickets call the box office at (410) 415-3513 or purchase them online.