What's love got to do— got to do with it? Who needs a heart when you can have an entire cast full of fun at Cockpit in Court this summer season? Kicking off their musical series with The Wedding Singer, is a great way to put love in the air for the summer. Directed by Greg Dorsey, with Musical Direction by Nathan Christopher Scavilla, this 80's based on the New Line Cinema film is sure to get you dancing to the well-loved riffs of the era all throughout the night. An energetic evening filled with music and surprises, it's a great way to get in the mood during the hot months.
Resident Set Designer G. Maurice "Moe" Conn has worked his magic yet again upon the Cockpit Main Stage. The versatility and simplicity of his set is mind-boggling. The transformations from location to location happen seamlessly (a credit to the show's running crew, made possible by the fluidity of Conn's design.) The wedding halls with their white lattice upright panels are delicate and elegant, posing a sharp contrast against the darkened New York City skyline, intricately stacked in a curious perspective like rooftops overlapping. The backdrop for the Oval-Office-Wedding-Chapel in Vegas is a nice tacky touch as well; Conn's work really giving the show an upscale quality for the overall atmosphere.
Lighting Designer Lillie Kahkonen is well informed of the seizure-inducing blink-out lighting style that suits the clubs and music scene of the 80's. Kahkonen's approach to lighting the larger musical numbers is thematically dramatic— angry bursts of blinking reds for "Casualty of Love" backlit greens for "All About the Green" and zany purple and pink pops to drive the more celebratory tones of "It's Your Wedding Day" (every time it happens.) Kahkonen even lights up the star-wall in a plethora of blinking colors to really rock visual atmosphere, and her dark-lighting with party accents for "Saturday Night in the City" molds the perfect aesthetic onto the closing number of the first act.
Costume Designer Laura Amlie brings a vibrant reminder of why the 80's fashion styles died with the decade onto the stage in this show. The infinite collection of enormous ruffled and lacy wedding gowns are absolutely horrifying to behold; the true epitome of the era and all its hideous fashion glory. Amlie puts the big teased and crimped hairstyles in place as well, leaving no visual corner untouched when it comes to replicating the time period. Even the violently vibrant sweats and workout clothes make their appearance during "Not That Kind of Thing" completing every facet of what is arguably the worst decade of fashion in American history.
Jackie Kappus infuses the dance routines of the show with tremendous energy. The gestures and moves of the dance routines are the hallmarks of the decade and fit the musical to perfection. Kappus' choreography, however, could stand to be tighter in places, particularly during "Not That Kind of Thing" where the workout dance routines accidentally collide into one another. To Kappus' credit, however, the choreography is lively and spirited, making the dancers look as if they're thoroughly enjoying themselves and this amps up the energy of the production as a whole. "It's All About the Green" features a great run of intricate moves that are well synchronized and really feels like a Broadway 80's jam.
The ensemble is strong, charged to the max with energy and a yearning to have a good time with this feel-good musical. Some pitch and tempo issues aside, they really deliver sturdy numbers, like their solid rendition of "Casualty of Love" which includes some zombie-stomping on the dance floor. "Saturday Night in the City" is another great number with exceptional vocal power behind it from the company, really blasting their level of fun out through their voices for everyone to enjoy.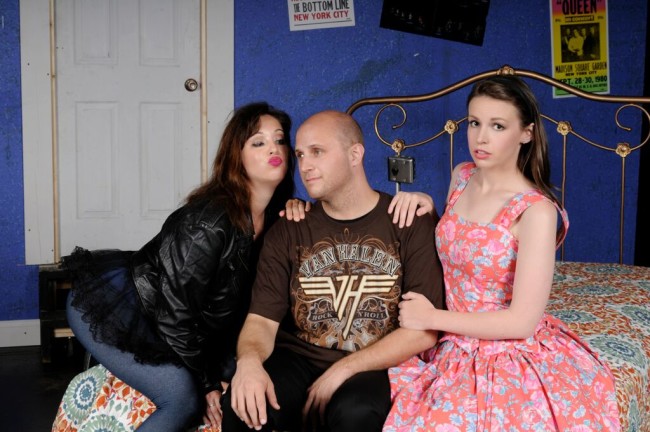 Linda (Allie Dreskin) and Rosie (Marge Ricci) are about as opposite as you can get when it comes to characters, but both have cameo moments that are sprinkled throughout the show that really burst off the stage and are received to thunderous applause. Dreskin, as the scrambled hybrid of Cher and Cyndi Lauper, is gritty and has that hard rocker quality that the 80's is so well known for. That style possesses her body for both "A Note from Linda" and her song later in the show "Let Me Come Home" where her gesture dancing could be an original MTV video. Ricci, as the sweet and loveable grandmother, is quirky in her own sense and adds a great deal of convivial humor to the show. Keep your eyes out for her wicked moves and crazy rapper-throw down style in "Move That Thang" a duet shared with George (Matthew Demetrides.)
Demetrides serves as "the band's" popinjay stereotype, finding humor in his affectations. But aside from the rocking rap throw-down with Granny, he has a glorious voice that rings clear, albeit humorously, for "George's Prayer." Featured often with the male ensemble and in songs with both Sammy (Jake Stuart) and Robbie Hart, Demetrides is well-recognized for his zippy one-liners. Stuart, as the lunkhead thug on bass, is a real character to contend with. In a hilarious banter with recent ex-girlfriend Holly (Lacy Comstock) he engages and really displays that beefcake 80's rocker attitude. "Right In Front of Your Eyes", a duet with Comstock, is a hilarious number where Stuart gets to win the audience over with his clunky charm .
The alluring Jersey appeal of a money-grubbing tycoon is not lost on Glen Guglia (Jim Baxter.) With the accent, the mannerisms, and the machismo affectations down to a meticulous science, Baxter makes this caricature of a character into a depth-enriched portrayal of an antagonist. While he isn't featured in many of the musical numbers, his break-out signature song "All About the Green" is a showstopper that puts Baxter's talents on display. Effortless higher notes with intense sustains ring out from his character in this number and he owns the song along with all it implies flawlessly. Fitting like an unctuously oiled cog into the bigger machine of the show, Baxter is perfect in this supporting role.
Delicate, docile, dreamy, and a little dopey in love, Julia (Katie Tyler) is more than just an innocent ingénue in this production. Tyler has a strong voice that, despite bad 80's harmonies, blends beautifully with Robbie Hart (Andrew Worthington) for various duets like "Awesome" and "Not That Kind of Thing." Her liberal sensitivities make the character worth cheering for, and the depth that she infuses into the character's emotional connection—both in text and in song— are sturdy bonds that create an authentic feel to her portrayal as a whole. "If I Told You" is another deliberately melancholy duet between the pair that resonates the echoes of their hidden love for each other in the way that their voices meld as one. "Someday" both at the top of the show and its reprise, show Tyler's versatility as a vocalist and endears her character to the audience fully.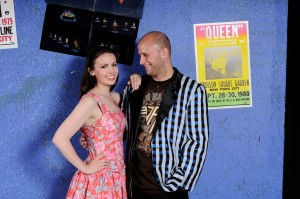 Worthington, as the Adam-Sandler inspired Robbie Hart, is a tremendous blessing to the role. With all iconic roles there is the risk of parroting what has previously worked so well, but Worthington creates a Robbie Hart all his own with hints of homage to the men who have come before him. With a resilient voice that taxis his emotional journey all over the map, Worthington takes the audience on this comedic journey with ease. There are heartfelt emotions that are delivered in earnest during "Grow Old With You," the hallmark of the show. His anger is suffused into "Casualty of Love" and it transcends into the character's physicality with tenacity as Worthington takes to stomping on tables in this scene. Overall his performance is the epitome of what one expects from the character of Robbie Hart, without being a carbon copy of Sandler's movie man. A well-performed and well-received portrayal, Worthington is all about love and is respectively loved by his audiences.   
Running Time: Approximately 2 hours and 30 minutes with one intermission
The Wedding Singer plays through June 28, 2015 at Cockpit in Court— on the main stage of the Theatre Building of the Community of College of Baltimore County Essex Campus located at 7201 Rossville Boulevard, in Rosedale, MD. For tickets please call the box office at (443) 840-2787 or purchase them online.