There are some things that have to be said. Baltimore playwright Rich Espey is saying them loudly and clearly with his striking new drama The Revelation of Bobby Pritchard. Receiving its world premier at Iron Crow Theatre, this poignant life-altering play is a reckoning of the times; a true engagement of lifestyles juxtaposed against religious beliefs. Espey's work will not be done justice in print and must be seen to be fully appreciated, experienced, and understood. A remarkable master of dialogue, dramatic tension and theatrical device, Espey succeeds in creating a riveting new drama that reminds us all that an inconvenient truth always beats a pretty lie in the long run. Directed by the company's Artistic Director Steven J. Satta, this haunting and evocative theatrical experience starts a conversation of the heart, mind, and soul.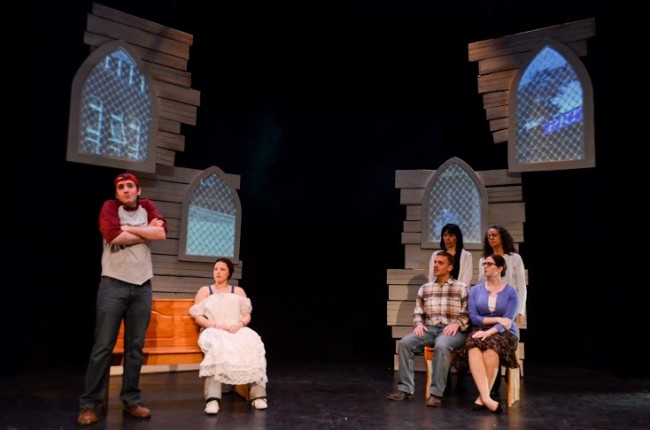 The production itself feels polished; often world premiers can be shaky or feel as if they are still in development. With a surefire creative team under Steven J. Satta's seasoned direction, all of the creative elements of lighting, sound, projections, and scenic design come together and form a cohesive structured framework that the play rests gently upon; augmenting the impressive dialogue, controversial topics, and genuine human emotions that Espey has written into the story.
Scenic Designer Mollie Singer draws the audiences' attention to one of the central conceits of the show; the church. With the old white washed paneling towering upward to create the illusion of height, Singer constructs to walls of the church for the backdrop of the show, complete with the softened hexagonal stained glass window frames. The frames hold screens for visionary Projection Designer Travis Levasseur wherein he works scenic magic, hinting at the transition of locations and time periods. These transitions are assisted by Lighting Designer Chris Flint, who dims the lights for memories of long past, or shrouds the set in eerie glow when dreams and long forgotten memories surface.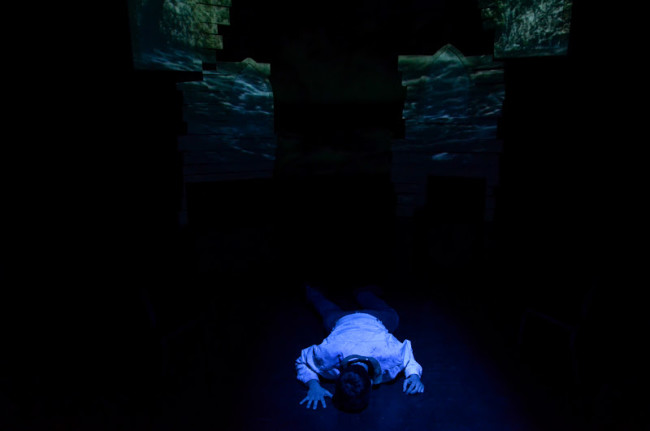 Levasseur masterfully demonstrates his skillful use of projections by seamlessly incorporating them into the action of the show. Many of the moving images witnessed are subtle but spark a noticeable presence just in the periphery of the overall show's aesthetic experience. The water rising every time a scene takes place at the great river, occasionally underscored by haunting original compositions (composed by Jonathan Jensen and Abram Foster), is a powerful image that lurks in the background, formulating a latent setting against which the action occurs. The bullet projections are mesmerizing in a terrifying manner. Levasseur engineers exacting sound effects to go with these movements, a culmination of sight and sound that leaves the mind in enchanted shock.
Playwright Rich Espey's work is profound; such a word hardly does the play justice but often simplistic descriptors are the best when discussing works of earnest theatrical genius. His structural formatting, the use of repetition at exactly the right moments— balancing that repetition in a way that does not feel excessive— and his sharp use of dialogue all come together for a sensational new work. The social issues addressed within the play are strikingly relevant, life choices and lifestyles, religious beliefs, truths and lies; all coming to a head through dreams and memories. Espey's ability to manipulate dialogue and scenes into something more than actors and words on a stage is astonishing. The delicate sprinkling of humorous undertones balances to perfection the dramatic weight of the play's themes.
Espey's characters are fully developed, deeply dynamic human beings that are more than just mere representations of stock characters from the south. The time period and location of the play are made crystalline through infusions of accents, vernacular and speech patterns. His ability to not only create real-life characters that are believable but that have poignant topical relevance in today's society as phenomenal; fitting them into a story that is heartfelt, harrowing, and steeped in honesty is a mark of exceptional talent.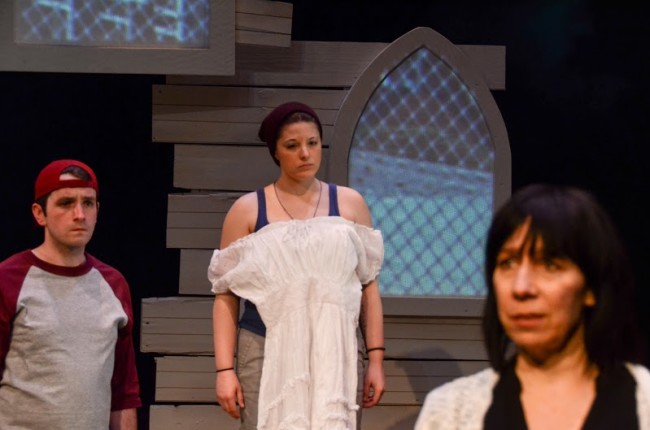 Director Stephen J. Satta masterfully keeps the dramatic tension rolling in Espey's work. The play functions in three states: memory, real-time, and external acknowledgement of memory as it is recalled. Satta distinguishes between these three modes of operation with ease, the characters feeling natural in each phase. His dialect coaching is spot on for the rural backwoods town of the south, and when it comes to delineating between characters, as several actors play multiple characters, Satta ensures that there are notable differences in demeanors, vocal sounds, and stances to prevent confusion as often these character shifts happen in scene. Satta also keeps the overall pacing of the production smooth; scenes glide into one another and the actors keep the attention of the audience from the startling opening moment to the bittersweet evocative conclusion.
These six performers work exceptionally well together, sharing an organic chemistry between them that actualizes the nature of the play in an exciting and realistic fashion. The moments of repetition build suspense and tension and are a natural fit to the storyline rather than a device used to push the play around. Their emotions and vulnerabilities are not so different once they are exposed and the ensemble cast as a whole delivers stellar performances throughout the production.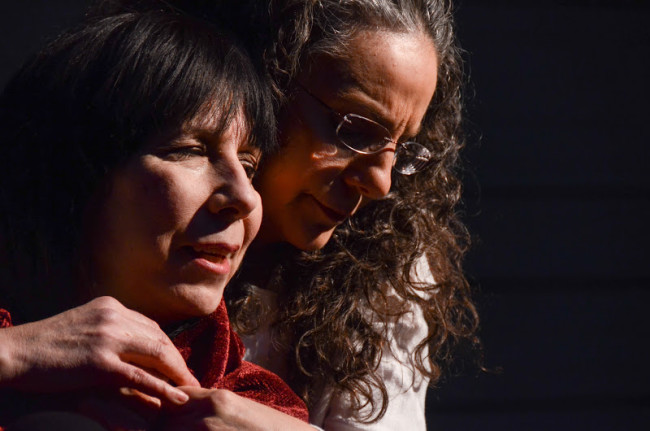 Cyn (Susan Porter) has a sarcasm in her character that often delivers hints of levity throughout the production. Porter's portrayal is earnest and pragmatic, gentle but firm when trying to guide the situations in the directions that they need to go. Porter is not static despite her character's perpetual calm. There is a rattling streak within her that riles toward the end of the play, temper that has been sharply focused to come bursting out at the right moment.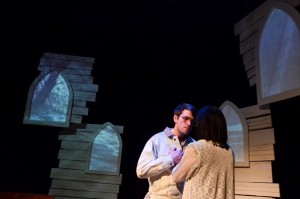 Poss (Sean Kelly) and Mary Charles (Heather Peacock) are the epitome of today's confused youth. Desperate to find acceptance in a world that doesn't understand them, both Kelly and Peacock develop their character's troubles in earnest and make their internal struggles relatable to the audience. Both performers double up as characters from the past, with Kelly playing Bobby Pritchard and Peacock playing a young Marta. When they are featured in scene in their history and memory moments, they share a song which is truly divine. Peacock's voice is heavenly, an astute tribute to the song her character and Bobby's are composing.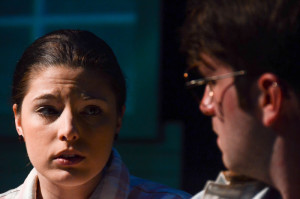 Kelly has the milder attitude of he and Peacock in their present day characters, though both have moments of amusement that play out once inside the correctional facility. Peacock should be commended for her versatility in all three roles that she plays. Kelly, as well, is praiseworthy for the vehemence with which he delivers his lines as Bobby Pritchard. The pair are an impressive part of the half dozen performers in the show, drawing a relatable tie to the youth of the audience for this show.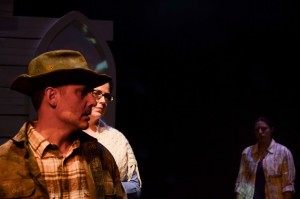 Hank (Dave LaSalle) is the epitome of a southern man who needs religion to answer his questions and guide his life. LaSalle commands an impressive stage presence as this fatherly figure. Playing both Poss' father and young Marta's father, LaSalle draws similarities between the two characters but still makes them distinct from one another with subtle shifts in his voice or inflection. Both of his scenes at the river, one as Hank and one as Poppa are harrowing and leave lingering mixed emotions in the mind.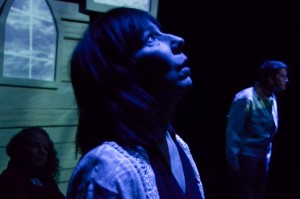 As the only actress playing just one character, Julie Herber delivers a stunning performance as Marta. Often observing what is happening around her and commenting as best she can, there is a profound sentimentality wrapped in fear and uncertainty carefully crafted in her delivery. The way she speaks, whether it is to Bobby in her dreams, or to other characters in present-moment reality, there is a purposeful intent behind her speaking. Carefully actualizing each moment she is on stage, her character has a strong existence even though most of her story is told through memory.
While Kathy (Sarah Lynn Taylor) is not a focal point of the show, but rather an antagonizing factor, it is Taylor's duel performance, as Kathy— the mother of Mary Charles— and as Momma from young Marta and Hank's past, that shines and stands out among this ensemble of six. Having the sharpest and clearest of southern accents, Taylor defines both of these female characters through shifts in their demeanors. As Kathy she is extremely obnoxious and pushy, veiling these atrocious traits through thinly contrived southern charm. Her character's troglodytic mindset drives her histrionic emotional surges that drive the character to be dynamically noticeable. The conversation that Taylor has with Porter's character near the very end of the production, despite its humorous undertones, is truly impressive. As the subdued but understanding Momma, Taylor imbues such heartfelt love into this character that it is difficult not to cry at her plight.
The amazing cast does Rich Espey's work a great deal of justice. The echoed lines play beautifully throughout the production; life lessons seeded carefully into a gripping and emotional drama. The best production to grace Iron Crow Theatre's stage in quite some time, The Revelation of Bobby Pritchard is a remarkably amazing production.   
Running Time: Approximately 90 minutes with no intermission
The Revelation of Bobby Pritchard plays through March 28, 2015 at Iron Crow Theatre at the Baltimore Theatre Project— 45 West Preston Street in Baltimore, MD. For tickets call (443) 637-2769 or purchase them online.
Click here to read the interview with Playwright Rich Espey