It's a little too fantastical to be true. A theatre company that sprouts up overnight on the side of Charm City where there's no theatre, and then proceeds to do incredible work like the regional premier of 13 Dead Husbands. But it is true at Cohesion Theatre Company where they are launching the Tom Horan absurdist fairytale. Meet Deedee, the world's most beautiful woman, and her 12 dead husbands, or most of them anyway. Add in a location of #weirdfrance with some clever characters like the spastic, albeit charming, French bum Marcel, the newspaper mogul millionaire and all around swell guy Hubert Q. Hubble, and Jean Pierre, the simplistic balloon vendor, and it makes for a touchingly witty evening about life, love, and the pursuit of happiness. Directed by the company's Co-Founding Artistic Director Brad Norris, 13 Dead Husbands is like the fairytale you've always wanted but never read because it didn't exist until now.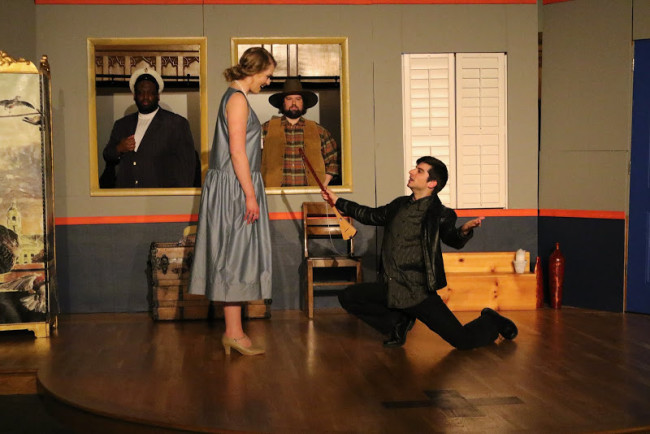 With a setting descriptor of "A Paris of the Imagination" Scenic Designer Sebastian Sears sets out to define the boundaries of said imagination with his set layout. With a unique immersive approach to Deedee's apartment, Sears sets the portraits of her many dead husbands in almost a full encompassing square around the house so that theatergoers become observers amid her frazzled life. The painted backdrop that drapes precariously over top of her apartment serves to represent the abnormal Paris in which the show takes place. Working in tandem with Director Brad Norris and his intriguing visual projections and Lighting Designer Lana Riggins, the trio create projected scenes that appear in the window of the apartment to further illustrate the fantastical tales of Deedee's husbands.
Costume Designer Stephanie Fisher brings a whimsical element to these characters, the designs both tethering them to the ground of reality while letting them bob just a bit above the floor, not unlike a shiny red balloon. The dapper suit for HQH and the grungy yet savvy all black for Marcel define these characters without preamble, settling them into their fairytale roles without cartoonizing them. The delicate blues used throughout are a continual trend in Fisher's color palette, reflecting the way one color can easily represent so many emotions even within a simple variance of the shade.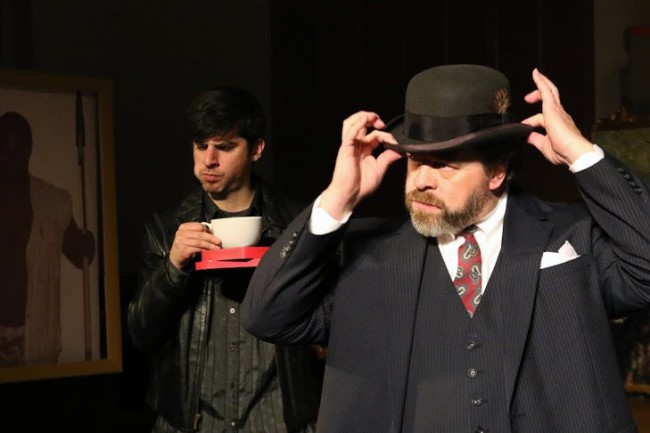 A Cohesion Production is easily spotted by its inclusion of pre-show music performed by the house band, for this production aptly named 'The Napoleon Complex.' Vocalist Alicia Stanley strums her ukulele and guitar throughout the scene changes of the performance as well, occasionally accompanied by Nick Delaney who serves as the show's Musical Director and doubles up as JR, the cowboy western 12th dead husband. Stanley and Delaney select songs that appropriately augment the feelings of the characters to cover the transitions between scenes and Stanley's rich alto voice carries a smoky quality that toes the tenor line sublimely. Everything from more popular songs to mellower Indie tunes help the transitions fold smoothly into each other in this performance.
Director Brad Norris spins a fairytale with perfect timing. The show has a natural flow to it despite its surreal environment and moves like a piece of believable theatre. His strong conceptual vision for each character appeal to their own inner emotions is actualized with a sturdy cast that finds the humor and the truth behind each of their stories. Not getting trapped in the authenticity, Norris highlights the various differences among Deedee's husbands in a truly fascinating fashion. The portraits are striking, even more so when Norris' skillful 'switch-em' trick comes into play.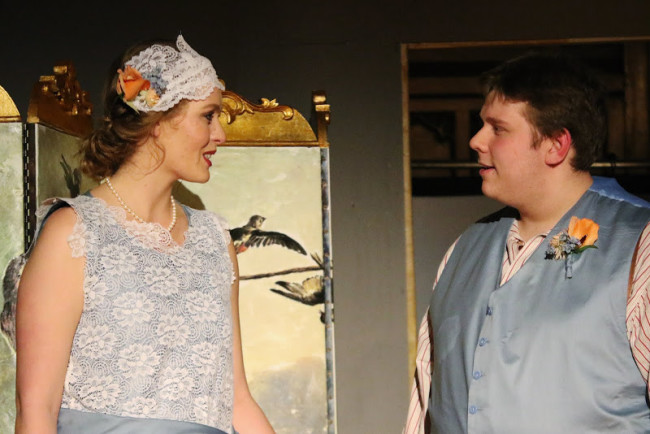 While there are 12 dead husbands, only half of that number appears as talking characters in the play. Again Costume Designer Stephanie Fisher's work truly shines here as she outfits each of the husbands to their particular life style and gives them all a dashing and exotic appeal. Each of these six performers finds their moment to shine, and when they are all quibbling at once, the chaotic din grows exponentially cacophonous, easily driving an air of madness into the room. The timing of the half-dozen dead husbands is sharp; their speech patterns jumping on top of one another as if they often all speak as one but through one individual mouth at a time.
Milo (Phil Vannoorbeeck) is the mild and foppish Fashionista dead husband who has an effeminate disposition. Froedrick Leopold (Malcolm Anomnachi) is the rigid opposite as the epitome of masculinity; a fierce warrior poacher who appears bare-chested in his portrait frame. Choosing to situate these two portraits together on the same 'wall' is a clever choice for displaying the dichotomy among her previous paramours. Captain Alexander Coachella (Sean James) and Jack Russel (Nick Delaney) also have side-by-side portraits that reflect similar differences.
All four of these performers have subtle hints of accents that assist with the definition of their characters but it is their natural charisma that carries them along from flat motionless still life portraits to vivacious dead husbands having full blown conversations. All six of the performers playing said dead husbands (including Tommy Peter as Detective Shetland Houndstooth and Dominic Gladden as Dr. Seamus Delaney, both of whom have noticeably stronger accents and equally exquisite charm) are to be commended for their ability to hold statuesque stillness in frame during long stretches of scene work where they are merely present but not active or speaking.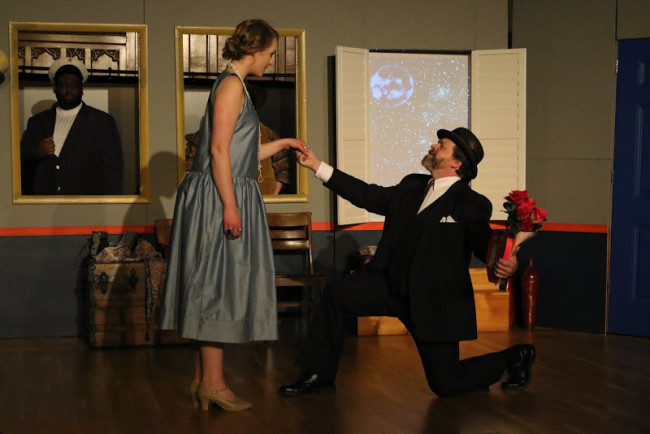 It wouldn't be #weirdfrance without a curiously peculiar American showing up to crash the party. Hubert Q Hubble (Thom Sinn) is a bizarre amalgamation of pompously self-involved and deeply insecure. Sinn fits the bill of swell with this character in the way a shiny oil spell looks swell atop a crystal clear lake. The juxtaposition of the two put together under Sinn's seasoned portrayal skills are hilarious. There is a Gastonish personality painted up like Frank Sinatra with a hint of terrified meager man sneaking into his persona, and the moments where he steals the attention— like his "great living ghosts!" exclamation and patented cigar chomp— really engage the audience with a fit of giggles. Possessing a magnetic force of repellence, Sinn excels in being the bad-good guy, or the good-bad guy, if such labels can exist in such off-kilter fairytales as this.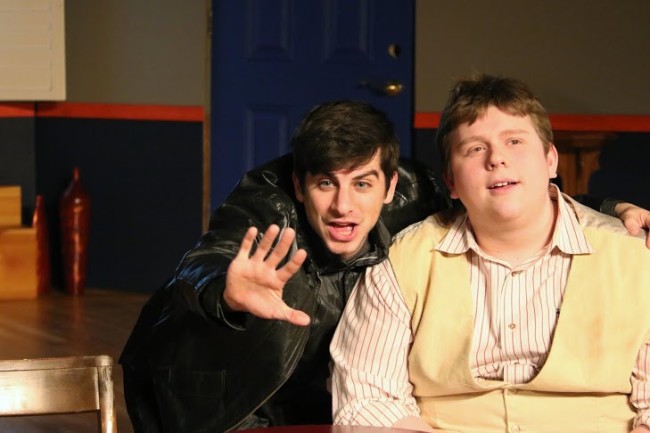 Jean-Pierre (Bobby Henneberg) and Marcel (Matt Payne) are the night and day, the coffee and tea, the yin and yang of brotherly friends in this performance. They could not be more opposite and yet similar if they tried in their characters' natural existences. Payne, playing the spastic and frenetic Marcel, compliments the gentle and calm Jean-Pierre that Henneberg masters with ease and grace. Their exchanges are wildly entertaining, particularly when Payne is at the peak of his explosive nature while Henneberg quietly responds and mulls things over with a congenial middling contentment. The café scene defines the extent of their relationship as well as their opposition in the composition of their existence inside the walls of #weirdfrance.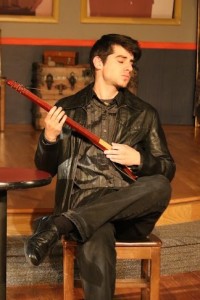 Payne possesses a je ne sais quoi that screams crazy and cool all in one go. His obnoxiously charming airs in the presence of Deedee are laughable but also the tiniest bit sad. His strum-stick playing is commendable and his overall presence of mind in each scene makes his character feel solid and of the world of the play. There is a volatile current of passion flowing through him that often explodes out of his mouth in the form of over-excited verbal diarrhea, complimented with equally spastic gestures and body movements.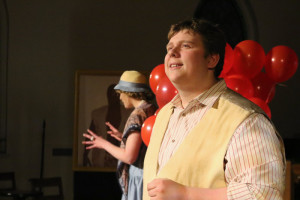 Henneberg has a confident calm about his portrayal that brushes over him as simply as a breeze across the Seine on a warm spring morning. His delicate simplicity couples exceptionally with the overall tranquility he exudes into the chaos of the upturned world that is this play. His interactions with Deedee are the true fairytale of the story; particularly the scene at the balloon cart before she peers through the balloons. There is a confused complacency about his character as well, one that Henneberg embraces rather than dismisses, giving Jean-Pierre depth and heart, particularly when he delivers one of the most profound lines in the plays— "Life is not black and white like the newspaper. It has colors and light."
As for Deedee (Cassandra Dutt) the world's most beautiful girl, there is in fact more than meets the eye to this woman of legend. Dutt takes on the role with a tremendous understanding of how to transition the character throughout the story, breathing viable life into what could very easily be a static and two-dimensional woman. Initially appearing with 1950's house wife congeniality, there is a very quick shift into spoiled aloof princess which is then drastically juxtaposed against the deeply misunderstood and confused woman who longs for what all human beings long for— to be desired for who we are.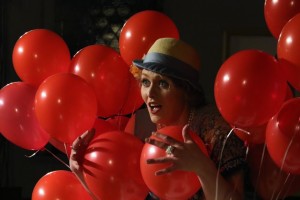 When telling the stories of her deceased husbands, Dutt enters a fantastical trance, deeply engrossed in the telling of their tales as if she were Scheherezade and the retelling of these stories will save her life. In a sense the play very much reflects The Arabian Nights in this fashion as Deedee uses the retelling of these stories to bring her comfort or a smile. There are moments of outrage, confusion, and pure joy; Dutt runs the emotional gamut throughout the performance with splendid vigor, never once does an emotion feel contrived. Glimmering in a sea of all male performers, Dutt radiates as a heroine of her own story when the play draws to its heart-warming conclusion.
Come and live your life just a few feet off the ground, perhaps in #weirdfrance, or perhaps just at Cohesion Theatre Company for a few hours. Dare to dream, dare to hope, dare to live; this show will help you do all of those things and see the colors and light that life has to offer.      
Running Time: Approximately 2 hours with one intermission
13 Dead Husbands plays through March 29, 2015 at Cohesion Theatre Company currently performing at The Church on The Square— 1025 s. Potomac Avenue in Baltimore's charming Canton neighborhood. Tickets can be purchased at the door or in advance online.
Wanna learn more about #weirdfrance? Check out the interview series with the cast and creatives below!
Click here to read Part 1 of #weirdfrance
Click here to read Part 2 of #weirdfrance
Click here to read Part 3 of #weirdfrance