The Go-Go's may have had their lips sealed, but The Heritage Players are letting theirs loose in their latest production of Neil Simon's "Rumors." Directed by Damien Gibbons, with Assistant Director Katie Sheldon, "Rumors" tells the story of a group of wealthy socialites who gather for the anniversary party of their good friend Charlie Brock, Deputy Mayor of New York, and his wife Myra. Unfortunately, the poor guests show up to find that Charlie has attempted suicide and Myra has gone missing. While Charlie and Myra never actually make an appearance during the show, the guests spend the duration of the play speculating as to what might have happened and doing their best to cover up the whole sordid business to save the reputation of their dear friend.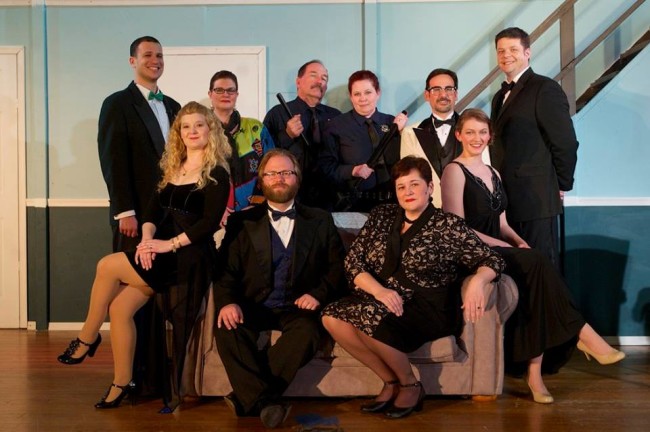 (L to R) Front: Chris Gorman (Ashley Gerhardt), Lenny Ganz (Stephen M. Deininger) Claire Ganz (Andrea Bush) and Cassie Cooper (Amanda Polanowski.) Back Row: Glen Cooper (Louis Miles), Cookie Cusak (Kathy Wenerick-Bell), Officer Welch (Kevin Kelehan), Officer Pudney (Heidi Vause), Ernie Cusak (Lenny Taube) and Ken Gorman (Matt Scheer)
Gibbons' interpretation of this production is outstanding. Setting the production in present day, Gibbons outfits his actors with modern technology, like Smartphone, and even makes an offhand reference to Honey Boo-Boo. He has also retained incredible talent for this show, from the capable group of actors he has cast to the production crew who have helped bring his artistic vision to life. What makes his production even more incredible is the fact that he had to take time off for the birth of his first child just before tech week, yet with the help of the production team, Heritage was still able to open the show on time and to a fantastic reception from the opening night audience.
Set constructers Al Gillis and Robin Trenner do a marvelous job of bringing Gibbons' set design to life. Their beautiful bi-level set provides ample room for the actors to play the scenes, and it truly evokes the feeling of attending a party in a wealthy New York neighborhood. The soft blue paint colors used, along with the comfortable furnishings chosen by Andrea Bush and Katie Sheldon, are warm and inviting, making the audience feel like additional guests to the soiree. Family photos hanging on the upstairs wall add a nice touch and deceive the viewer into thinking that the only skeletons in this family are the ones buried in the cemetery uptown.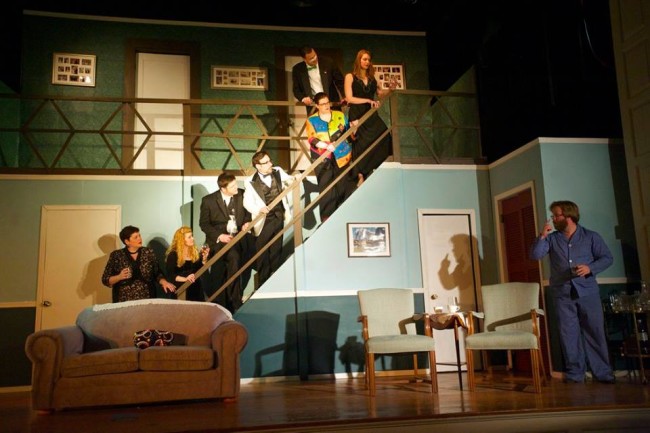 Ascending the steps: Claire (Andrea Bush), Chris (Ashley Gerhardt), Ken (Matt Scheer), Ernie (Lenny Taube) Cookie (Kathy Wenerick-Bell), Glen (Louis Miles) and Cassie (Amanda Polanowski.) Not on the Steps: Lenny (Stephen M. Deininger)
Upon walking into the theatre, the viewer is treated to a selection of party music that moves through the decades, from Marvin Gaye to the Gin Blossoms. All of the songs revolve around rumors, gossip, and secrets, fitting right in with the entire theme of the show. As the characters make their entrances, their costuming reflects a black-tie event; the women dressed mostly in flowing black party dresses with a hint of sparkle and the men donning tuxedos and suits.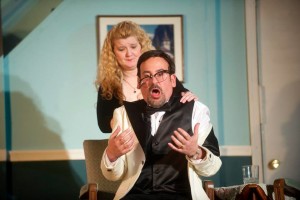 Ashley Gerhardt, who plays Chris Gorman, gives a bright and vivacious performance. Her comedic timing is impeccable when delivering her lines, and her rapid, nervous movements perfectly capture the frenzy that is unfolding all around. The flightiness of her character is further accentuated by a long, sheer black train on her dress, which flies behind her in her fast-paced motions. Gerhardt also plays an incredibly entertaining drunk, as Chris turns to alcohol to relieve the tension she is feeling (after constantly being denied a cigarette.) Watching her deteriorate and crawl farther into her bottle just adds to the raucous laughter of the audience during act two.
Chris' husband Ken, played by Matt Scheer, is the frazzled, concerned best friend of the Deputy Mayor. Scheer does a fantastic job of depicting the troubled attorney. Like the other members of the cast, his levels are perfectly balanced– he can go from cool and collected to panicked and flustered at the drop of a hat. Scheer also has his moments of comedic gold after temporarily losing his hearing from a close-range gunshot in the middle of the show. He showcases Ken's blinking confusion and misinterpreted words in an absolutely hilarious way.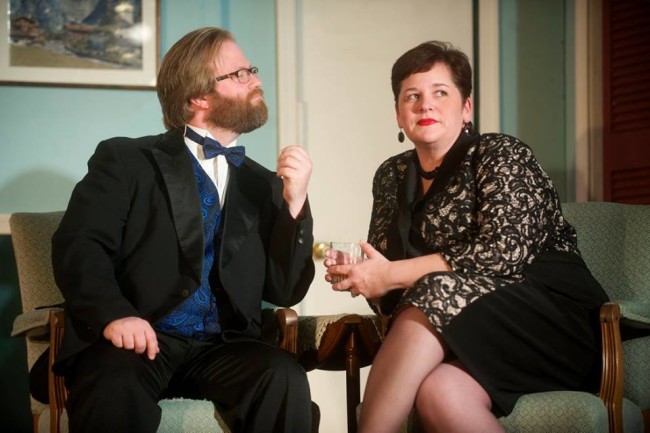 Stephen M. Deininger (left) as Lenny Ganz and Andrea Bush (right) as Claire Ganz
The next arrivals to the party are Claire Ganz, played by Andrea Bush, and her husband Lenny, played by Stephen M. Deininger. Bush delivers an excellent interpretation of Claire, a strong-willed woman with a love of gossip. Her movements and tone of voice are both deliberate and self-assured throughout the production, and her grounded nature and matter-of-fact attitude serve as the perfect catalyst to Lenny's hot-tempered outbursts. Bush's chemistry with Deininger is outstanding, and they play very well off of each other, much to the audience's delight.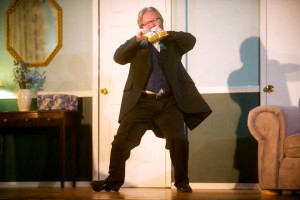 The biggest scene stealer of the show would have to be Deininger's portrayal of Lenny Ganz. From the moment he enters the party, you can see that Deininger is a great physical actor. He makes deliberate, committed choices for all of his body movements and executes them with a finesse that can only come from years of theatrical experience. Whether playing up a neck injury, launching across a couch to bemoan the fate of his precious BMW, or just having a scuffle with a stubborn bag of Snyder's pretzels, all of his physical outbursts leave the audience in stitches. Deininger also exhibits perfect comedic timing in his quick-witted responses, packing a nice sarcastic punch in his Danny DeVito-style New York accent.

Adding a burst of color to the show, literally, Kathy Wenerick-Bell plays a very convincing eccentric with her portrayal of Cookie Cusak. Her loud, colorful dinner jacket is a perfect representation of her loud, colorful personality. Her physicality is also to be commended, as she does an incredible job portraying Cookie's incessant back spasms (which seem almost orgasmic at times) and clumsy nature; in fact, Wenerick-Bell's performance showcases spikes and outbursts in the character's personality that mimic the constant spasms that plague her back.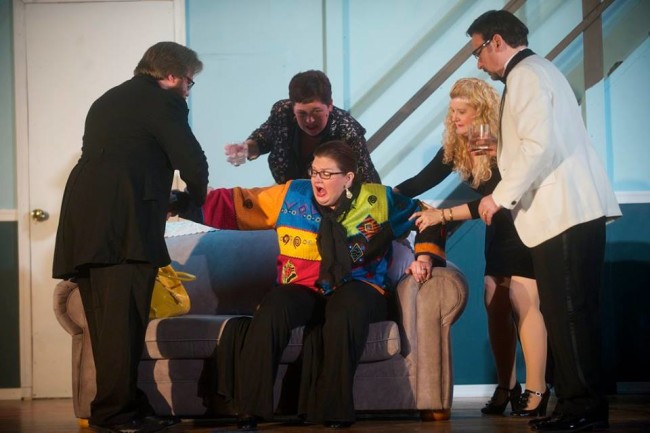 (L to R) Lenny (Stephen M. Deininger) Claire (Andrea Bush) Cookie (center- Kathy Wenerick-Bell), Chris (Ashley Gerhardt) and Ernie (Lenny Taube)
Cookie's husband Ernie, played by Lenny Taube, is the perfect yin to Cookie's yang. Taube plays the character with a very level, even personality, which balances the more erratic nature of Wenerick-Bell's performance. This makes it all the more hilarious when he finally reaches his breaking point near the climax of the show. Having his ideas rejected by the other guests of the party finally proves to be the straw that breaks the camel's back, and he loses his cool emotionally, even venturing to mutter his first curse word…of which he is profoundly sorry as it leaves his lips. The chemistry that he and Wenerick-Bell exhibit is also sickeningly sweet to the point of laughter, as he dotes on his wife with Eskimo kisses and some lovey-dovey smooches that might make most newlyweds blush.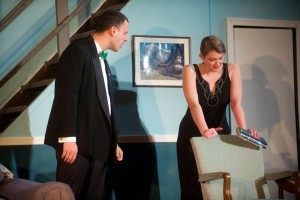 Next enter husband and wife Glenn and Cassie Cooper, played by Louis Miles and Amanda Polanowski. You can literally cut the tension between these two with a knife, they play their roles so well. Miles does an excellent job of being the politically-minded husband, who tries to exercise his negotiation skills to placate his wife's seething anger. Unfortunately, he ends up with a punch in the nose as a reward, but his chemistry with Polanowski reads well to the audience.

Polanowski gives a convincing performance as the spurned socialite wife. Even in moments where she doesn't speak, her body language and facial expressions are filled with a white-hot, seething anger, just ready to bubble over and scald her unlucky husband. Later, in her attempt to exact her revenge for Glenn's perceived infidelities, she literally lets down her hair and throws herself at the men in the room. This tall, blonde beauty knows how to exude sexuality, and it shows in her movements as she drapes herself across the center-stage sofa.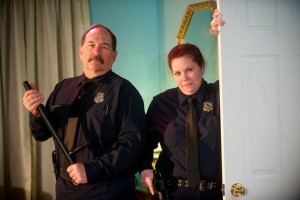 Officer Welch and Officer Pudney, portrayed by Kevin Kelehan and Heidi Vause respectively, are the authoritative third party that arrive at the play's climax. Acting as the voice of reason, these two are strictly business, and this no-nonsense attitude shows in the actors' performances. Kelehan, the more talkative of the two, does a fantastic job of depicting a typical New York City cop, and his disbelief at the wild stories told to him by the guests adds fuel to the fire of their hysteria. Although she has few lines in the scene, Vause always manages to stay in character, and your eye is drawn to her as she conducts her methodical search of the room. Director Gibbons also cleverly uses the two cops as his pre-show announcement, comically laying down the law of the theatre for the audience.

Although there were a few opening night hiccups with sound and pacing (which is to be expected!) this high-energy, raucous performance was extremely well-received by the audience, and it certainly left this reviewer with a pain in her side from laughing so hard. If you're looking for a wild party to attend in the next two weeks, this is one that you won't want to miss!

Run Time: 2 hours and 15 minutes with one intermission

Rumors plays through March 29, 2015 with Friday and Saturday performances at 8:00 p.m. and Sunday matinees at 2:00 p.m. at Heritage Players. Performances are held at The Rice Auditorium on The Spring Grove Hospital Campus— 55 Wade Avenue in Catonsville, MD. Tickets can be purchased at the door or in advance online.
Proceeds help benefit The American Foundation for Suicide Prevention and The Spring Grove Patient Fund.