Life is really up to you, you must choose what to pursue! Set your mind on what to find and you'll find an epically entertaining production of Monty Python's Spamalot at Silhouette Stages in Columbia. Directed by Debbie Mobley and Conni Ross, with Musical Direction by Michael Tan, the humor of Monty Python, Book and Lyrics of Eric Idle, and Music of John Du Prez come shining through to the brighter side of life on the narrow stage of Slayton House. An enormous musical undertaking for any theatre, Silhouette Stages succeeds in entertaining the audience with insulting and well-timed jokes, dazzling dance routines, and a quest to find the Holy Grail!
What happens in Camelot stays in Camelot and the set for Camelot is looking striking thanks to Set Designer Ryan Geiger. Working with Animation/Projection Designer Stuart Kassanow to hone in on humorous opportunities throughout the performance, Geiger's set lends itself to the fantastically campy nature of the show. The prop trees for the "very expensive forest" look like childish cardboard uprights with tire tread printed into them. Geiger's castles are a tremendous achievement for the space as they fill the stage without detracting from the actor-movement path. The side-thrust turrets for the opening scene (and frequent use thereafter) are noteworthy as well. Kassanow throws clever little inside jokes into the projects to help make the production belong to the company. The big one worth noting are the "Air Jehovah" cloud sandals on God's feet when he descends from on high.
Co-Director Debbie Mobley teams up with Linda Swan to create the whimsical look of a Broadway musical done Python style in the costume department. With six different outfits for the Lady of the Lake (Emma Jensen) they keep the diva outfitted with flare. The dress seen in her first stage arrival looks like a glorious prom gown accented with a peacock feather-wrapped corset. Swan and Mobley's creative knows no bounds as they deck the Camelot girls in shiny blue foil tier-dresses making them look like twinkling castle turrets, complete with pointy crowns, and the Laker Girl dresses are designed to shimmy and shake with ease. Swan and Mobley keep the colors coming with their bright Finnish outfits from the opening number and their eye-popping disco tops and matching ruffle-bottomed tight pants for the Lancelot number, a real crowd-pleaser across the board. Bonus points to Mobley and Swan for using matching colored crocs in the ensemble during "The Fish Schlapping Song" to create an authentic yet garish look of Finland clogs.
Co-Director Conni Ross makes her creative team with Liliana Evans for Property Design. Often props are overlooked in productions, or lumped into the creative construction of the set, but for Python's show props are a necessity and they complete the motion and look of every scene. Evans and Ross do a fine job when they "fetchez la vache" with its fine construction. Patsy's saddle load is cleverly constructed out of baskets and stacks perfectly up his spine. There are several dozen detailed nuances throughout the performance that are successful because of the Properties Design Team.
A big musical won't succeed way-way-off-Broadway if it doesn't have sensational dance numbers. Fortunately for this production Choreographer Tina DeSimone knows her way around a traffic-heavy stage and makes honest dance-magic happen in this show. The routines are simple but enthusiastic, every dance number energetic but crisp and clean. DeSimone finds the emotional inspiration behind each song and infuses it into the dancer's movements, this is particularly true for the Laker Girls' cheer during "Come With Me" where the stereotype of hyper peppy cheerleaders comes radiating off the stage in jumping, bouncing waves. Every time the men get to moving DeSimone underscore's the songs rhythm and feeling into their feet. "Knights of the Round Table" gets a classy box-step worked into the swing things, while "Always Look on the Bright Side of Life" features a sturdy and sharp soft-tap routine worth applauding. All styles of dance have DeSimone's signature on them all throughout this performance but her crowning number is "His Name is Lancelot" as it is thoroughly drenched in fabulous hip-shaking, pelvic thrusting, rhythmic motions that truly drive the beat of the music.
Keeping up with all of those popping pelvises and lamenting Divas is Musical Director Michal Tan. Making as much musical magic as DeSimone makes dance-magic, Tan finds the sound of this production and makes it soar. "All For One" has the show's finest harmonies augmented to perfection. With just himself on keyboard and three other musicians in the pit, Tan masterfully creates the sound of a full orchestra, which helps to carry the production along to its finest potential. The strong blends from the ensemble and impassioned solos from featured performers all do a great justice to the score under Tan's keen direction.
Co-Directors Debbie Mobley and Conni Ross move the show along with a great sense of urgency. It never feels rushed but your attention never drifts as the action keeps right on rolling. Mobley and Ross deliver a unique take on some of the subtler things in the show, truly putting their signature on the production. They include characters from various other musicals that take place in France for the French Castle Scene, including The Phantom, Cosette, and Belle. It is their dedicated approach to the performance that keeps the show on its toes, running smoothly. Both the male and female ensemble are packed to the brim with strong performances. The principle players echo these notions and all of that leads to a brilliant show, with Mobley and Ross having handpicked a splendid cast.
With a minor track of only four characters, Rich Greenslit makes his stage time count. Starting off as the boisterous Mayor of Finland, his robust singing sound carries with solidarity through "The Fish Schlapping Song." When Greenslit takes to playing Bedevere he does not receive a solo song like the other knights, however his lead-in line during "All For One" has such a dulcet charm that you wish he did. Greenslit's more humorous roles, including the dreadfully wounded Concord and the wacky Mrs. Galahad are hysterical.
Kicking off the show as a Tower Guard, Tommy Malek delivers his snarky sarcastic comic timing in the well-recognized Coconut-Swallow sketch. Recurring as a different sort of guard toward the end of the performance Malek showcases his comic diversity by delivering a severely stupid dose of low-brow humor in his scene opposite Prince Herbert's father. His big breakout role comes as the terrified chicken Sir Robin. Pattering away through the top of "You Won't Succeed on Broadway" his versatile performance here involves switching quickly from rhythmic speedy delivery into long bellowing sustains, which he delivers divinely. Keep an ear out for his character voice later as Brother Maynard, this one is a barrel of laughs.
Jim Gross, playing the dashing Sir Galahad is competing with a few other performers for scene-stealing hilarity. Whether it's his cheesy and slightly cocky "Buddy Christ" wink and gun-finger at the audience or the tossing about of his oh so fabulous Fabio locks as Galahad, Gross is milking every moment of humor from his character's semi-audience interaction. His voice is warm and imbued with serious melodramatic overtones for "The Song That Goes Like This," a parody duet shared with The Lady of the Lake (Emma Jensen.) Gross also doubles as the raging father of Prince Herbert who storms about like a fierce tyrant, and as the terrifying Black Knight. The horrifying face he makes as this infamous character is so scary it's hilarious.
Ryan Geiger who takes on numerous roles in the production is really on his comic game. Delivering characters with sharp sincerity the humor presents itself that much more soundly to the audience. As the French Taunter, Geiger's outrageous accent keeps the audience rolling as they listen to him sling absurd insults at King Arthur (Mo Dutterer) and the knights. As the King Knight of Ni he delivers a litany of humorous chortles that appeases all the Python fans. It's role as Lancelot that will stun the audience. His burly voice rolls through "I Am Not Yet Dead" but it's his presence in "His Name is Lancelot" that scores him a big success. Geiger's understanding and calculation of the precise moment for switching from confused to jovial makes this number the best in the show.
Showboating, scene-stealing, and hamming it all. All attributes that belong Matt Wetzel who is settled into the four-role 'Character Man' track. There are so many hilariously humorous moments that an entire review could be written on Wetzel's performance alone. His keen understanding of Pythonian is clear in his brief spoken lines as the historian. His physical acrobatic abilities are showcased as the skipping Minstrel as well as his comic timing in singing during "Brave Sir Robin." Stealing the whole of the number "I Am Not Yet Dead" with his jolting re-animated dance routine and insane falls, Wetzel owns every moment of being Not-Dead-Fred. Every time he takes a whack to the head the facial expressions he pulls just before a no-stop dead flat-out fall result in barrels of unstoppable laughter from the audience. As if his performance could be any more over the top, Wetzel nails every moment of "Where Are You" as Prince Herbert and the sight-gag alone of his rather short stature against Geiger's gargantuan height is priceless. Hyper animated, particularly with his facial features, Wetzel is a front-runner for best in show, standing second perhaps only to Patsy.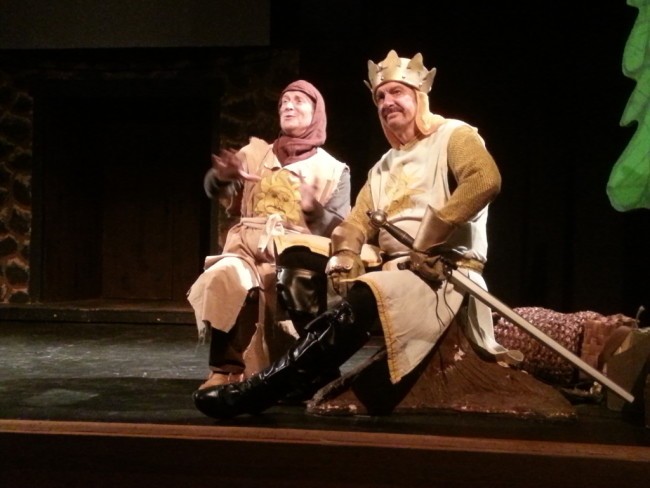 Jeremy Goldman gallops away with the show stuffed in his oversized pack. Playing King Arthur's lackey comes with a price and in this case it's the price of uproarious fame. The more he downplays the character, by never finding a place among the knights when they make formation or even going so far as to not allow himself a curtain call, the more attention the gains and it fits perfectly into the Pythonian vein of the show. Goldman's most impressive moments are often not when he's singing and dancing, though he does both with exceptional vigor and talent, but when he silently responds with equally over-animated facial expressions. "I'm All Alone" which is a rich solo performed by Mo Dutterer (filled with his wonderful voice and very focused stage presence) gives Goldman the chance to steal the thunder from the king with his reactionary responses. Goldman's voice is swell; a true congenial sound that resonates with perfection in "Always Look on the Bright Side of Life" the only true solo he gets. With an earnest accent that is constant both in his speaking and singing voice, Goldman is the grail of this show. Keep your eyes peeled for his scene-stealing 'moonwalk' during "Come With Me."
Always look on the bright side of life. Silhouette Stages certainly is. A great production with a tremendous amount of dedication, it's one performance that you won't want to miss this season.
Running Time: 2 hours and 20 minutes with one intermission
Monty Python's Spamalot plays through March 22, 2015 at Silhouette Stages at Slayton House Theatre in Wilde Lake Village Center— 10400 Cross Fox Lane in Columbia, MD. For tickets call the box office at (410) 637-5289, or purchase them online.