It's magic in the making over at Reston Community Players as they teach the world new ways to dream with their production of Andrew Lloyd Webber's Sunset Boulevard. With Book and Lyrics by Don Black and Christopher Hampton based on the film by Billy Wilder, the tragic story of Norma Desmond is played out in vivid vibrant life with a score by one of Broadway's longest running composers. There is intrigue, there is excitement, there is mystery; all on one stage with a scintillating story to boot. Directed and Choreographed by Mark Hidalgo, with Musical Direction by Elisa Rosman, this Hollywood dream may entice you empathy before swelling into the darkness of a motion picture nightmare.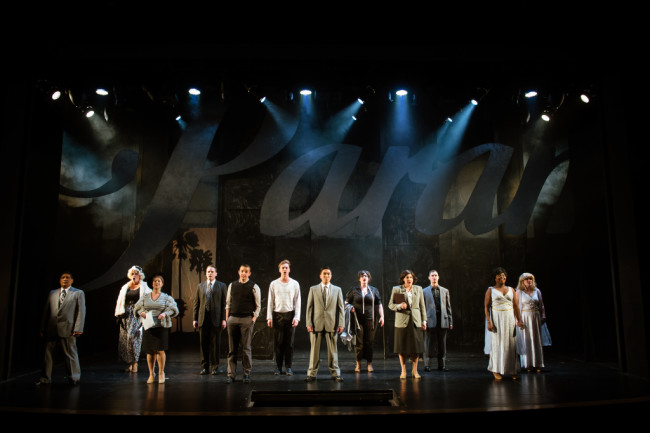 Simplicity is not often a word that one relates to the golden era of Hollywood. However, Scenic Designer Steven Royal does not inundate the stage with complex sets and the show flourishes in its natural element because of his basic design work. There are, of course, scenes more grandiose than others, like the jarring red interior of 10086 Sunset Boulevard, which is eerily reminiscent of The Chinese Theatre. With its massive staircase and the illusion of walls that lead up into vaulted ceilings, the interior decorations are as lavish as the fame once granted to Norma Desmond. Royal's sliding gates at the Paramount studio lot are a clever way to move scenes along without the complicated trapping of heavy set pieces. It's the Paramount sign that is breathtaking. An enormous silhouette with hints of shadowy depth to it to let audiences know just which studio runs the screens in Hollywood.
Royal's use of interspersed projections from the film is a sharp through-line that echoes the sentiments of how many great stage musicals stole their inspiration from the pictures. It also reflects the symbolism of Norma's life trapped in the pictures, which got small. It's the use of the projected silhouette in the pool at the beginning against that striking painted black and white backdrop that stirs the disquiet into the atmosphere right from the opening note; a brilliant move on Royal's behalf.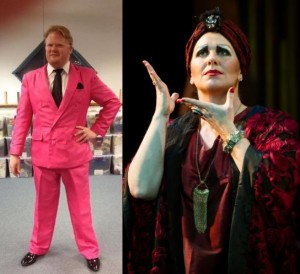 Director Mark Hidalgo teams up with Jennifer Lambert to capture the look of Hollywood in all its gilded glory. The ensemble matches a generic background palette of fashion for the era. The men have suits of a fitted cut, though it is definitely worth mentioning the screaming electric pink suit afforded for Manfred (Quentin Nash Sagers) who appears in exactly one number, but his outfit alone makes him memorable. Lambert and Hidalgo work in tandem to befit Norma Desmond with outfits worthy of her ego. Her initial red garb looks like it was peeled from the walls of her living room. The downside to the design in Norma's wardrobe is that despite its eccentricity, it does nothing to hide the actress' real age, which is far younger than is suitable for the role.
Hidalgo indeed will have to teach the audience a new way to dream if he expects them to believe that Katie McManus is the appropriate age for the role of Norma Desmond. Despite her ferocious performance, without any proper aging makeup, which considering the large proscenium stage could have even been overdone given the audience sightlines, she just appears too young and the age jokes that are liberally sprinkled throughout the script, as well as songs that focus on the aging star's has-been career feel terribly out of place. It is a large point over which he asks the audience to suspend their disbelief. Age-appropriate casting, though difficult to find, is not impossible to create with a simple application of make-up.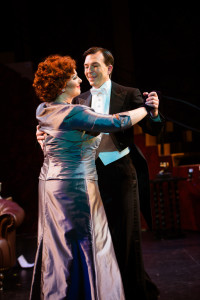 Hidalgo's choreography is another unfortunate weak spot in this otherwise extremely impressive production. Ensemble member Dwayne Allen stands out as the performance's only true dancer, which is an ingenious move on Hidalgo's part as he casts Allen as the Paramount studio dance instructor. But that aside the little bit of coordinated movement is clunky and occasionally off-rhythm from the music. To his credit, however, the New Years Eve dance between Norma and Joe moves divinely up on its feet.
Musical Director and Pit Conductor Elisa Rosman understands the intricacies of an Andrew Lloyd Webber score. Rosman has exceptional volume control over her orchestra, even going so far as to highlight the tinkling underlain harmony line in "New Ways to Dream" that sounds akin to the opening score of Les Miserables' "One Day More." It's Rosman's keen ear that leads the ensemble to their powerful song, particularly in the rhythmically difficult "Let's Have Lunch." The score is by no means easy but Rosman ensures that the audience and lead principles are successful with all of the drastic and sudden changes that happen throughout the production.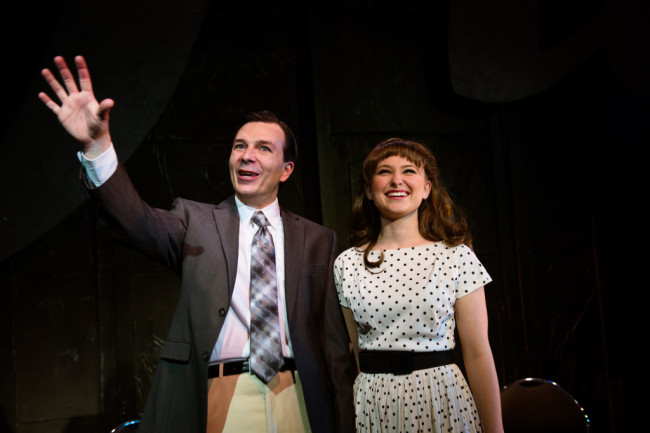 The darling ingénue Betty Schaefer (Katie Depp) is a delicate little thing but her spark should not be underestimated. Depp holds her own in a musical where her character plays in the shadows compared to Norma Desmond. Her rich soprano sound is solid and far more intense than one might expect from someone of such a slight stature. Depp understands patter and rhythm, particularly In "Schwab's Drugstore" and "This Time Next Year." Her voice alights with young love's desire in "Too Much in Love to Care", a duet she shares with Joe.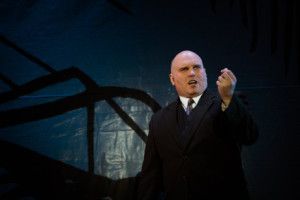 The surprisingly robust voice comes from the stoically disenchanted Max Von Mayerling (Paul Tonden.) With an incredible range, from low in the baritone sound nearly touching the bass to the higher end of a tenor, Tonden mesmerizes the audience when he opens his mouth to sing "The Greatest Star of All." There is a crescendo of emotion surging through that solo; a seamless blend of nostalgia and sorrow, bittersweet sympathy and praise. Tonden has a dry sense of humor in the way he portrays Max, particularly in his rigid physicality. The way he walks when showing Joe through the house appears to be in homage to the Alfred Hitchcock, "walk this way" movement.
Joe Gillis (Joshua Redford) or Norma Desmond (Katie McManus) it's hard to say to whom the story truly belongs. Both Redford and McManus give sensational performances, and their interactions with one another on stage are the epitome of a dubious entanglement. Though their involvement is at first unconventional the chemistry between them quickly escalates into a volatile frenzy. "The Perfect Year" is a more dulcet and calm duet that the pair share, though all things considered their time on stage together is not really spent singing with each other but rather narrating their versions of the story with each other present.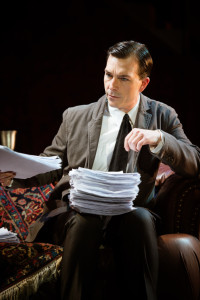 Redford delivers a poignant rendition of Joe Gillis; the shift from eager opportunist to jaded realist very forthcoming in his portrayal. His narrative moments during "Salome" and "Prologue" are sharply in rhythm with the orchestra and are succinctly articulated. He's congenial in the places where the script calls for it but doesn't stand out otherwise, which is exactly the way Webber has written it. Redford's performance of "Sunset Boulevard" at the top of Act II is striking. Filled with vigor and bursting with confidence, however bitter, this number defines his existence within the story.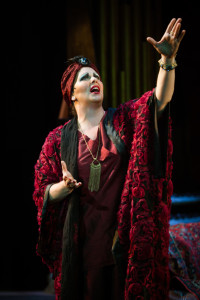 McManus, as the leading lady, is vocally and charismatically stunning. Psychotic and nostalgic and eccentric and determined; all perfect descriptors of her performance at various points throughout the production. Imbuing mind-blowing levels of emotional fortitude into her more intense numbers like "Salome" and The Finale Scene" though in very different veins from each other, McManus delivers phenomenal song after song throughout the duration of the show. The delicate wistful longing of her glory days gone by rings true in "With One Look." "As if We Never Said Goodbye" is another exceptional example of her heart-melting singing ability.
Take a long and winding trip down this twisting, tempting boulevard, it's secretive, rich, and a little scary. You shan't be disappointed at the riches you find there; vocal sensations a plenty in this production of Sunset Boulevard.
Running Time: 2 hours and 25 minutes with one intermission
Sunset Boulevard plays through March 21, 2015 at the Reston Community Players on the Reston Community Center Centerstage— 2310 Colts Neck Road in Reston, VA. For tickets call the box office at (703) 476-4500 ext3 or purchase them online.