This Christmas season is a jolly holiday indeed over at Toby's the Dinner Theatre of Columbia as they serve up true theatrical magic at its finest with their production of Disney's Mary Poppins. Making its regional debut with original music by Richard M. and Robert B. Sherman; new songs, music, and lyrics provided by George Stiles and Anthony Drewe, and book by Julian Fellowes this wondrous production brings all the magic one needs for a practically-perfect holiday and an exceptionally spirited new year. Directed by Artistic and Co-Artistic Directors Toby Orenstein and Lawrence B. Munsey, with Musical Direction by Ross Scott Rawlings, the whimsy and enchantment that only a Disney show can provide lands with smashing success at Toby's to close out their 2014 season.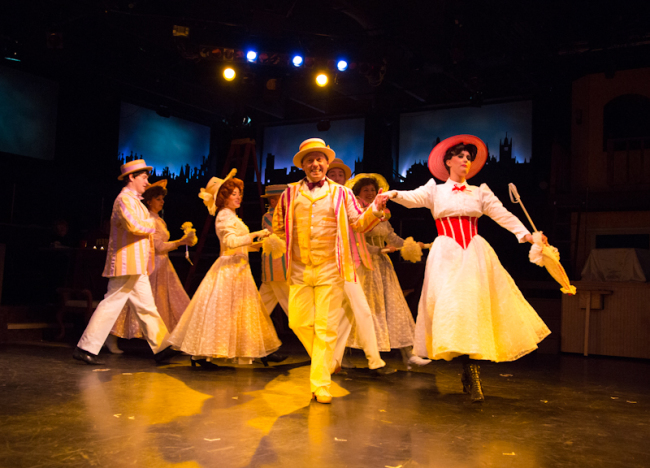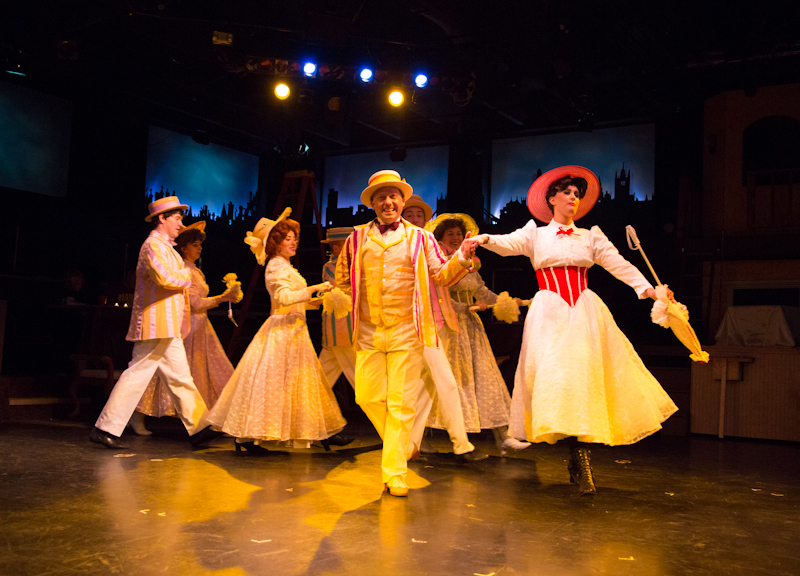 Scenic and Lighting Designer David A. Hopkins has transformed the theatre into a plethora of locations most befitting for all of the adventures that occur for the Banks' children. Number 17 Cherry Tree Lane is Hopkins finest creation; a full rotating wall at the top of the house's entrance to display both the exterior and the interior depending on which suites the scene. The nursery, complete with magical fireplace, is built up and filled with its own unique enchantments. Hopkins' special effects work is supremely spectacular in this production— collapsing kitchens, magic cakes, flying nannies— every enchantment imaginable from lamps that grow out of carpet bags to beds that appear from thin air all custom-fitted to work flawlessly in the intimate theatre-in-the-round spacing of Toby's.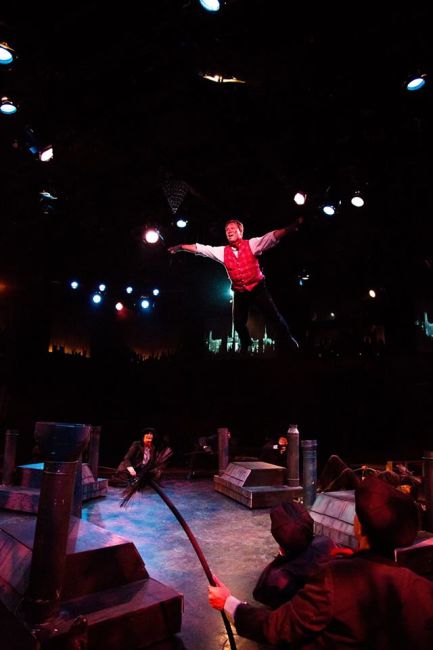 Hopkins works closely with Projection Designer Riki Kim to further enhance the aesthetic of the performance without over crowding the stage or complicating the set changes. Gliding projections shift from scene to scene showing the interior and exterior of the Banks' residence including darling alphabet blocks to signify being in the nursery. Kim's design work is marvelous and clever; colorful kites in the park scene to complete the illusion of the ensemble flying kites, and deluges of rain when the "Jolly Holiday" number in the park has ended. Kim and Hopkins work in tandem to create a sensory illusion of a continuous scene that blends from the wall projections to the floor of the stage and back. Kim projects the smoky and animated rooftops of London while Hopkins rolls in tap-ready chimney stacks. True imaginative brilliance is delivered from this combo of designers.
Real magic is hard at work with Choreographer Mark Minnick. Invigorating each of the larger dance numbers with a keen understanding of Disney magic and sharp synchronized routines, Minnick turns out choreographic genius with stylized animation among the dancers. "Supercalifragilisticexpialidocious" is an engaging number that builds momentum and movement as it goes; the footwork and handwork displayed therein bringing a superbly silly quality that matches the song's namesake to perfection. "A Spoonful of Sugar" features gracious galloping and fancy footwork through the kitchen as do many of the smaller numbers where a simple toe-tapping routine is all that is needed to add a sparkle to the song. Minnick's finest display is showcased in Act II; "Step in Time" being easily the most enchanting and mesmerizing number in the performance if for nothing else but its exacting precision, and intense rhythmic delivery. Minnick infuses the number full of complex tap routines that both look and sound clean. This tap routine, between full ensemble involvement and individual dance-off moments captivates the audience with true theatrical awe and inspires childlike delight to see such feats accomplished with such perfection.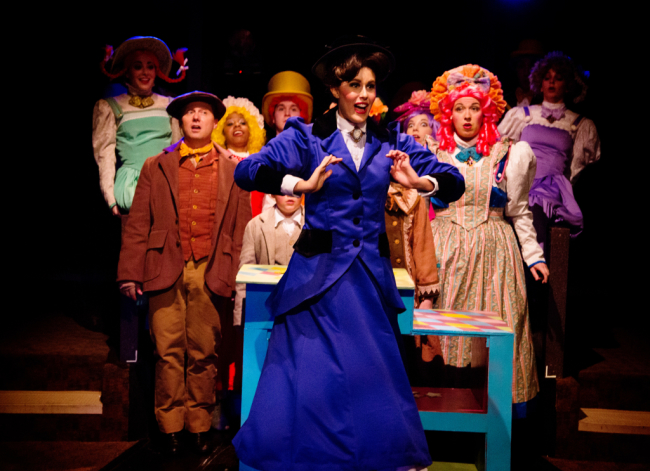 The ensemble, under Musical Director Ross Scott Rawlings, has a powerful sound that rings true to the spirited sounds of every Disney musical. "Anything Can Happen" and "Jolly Holiday" are prime examples of the vocal prowess of the cast and their ability to fill the stage soundly. Individual soloists who stand out in the ensemble include Ariel Messeca, Matthew Hirsch, and Christian Montgomery who deliver the opening lines of "Step in Time" in a thrilling and enticing fashion. Hirsch and Messeca also have strong vocal solos featured in "A Man Has Dreams" both of which are brilliant bursts of sound in this number. Julia Lancione, playing The Bird Lady, also delivers a solo worth noting with her rendition of "Feed the Birds." Somber yet delicate with a holy sweetness in her sound Lancione captures the essence of the classic song in all its solemn glory.
Other individuals in the ensemble worth mentioning are the bold voice of Coby Kay Callahan, playing Mrs. Corry, and the magnificent dancing of Andre Hinds, playing Neleus. Callahan, as the quirky Mrs. Corry, has a consistently carried British accent and a thoroughly developed character portrayal. Her sassy and lively approach to the word-shop owner is as bright and resplendent as the colors of the chatterboxes who have come to visit her. Callahan's voice can be heard throughout the performance in various ensemble numbers carrying heavier harmonies with vocal panache and ease. Hinds delivers mobile magic that has the audience staring in awe every time he twirls or leaps about the stage during the park scenes. His graceful dancer's body is the epitome of a statue come to life; fluid and engaging as he bends the music to his movements and vice-versa.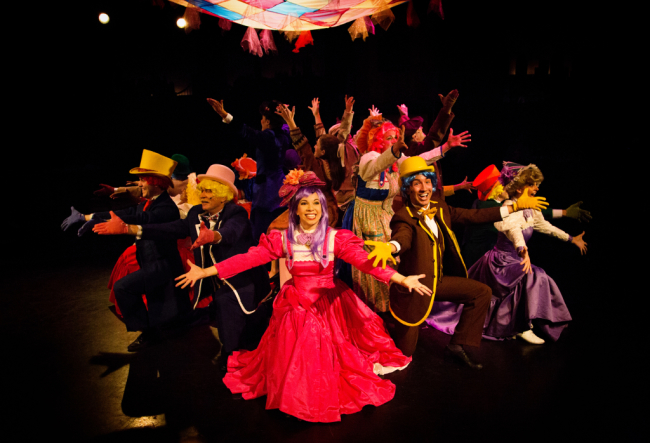 Popping up in nearly every scene, though mainly listed as the clumsy Robertson Ay and later as the abused toy Valentine, Toby's veteran performer David James lives up to the task of delivering comic goodness throughout the show. Robert John Biedermann 125 does the same, tackling several characters all with varying accents throughout. Biedermann's giddiness as the Park Keeper is contagious and his heel-clicking excitement is delightful. James, who keeps the audiences' sides splitting with laughter as he louses up the kitchen scene just prior to "A Spoonful of Sugar" delivers physical shtick at the top of his game; his hyper-animated body fully activated for maximum comic enjoyment. His clumsy comic ways are thoroughly enjoyed in scenes with the frightfully fusty and all round disgruntled Mrs. Brill (Jane C. Boyle.) James' continues creating comic glory throughout the performance, be it as a high-kicking sweep or the twirling torn doll during "Playing the Game." Biedermann, Boyle, and James are irreplaceable in their roles; delivering a sprinkle of experience and a dash of titillating humor that makes this theatrical recipe truly complete.
Storming her way into the Banks' household and stealing the scene with her perfect hybrid of terror and hilarity is Heather Marie Beck as the petrifying Miss Andrew. Living up to the namesake "The Holy Terror" Beck delivers a phenomenal performance that blurs the line between hilarious and evil so thoroughly that it is impossible not to laugh while cowering in one's seat. The epitome of a Disney villain, Beck arrives as an over-animated nightmare and her vocal prowess supports that claim as she belts and wails her way through both parts one and two of "Brimstone and Treacle." Keeping up with her vocal shifts proves to be a Herculean effort and her facial expressions are to die for. Once she succumbs to Mary Poppins' magic, the physical animation that takes over her body creates an uproarious scene that takes the cake. Beck is a striking force of hilarious villainy doing the character a great justice with her over-the-top performance.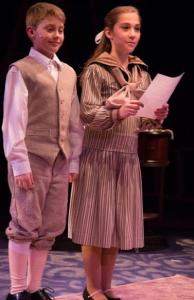 Of course it's because of the two wayward Banks children— Jane (at this performance Samantha Yakaitis) and Michael (at this performance Gavin Willard)— that the wretched "Holy Terror" is called upon in the first place. Both Yakaitis and Willard are precious little gems when it comes to singing, but don't let their dulcet singing voices fool you. These little terrors are precocious and bratty and perfectly rotten. Between the way they fuss over their toys and contradict Mary Poppins it's no wonder they've chased away every previous nanny. Yakaitis and Willard do sing beautifully together, especially for their opening solo of "Perfect Nanny" and as the show progresses their mannerisms reform into those of perfectly adorable sweet and respectable children.
Mrs. Banks (Elizabeth Rayca) has the task of the household and the children while Mr. Banks (David Bosley-Reynolds) requires precision and order to remain the sovereign of Cherry Tree Lane. Both Reynolds and Rayca have exceptionally talented voices that are well suited for their roles, and both performers manage to carry off convincing British accents to help ground the performance in its London reality. Reynolds robust voice is richly received for "A Man Has Dreams." His ability to deliver a stern demeanor with the children and yet unfold a heart-warming humanity once his character transforms showcases his dynamic ability as a performer. Rayca is received in much the same fashion creating a sharply juxtaposed duality between her tender mothering ways and her consternation over feeling like a helpless woman. Rayca's voice is like a music box; a sweet tinkled lullaby, but do not let her delicate sound fool you into thinking she lacks power. Delivering a stunning belt and hold at the end of "Being Mrs. Banks (Reprise)" Rayca cements her place as a powerful performer on the stage.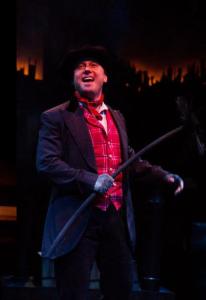 The guardian angel of the chimney-sweep league, Bert (Jeffrey Shankle) takes the tale of Mary Poppins and makes it his own. As the audience's access point to the story, Shankle invites us all to the tale with his congenial smile, convivial voice, and a twinkle that radiates from his eye to his heart. The epitome of Disney perfection in this role, Shankle becomes Bert in such a way that is truly wonderous and honestly mesmerizing. His footwork follies in "Step in Time" are fanciful and once he takes to going over the rooftops you simply cannot take your eyes off of everything he does. Fabulously spry on his feet, Shankle fills the role with a natural-born enthusiasm. The twinkle of theatre magic resonates through his voice for "Let's Go Fly a Kite" and his honest facial expressions echo this enchanting sentiment throughout the performance.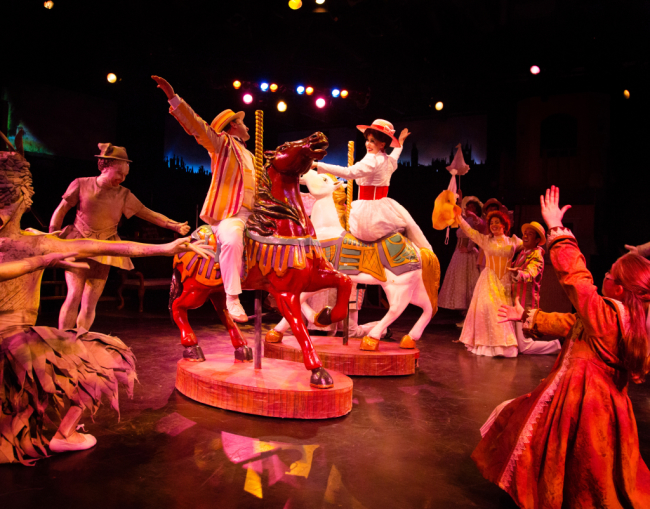 Charming, witty, clever, and foolish in a delightful fashion Shankle spreads his friendly affections to everyone, including Mary Poppins (Maura Hogan.) The pair sing and dance delightfully together, especially for "Jolly Holiday" a number where Shankle's exceptional voice truly shines with the glittering gloriousness of a Disney spectacle as if he were plucked straight from the Magic Kingdom. Hogan's voice is equally pleasing and her tones are sugary; a most befitting sound for "A Spoonful of Sugar."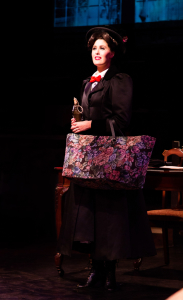 Hogan reinvents the role of Mary Poppins with her serenely sweet approach. Choosing to forego the cheekier side of Poppins' authority, Hogan shows the audience the gentle and emotionally invested side of the flying nanny; an unusual but not unpleasing choice. Looking every bit spit-spot, Hogan moves with a fluid grace that speaks to the character's reputation and sings divinely for numbers like "Anything Can Happen" as well as "Practically Perfect."
So for those who see beyond their blinkers, they will see that Toby's Dinner Theatre is offering up a spoonful of sugar this holiday season. A practically-perfect way to celebrate the holidays well into the new years with singing, dancing, and true Broadway magic, don't miss your chance to see this Disney classic before the winds change and it blows away.
Running Time: Approximately 2 hours and 30 minutes with one intermission
Mary Poppins plays through February 1, 2015 at Toby's the Dinner Theatre of Columbia— 5900 Symphony Woods Road in Columbia, MD. For tickets please call (301) 596-6161 or purchase them online.