Have you heard about po' chile Celie? Have you heard about The Color Purple? Have you heard about ArtsCentric? The blossoming Baltimore-based company is bringing a quality show to the stage this holiday season with their production of the Alice Walker Pulitzer Prize-Winning novel-inspired musical. Directed by Kevin S. McAllister with Musical Direction by Cedric D. Lyles, this emotionally provocative, gripping musical is a heart-changing, inspiring story perfect for this time of year when everyone's heart could use a little reminder of faith, hope, and love.
Setting up shop in The Boston Street Theatre space (formerly the Baltimore Travel Plaza Nightclub) Director Kevin McAllister brings the music and lyrics of Brenda Allee Stephen and Russell Willis Bray to a deeply intimate setting. Having such an emotionally intense piece of musical theatre delivered on proscenium in a smaller venue really highlights the show's emotional potential, allowing the audience to more readily connect with the spirited and talented performers in the production. McAllister brings forth a tremendously talented cast and pushes them to uncover deep-seeded emotional depth in these richly dynamic characters through storytelling in song.
Musical Director Cedric D. Lyles brings forth the vocal prowess from the ensemble that is needed to successfully perform numbers like "Push Da Button" "Miss Celie's Pants" and "The Color Purple." The intense vocal outcry of sheer power and harmonious sound from the title number experienced in the show's finale is moving and soul-tingling. Lyles' balance of the live orchestra is impressive, having only a few places where the orchestrations overwhelm soloists with elevated volume. These vocal washes occur mostly with the Church Soloist (Joy Dobson) and Mister (Tyrone Requer) during "Mysterious Ways" and "Mister's Song" respectively.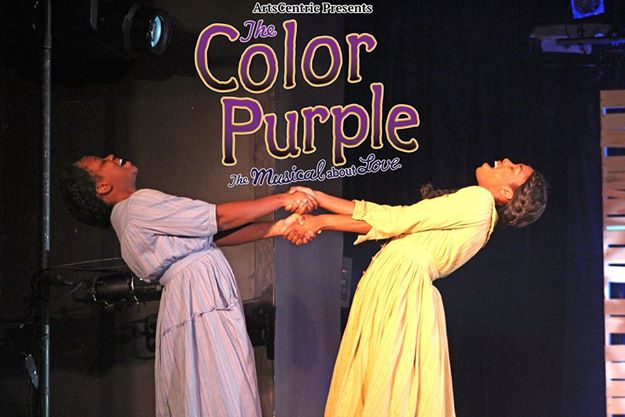 While The Color Purple is not often considered a "dance-heavy" musical, Choreographer Shalyce Hemby does her best to put a dancer's mark on the performance. Many of the dance routines in the first act feel truncated, not full actualized, but showcase a great deal of potential. Hemby's routines shown in "Big Dog" and "Push Da Button" could be pushed a whole lot further to take what are currently great routines and make them sensational. Hemby ups her game, however, in the second act with the intense dances featured in "African Homeland," many of which feature acrobatic tricks and a driven rhythmic beat that moves the number along swiftly.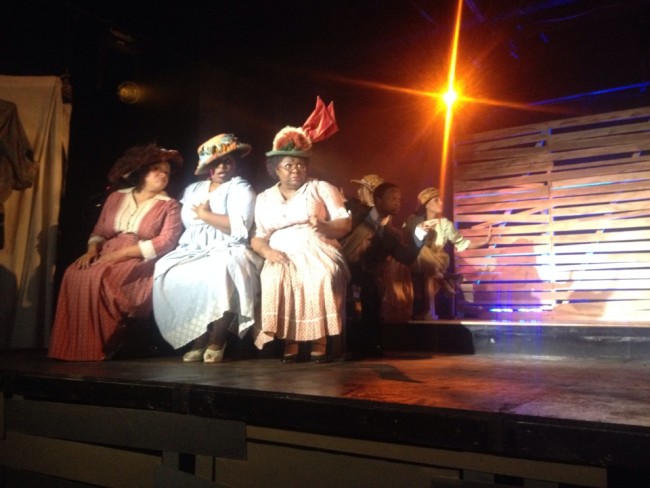 Stand-out performances among the ensemble include Doris (Deana Cruz), Darlene (Crystal Freeman), and Jarene (Andrea Robinson) who are better recognized as the "Church Ladies." Fussin' and peckin' and full of gossip, Cruz, Freeman, and Robinson strut their mouths all throughout the performance with little asides that are delivered with a slight and catchy syncopation. Freeman's voice serves as the ringleader of the trio when they harmonize their enormous combined sounds during "Mysterious Ways."  Ensemble member Scean Flowers also deserves a nod for his scene-stealing antics during "Push Da Button" and "Shug Avery Comin' to Town." Flowers (who frequently performs flips in the heavier dance routines) grabs the attention of the audience with his comic miming and little ad-libbed lines, adding sprinkles of humor throughout various scenes across the board.
Squeak (Shayla Lowe) and Sofia (Latisha Hamilton) couldn't be more opposite in personality and both of them are tangled up in Harpo (Te'ron Prioleau.) Lowe brings a comic silliness to her portrayal of the underdog character, her shrill shouting voice living up to the character's namesake. Lowe delivers vocal purity, albeit in falsetto at times, during "Brown Betty" showcasing her dynamic performing abilities to switch between an obnoxious character portrayal and a committed singing voice. Hamilton's performance is larger than life, as the character of Sofia ought to be and when she blasts into "Hell No!" the audience goes wild. Packing a wallop with pure pizzazz in her vocals, Hamilton may have the penultimate belt in this performance, second only to Miss Celie herself. Prioleau, as the simplistic Harpo, brings a level and even pitch to his songs, and makes "Any Little Thing" a fiery duet with Hamilton. The pair serve up that number with an intense passion underscored by honest love.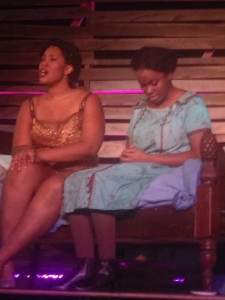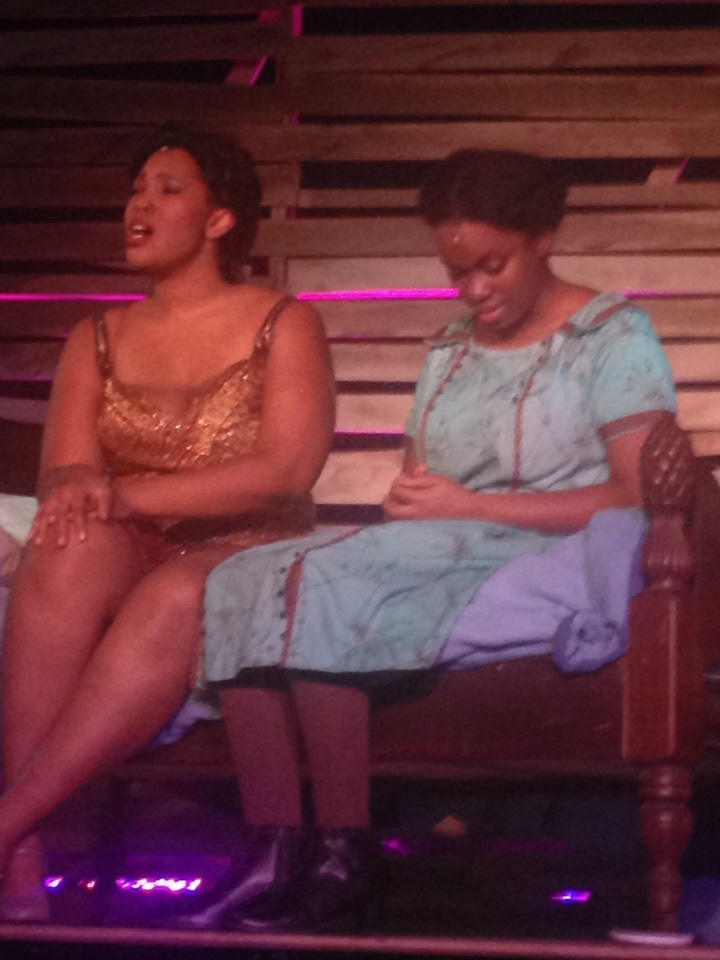 Shug Avery (Tierra Strickland) comes to town and makes her presence felt. Though initially a bit trepidatious and reserved with her provocative physicality during "Push Da Button", Strickland musters up courage as the number progresses and delivers a titillating tease before it finishes. Strickland's voice is well suited for the role; clean and powerful. Her rendition of "Too Beautiful for Words" is tender and soulful. The duet she shares with Celie "What About Love?" is heartwarming; the vocal trust between the two performers in this number astounding and the resulting harmonies sublime.
Nettie (Raquel Gregory-Jennings) doesn't get much singing time in the musical, but what songs her character does have are received as a blessed and joyful experience. Gregory-Jennings delivers a warm and fully awakened sound for the beginning of "African Homeland" and has a strong, hopeful sound for her part in "Our Prayer." Her acting ability is impressive, a thorough character development well-received in the delivery of her letters and her interactions with Celie.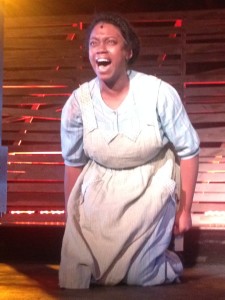 You haven't heard about po' chile Celie until you've heard Dayna Marie Quincy deliver her intensely emotional, exceptionally talented, and fully stunning rendition of the character. With belts and sustains that blow the audience away, Quincy achieves perfection in the role of Celie. Her versatility knows no bounds, from subdued and submissive, to furious and independent and everything in-between. "What About Love? (Reprise)" faced off between Quincy and Strickland is a striking moment of vocal awe wherein Quincy's voice truly shines. Her solo "I'm Here" is soul-searing and honest in a way that moves the audience beyond compare. Delivering the character's non-singing scenes as fully and passionately as she does her song work, Quincy gives an outstanding performance worthy of an ovation.
The Color Purple plays a limited engagement through the new year, but do not wait too long to book your tickets as they are moving quickly.
Running Time: Approximately 2 hours and 30 minutes with one intermission
The Color Purple plays through January 4, 2015 ArtsCentric at The Boston Street Theater— 5625 O'Donnell Street in Baltimore, MD. Tickets are available for purchase at the door or in advance online.