TheatreBloom rating:
This review will begin when you say "Start the fucking review!"
Presuming you've said that— or at the very least read that— then you're in the right mind frame to enjoy the Woolly Mammoth Theatre Company's remount of Aaron Posner's original work Stupid Fucking Bird. Inspired by and loosely adapted from Chekhov's The Seagull, the production's initial popularity has called for a resurgence in its existence. After a well-deserved win at the 2014 Helen Hayes Awards for Outstanding Resident Play, the show takes to the stage with the original actors and creative team all in place.  A poignant and relevant piece of theatre that defies the boundaries of conventional formats while simultaneously including them in the work, Posner's play is a surefire experience not to be missed.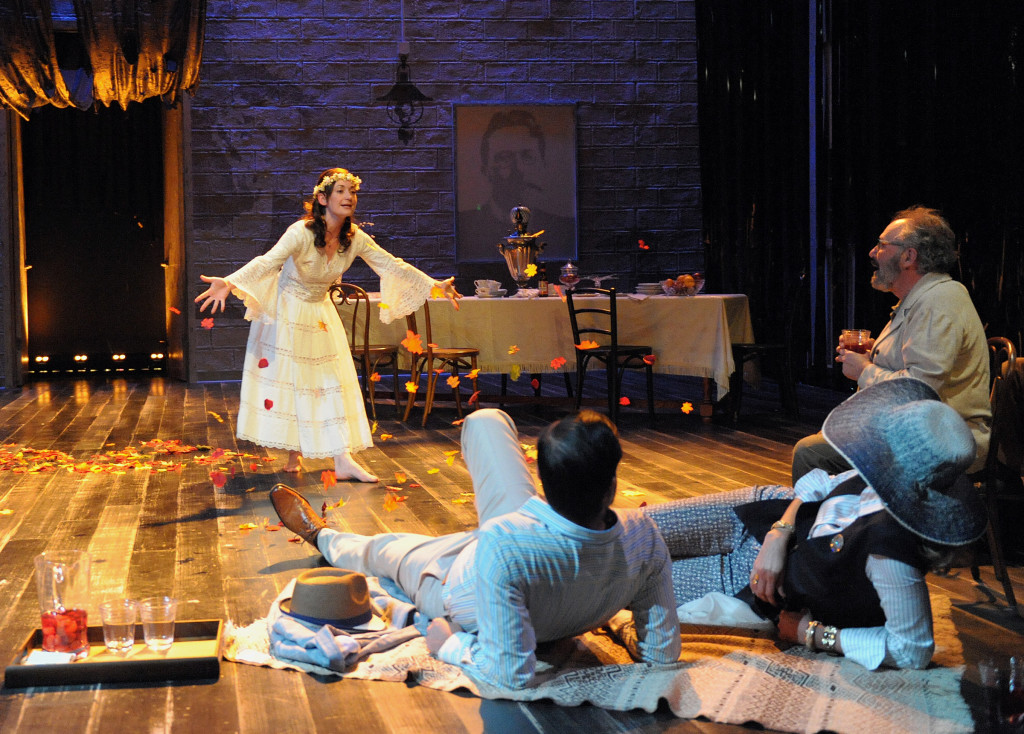 Posner's work speaks to theatergoers everywhere; the powerful message of relativity and importance wrapped up in his overarching themes of living life. His inclusion of a concept of "the 100-year test" is an evocative question that encourages the audience to think. Will anyone care in 100 years whether or not this play was remembered? Because of the progressive nature of the art form, the answer is believed to be yes. Creating a perfect fusion between classics and modern work— a concept that is more than simply touched upon in the play— Posner has developed stimulating work from which new endeavors will be inspired.
The work that Director Howard Shalwitz reinforces in this remounted production remains on point with Posner's ideas. This is not performance for the sake of being eye candy or diverting one's attentions to the razzle-dazzle spectacle of theatre, but rather this is theatre that forces the audience to think, feel, and question. Shalwitz guides the cast of seven with a vigorous approach to emotional honesty and genuine truth behind their encounters. Characters become more than just characters in a play; they become the meta-representation of actors and directors and playwrights while being themselves as characters. This complex layering of existence is achieved with astonishing depth under Shalwitz' direction.
There is a fantastical irony in this production as well; Chekhovian rule often insists that everything in a play have a place, purpose and intent— the gun brought on stage must at some point be fired. Shalwitz' decision to include a completely superfluous Russian chair dance between one of the scene changes is not only aesthetically entertaining but sends a brilliant message to the long-dead classic author that would have him perpetually spinning in his grave. This again attests to Shalwitz' understanding of Posner's work— that new interpretations and formats must explode into existence in order for theatre to progress.
The performances are brilliant; grounded in the reality of Chekhov while smacking of modern individuals with relatable issues that makes the work accessible to everyone who sees it. Rick Foucheux's portrayal of the elderly Doctor and uncle figure serves as an existential grounding point for the audience. Foucheux delivers a series of monologues— done in a similar fashion to soliloquy— that reach out and address the audience without addressing them, again encouraging thought among the theatergoers. His easy nature with which he addresses severely potent life-changing questions— like where have we been all our lives and are we truly living our lives every day— creates a gravity to these moments, pulling the viewers into his perspective while simultaneously keeping them an arm's length away.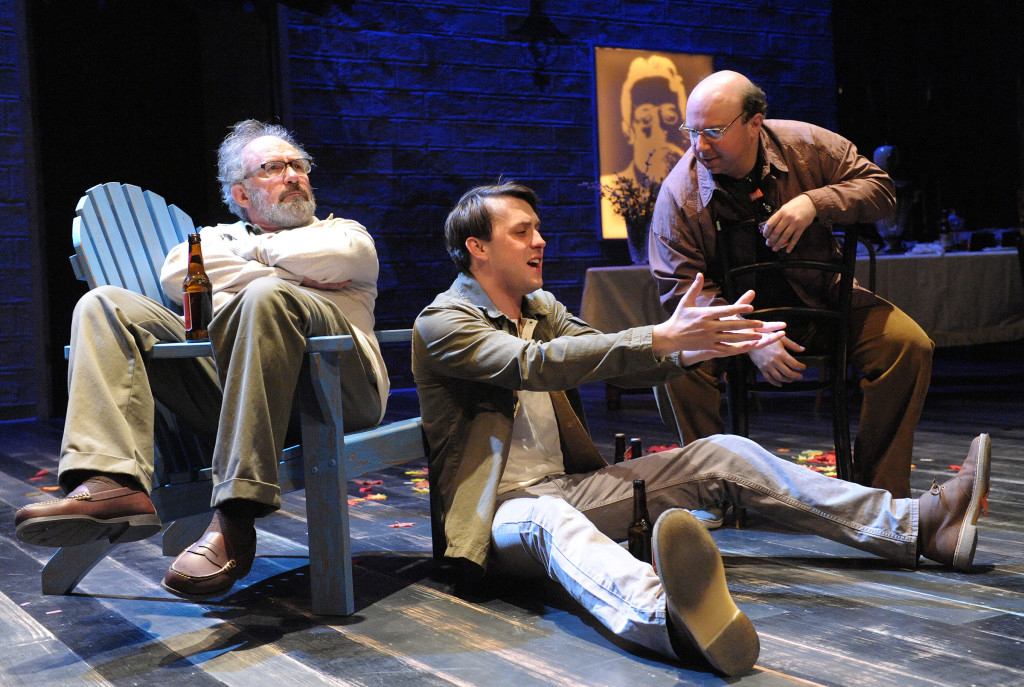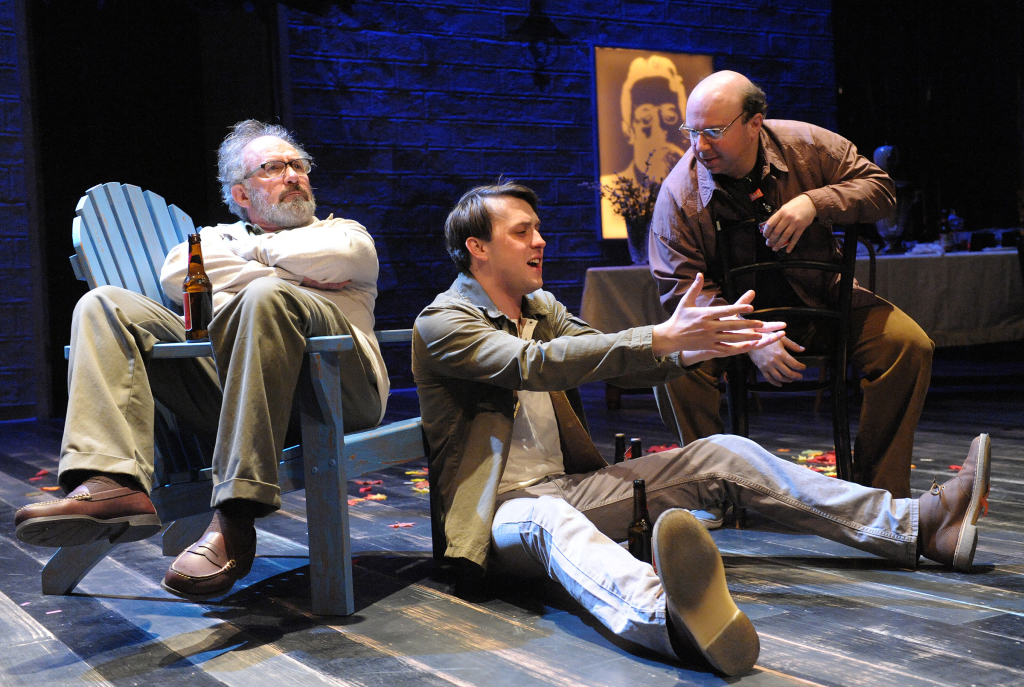 Emma (Kate Eastwood Norris) is the figurative and literal representation of the detached mother. Norris gives a self aggrandizing monologue addressed at the audience early on, taking a moment to connect with individuals in a way that would garner sympathy for her character if what she was saying wasn't so atrocious. Norris' versatility in the role is impressive; being able to balance the narcissism of her character's ego against the sincerity with which she loves her son and pleads with her lover.
Trig (Cody Nickell) also finds an impressive balance within his character. Despite his exterior radiating the hallmarks of a swarthy, self-appeasing artist, Nickell finds a vulnerability to exploit within this otherwise shallow character and does so with enthusiasm. His approach to delivering one of the most poignant statements in the play—why must it be this or that, why can't it be yes, and!— is bursting with zeal over this philosophy of living life to the fullest. His candid approach to the seedy exterior of the thriving author is exceptionally well-delivered.
Nina (Katie DeBuys) portrays a representation of ephemeral feminine reality that borders on unrealistic in the character's existence. DeBuys' presentation is at first waifish and ethereal; almost like a muse that inspires but only for a fleeting moment. It is the dark and twisted entrails of Nina delivered in the final act of the play that makes heads turn. DeBuys takes a metaphysical approach to becoming a seagull; an intriguing, albeit bizarre, performance of becoming the character of the play— which is again ironically fitting given the way the fourth wall crumbles and resurrects throughout this performance.
Dev (Darius Pierce) and Mash (Kimberly Gilbert) serve inadvertently and completely intentionally as the show's comic relief. Posner's script has worked explosive moments of hilarity into tense dramatic situations— in the vein of reinventing classics and finding new approaches to old formats— and these two characters becomes a centering point for a good deal of this effect. Gilbert, as the interminably glum raincloud that hangs over the production is curiously engaging. Her emotional outpouring during the more dramatic scenes surges with intensity. It's Gilbert's quirky little songs, ripe with lyrical dissonance, that keep the audience amused. Pierce, as the optimistic pessimist, plays well off Gilbert and together they find ways to bring levity out of otherwise awkwardly depressing situations.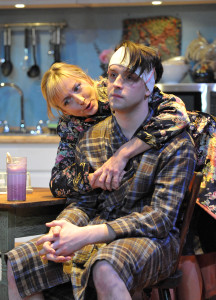 It all comes down to Con (Brad Koed.) As exceptionally stellar as the first time around, Koed's performance has transformed and evolved in a fascinating manner. Completely relatable and utterly enjoyable for those who have not previously seen the production, those that have will find the subtle changes and character growth refreshing. Koed's submersion into the character becomes overwhelming to the point where it impossible to tell when he is the character, verses when he is an actor, and even when he assumes a third ghost-like character of Aaron Posner. The ability to continually oscillate between these phases of existence is astonishing. Raw emotional outbursts are what make his performance— be it as a character or simply a human being trying to perform theatre— so stunning.
The run is limited, but well worth the effort of getting to see this sensational performance in the theatre that premiered it.
Running Time: 2 hours and 45 minutes with one intermission
Stupid Fucking Bird plays through August 17, 2014 at Woolly Mammoth Theatre Company— 641 D Street NW in Washington, DC. For tickets call the box office at (202) 393-3939 or purchase them online.