To laugh? Or not to laugh? That won't really be much of a question as Chesapeake Shakespeare Company attempts all 37 of Shakespeare's plays with three guys, one stage, and 2 hours traffic upon it. Yes, the Bard's almighty collection— as condensed, despoiled, and distilled by Adam Long, Daniel Singer, and Jess Winfield— also entitled The Complete Works of William Shakespeare Abridged— now finds its way onto the Globe-esque stage of Chesapeake Shakespeare Company under the direction of Artistic Director Ian Gallanar. It's witty, it's ridiculous, and it's a good series of chuckles, even if you don't know all— or any— of Shakespeare's mighty bench of work. After all, who can resist bad wigs and glow-in-the-dark silly-string vomit?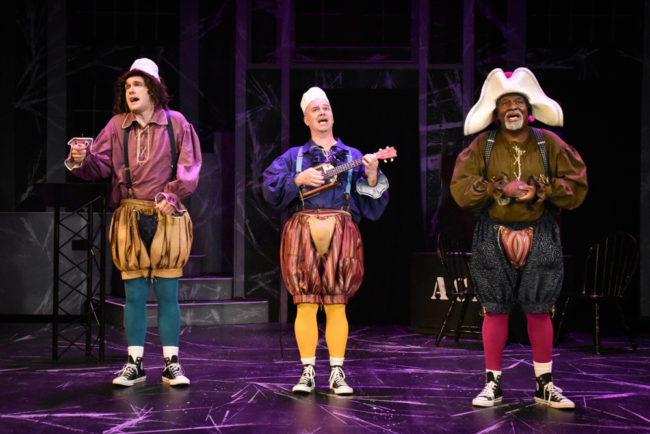 A proper comedy of errors, this tempest of a script grapples with 16 comedies, 11 histories, and 11 tragedies, with a dominant focus on Romeo & Juliet and Hamlet. Those deeply steeped in the knowledge of the Bard's body of work will find all of the nuances even funnier than most, but much like the "pre-eminent Shakespearean scholars" delivering the work on the stage, if one comes into the production knowing little to nothing about Shakespeare and his plays, there's still chuckles aplenty to be had.
Pacing is the most critical element of this production. Director Ian Gallanar has drummed up three talented performers, one more up-to-speed than the other two, but the show's zippy happenings occur because of the impressive work of Stage Manager Alexis E. Davis and Assistant Stage Manager Margaret Warner. The true unsung heroes of a script such as Complete Works, their roles in the show's fluid functionality is so intrinsically valuable that both Davis and Warner give a brief bow during the curtain call! Without Davis and Warner's keen understanding of comic timing and sharp delivery of props, costume pieces, and other sundries that bolster the humor of this zany feat, the show would prat-fall flat on its arse and be disastrous. Thankfully, Davis and Warner know what they're doing and the pacing— at least in regard to scene changes, costume flips, and prop appearances, is technically flawless.
Actor pacing and delivery, however, is a bit uneven throughout the evening. The show features just three players— Greg Burgess, Elliott Kashner, and Matthew R. Wilson. While Burgess is humorous in his own right, adding uproarious hilarity in the simplest of deliveries when it comes to the overbearing sexual innuendos scripted (originally by Shakespeare) in this play, there are often times where both his timing and delivery are just a step or two behind the other players and what is happening in the overall scene. Burgess comes to the table at times as lightly adapted caricature who fumbles through some of his delivery and it is unclear whether this is the actor going up on lines or Director Ian Gallanar's attempt to finding humor in this style of delivery. Either way it doesn't work to serve the production well and actually gums up the overall flowing fluidity of the show.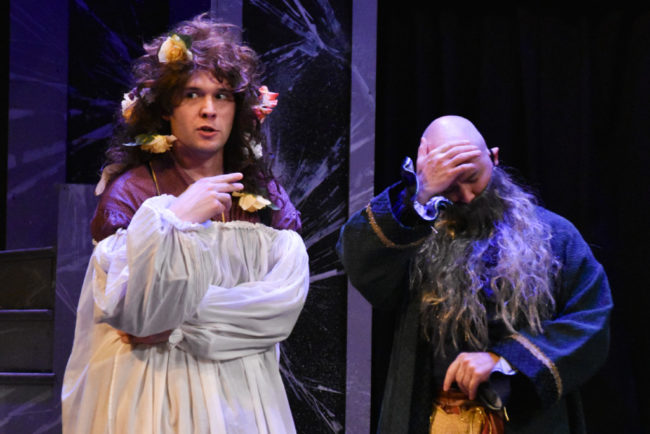 Katie McCreary, responsible for the show's lighting design, and Jonathan Kollin, the show's Light Board Op, work in tandem to achieve a series of great special mood lighting throughout the production (this is mostly house-lights going up and down to the tune of "Alexa, can I have house lights?") Kollin is more than capable of executing cues as written, a critical component to the natural humor of this show, and one that could go horribly awry with a lesser skilled board-op. Sound Designer Cole Owens also deserves a nod for the few sonic effects sprinkled throughout the performance; this is not the type of show that relies heavily on production design, so Owens' subtle but well-balanced aural additions feel natural. Matthew Smith's costumes are also worthy of praise; the show isn't costumed in full Shakespearean garb, in fact the opening bit involves street clothes. But Smith does a bang-up job finding bright pink tights for Greg to wear with pride. (The Converse Sneakers must be a scripted inclusion as they've been in every single production, though varying in color, that this critic has ever seen!) The heinous and hideodious wigs, the hilarious custom-adjacent accents that allow for warp-speed character flips all come from the craftiness and cleverness of Matthew Smith, who seems to understand the humorous caricature nature of the script with ease.
Despite Burgess' occasional text-fumbles, he is a delight on the stage, particularly when he starts his little melodramatic meltdown over Kanye and The Kardashians. (the script itself is chock full of modern references, and Ian Gallanar even finds a few places to throw some local Bawlmer color in there, hon!) A great many of the overt sexual references fall to Burgess and he just sails away on an ocean of sobriety, delivering them straight without a blink and this earns him raucous laughter from the house. Burgess is also given a chance to hop his way through a "Modern Major General" parody (when the three performers decide to tackle Othello, previous versions of the script include a beatbox rap or hiphop rap song, though this most recent edition seems to have shifted away from that), but that segment doesn't receive the laughs it deserves, largely because Burgess and his two co-stars are moving through the words so quickly and with less than perfectly crisp articulation that many of the jokes within that section are lost. But there are laugh-til-you-die moments starring Burgess as well, not the least of which includes his playing Macbeth and later Hamlet.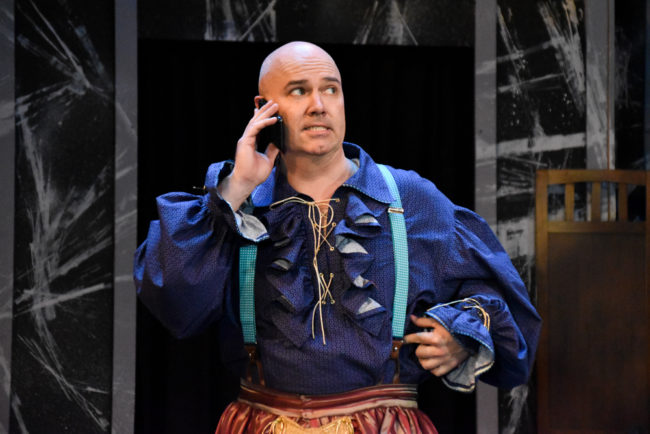 Matthew R. Wilson, who starts as the audience ice-breaker, introducing the house to the mayhem that's about to follow, has a strong presence and fits out the humors of his character's tracks easily. While he does a great job at many things— including his back and forth during the chaotic dervish of Hamlet (backwards, forwards, and double-timed!) where he plays Polonious and Laertes— possibly the most memorable is a 45-second incarnation of Julius Caesar. If nothing else tickles your funny bone during this two hour's stage traffic, Wilson as a raging orange— "make Rome great again"— Caesar will have you busting a gut in hysterical tears. Wilson also deserves praise for his ability to flip casually back and forth between his friendly cooking-show persona Titus and his rage-boiled-revenge voice when Titus Andronicus is presented as a cooking show.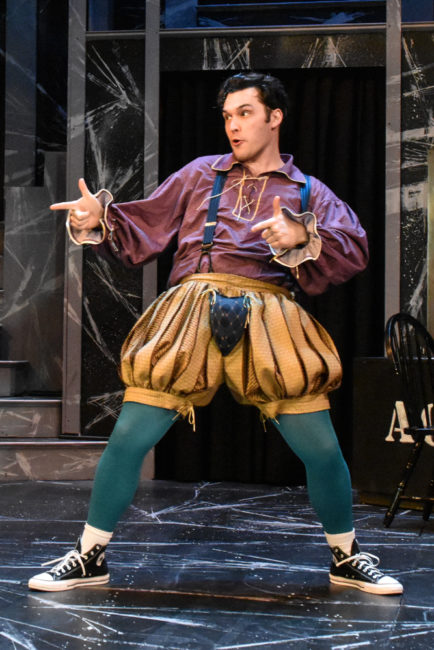 Carrying the comedic weight of show like Complete Works on his vibrant shoulders, Elliott Kashner is a proper scream, a real hoot, and for the love of all things Bard— somebody take away that vomit can! With an edgy 'millennial' approach to this character track, Kashner bounces through the performance with the energy of someone who's shot a whole bunch of Red Bull before the show started, but sage, sound understanding of Shakespeare's deeper meanings are rattling around behind his comic genius, enabling him to really smash away at the humor as he likes it. Playing all of Shakespeare's women— mostly in bad wigs with vomit— there is just something so bright and earnest about the way he delivers humor in this performance. Kashner toes a fine line between "over-doing it entirely" and "pushing it just to the camp-limits of both texts." And when he starts going full-blown lunacy during Hamlet, the audience just goes wild. That said, Kashner is responsible for the lone moment of sincerity and somberness in the performance; he is far beyond a quintessence of dust.
All's well that ends— and The Complete Works of William Shakespeare Abridged ends on March 29, 2020 (before they go back to doing real Shakespeare in April— actual Hamlet!) and it would be a real Shakespearean tragedy if you missed a chance to go out and laugh (and get silly-string vomited on) with these three delightful Bard-bound clowns at Chesapeake Shakespeare Company.
Running Time: Approximately 2 hours and 10 minutes with one intermission
The Complete Works of William Shakespeare Abridged plays through March 29, 2020 at Chesapeake Shakespeare Company— 7 S. Calvert Street in downtown Baltimore, MD. For tickets call the box office at 410-244-8570 or purchase them online.