It's the 1980s. Fashions are colorful. Big hair is in. Clouds of hairspray linger in the air. It is against this backdrop that the latest offering from NASA Goddard's MAD Productions is set. Steel Magnolias (directed by Paul Morris and produced by Katrina Jackson)tells the story of a gaggle of women in Chinquapin, Louisiana, who spend their time socializing at the fictional "Truvy's Beauty Shop" – gossiping, getting their hair and nails done, complaining about their husbands and children – and gossiping some more.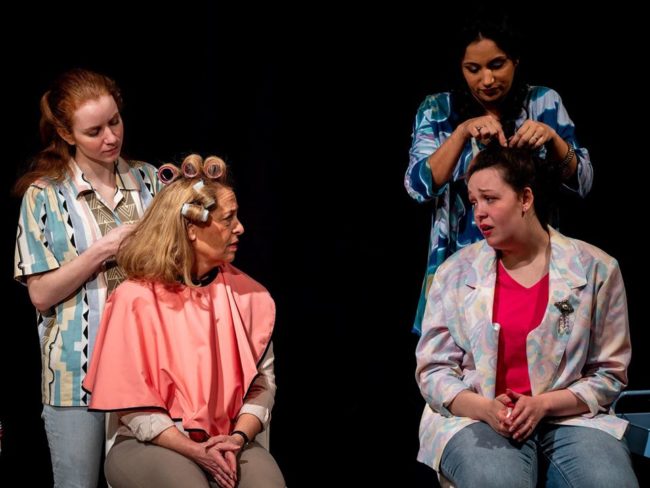 At the top of the show, newly-hired stylist Annelle Dupuy-Desoto (portrayed by MAD newcomer Robin Roper) – volunteers to help shop owner Truvy get the "hair and fuzzies" off her clothing. In response, Truvy, played by the fantastic Divya Pereira, hilariously quips, "there's so much static electricity in this room, I pick up everything but boys and money." The audience laughs heartily at this and straps in for a fun ride.
Many people are familiar with the 1989 film adaptation of this play, which featured an all-star cast. The movie won a People's Choice Award for "Favorite Dramatic Motion Picture;" (though, truth be told, Steel Magnolias is really more of a "dramedy" than pure drama, since it is both hysterical and a tear-jerker.) One of the reasons the movie was so successful was because of the cast's brilliant comic timing and superb acting overall. The MAD production is of the same caliber – with witty repartee flying so fast and furious, you are hardly aware that time is passing – and scenes are so poignant they break your heart.
This is thanks to a strong ensemble cast, all of whom convincingly play Southern women who have nothing better to do than gab in a beauty shop all day. The previously mentioned Roper (Annelle) is slight with long red hair, giving her a very innocent appearance. Roper's performance is meek and mild – perfect for the role she is portraying. Her character develops throughout the play, and Roper handles that transformation with aplomb. Clairee Belcher, wonderfully played by Nina Harris (who coincidentally also has red hair) is the prototypical Southern woman who passively says "Bless your heart" when she doesn't want to insult you directly. Harris deftly handles her role and has moments of comic brilliance. Ouiser Boudreaux (brought to life by Anne Hull) serves as a foil to the other women with her caustic manner. But Hull manages to find the moments of humanity that make you wonder if Ouiser has a softer side (after all, she does love her collie, Rhett – even if he did lose all of his hair.)
Rachel Heney is amazing as Shelby Eatenton-Latcherie, a blushing bride-to-be who has come in to get her hair done for her wedding. Blushing is a befitting description, because Shelby loves all things pink. To that end, Heney even has a pink streak in her hair – which may not be entirely appropriate for the 1986 setting of the play (when fun hair colors were mostly reserved for Cyndi Lauper-types,) but let's just call it artistic license. Heney is simultaneously sweet and saucy in her portrayal, and she is an utter delight to watch. The relationship Shelby has with her mother, M'Lynn Eatenton (played by Jill E. Goodrich,) is palpable in its vacillation from affection to frustration and back again. The chemistry between the two is undeniable. Goodrich turns in an excellent, nuanced performance, and she masterfully handles scenes that could potentially lean towards the melodramatic. She brings a subtle vulnerability to the character that will make you reach for a box of tissues. Rounding out the cast is the phenomenal Divya Pereira, who plays Truvy. Not only is her Southern accent on point, she has an energy that shines every moment she is on the stage – and comedic timing that will leave you in stitches.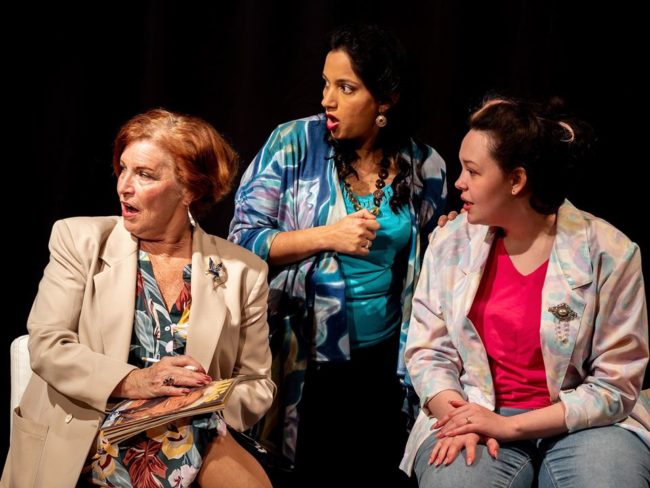 The technical aspects of this production support the cast well. Paul Morris, Cassandra Morris and Kim Weaver are responsible for creating and decorating the set, which is, oddly enough, designed to look like a beauty shop – complete with heat lamps and hairspray at every station. And speaking of hairspray, designer Susan Paige Heney does a fantastic job of bringing 80's styles back – at least on stage. Kudos also go to sound designer Sean Payton, who does an admirable job of making the occasional gun shots heard throughout the play suitably loud, but not eardrum-piercing. The audience's tympanic membranes – and this reviewer's – thank you.
All-in-all, this production of Steel Magnolias is a cut above the rest (see what I did there?) It is funny, sweet, moving, and at times, devastating – just like life. Do yourself a favor and head to Truvy's Beauty Shop, (which is usually closed on Sundays, but Truvy will make an exception for the next couple of weeks.)
Running Time: 2 hours with one intermission
Steel Magnolias plays through March 8, 2020 with NASA-GSFC's Music and Drama Club in the Barney & Bea Recreation Center— 9998 Good Luck Road in Glenn Dale, MD. Tickets are available at the door or in advance online.