Christmas before Thanksgiving? Humbug! Don't let me see one light, hear a carol, or find Santa in a mall until I've had my turkey. Unless of course you are talking about seeing Scrooge, directed by William Price, at Scottfield Theatre Company.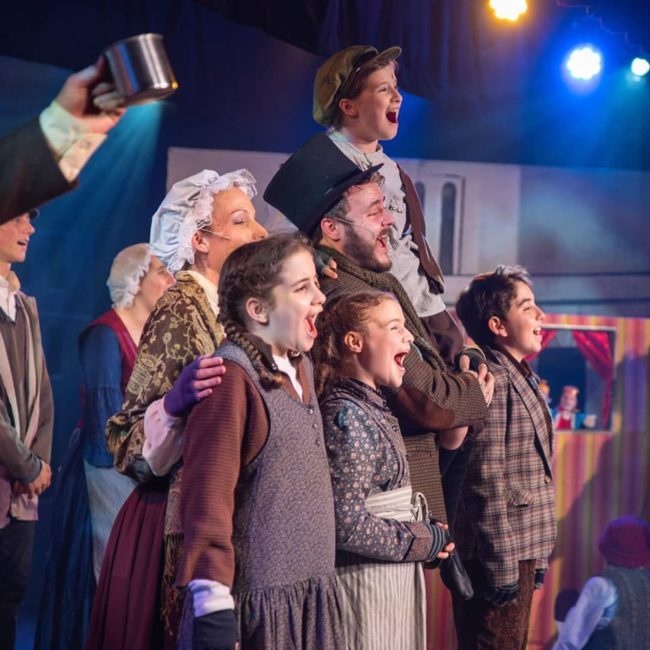 With this aversion for early Christmas you can imagine my thoughts while driving forty minutes north to Havre de Grace. Upon my arrival I was soon introduced to three ghosts of my own, the first coming in the form of co-founder Allan Herlinger. Since this was my first experience with Scottfield it was nice not only to get some background on the company, but to have a board member take the time to make me feel welcomed.
My second apparition appeared as I stepped off the elevator and into the performance space. She was a kindly volunteer (I did not catch her name even though she was wearing a name tag, so that is my mistake.) that left no doubt that she loved supporting the company. She showed us to our seats and asked if she could do anything else for us or if we had any questions. Again, the personal interaction made for a wonderful experience. This attention to detail was given to every person that walked through her door.
Now settled in my seat I was more at ease and prepared for this early Christmas show. A few minutes into the opening number I realized that this production was truly a gift and like the grinch, my heart grew three sizes by intermission. Price has assembled a Production Team and cast that will be talked about for years to come. The first thing you notice is the quaintness of the set (Price doubles as the Set Designer). The proscenium is flanked on both side by non-obtrusive Dickensian-type buildings. There is a lovely backdrop that also makes you feel as though you are in a London square. Price also incorporates the use of a scrim at times and this is very affective. Lighting Designer Steve Burrall brilliantly sets the mood with fun festive colors and creepy dark shadowing far beyond what is to be expected at the community theatre level.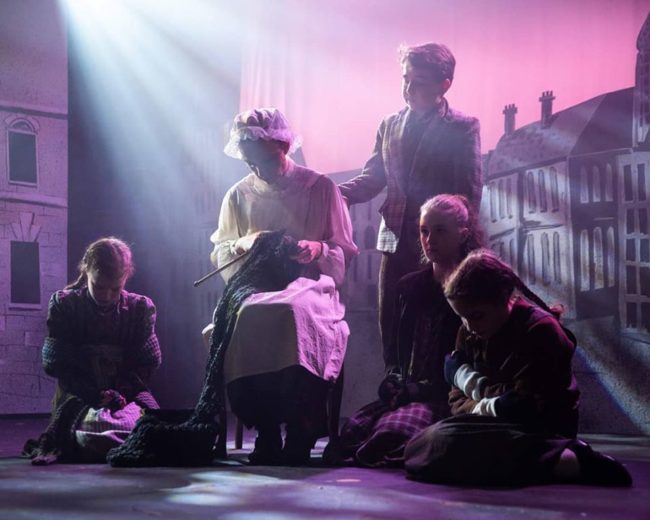 Every Christmas we all have that one surprise gift that we really wanted but didn't expect for various reasons. Scott Harclerode gave me that gift this year in the form of Sound Design. Harclerode understands the balance between group numbers and solos. His levels were perfect for every song and every cast member that delivered a line was heard. I honestly cannot describe the perfection in his work, it needs to be experienced.
Costume Designer Gay Lynn Price and Props Master Chuck Hamrick form a wonderful team. The costuming added so much to the show. It can't be easy to put a cast that size in Victorian garb, but Price makes it work. There were some items that were not period and they stuck out but not to the point that they were a distraction to the show. Where Price shines is her work with the three ghosts (Ariel Edler, Elizabeth Marion, Reagan McComas) and Marley (Phil Hansel). Hamrick is imaginative and provides a nice touch to the production.
Choreographer Becky Titelman has outdone herself for this performance. Titelman does not have her cast dance for the sake of dancing. Her dances have purpose, meaning and have been well researched. The dances that are performed in the party scenes and the interactions between the men and ladies are historically accurate as well as entertaining. She works her ensemble well by playing to their strengths and doesn't over do a number.
This is one of the tightest, harmonic casts that I have heard in a long time and I'm sure Musical Director Dominic LaFrancesca is very proud. The group numbers are strong, clear and crisp. His soloists are well prepared and shine in their moment. I would pay to hear this group sing in concert anytime!
When you see a show there are usually one or two performers that really stand out. This is not the case for this production of Scrooge. There is one person who elevates the show and keeps the energy flowing, and I'll get to that, but without a doubt this entire group is amazing. From Hayden Floros as Bob Cratchit, Charlie Johnson as Nephew, to Maeve Acerno and Chris Barsam as Tiny Tim and Mr. Jollygoode, everyone worked as a unit and shined brightly. Bottom line is that this entire cast is very talented, well prepared and an absolute joy to watch.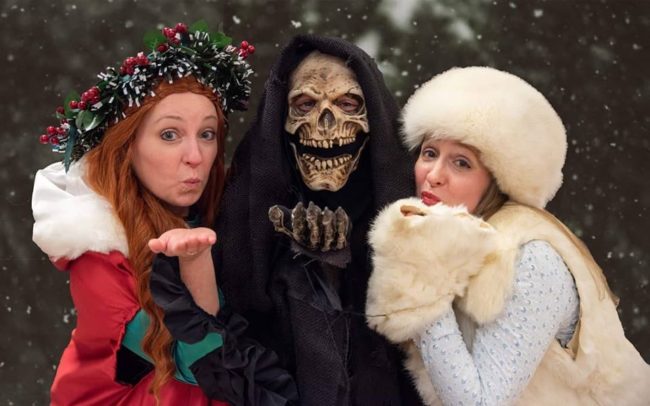 Now getting to the energy that drives the show, Jim Fitzpatrick as Ebenezer Scrooge is not to be missed. Fitzpatrick gives a performance that will make you want to see the show again and again. His characterization, his acting and his vocals in this role are simply a masterclass in stage performance. It's as if Fitzpatrick took his fifty some years of experience and dumped it all into the role of Ebenezer Scrooge. The man is simply amazing to watch. For as much as I loved him on stage, he became my third ghost of the night. As I was exiting the theatre there was Fitzpatrick by the outside door shaking hands and thanking each patron for coming. Perhaps his strongest scene of the evening, he reminded me why we do this and showed me the true meaning of community theatre.
Like Mr. Scrooge, you still have time. Please don't miss this show. The love, the passion, the comradery can be felt throughout the theatre and this cast can't wait to share it with you. I know, it's not even Thanksgiving yet, but after watching this production I have to say to this entire company, "Thank you very much and Merry Christmas!"
Running Time: 2 hours and 20 minutes with one intermission
Scrooge plays through November 10, 2019 at Scottfield Theatre Company as guests of The Historic Havre de Grace Opera House— 121 N. Union Street in historic downtown Havre de Grace, MD. For tickets call the box office at 667-225-8433 or purchase them online.