It's almost nearly getting close to counting down to Christmas! It's almost time to see the show light up the stage for Christmas! It's really only just 34* days away! It's almost nearly getting close to counting down to Christmas Day! And what better way to spend your festive holiday? Then by seeing A Christmas Story at Toby's Dinner Theatre of Columbia! Directed by Shawn Kettering with Musical Direction by Ross Scott Rawlings and Choreography by Mark Minnick & Tina Marie DeSimone, this wholesome family musical warms the cockles of the heart, brings families from all generations together, and reminds everyone that all you really need for Christmas is a Red Ryder Action Carbine BB gun!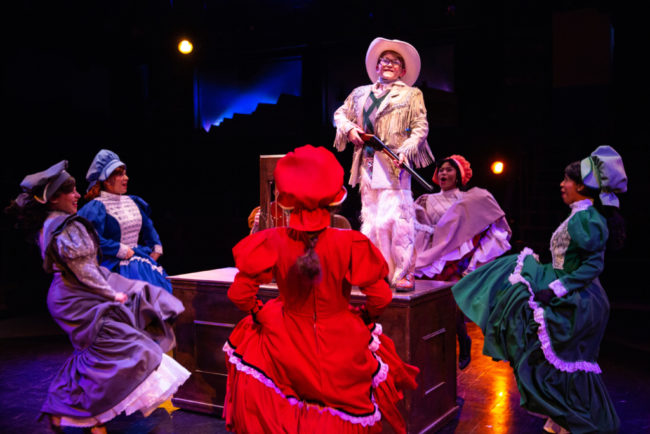 The lobby's all set with a tinsel-decked tree, and there's even a box marked "FRAGILE" sitting up on the box-office counter; Toby's Dinner Theatre is ready for Christmas. And their production of A Christmas Story. Scenic and Lighting Designer David A. Hopkins has festively festooned Toby's signature in-the-round staging space with a quaint snowy backdrop, in textured relief fashion, hugging the walls of the theatre like a warm woolen sweater. It could be any street— yours or the Parker's in Hammond, Indiana— but it's just the tip of the iceberg when it comes to scenic and lighting jubilation. Hopkins' use of Toby's winch system really brings you into the Parker Family home, as the triangular framework of the house's eaves (complete with lit Christmas lights) are lowered into place every time a scene occurs in the family home. And the window piece— a critical scenic fixture for "a major award" is as cozy as a cup of Christmas coffee. There's tinsel and snowflakes dripping all over Santa's spinning tower for the memorable movie scene (now transformed into a dazzling hilarious musical number) inside Higbee's Department store and the rolling desks for the classroom scenes are functional and adorably antiquated. Hopkins uses his time-seasoned knowledge of the space to accurately and impressively call scenes in and out of focus, while adding elements of fantasy or sentimentality through his lighting design. The slow-motion strobing swirls of color that are used in the Santa Claus scene and scenes of fantasy feature Miss Shield are prime examples of this precision-tuned understanding of lighting in this space.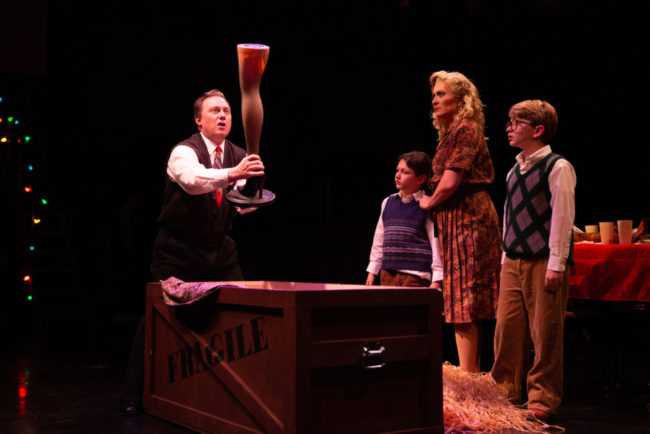 Colors and styles roar boldly throughout the show's sartorial selection (costumes rented from A.T. Jones), with all of the more iconic pieces— like Ralphie's pink bunny pajamas and Scut Farkus' 'coon cap— cemented firmly in place. The fantasy musical numbers, like "Ralphie to the Rescue" and "You'll Shoot Your Eye Out" feature some simply splendid dresses and period pieces that generate a lively sense of fun and adventure (which is delightful for both children and adults as imaginative dreams and fantasies are explored in these musical numbers.) The overall set dressing and properties featured throughout the production (by way of Properties Designer Amy Kaplan and Specialty Properties Designer Gaby Castillo) round out the show's aesthetic, particularly when it comes to the little touches… or the Bumpus Hounds. (Sound Designer Mark Smedley needs to pick a cleaner and clearer sounding effect for these mangy, razzafrazza frickle-frackle muckin-pluckin hounds of the unseen next-door Hillbilly neighbors.) It's a visual Christmas smorgasbord with all the colors and cheerful props; right on par with the Christmas feel-good experiences of yesteryore.
A Christmas Story as a built-in audience expectation that accompanies it, no matter whose stage you're watching it upon, because of its life origin as an iconic holiday film. Director Shawn Kettering manages to keep the show's pacing fluid and has selected a stellar adult cast to carry the show forward to a charming Christmas success. The narrative element of the show blends flawlessly into the action of Jean Shepherd's recall and the heartwarming moments that make this tale a true "Christmas Story for all" are present and at the forefront of the action on stage. Kettering's work with the youth cast could use a bit more polishing to live up to the standard that audience's have come to expect from a Toby's main stage production. While there is undeniable talent present in these performing youngsters, Kettering needs to focus their talent more directly. At times (at this production; the youth cast is split and performed on alternating nights) the principal youth performers are so excited to be on stage that they're racing through their dialogue at an unintelligible speed and are racing through their blocking and movements, anxious to get to the next part. This is most noticeable with the Parker boys because they're on stage more than the other youngsters; Kettering's youth-cast selections have potential but need a stronger directorial finesse in this case. While this isn't a show-ruining experience, it isn't quite up to the professionally polished standards that audiences have come to expect in the last four decades at Toby's.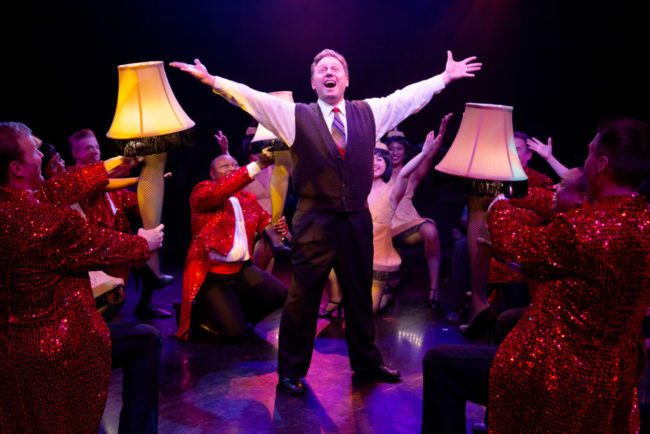 Choreographers Mark Minnick and Tina Marie DeSimone deserve a major award for their combined triumph in the dance department of this production. DeSimone, whose work is primarily witnessed with the youth company during "You'll Shoot Your Eye Out" and "When You're a Wimp", has a unique style that gets the youngsters moving and motivated. The flapper-tap style fits the 1930's speakeasy setting for "You'll Shoot Your Eye Out." And the featured tap routine in this number— performed sensationally (at this performance) by Jack Patterson— is eye-popping and well-deserving of the ovation it earns from the audience. Minnick and DeSimone work together, blending their styles like a fluid team to give the show a proper polished feel, but some of Minnick's hallmarks— like the pivot-turning lanes of crisscross dancers, which is seen during "A Major Award" and a dazzling marching pinwheel rotation (featured during the same number)— are undeniable. The soft-shoe, fleet-footed work of "Genius on Cleveland Street" is thrilling to enjoy as well. DeSimone and Minnick bring the finesse of well-seasoned choreographers to the stage, readily utilizing their unique understanding of how to choreograph in the round to the show's advantage.
At this performance, The Hebees (Evan Christy, Chrysaetos "Cato" Huza, Chrysocyon "Sonny" Huza, Mira Cohen, Jack Patterson, Katherine Ford, Cooper Trump, Sadie Herman, Gavin Lampasone, and Samaira Hammond) perform as the youth cast around whom the majority of the story revolve. Under the musical direction of Ross Scott Rawlings, this grouping of ten provides strong, blended sounds during "When You're a Wimp" and the chorus sections of "Somewhere Hovering Over Indiana." Jack Patterson, as big bully on campus Scut Farkus, is the epitome of growling and furious, scaring all the wimpy kids right out of their snow boots. Accompanied by Cooper Trump, who plays his toady Grover Dill (and steals the acrobatic shout-out in this production for his handstand-walking antics preceding "You'll Shoot Your Eye Out"), the pair will give you the "heebie jeebies." Patterson also deserves worlds of praise for his stellar, jaw-dropping tap feature during "You'll Shoot Your Eye Out."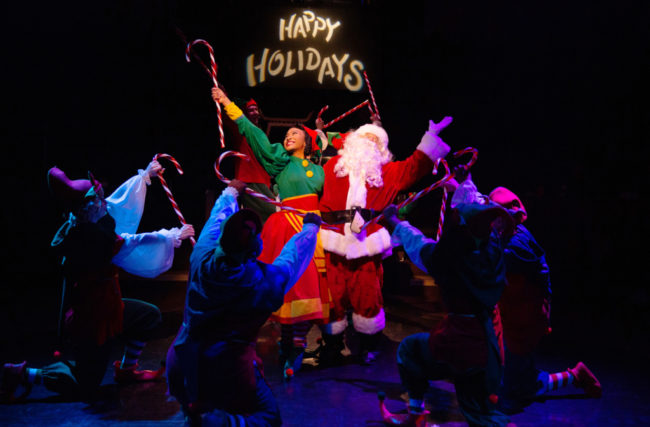 Toby's A Christmas Story adult ensemble is littered with little Christmas extras that will just jingle your bells and make the whole evening merry and bright. It's all the little things, like veteran actor David James posing as the cop with spastic facial expressions as he keeps bad words from coming out of Flick (at this performance Chrysaetos "Cato" Huza) at the end of "Sticky Situation." Or Santina Maiolatesi, who pops up as Mrs. Schwartz for a brief but hysterical character moment on a phone call with Ralphie's mother. Keep your eyes peeled for those ne'er-do-wellers Montel Butler, Justin Calhoun, and Sylvern Groomes Jr., who pop up as the high-stakes action bandits and baddies during "Ralphie to the Rescue." Or watch for Nia Savoy and all her little nips off of Santa's jolly juice during "Up on Santa's Lap." The intimacy of the stage and the deep character commitment from the ensemble gives the audience all of these radiant Christmas gems, in addition to all of their delightfully blended sounds when they boisterously belt their way through numbers like "It All Comes Down To Christmas" and the ominous "Act I Finale."
If you're expecting a pleasantly pleased Kris Kringle— that's a different holiday show. Russell Sunday tackles the role of <drunken> Santa Claus with rigorously hilarity. Dialed back somewhat from the roaring rage that accompanies the character in the film, Sunday's soused Santa is appropriately agitated and fabulously frustrated, particularly when Goggles (at this performance Cooper Trump) settles in on his knee. The whole number, "Up On Santa's Lap", which features the entire elf ensemble— led by the dyspeptic Justin Calhoun and disgruntled Nia Savoy (who are cheerful and chipper for the entire rest of the performance when not being elves in Higbee's)— is rather humorous, but not in an obnoxiously over-the-top fashion. The most impressive trick in this number, in addition to Sunday's transformed vocals, which readily import the feelings of exasperated finality to the audience, is the spinning Santa set. Try not to get dizzy as you watch him spin around atop it, while the kids slide down it, and the elves ring around it.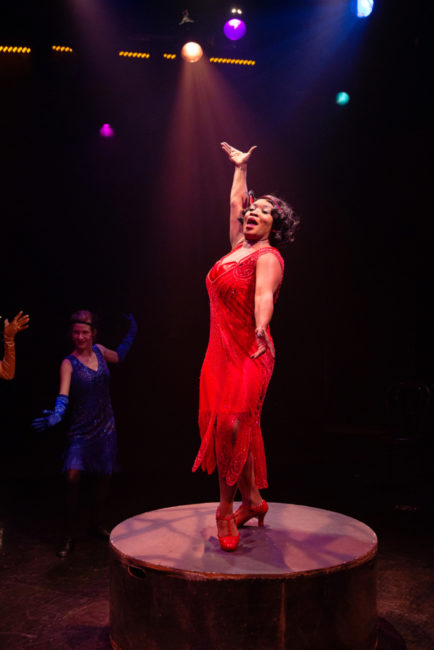 A— plus— Plus— PLUS for Jessica Bennett as Miss Shields, the rather spastically over-the-top schoolteacher, upon whom every hope for a Red Ryder Carbine Action BB Gun rides this Christmas. Bennett, who delves into the comic nuances of the character wholeheartedly, is giving a glorious sendup to the comedic nature of both the fantastical dreams and traumatic nightmares that Ralphie envisions involving his teacher. There is a firm handle of control on her comic achievement; Bennett goes for the campy charm of the character without over-doing it, finding the humor of the situation without forcing it. And when she belts out her vocal prowess during "You'll Shoot Your Eye Out" she bursts well out of the margins of the song and makes it her own fantastical moment to shine.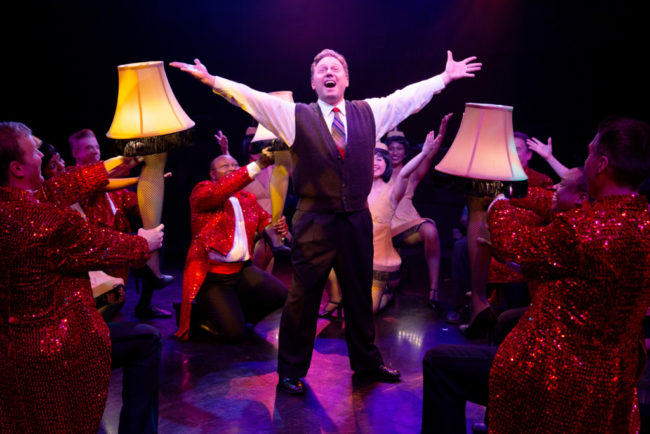 Charm and pizzazz and razzamatazz and grumpy curmudgeonly spirit are all rolling into one character— The Old Man (Jeffrey Shankle.) There's a flippant and humorous charm about The Old Man character that Shankle just alights with proper Christmas spirit. The mild distaste for the children, the general goofy humor of Frank Parker's overall existence just radiates naturally from Shankle. And when its time for The Old Man to weave his tapestry of obscenities (in that hilarious film-inspired 'dirty gibberish') Shankle just goes to town and breaks the bank with it. With all that punch and pluck, it's a rather pleasant surprise to see the more tender side of The Old Man during "A Christmas Story", the show's final number. But before Shankle settles into sublime sweetness, he's belting out a full range of impressive sound during "The Genius on Cleveland Street", his up-tempo, soft-shoe torch song (of sorts.) And the resplendent peels of sound Shankle generates during "A Major Award" makes him every bit worthy of that glorious prize.
Playing opposite Shankle is the maternity incarnate, Heather Beck, in the role of Mother. The superb balance that Beck strikes between an exasperated and frustrated housewife and mom and her deeply compassionate caring for her husband and children is endearing and impressive. The tenderness she shows to Ralphie (at this performance, Evan Christy, whose vocal sustains and overall vocal range are quite enjoyable) and Randy (at this performance, Chrysocyon "Sonny" Huza, whose whiny antics in his snowsuit are hilarious) during their times of fear and doubt are enough to make anyone feel comforted. Beck's voice is a natural balm, soothing any troubles one might have, especially when one's desperately coveted Christmas present is in jeopardy. When she takes to singing "Just Like That" you can feel your heart warming as she swoops through each of the verses. Her Act I solo number, "What a Mother Does" is equal parts charming, with smooth sincerity, and vexing, as you can't help but feel for her maternal plight. Beck and Shankle are the ideal fit as Mom and Pop Parker in A Christmas Story.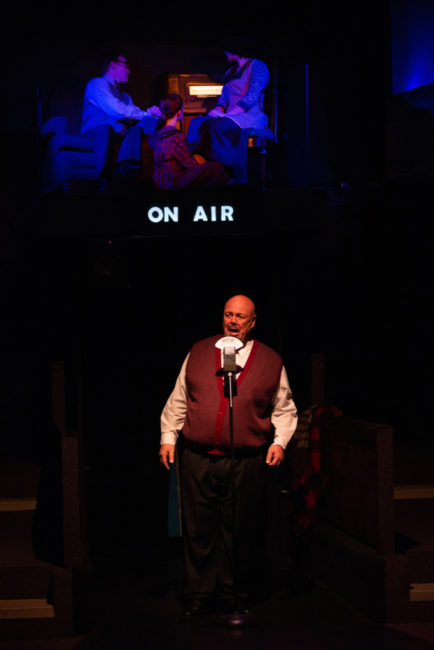 David Bosley-Reynolds clearly just wants to be a kid again, making him a most vibrant and vivaciously energetic Jean Shepherd. While both the film and even previous incarnations of the stage production err more on the side of a nostalgic and reserved Jean Shepherd, Bosley-Reynolds' rendering of the character doesn't just narrate the "the most important Christmas of his life" to you as a tale, it slaps you onto a hobby horse "Ralphie to the Rescue" style and drags you right into the thick of it. Bosley-Reynolds has fully animated facial expressions and body language displays that you can easily see are what Ralphie would be doing in that moment. Every feeling of panic and delight or catastrophe and triumph are clearly represented with Bosley-Reynolds' unyielding and unwavering enthusiasm. There is a joyous and youthful exuberance about him, almost like he is a kid again in retelling this story, the kind of young-at-heart most people desperately need to feel but only ever seem to encounter at Christmas. It's a marvelous wonder to see the story transformed with Bosley-Reynolds as the Christmas tour guide through this production.
Don't wish for a Red Ryder Carbine Action BB Gun this Christmas— you'll shoot your eye out! Instead wish for tickets to see A Christmas Story at Toby's Dinner Theatre! And wish really hard and hope you're on Santa's 'nice' list because many, many dates are already sold out! (Call the box office to be added to the waiting list!)
Running Time: Approximately 2 hours and 30 minutes with one intermission
A Christmas Story plays through November 3, 2019 at Toby's the Dinner Theatre of Columbia— 5900 Symphony Woods Road in Columbia, MD. For tickets please call (410) 730-8311 or purchase them online. *34 days as of November 21, 2019.