You may not know where you're gonna go when the volcano blows but three chords is all it takes to find yourself wasting away with a cheeseburger in paradise. If you want a license to chill, The National Theatre in Washington DC has just the thing for you (and all your Parrotheads out there!) Escape to Margaritaville, the Jimmy Buffet Musical, is making a one-week vacation in the nation's capital and has 25 different songs on the Buffet buffet for all your relaxation needs. With Book y Greg Garcia & Mike O'Malley, and the iconic music of the one and only Jimmy Buffet, this musical is a little love and luck and a whole lot of fun, even if you're not a Parrothead. Directed by Amy Anders Corcoran (based on the original direction of Christopher Ashley), with Choreography by Kelly Devine, it is most definitely 5-o'clock in the district.
In the current climate of Oprah's Musical Theatre ("…you get a musical, you get a musical, you get a musical, everybody gets a musical!"), one might initially shake their head and roll their eyes at a Jimmy Buffet musical. The libretto is thin; the song catalog, while easily recognizable, appeals specifically to Parrotheads and beach bums, and honestly— do we really need another jukebox musical? But Escape to Margaritaville pulls out some surprises that genuinely engages the non-Parrothead audience. Librettists Greg Garcia and Mike O'Malley have created a superb division of lyrics throughout the song catalogue which bolsters and reinforces the storyline, filling in creativity gaps by giving these quirky characters substance in the vessel of one-lined lyrics.
It may be seem absurd, bits and pieces of the show— like the island volcano which hasn't erupted in over 50 years suddenly erupting (clearly so we can use the song "Volcano") or sticking the supporting female lead on a restrictive diet that she busts through from (as not only a metaphor for her lousy initial relationship with Chadd, but also as a great excuse in incorporate "Cheeseburger in Paradise")— but the absurdity is packaged neatly in a manageable plot that has nuggets of truth and heart sprinkled, albeit stingily, throughout. While the ending is a bit too saccharine— American musical theatre audiences do not do well with jukebox musicals that don't have happy endings— and there are places where puns roar so loudly that your throat grows hoarse from groaning, overall it's a charming bit of theatrical fluff that will take you on a vacation for two and a half hours. At times the main character's trajectories— Tully and his island-time life versus Rachel and her "save the planet" existence— smack heavy-handedly, especially the latter, which feels overbearing in a glaringly obvious way. But these slights aside, it's good fun, with strong talent, great choreography, and very clever use of lyrical division inside each of the musical numbers.
Kelly Devine's choreography is most definitely set to island time. There's a lot of hip-swaying, swing-around moves that capture the party vibe. This is true even once they leave the island, and end up in a Cincinnati bar singing "Cheeseburger in Paradise" like it's the grand-stand island jam. Devine works the ensemble with energy and enthusiasm that fits the bumping beach-bum beat of Jimmy Buffet's song catalogue. "License to Chill" as the show's opening number is vibrantly choreographed and filled with this same, repetitious style witnessed all throughout the performance.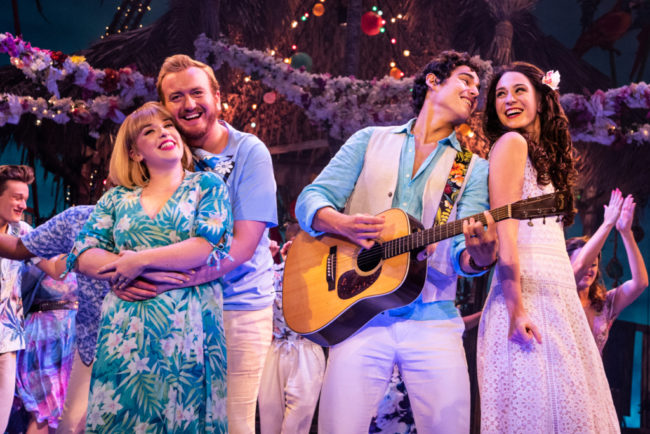 While Kelly Devine's choreography may give the show its island groove, Scenic Designer Walter Spangler, Costume Designer Paul Tazewell, and Lighting Designers Howell Binkley & Amanda Zieve, fill in the island aesthetic. It could be any island getaway, with any tropical beach hut, and despite leading character Rachel's complaints about its lackluster existence in comparison to the website, Spangler's initial island tiki hut looks magical, exotic, and like the perfect beach paradise. Spangler fills out the other locations with other hints of tropical locale and these are often complimented by Binkley and Zieve's emotive lighting choices. (The sunset and stars atop the volcano are simply lovely.) And rounding it all out, keeping everyone outfitted in an island-time appropriate fashion is Paul Tazewell's flowers and sun dresses. You'll feel like flipping on flip-flops before you're even halfway through the first act, just looking at the sun-drenched aesthetic created by the production team.
Playing the grody jerk Chadd, who thankfully gets very little stage time, Noah Bridgestock is the epitome of heinous when it comes to being Tammy's fiancé. Bridgestock deserves a nod for being such a jerk because his personal storyline's conclusion is met with wild and crazy applause from the audience, which certainly means he's accomplished his goal of making the audience hate him. As the quirky island cameo character, Jamal (Matthew James Sherrod) has lots of little moments that make the audience laugh. "My Head Hurts, My Feet Stink and I Don't Love Jesus" (which in and of itself is a ridiculous song that the librettists again find a magical way to make work) includes one of those lines, but Sherrod's big breakout number comes at the top of Act II when he does a rather petrified and then suddenly lively rendition of "Volcano", which is both hilarious and enjoyable.
Tertiary support characters include Marley (Rachel Lyn Fobbs) and J.D. (Patrick Cogan) whose stories crisscross all over each other and the island. At first, Cogan's character seems to be this dismissible device, the loony old drunk (who could simply be Jimmy Buffet) searching for his lost shaker of salt, spinning yarns about the good old days, and rambling on about his buried treasure. But Cogan gives it a real and earnest emotional depth, in addition to the humor such a character requires, especially when appearing as the subject of "He Went to Paris." Fobbs, whose island accent is delivered somewhat inconsistently, is cheeky and sharp with witty retorts throughout. Her interactions with J.D. and the others add to the sitcom nature of the production.
Supporting plot stars Tammy (Shelly Lynn Walsh) and Brick (Peter Michael Jordan) are where the show really finds it heart and soul, in addition to its pun and camp. Walsh and Jordan both have delightful voices that marry well when they duet together and pulse purely when they're featured in solo numbers. The neurotic nuances for both of the characters add honest humor to the production while their struggles to deal with their current lots in life is what adds emotional gravity to the performance. "We Are the People Our Parents Warned Us About" is an adorable, albeit awkwardly split, duet that works well in these characters' favor.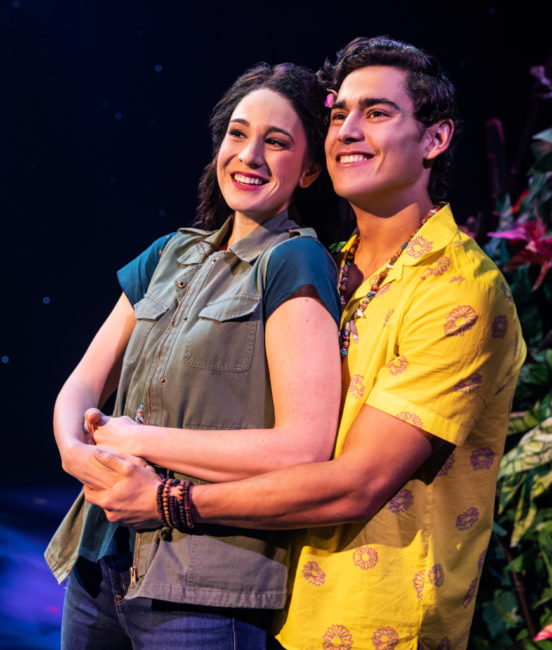 Rachel (Sarah Hinrichsen) is the leading lady who is too tightly wound and has to learn the warhorse lesson of letting her hair down. Tully (Chris Clark) is the loafing beach bum who permanently lives on island time. When their worlds collide, trite plot ensues, but both Hinrichsen and Clark work wonders to overcome some of the more obvious plot expectations thrown at them in the libretto. As their characters take the predictable trajectory— he falls in love when he otherwise ordinarily wouldn't— she lets her hair down and starts to loosen up— we see their genuine enjoyment of one another and of the music shine through. With completely rewritten feminist-empowering lyrics, "It's My Job" becomes the torch song for Hinrichsen's Rachel, while her duet with Clark's Tully, "Three Chords" is one of the most endearing moments in the production (closely seconded by "He Went to Paris.") Both Hinrichsen and Clark have powerful and talented vocal instruments that they bring to the performance and their characterizations feel authentic, which is surprising given the overall cheesiness of the book.
You heard it here first— on the coconut telegraph! Come Monday, it'll be gone— Escape to Margaritaville is in this one particular harbor of Washington DC and it's my job to tell you to go and get tickets. You'll be pleasantly surprised. And if not, well, it's five o'clock somewhere.
Running Time: 2 hours and 25 minutes with one intermission
Escape to Margaritaville plays through October 13, 2019 at The National Theatre— 1321 Pennsylvania Avenue NW in Washington, DC. For tickets call the box office at 800-514-3849 or purchase them online.