Deadites always like to get their freak on! And when they get together, they do the NECRONOMICON!!! It's that time of year— that's right, fellow S-Mart shoppers! Time to pick up your BOOM Stick, lend good ol' Ash a hand, and— what the f*ck was that!? OH. It was Deer in the Spotlight Productions bringing their sold-out sensational annual production of Evil Dead: The Musical to Baltimore for just two weekends this October. With a cult following all its own, the fast-growing annual tradition is your best bet for gory and hilarious entertainment in Charm City this Halloween season. Directed by Bob Denton & Bambi Johnson and Musical Direction by Shane Jensen, featuring three role-originators from the first production waaaaay back in 2016, and several recurring performers, this freak-show-laugh-a-minute theatrical insanity will give you the gut punch you need to enjoy Halloween. It may also soak you in blood. It will almost certainly soak you in blood.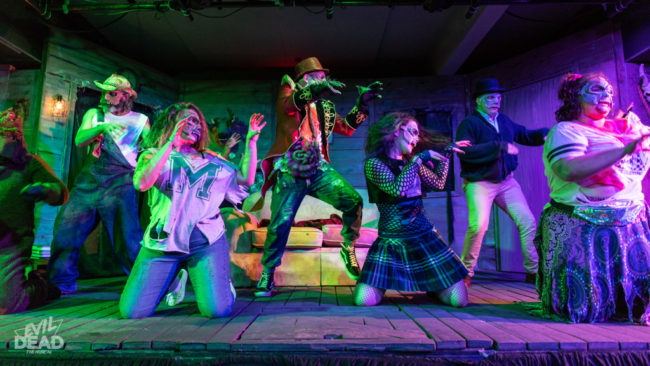 You asked for it, Baltimore, and you got it. After last season's wildly successful mount at Motor House, Deer in the Spotlight Productions has relocked and reloaded all their BOOM Stick theatrical ammo, brought you a stellar show, AND they've managed to load it up with even more theatrically immersive gore. (No idea how that's even possible since this thing was already exploding with more blood than Carrie at the prom.) Directors Bob Denton and Bambi Johnson have gone all out to really get the audiences' flesh crawling, all while giving them a fabulous night's entertainment. (You might leave wearing half the set. Or you might get killed by a Candarian demon. Either way.)
For those that have seen it— how have you not bought your repeat tickets? (Or upgraded to splash-zone VIP awesomeness?) But just in case you're wondering— without really spoiling any of the new surprises— there's so much more…stuff…spewing in the general direction of the audience. Bob Denton's special effects work are out of this world when it comes to timing, range, and overall effectiveness. It's the quality and caliber you'd expect from a Universal Studios interactive ride, only it's combined with live theatre and it's here and available to you in Baltimore! But we're not going to spoil it for anyone by going into laborious detail over all the fabulous intricacies that Denton has brought to the show. It must be said, however, that when it comes to sleight of…hand…that quick switches are executed with laser-precision. Denton also built the set, which looks like a terrifying cabin in the woods straight up out of any and every B-grade horror film ever. The blend of camp and hokeyness that Denton, Johnson, and really the whole crew, brings to the performance is extraordinary and just adds layer upon layer of killer comedy to the experience.
Lithia Knopp's costuming pays homage to all the great tropes of campy horror films, though Tara Schaefer's make-up and mask design really pushes the production into that step-above category of "in your face" demon-awesomeness. Pay close attention to the replicated breakaway pieces that Knopp features on various characters, both in their original forms and once they're "evil." Knopp fits the wildly stereotyped personas of each character— Scott and Jake in particular— with outfits that simply scream caricature, enhancing the enjoyably insane levels of camp and cheese that accompany this performance.

Musical Director Shane Jensen is just one big burst of confetti when it comes to maintaining the musical integrity of the show. It's one thing to produce a campy show and just cheat your way through it, but Jensen finds raw and real talent in the performers and really gives them resounding moments of belting, clear and articulate moments of patter, as well as surprisingly strong harmonies all throughout the performance. It sounds odd; having legitimate vocals for such a whacky show, but the fact that the musical numbers are delivered with such sincerity only adds to the fun of the production. Denton and Johnson's direction is of similar merit. There are certainly moments when glazed and pointed stares are focused directly at the audience to really pinpoint a moment of over-the-top hilarity, and the overly exaggerated and extremely animated facial expressions on the performers are really nuts, but they're delivered with exacting precision and balanced against everything else happening in the show, so as not to become a Wisconsin cheese fest. Johnson, who doubles up as the show's choreographer, alongside Tigga Smaller, puts great vibrancy into the show-stopping number, "Do the Necronomicon" which has the audience marveling over how that many Deadites can get that down and funky up on that intimate stage.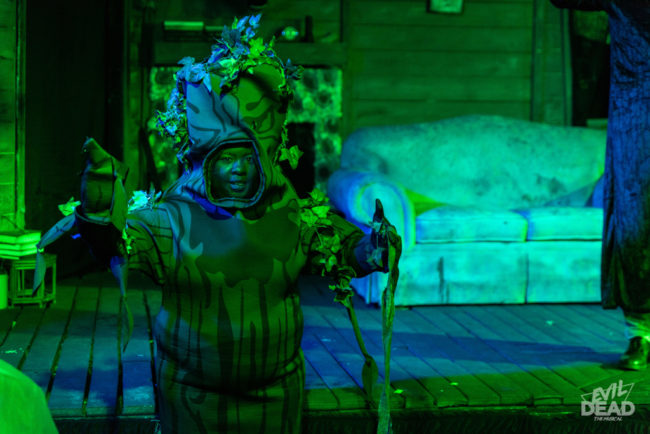 Ghosting her way into the production, Tigga Smaller (in addition to co-choreographing with Johnson) is a hilarious addition to the cast. Sheets of entertainment, Smaller is. Whether delivering ghostly posthumous advice or terrorizing individuals as a Candarian Demon, Smaller finds all the right moments of comedy to home in on all throughout the performance. DITS originator Matthew Wolffe reprises his role of Moose for the fourth year running. Wolffe is an uproarious riot both as the disembodied head, stuffed on and singing from the wall and as the frantic decapitated body, who is really 'plugged into the action' of the final demonized showdown, spraying his fantasticalness all over the audience.
Repeat offender Jordan Baumiller takes up his role of Ed (AKA Bit-Part Demon) for the second year in a row. Adorable and actually quite gifted with a sweet singing sound, his one (and only) solo feature— "Bit Part Demon"— is just too precious to be ignored. The timing and all the comic nuances of this number are so spot on that you can't help but rolling in the aisle with laughter when it comes to Baumiller's pitiable antics. His adorable little frustrations when it comes to first encountering Annie are equally telling of the characterization of Ed. And his top-hat & cane routine during the aforementioned lone solo number are pretty spiffy.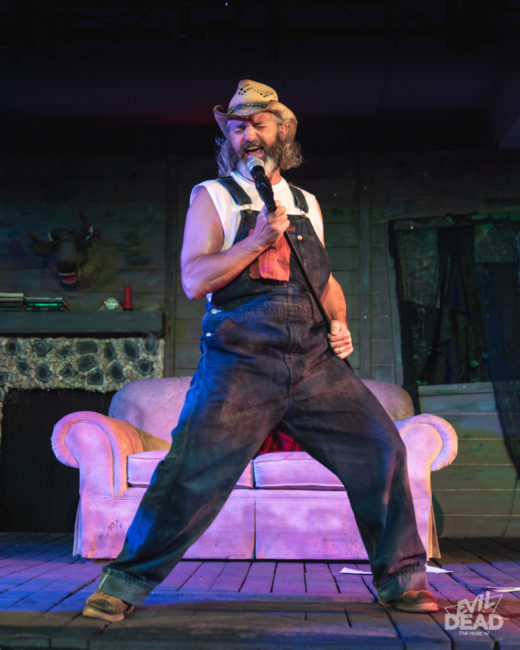 Why it's good old reliable Steve Flickinger back to do his rootin' tootin' darndest as Good Old Reliable Jake! Candarian Demons may be possessing everything in sight but Flickinger's body is overrun by the wily spirit of Yosemite Sam (for the second year in a row…and somehow he manages to keep it fresh, hopping and hilarious!) The nonsense that comes flying out of his mouth…and from the ends of his various limbs…really lends itself to the crazy and zany antics of this particular character, particularly for his signature number, "Good Old Reliable Jake." Let's not forget, of course, his scene-stealing reprisal during "Ode to an Accidental Stabbing" which is too hilarious for proper verbiage.
This year's Shelly— Stephanie Hill— made the transition from last year's stage crew to this year's crew on stage! Hill is the first performer in the last four years to deliver her portion of "Look Who's Evil Now" with such crisp and pristine articulation that all of the maniacally madcap lyrical puns land superbly on the ear. ("I'd kill you with these guns but I don't think they shoot!") Everything from her vapid, gormless approach to the character to the rocker-goth casual roadside hookup couture just screams perfection in this role, making Hill a much-welcomed addition to the production.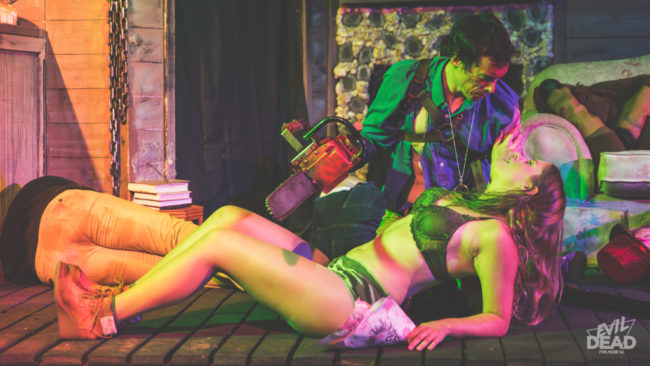 Robustly b— brainy…and with a perfectly curved— character arc, Mary Gipe makes her DITS debut in the role of Annie. Gushing with breathless intelligence, Gipe is a real scream when it comes to trying to portray the smarter-than-your-average-bimbo stock figure. The shamelessly wonton flirting between her and Ash is as steamy as it is corny and the way she carries on and on about the various rips in her dress only adds to her character's situational humor. Proving her vocal merit during her solo, "All the Men in My Life Keep Getting Killed by Candarian Demons", Gipe sets forth a voice that sweeps through the house (backed by the nonsense and tomfoolery of Ash and Jake, of course) and wins the audience over to her tragically hysterical and hilarious plight.
Another two-timing returner, Holly Blondheim reprises the role of Linda with fresh vigor, finding infinite ways to be thoroughly and utterly disgusted and revolted by the potty-pants humor of Scott. With a sweet and syrupy ingenue voice, her duet with Ash, "Housewares Employee" is such an absurdly delightful song that you can't help but laugh your way through it. And when Linda becomes Evil!Linda, well just watch out! Heads will spin, roll, and all but fall off with Blondheim and her various antics all throughout the production. (Again props to the actress and the run crew for spectacular sleight of— head? Hand? Sleight of spectacle!)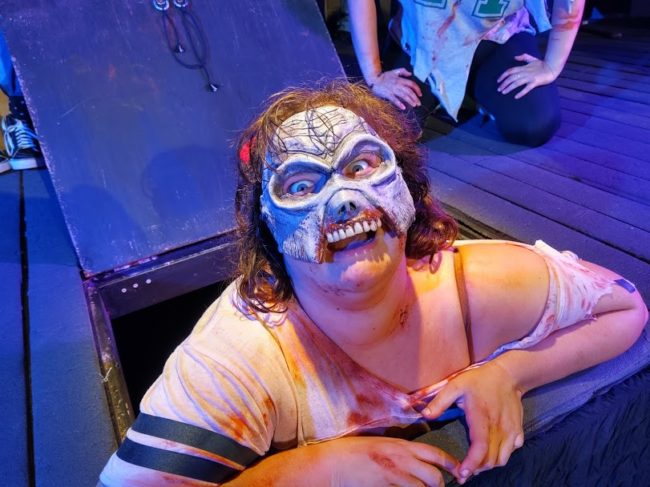 Filled to the gills with lousy puns, Cheryl (Lanoree Blake, who has leveled-up from ensemble to lead this year) is the Candarian Demon from hell. Literally. And also she's obnoxious. Blake is just too much in this role, really over-the-top out-of-the-park, nuts and hilarious and just bringing it all and serving it up all show long. Blake has mastered the nonsense delivery that accompanies the lousy puns of Evil!Cheryl and she soul-steals her way all through "Look Who's Evil Now." Before all of that goes down, however, Blake does an exceptional job of really creating the whiny, terrified, and utterly obnoxious little sister character who just borders on intolerable, which makes her insane transformation that much more enjoyable once she gets attacked by the Candarian Demon trees of the woods.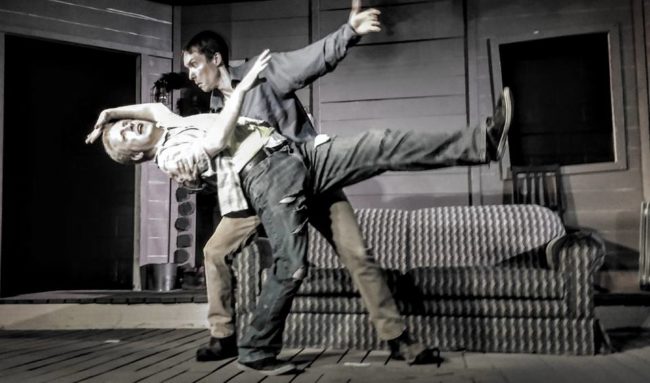 What the f*ck was that? Oh yeah…it's Michael Bliss and Rance Denton, back at it for a fourth season. It's like— we keep killing them but they just won't die!!! (and thank goodness, because it's impossible to picture anyone other than Bliss and Denton in their roles of Ash and Scott, respectively.) The two are inseparable as these over-the-top comic caricature kings of camp & cheese. Denton, who is the reigning overlord of all things hyper-sexual and gnarly, is irreplaceable as the crude and revolting Scott. Just like Bliss is the Bruce Campbell of Baltimore and DITS. The pair have such an intense bromance going on during the insanely absurd tango, "What the F*ck" Was That?" that by the number's conclusion— you full-on except a bro-kiss. Both have impeccably talented voices and Bliss is all but running away with the most over-exaggerated facial expressions of the show. Taking turns carrying various bits of the show, both Denton and Bliss are fitted to this whacky production perfectly.
So do the robot, do the sprinkler, and finish it off with your best Henry Winkler— Aaaay! And get your ass down to Deer in the Spotlight's Evil Dead: The Musical this haunted Halloween season. It's just as good (actually better) than any spook-n-haunt that you'll pay $$$ to visit this season and is rapidly becoming a fan-favorited annual tradition to Charm City! Tickets are still available for the Splash Zone— an experience you won't want to miss!
Running Time: 2 hours and 15 minutes with one intermission
Evil Dead: The Musical plays through October 12, 2019 with Deer in the Spotlight Productions at Motor House— 120 W. North Avenue in Baltimore, MD. Tickets can be purchased at the door or in advance online.