Are you ready with your watching eyes and your listening ears? OH! And the most important thing of all! Your I-MA-GI-NATION! That's right! You'll need all three of those things to really enjoy yourself with InterAct Story Theatre's brand new immersive theatrical experience for young audiences, Bobtail Bong Bong: A Monkey's Tail Tale, written and directed by Ali Oliver-Krueger. Inspired by a Japanese folktale, mukashibanashi, this is a true exploration of the company's namesake, experimenting with not only allowing young audiences to be an active participant in the story, but really engaging them as future playwrights as they change the course of the narrative.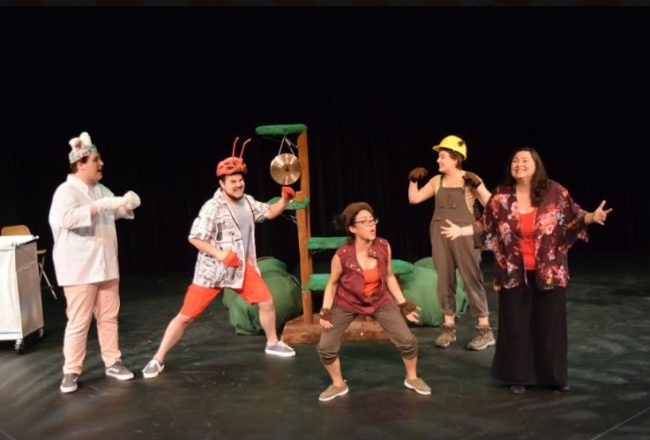 The structure of the play itself seems simple; don't be fooled, playwright Ali Oliver-Kreuger has woven some real gravitas into the show's narrative. Oliver-Kreuger works to make all of the productions at InterAct Story Theatre contain real life learning lessons with weight and depth, all whilst disguising them as an ice-cream fun parade that young audiences gobble up voraciously. Bobtail Bong Bong: A Monkey's Tail Tale, is no different. At the core of the play, Oliver-Kreuger explores the basic principles of friendships; what makes a good friendship and when is a friend not behaving like a good friend? The characters are juvenile and appropriately relatable for young audiences, loaded with fun features and characteristics but the topics they cover throughout the play are applicable to everyone in all walks of life.
What makes this narrative particularly interesting is the way in which Oliver-Kreuger portrays Bob the Monkey. This monkey is somewhat of a braggart, with an attitude that won't quit, believing themselves to be helpful when in reality they're a bit emotionally unaware, rather selfish and mean. The flawed protagonist is used as a teaching tool for valuable life lessons, which is where the real interactive portions of the story come into play. Oliver-Krueger sets up the show like a normal InterAct Story Theatre production, speaking to the young audiences in a language they understand and appreciate and readily engage with, before delving into the fun of theatre-making. But one whole scene in, and Oliver-Kreuger (who is an omnipotent presence and narrative conduit for the audience) rings a gong, freezes the action on stage (going so far as to "de-role" the characters, so that the audience can see they are people just like they are and no longer the exaggerated, energetic animal-characters they are playing in the play), and starts an open-dialogue discussion with the audience.
As Oliver-Kreuger meanders throughout the audience, getting opinions and ideas about what's happening on stage, she makes it clear that having feelings— even negative ones like anger, fear, or sadness— is perfectly acceptable and a thing that all people— even animal-characters— experience. It's what you do with those feelings that makes all the difference to the situation. The action continues with Bob the Monkey encountering three different animal characters, all of whom have a similar style interaction with Bob, and after which the audience is encouraged to contribute to the conversation about Bob's choices in handling things. The ultimate result of all of this audience involvement is a beautiful rewrite and replay of Bob's mistakes and bad choices, which creates a "better experience" for Bob and their animal friends, and a "happy ending" for all of the characters.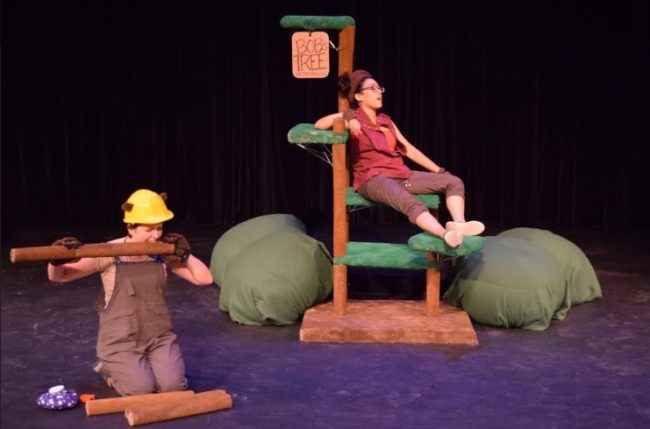 Oliver-Kreuger's work is impressive on many levels. There is a normative inclusion of the concept of consent. Whenever a good thing happens between the characters, they ask Bob if it's okay to give them a hug or a high-five, and Bob responds accordingly. The play addresses how to accept and decline physical contact based on their comfort level, all of which is included like a part of every-day life. Gearing this type of normalized behavior toward formative audiences is the exact approach that theatre companies should be taking when addressing subject matters that have become hot-button issues in today's society. Oliver-Kreuger takes the same approach to Bob the Monkey, who uses the pronouns of "they/them."
Wearing many hats, in addition to that of Director, Playwright, and Actor in the show, Oliver-Kreuger has also designed the costumes for the production. The characters in Bobtail Bong Bong include a Beaver, Crab, Monkey, and Bunny, but Oliver-Kreuger really encourages the audience to put their imagination-settings on bubble, with clever hints of the anthropomorphic animal costumes. All of the characters have furry (or shell) gloves to identify them as an animal and a head-gear component that helps the audiences connect the dot between imagining a rabbit or a crab and actually seeing one. It's mostly the actors' physicalities that give the audience the real show of being animals. Peter Oliver-Kreuger has once again outdone himself with his set— basically a deluxe-level cat-tree for humans— and very clever props (just watch the wood logs, cinder ash, and bun-buns!) that enhance the imagination experience for the audience.
While Ali Oliver-Kreuger demonstrates her seasoned ability to relate to young audiences both as narrative cynosure and as an engaged character amidst the story, the other four performers are what have the audience going wild over the tail tale. Geraden Ward plays Bunny the Baker with the most adorable innocence and the sweetest of temperaments. Ward deserves so many praises for repeating the phrase "hot bunny bun-buns" more times than any one person should ever have to count, and never slipping up on the tongue twister. What's even more impressive is the incredibly expressive facial animations that Ward brings into play when watching Bob the Monkey interact in the scene with all the components of the "hot bunny bun-buns."
Ashton Schaffer, as Kani the Barber crab, has an exquisite physicality that really clues the audience into the fact that this character is meant to be a crab! Schaffer squats, almost drifting back and forth in the pose, whilst clacking fingers together (aptly covered in shiny red claws) to exude that crab-like behavior. Nell Quinn-Gibney does a commendable job of playing Shikoku the Builder beaver. And of all things to be saddled with as a beaver, Quinn-Gibney really lets the audience know that this beaver has a serious tooth-ache! Quinn-Gibney uses a fun vocal affectation to set the beaver character apart from the actor (as both interact with the story and the audience) and brings the same heightened energy that all of the other players bring to the stage.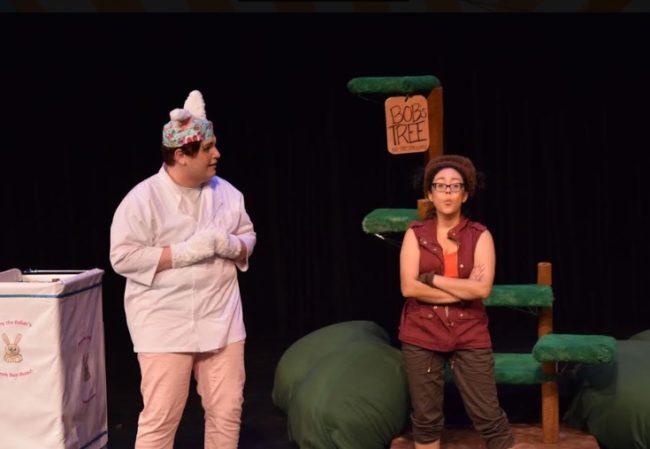 Ruth Diaz, who plays Bob the Monkey, is putting on quite the show for the audience. Bob the Monkey is not an immediately likeable character, what with all the gloating, bragging, boasting, carrying on, and generally being mean. It's no wonder when some unfortunate things happen to Bob that the other characters start to make fun of Bob (and that is a topic quickly addressed as well!) Diaz, whose indefatigable spirit is really what one hopes for when it comes to embodying a rather cheeky, albeit unexperienced, monkey. The transformation from bratty meanie monkey to compassionate "makes good choices" monkey is one that Diaz handles beautifully.
It's quite the experience, an honestly beautiful learning endeavor that engages young audience while they think they're having nothing but fun and games in this great theatrical show. Bobtail Bong Bong: A Monkey's Tail Tale is the exact theatrical experience InterAct Story Theatre has been attempting to achieve in years of late, and this new highly immersive and involved format is really working toward their overall company mission.
Running Time: Approximately 50 minutes with no intermission
Bobtail Bong Bong: A Monkey's Tail Tale plays through September 28, 2019 as an InterAct Story Theatre production at the Montgomery College Cultural Arts Center— 7995 Georgia Avenue in downtown Silver Spring, MD. Tickets are available at the door or in advance online.