When I grow up… I will be smart enough to know that the real cool place to go is Children's Playhouse of Maryland to see all these awesome kids before they grow up! And now's your chance to change their story— by coming to support some of Baltimore's most talented young performers in their current full-length production of Matilda, the Roald Dahl story turned stage musical opening the 2019/2020 theatre season for CPM. Directed by Liz Boyer Hunnicutt with Musical Direction by Charlotte Evans and Choreography by James Hunnicutt, this is an epic tale of children changing their story.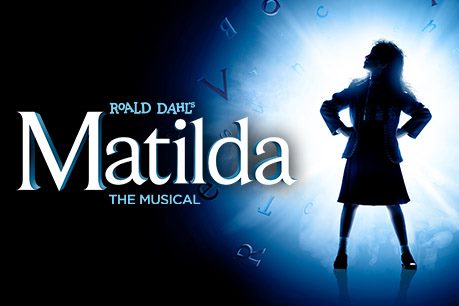 The usual suspects are using all of their fine 'grown-up' theatre making skills to give the talented young performers of Children's Playhouse of Maryland a quality, professional theatrical experience. Artistic Director and Set Designer Diane Smith, alongside Scenic Artist Laura Miller, have captured the classroom feel of the touring Broadway production with all the letters scribbled about across the stage's backdrop. (Can you count the hidden words they've managed to sneak into it?) Smith has outdone herself with the swing set for the beloved number, "When I Grow Up" and Ed Lake's lighting design supports each of the scenic shifts throughout the production. Director Liz Boyer Hunnicutt has crafted some clever ways to address many of the special effects in the production…like when The Trunchbull has to stretch a kid's ears off his skull or swing a child around by the pigtails. All of theatrical machinations spring to magical life with the combined efforts of Lake, Smith, Hunnicutt, and Miller lending their years of seasoned expertise to the show's production values.
Costume Coordinator Sharon Byrd is in a category all her own for some of the wildly fanciful outfits featured on some of the more outrageous characters, like Mrs. Wormwood and Rudolpho. Byrd's costume collection possesses a simply ineffable quality that just screams theatrical. This is particularly useful for the Escapologist (Jordan Dixon) and the Acrobat (Maia Vong) when they are featured in Matilda's darkened fairytale story. Both Dixon and Vong have delightful voices when they achieve their featured solos during the duet portion of "Story 2: The Great Day Arrived" as well as when Dixon can be heard in "Story 4: I'm Here."
Choreographer James Hunnicutt does a superb job of capturing all of the energies and emotions that these kids are chanting at the top of their lungs during numbers like "Bruce" and "Revolting Children" and transforming those feelings into dance routines and dance gestures. There is some really impressive dancing delivered by Mrs. Wormwood, Rudolpho, and a series of featured dancers during the number "Loud" as well. The songs are magically bolstered with confidence, emotion, and vocal clarity by way of Musical Director Charlotte Evans, who encourages every ensemble member to sing out with vigor. And the show's overall pacing flows naturally, with humorous moments really etched into place through the veteran guidance of Director Liz Boyer Hunnicutt.
With a talented ensemble of young performers (Erin Acerno, Sofia Alvarez, Rilynn Callow, Emily Davis, Jordan Dixon, Katie Doyle, Jules Einhorn, Pierce Elliott, Gabriella Galoni, Allyson Gray, Emma Hammett, Royce Hartin, Brooke Henshaw, Sam Izzo, Sammy Jungwirth, Sadie Lange, Julia Morgereth, Molly McVicker, Max Ozbolt, Thomas Peisinger, Maggie Rubin, Claire Schafer, Maia Vong, Elliott Whitman, Olivia Woods) playing adults, older students, younger students, and everything in-between, the CPM production of Matilda is quite the theatrical feast. And honestly, with several dozen talented individuals on stage playing all these different parts— I don't care what Mr. Harry Wormwood says— skip the telly in favor of seeing these awesome stars give this show their all.
There are worlds of standout performers all throughout the production. Whether its Jules Einhorn as the charming Child Entertainer in the opening number "Miracle" or the very severe Sergei (Sammy Jungwirth) and his Russian Henchmen (Royce Hartin, Molly McVicker, Olivia Woods) arriving unexpectedly near the show's conclusion— with Jungwirth's voice doing great justice to the reprise of "This Little Girl", you'll find all sorts of wondrous miracles in the ensemble. Sam Izzo is another impressive standout, with strong vocals that take the lead midway the unending prologue number, "Miracle". Izzo has a zesty pluck just right for this cameo role and sticks in the mind's eye whilst dancing his way through the song.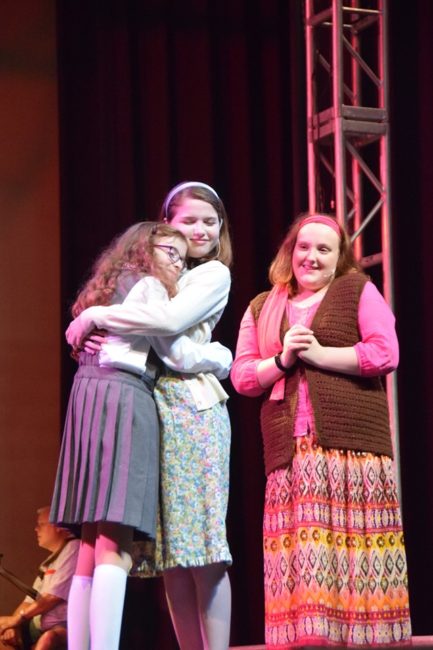 Mara Jade Beaumier, as Mrs. Phelps the librarian, and Myles Taylor, as Michael Wormwood— Matilda's older brother, both have cameo roles that really pop because of their performances. While the Michael Wormwood character is strictly for entertainment purposes, Taylor really invests in the dumbfounded, gormless nature of the big brother and gives audiences the chuckles every time he sputters words like "Backwords" or "Telly!" Beaumier, as the quieted Mrs. Phelps, does let just a little bit of her enthusiasm show whenever Matilda cuts her off from knowing how the story will end.
There's a core ensemble of young students (Bella Comotto as Lavender, Shahmeer Mirza as Bruce, Soren Lange as Nigel, Evelyn Acerno as Alice, Corban Potler as Eric, Nora Acerno as Hortensia, Zachary Byrd as Tommy, and Bella Pollara as Amanda) whose voices come together and create a tidal wave of sound. This is particularly true during "Bruce", the chanting song where poor Shahmeer Mirza is playing ickle Bruce Bogtrotter, who must face down the enormous challenge of the Trunchbull's cake! (Props to the production staff for the magic of that moment when it comes to the disappearing cake!) The children also have lovely, sweet sounds for their individual and duet verses of "When I Grow Up", but don't be fooled as that brash and bold spirit comes surging quickly back during "Revolting Children."
Unmistakable as a show-stealing diva queen is Bella Comotto, whose presence is first felt/heard/seen/experienced during "Miracle" as the potently pushy little Ballerina. Playing the role of Lavender, who makes the epic "newt" scene all about her, Comotto is too precious for words with her precocious and snotty approach to the role. Really able to belt out her spoken words with gust and gusto, Comotto finds her footing as this larger than life little girl, who is self-proclaimed as Matilda's best friend. Soren Lange, playing the polar opposite of the theatrical Lavender character, is mild mannered in his portrayal of poor Nigel, but equally noteworthy for his terrified looks when the Trunchbull is after him! And props to Bella Pollara who does a fantastic job at being swung around by her pigtails when the Trunchbull sets her sites on bullying poor little Amanda.
With a flare for the dramatic, Pierce Elliott tackles the character of Rudolpho with ease. While his is one of the only accents in the production not to favor a British flavor (and again props to Liz Boyer Hunnicutt and the production staff for the astonishing consistency with which these young performers deliver their highly affected British sounds), Elliott creates a lithe, limber, and clearly Latin-esque dance queen out of the character. His split is beyond impressive and his overall presence is as loud and poppy as his costume, when he's not being intentionally upstaged by Mrs. Wormwood, that is.
Harry and Zinnia Wormwood (Dylan Morrison and Kathryn Schudel) are almost too much for words. It's nearly impossible to describe how these two over-the-top performers create these outrageously dislikeable characters. Schudel has the perfect combination of physical sassiness and vocal outrage, which really rings true during her feature song "Loud" while Morrison brings a rather nasty attitude to the forefront his portrayal. The pair, though playing a married couple, spend precious little time interacting with one another but manage to win over the hearts of the audiences as the characters we love to hate! Morrison in particular has an uncanny knack for making the audience pay him attention, particularly during the opening number of the second act, "Telly" where he directly addresses the crowd and sings a blasting number all about the importance of TV. Morrison and Schudel are both physically gifted when it comes to moving; Schudel with her outrageous dancing and Morrison with his hilarious comic understanding— just watch him trying to pull at his hat!
The holy terror of terrors comes to life in Miss Agatha Trunchbull (played brilliantly by Ethan Holler.) The role, from its inception on Broadway, has been a cross-gender casting, and Holler slips right into the skin of The Trunchbull with terrifying ease. Holler cuts an imposing figure when stalking across the stage. (Sharon Byrd has outdone herself in getting the padding of hips, insane muscles, and overall makeup right for this walking nightmare costume.) Holler has that nasally nastiness that just horrifies the children into direct obedience. "The Hammer" and "The Smell of Rebellion" are two glorious examples of how well Holler can carry his chosen vocal affectation as The Trunchbull into his singing voice. Emotionally invested in playing this wicked baddie, Ethan Holler will be giving everyone nightmares about chokey for a week!
Balancing out the terrifying Trunchbull is the delicate, dulcet Miss Honey (Emily Signor.) With a sweet, warbly little voice that often portrays the character's nervousness (especially when confronting The Trunchbull), Signor is a delight to watch in performance. She carefully maneuvers her character's narrative arch through "Pathetic" and "This Little Girl" showing a change of heart, if not courage, all whilst maintaining a youthful innocence that easily fits the bill for the Jennifer Honey character. It is easy to believe that Miss Honey is a loving, tender mentor figure for Matilda, especially when she sings her solo "My House", giving Matilda and the audience the full backstory of her existence. Signor's interactions with Matilda are the sweet, maternal honesty you'd expect from the Miss Honey character and she is a miracle in the role.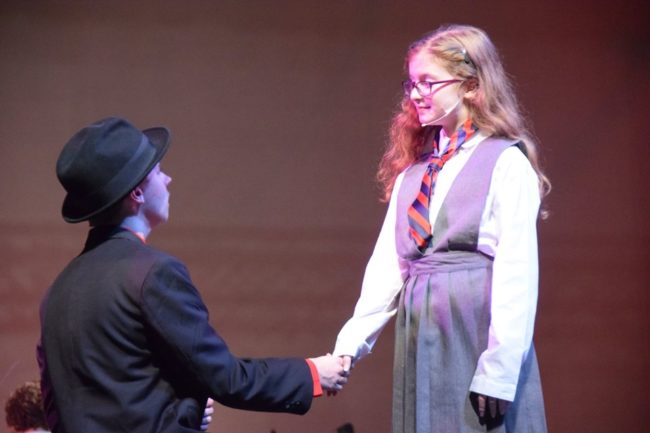 Maeve Acerno knocks out the titular role of this production, giving Matilda all the gumption, guts, and gusto that so many of us 'older kids (at heart)' remember from little Mara Wilson from the 1996 film. Acerno has a flawlessly British accent that is perfectly suited to the Matilda character; her physicality in the role is impressive as well. Acerno may be little (it's what the role calls for, after all) but she doesn't let a little thing like little stop her— not when it comes to belting out numbers, like "Naughty" and "Quiet"— nor when it comes to all the brilliant hijinks that she achieves both at home and at school. Truly a miracle, Acerno has a presence on stage that is like no other. When she narrates all the various bits of "The Story" (which comes over in four different parts all throughout the production) the audience is held in rapt attention by her storytelling skills. Acerno is really quite grown up, despite her actual youthful age, and really makes Matilda every magical thing we ever hoped she could be.
So remember, just because life isn't fair it doesn't mean that you just have to grin and bear it— and only you can change their story, by going to support the incredibly talented young performers of CPM's Matilda. Tickets are going fast so don't wait to book yours! (It's better than telly!)
Running Time: Approximately 2 hours and 25 minutes with one intermission
Matilda plays through September 29, 2019 2019 at the Children's Playhouse of Maryland in the Lecture Hall of the Administration Building at the Community College of Baltimore County Essex Campus— 7201 Rossville Boulevard in Baltimore, MD. For tickets call the box office at (443) 840-2426 or purchase them online.