Every new beginning feels so heavy; only the trees know everything. In life and death, in grief and suffering, we experience things differently. Regardless of your cultural heritage, your geographical upbringing, or your placement in life, grief and loss come to each in their time in their own way. Debuting its 69th women-empowering script, Venus Theatre is pleased and proud to present the Western Hemisphere and North American premiere of The Finger, translated into English from its original Balkan text by playwright Doruntina Basha. Directed by Deborah Randall, the work was first commissioned in 2004 as a piece of theatre for the children and families of those who went missing from the war in Kosovo (1998-2000.) Despite 15 years having passed, the poignancy of the show's topic, the relevancy of the show's overarching themes, and the overall relatability to the every-person audience is strikingly profound.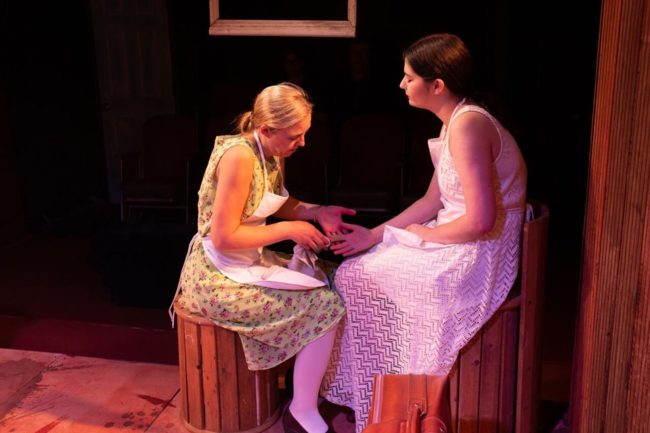 There is something inherently lost in translation. While the play itself is an exquisite experience, filled with moving moments of emotion whirling around the concept of "ambiguous loss" ("defined as loss that occurs without closure or clear understanding; this kind of loss leaves a person searching for answers, and thus complicates and delays the grieving process, and often results in unresolved grief." per the Wikipedia entry on the subject) there is a clearly unrecognizable cultural subtext that burbles just beneath the surface of the show's action and dialogue. It is a palpable, sentient subtext that is clearly there, but at least for this reviewer, is as foreign as the language in which the play was originally written. That is not to say that the show does not land or relate with everyone; it does. But it leaves viewers longing for that deeper understanding, in a sense even longing to speak the native language and experience the play as it was originally written.
Playwright Doruntina Basha has taken a deceptively simple narrative— two women hovering around the subject of potentially lost loved one— and presented it with a thorough emotional excavation. There are fantasy segments (outlined as Intermezzos by the playwright) that drift far afield from the play's linear reality; there is one segment per character. Director Deborah Randall and the astonishing creative team at Venus Theatre have made the transitions into and out of these moments explicitly clear. Lighting Designer Kristin Thompson signals the beginning and end of these Intermezzos with wild flashes of red and blue, while Sound Designer Neil McFadden (celebrating his 34th sound design with Venus Theatre as of this project) underscores these scenes with morosely moving string-based instrumentation. The sound design of the show is notably absent from the remainder of the production, save for the show's ending, which in and of itself is a reckoning of worlds where fantasy and reality collide. McFadden's choice to give vivacious, albeit somber, musical underscoring to only these moments in fantasy is an excellent one, further demarcating the barriers for the audience.
Deborah Randall, who wears the hat of Director, Costume Designer, and Prop Designer, works closely with Set Designer Amy Rhodes (who is one half of the acting components in this production) to carefully create this world of Zoja and Shkurta. While the fantasy breakaways include a subtle nod to Doctor Seuss (see if you can spot it in the sartorial selection) Rhodes and Randall have let little hints of Zoja's reality seep into the main construct of the set. Rhodes' constructed set features realistic wall-paneling and a functioning kitchen cooktop and sink; it also features the slanted angle at which Zoja experiences reality, as evidenced in the kitchen table and chairs. Randall's best costume work is shown with the stains on the clothes when Shkurta unpacks the suitcase.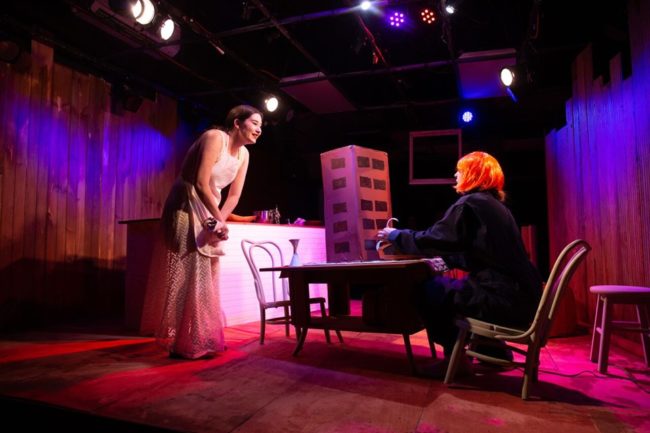 Randall, who works tirelessly to promote women-empowering scripts through Venus Theatre, has found a hidden gem with The Finger, which has been translated into seven different languages for a larger global accessibility. The pacing of the production is smart; it doesn't linger longer than it has to, it doesn't race through important moments either. Running at just 80 minutes, you never feel as if the narrative is incomplete or as if you're only watching a portion of a larger story. Randall's uniquely intimate space at the play-shack's C-Street home allows for the audience to be in the thick of the conflict. There is an authenticity that permeates the production, particularly when Zoja and Shkurta are cooking; you smell the onions, both raw and when they are frying, and you can almost feel the tensions mounting between these two characters as the play progresses.
Catherine Gilbert and Amy Rhodes are the two players who bring Shkurta and Zoja's story to life. Gilbert, who plays the younger character of Shkurta, is radiant and resilient. While not living in as deeply skewed a version of reality as the Zoja character, Gilbert embraces the slightly slanted approach to her character's own existence wholeheartedly. The play itself is a disorienting clash of worlds and words, feelings and emotions, all knotted up in tangles of the grief process; both Gilbert and Rhodes handle these moments differently while sharing the shouldered burden of the plot's important message.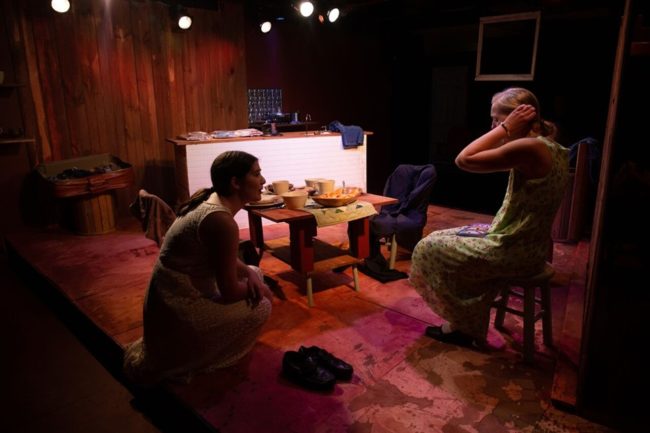 Rhodes, who maintains a much more rigid persona throughout the performance, is a fount of feelings, all trapped deeply inside the character of Zoja, forcibly repressed until they simply cannot be withheld any longer. There is a line that Rhodes delivers— "You have a husband, because if you don't have a husband that means that I don't have a son and I have a son."— which strikes hard and fast despite her calmly bristled temperament. On the tongue of a less-seasoned actor, this line might deliver the stunning and blindsiding emotional blow that it does when it flies from Rhodes' lips. The same is true of Gilbert's performance, with a similar line— "You have no right to think that this is happening only to you." Again, a simple enough line to go awry or even be glossed over entirely if not for Gilbert's striking stage presence. Both women are tremendously impressive in their respective roles, and both draw the audience into this unsettling chaos of grief-suspended reality. The notion of ambiguous loss keeps the audiences' minds perpetually turning, attempting to figure out what has really happened. Even once specific details are revealed, there are still questions; there are still doubts. Deborah Randall, Catherine Gilbert, and Amy Rhodes have done a fine job of transforming Doruntina Basha's words into a relatable onslaught of endlessly vexed emotions.
When ambiguous loss occurs, you become a slave to signs and symbols, desperately seeking meaning in anything and everything to attempt to find answers and closures. The Finger translates that harrowing experience in a most divine fashion and is a play well-worth attending this season.
Running Time: Approximately 80 minutes with no intermission
The Finger plays through October 13, 2019 at Venus Theatre— 21 C. Street in historic Laurel, MD. For tickets call the box office at (202) 236-4078 or purchase them online.