Newsies on a mission; kill the competition! The Fredericktowne Players are carrying the banner of Disney's latest screen-to-stage hit musical with their production of Newsies. Directed by Meg Williams,with Musical Direction by Matthew Dohm, and Choreography by Kendall Sigman, this heartfelt production showcases some vivaciously talented individuals and produces a quality summertime show for everyone to see during the sweltering heat of Maryland's 2019 indoor summer season.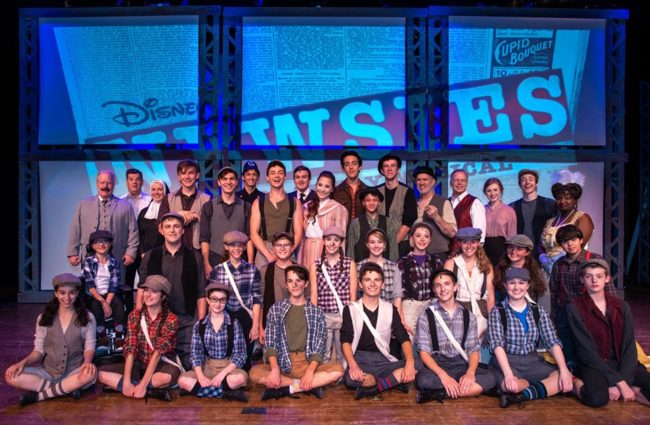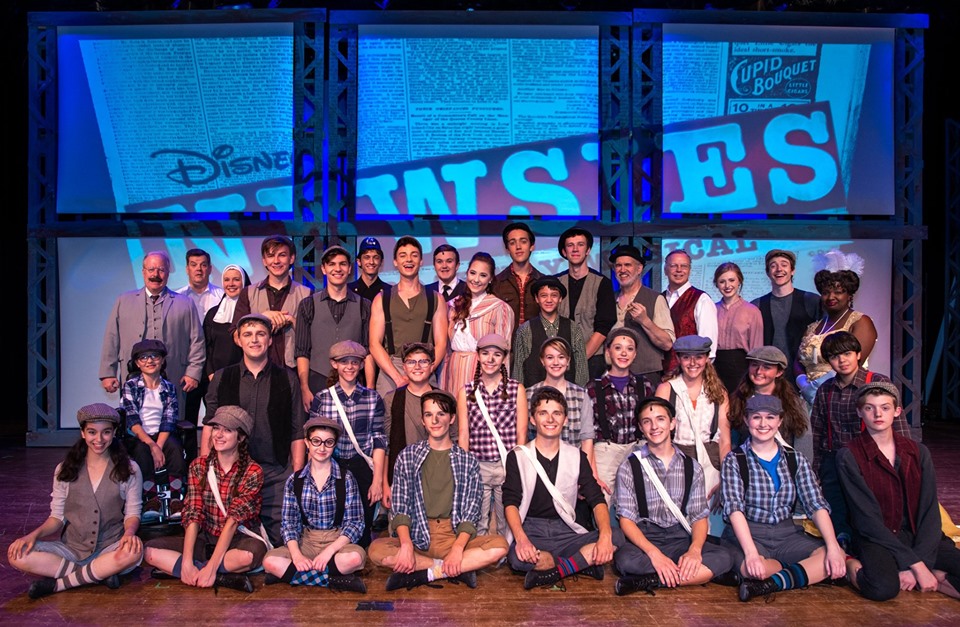 With bold ambitions, scenic designers Rusty Austin and Tyler Brust, set the scaffolding accordingly for the turn of the century New York City. Lighting Designer Mike Brown, though at times a bit pop-modern and over-eager in places, does a decent job of creating mood lighting. Brown gets a bit enthusiastic when it comes to lighting some of the bigger ensemble numbers, which is slightly discordant from the show's natural setting of the early 1900's, but it's an easily forgivable mistake as the performances are so pumped full of energy it's hard not to want to light them accordingly. Costume Designer Sharie Austin follows suit and creates believable guises for all of the street-filthy newsboys (and banded newsboys as we don't acknowledge newsgirls as newsgirls but rather as masked newsboys in this production, though Disney does give the production option to play it either way.) Austin even gives really dazzling outfits, though briefly showcased, to Medda Larkin and the Bowery Beauties, really harkening back to the time of Vaudeville in their style.
In no way, shape, or form should the comments on choreography detract from the excellence radiating from the performers. Choreographing a behemoth of a dance-intensive show like Newsies is a challenge, and choreographer Kendall Sigman does her best. The choreography is safe, which is understandable at a community level, but regrettably the choreography is also sloppy. For as safe and as simple as the moves are, their execution is somewhat enthusiastically athletic. There are solo dancers— like Justin Patterson, James Downing, and Lauren Downing, who close do a tap-send off at the end of "King of New York"— that really stand out and catch the eye, executing exquisite dance moves. And as a whole the energy of the dance routines is as vivacious and vibrant as the soul of the story, it's just a bit more chaotic than one might think or hope when encountering the choreography of Newsies.
Musical Director and Pit Conductor Matthew Dohm deserves scores of praise for the impeccably blended harmonies that are featured with great consistency throughout the performance. There are numerous instances throughout the production, particularly during numbers like "Seize the Day" and the reprise of "Watch What Happens", where the quartet of Jack, Les, Davy, and Katherine is simply sublime. Dohm conducts a well-paced pit, maintaining a solid balance between the orchestra's playing and the singers' singing, being careful not to over play the singers, even though most of them are on microphone.
Memorable, standout performers include Christopher as Teddy "BOOMBOOM" Roosevelt, who is the spitting image of the presidential likeness, and carries himself with grace and gusto. (And even gets that line about San Juan Hill, which is a good laugh for most in the audience.) And Wiesel and his Delancey Brothers Gang (Bruce Rosenberg as the snarly weasel Wiesel and Jack Baumgarten as Maurice and Tommy Folderauer as Oscar) are quite grumbly, giving the newsies a good run for their money especially when the rumble breaks out near the end of the first act. And let's not forget Hannah (Lauren Downing) whose accent and patois in dealing with Mr. Pulitzer (Terry Moore) is priceless. Downing, who wears multiple hats in the production, is a multi-talented individual but really catches the eye as Hannah.
While Race (Jack Patterson) may only get one big break-out moment, he really puts his all into owning "King of New York" and his upbeat, spunky personality is channeled and shared by all the other newsies featured in the song. So too is true for Miss Medda Larkin (Corinthian Carr) and her big bust-out number, "That's Rich." While the Medda Larking character seems to exist solely to advance the plot in her own tertiary fashion, Carr puts her vocal mark on the production and leaves audiences feeling her prowess, however modern it sounds, when she belts out that Vaudeville style number. Modernity and pop-music seems to be the overarching bleed-through and seepage among the women and certain design elements in this production, but the notes are clean, clearly delivered, and the acting is on point, even if at times some of the performers feel as if they're still deep in 2019.
Katherine Plummer (Nancy Fallon) gives a very good foil to the incomparable Jack Kelly (Jordan Champe) in this production. Despite Disney desperately needing to include a love-story-through-line with these two characters, Fallon finds her own footing in the would-be journalist character outside of the KP-JK romance storyline. Fallon, like some of the others, sings with a bit of a modern riff and edge during "Watch What Happens" but patters with clean articulation and burbles with excitement that is appropriate for the song's intent. She even shows off a little fancy footwork during "King of New York", holding her own with the other tapping newsies in the show.
Jordan Champe does Jack Kelly a solid by creating a believable rooftop New York accent and giving him real heart and real grit. Whether splitting deals with the cheeky but adorable little Les (Nick Ramirez) or going head to head with Davy (the gorgeously sung and serenely sensible Owen Raynor, who finds his own moments to shine and radiate during "Seize the Day") or when rescuing Crutchie (Andrew Zabetakis) with hopes and dreams during "Santa Fe", there is something undeniably perfect about the way Champe tackles this character. He and Zabetakis feel like brothers and they play their chemistry up accordingly.
It don't take much to be a dreamer, all you do is close your eyes. And imagine yourself— not in Santa Fe— but in Frederick, with the Fredericktowne Players and their current production of Newsies and you'll see, they're carrying the banner, and they're seizing the day and they're making headlines. You won't want to miss it.
Running Time: Approximately 2 hours and 20 minutes with one intermission
Newsies plays through July 21, 2019 with The Fredericktowne Players in the Jack B. Kussmaul Theater at Frederick Community College— 7932 Opossumtown Pike in Frederick, MD. For tickets call (240) 315-3855 or purchase them online.