I am amazed; I know not what to say. Though the words be but borrowed from The Bard, the sentiment bares much troth for feelings in my left pap, where heart doth hop, in regard to The Bard Wagon Players. Striking up against adversity— both of weather foul and ill-sentiment to their company's original namesake— the little mobile wagon full of Shakespeare doth enter its third season upon the grassy fields of performing outdoor* Shakespeare here in Maryland. Servicing Baltimore County with A Midsummer Night's Dream this summer of 2019, The Bard's Wagon Players bring some delightful nuggets of directorial brilliance to the forefront of their performance, though not without their own challenges. Directed by Robert Frank, the company doth set down its wagon for playing in both Reisterstown and Catonsville this summer, arguably two under-served areas when it comes to Shakespearean occurrence.
Much praise is owed to the company's namesake; there is literally a wagon-train trailer that serves as the stage for the folly and pageantry of their performances, when the weather permits. Company mastermind and trailer-wagon extraordinaire Robert Frank has struck up a fine deal with both the leaderships of Hannah More Park and Catonsville Community Center to enable indoor performances at their respective facilities should the weather run afoul and provide a tempest or torrential downpour. But the trailer-wagon is a sight to behold, featuring Lighting Design by A.J. Flynn and Setting and Properties by Becky Plovan. The most intriguing bit of scenery exists outside of the trailer-wagon; a decorated wicker teacup chair with toadstools all round serving as The Faerie Queen's throne sets the mood for the production.
What fools these mortals be, though commendable ones at that, for daring challenge Maryland's unpredictable, tempestuous, and volatile weather in summertime. Striking out traditional Shakespearean garb in Maryland's midsummer, though lovely to gaze upon, is the stuff of dreams. Costume Designers Diana Soucy, Sally Kahn, and Jamie Cooper have given everyone a proper, back-to-basics look, though the Faerie King and his Robin Goodfellow appears to be more sprites of the autumnal harvest than midsummer. Each of the players, those who never til now have labored in their minds? Bottom and all the rest? Each of those has the costuming trio outfitted with vibrantly colored peasant tops to help distinguish them from the regular Athenians in the show. Soucy, Kahn, and Cooper are owed particular praises for their whimsical weeds featured on Mustardseed, Peaseblossom, Cobweb, Moth, and Hazelnut (Elinor Bower, Ptolemy Tesnau, Julie Henderson, Jenna Murray, and Grace Petrich, respectively) the faerie servants of Titania. These adorable outfits are as precious as the young performers upon which they are befitted and add that cheerful strain of fantasy to the production.
The show's most problematic issue is the natural setting: an open-air field which swallows sound with a voracious and unforgiving appetite. Though one or two performers do masterfully tame this ravenous beast with their powerful projectile voices, much of the audience, despite sitting very near the performance, strains to hear great chunks of text. For those less versed with Shakespeare or those unfamiliar of A Midsummer Night's Dream this can prove problematic. It is blissfully entertaining, however, as there are moments when those ferocious of voice— primarily Helena (Dana Panczenko)— manage to contagiously spread their vocal projections. Several such scenes occur where the Helena character (who is the only completely consistent performer whose vocal projections never waver) seems to forcibly inspire others to boldly boast their voices at top volume.
Director Robert Frank does find honest moments of brilliance in little bits and barbs throughout the production to home in upon, creating a unique but clever vision inside a perfectly acceptable basic conceptualization of the play. Demetrius' initial rebuking scene with Helena is one such moment; Frank guides the players to face this moment with humorous near-acceptance, which is cheeky and clever, given how dogged and downright abusive Demetrius' rebuking of Helena is writ. Frank's framing of this scene plainly showcases that Demetrius is but a man and weakened by the usual trickery that weakens man's flesh. Other such moments of delightful measure include watching the lovers' desperately trying to sneak off stage before being forced by Hippolyta and Theseus to stay and watch the tediously brief disaster that calls itself Pyramus & Thisbe. (Think Romeo & Juliet meets The Fantasticks except so much worse it's hilarious.)
The show's pacing is a bit ill-footed and somewhat inconsistent, though it doesn't run long or drag on in an unbearable fashion. This is largely hampered by the lack of projection and its overall inconsistency. There are moments where various individuals get lost in their script or don't quite deliver Shakespeare's text the way it might have been rhythmically intended, but there's a huge apology scene at the end of the play that will readily stroke your tolerance for such small grievances. They don't offend but rather try, and in a good many places do succeed.
With a strong backbone, Elinor Bower becomes leader of the five faerie servants to Titania. As Mustardseed, Bower is the first to encounter that bombastic ball of unchecked energy that is Robin Goodfellow, better known as Puck (Molly Laska) and she manages to hold her own against the indefatigable spirit-ball of a performance that Laska glows all over the stage. Bower is responsible for the clever song that the faerie servants sing to put Titania to sleep. Laska's Puck has a broad-sweeping directorial existence which at times lacks precision, though it cannot be said that she lacks energy. Bounding about with a most exhausting air about her presentation of this mischievous sprite, Laska is one of the few individuals who does not struggle with projection.
Titania (Susanna Herrick) is a passionate individual, particularly when it comes to doting upon Nick Bottom (Damien Gibbons.) Though Herrick's words are oft swallowed by the beastly outdoors, her enthusiastic body language helps to offset what is lost in communication. Her bitter temper toward the rather unruly Oberon (Josh Hopkins) helps egg-on the plots overall mischievous nature. Hopkins blindly wields a furious temper with Puck, especially when things go awry involving the Athenian mortals.
Gibbons, as lead player and donkey supreme, lends an air of hilarity to this Nick Bottom, especially when he starts boasting of his fine performance abilities, insisting he play Pyramus, Thisbe, and Lion. The Pyramus and Thisbe experience— meant to be a horrific tragedy in that gut-clenching-so-bad-its-good fashion— is most memorable thanks to Gibbons and Francis Flute, Robin Starveling, Tom Snout, Snug, and Peter Quince (Robert Soucy, Richard Soucy, Christian Peterson, Guy Davis, and Nathan Rosen, respectively.) Guy Davis even doubles up (one of the only instances of double-casting in this production) as the cantankerous Egeus, with one resoundingly hilarious moment near the show's conclusion when he simply does not get his way.
Both Theseus (Deb Carson) and Hippolyta (Sharon Zelefsky) show a practiced tongue in the Bard's language, despite falling victim to the odious outdoor monster of sound-swallowing. And the four lovers— Hermia, Demetrius, Lysander, and Helena (Emily Plovan, Ben Hopkins, Sam Webster, and Dana Panczenko respectively) hold their own against William Shakespeare's archaic tongues. The chemistry and chaos that ensues among this quartet is one of the building blocks of the show's success, particularly when it comes to the way poor Helena is abused.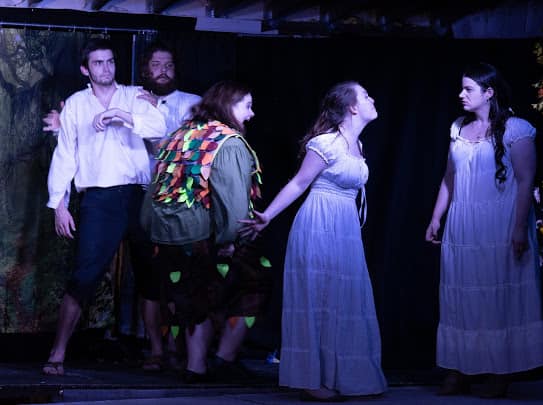 Ben Hopkins and Sam Webster, as the errant, youthful Demetrius and Lysander, have quite the moment when they nearly rend poor Helena limb from limb, creating natural hilarity as they tug upon her like bickering children squabbling over a ragdoll. Both perform with bold choices, and when they find themselves in scene with Panczenko's Helena, it's as if her vocal prowess is a communicable disease, and so much the better because suddenly everyone's robust hold over the text is audible! Living up to the time-honored line, Emily Plovan's Hermia is indeed fierce, and she holds her own against Panczenko's apparent Shakespearean mastery. Panczenko creates a wildly entertaining Helena, woebegone and steeped in the mire of unrequited love but also fiery and fueled for the fight once the shenanigans in the woods get underway. Props must be hailed to Robert Frank for the chaotic choreography that ensues when Hopkins, Panczenko, Plovan, and Webster have at one another in the epic battle of wills just before the intermission.
Worth supporting as they are providing a proper Shakespearean experience to the vastly underserved niche of Baltimore County (as the only official outdoor Shakespeare company in the county) The Bard's Wagon Players has an evening of Shakespearean entertainment well in hand for you. And perhaps as time goes by they shall overcome the outdoor sound-swallowing monster and make the performance, at the very least, more audible. Tis a sweet comedy and worth enjoying, especially as they have a rain-proof facility at their disposal in both locations this summer.
Running Time: Approximately 2 hours and 25 minutes with one intermission
A Midsummer Night's Dream plays through August 4, 2019 with The Bard's Wagon Players.
July performances are held at Hannah More Park— 12035 Reisterstown Road in Reisterstown, MD.
August performances are held at Catonsville Community Park— 501 North Rolling Road in Catonsville, MD.
All performances are held outdoors (weather permitting and unless otherwise specified.) Lawn chairs, blankets, and picnics are encouraged but not required. Tickets are available at the performance venue or in advance online.