"If you give me your attention, I will tell you what I am. I'm a genuine philanthropist, all other kinds are sham. Each little fault of temper and each social defect in my erring fellow creatures, I endeavor to correct."
Thus ironically, in more ways than one, proclaims The royal Gama, King and delightful foil in Gilbert and Sullivan's Princess Ida (or) Castle Adamant, now in its second and final week with The Victorian Lyric Opera Company in Rockville, MD.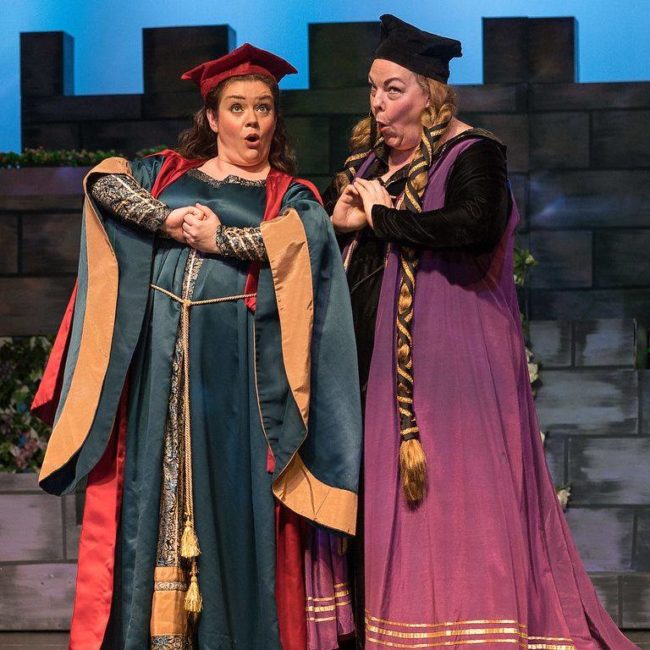 While audiences might know the authors better for shows such as Pirates of Penzance, H.M.S. Pinafore, and The Mikado, Princess Ida is no less a masterwork of compositional and lyrical brilliance. An adaptation of Alfred Tennyson's "The Princess", Messrs. Gilbert and Sullivan's opera concerns a princess who founds a women's university and teaches that women are superior to men and should rule in their stead. The prince, to whom she had been married in infancy, sneaks into the university, together with two friends, with the aim of collecting his bride. They disguise themselves as women students, but are discovered, and all soon face a literal war between the sexes.
Under the direction of Helen Aberger and musical direction of Joseph Sorge, this revitalization of classic operetta is executed to near perfection and is simply not to be missed. Everything about this show, from the powerful and refreshingly classical ensemble, the exquisite costuming and set construction, to the full orchestra under the baton of Amy Broadbent, is to be held as proof that the classics can still hold their own in a market overcrowded by the same few family-friendly musicals being rinsed and repeated by many community groups.
Sorge and Broadbent present nothing short of a masterclass in late romantic comic opera. Every vowel is perfectly formed, every consonant is crisp and clear, all with no amplification whatsoever. The ensemble in particular is in lock-step with their maestro throughout, and sings with admirable zeal and passion.
Visually, this production excels on every front. Costume Coordinator Denise Young, Hair and Makeup tech Maureen Roult and Lighting designer Matthew Bailey brilliantly present their cast in splendorous fashion, no less aided by the crack team of set painters led by Katherine Rogers. In every respect, the cast is given a fantastic setting and material to work with.
All the technical brilliance and musical skill that is brought to bear should in no way diminish what this cast brings to bear. As previously stated, the whole ensemble should be commended for their commitment to vocal technique and to their obvious commitment to their respective roles.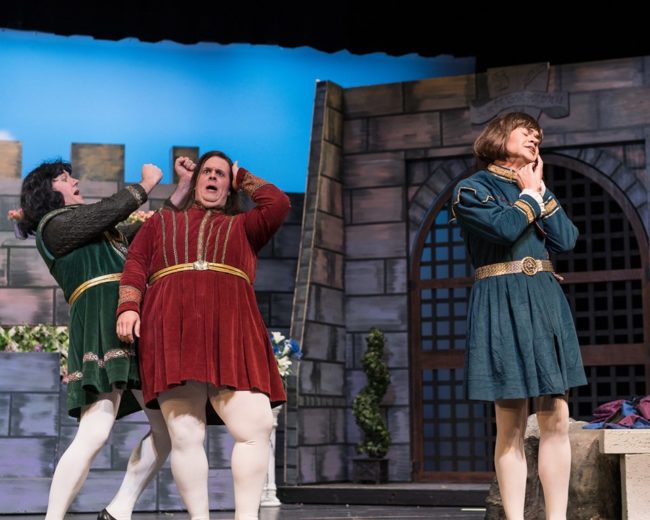 Billy Binion is a joy to watch from start to finish in his turn as Prince Hilarion, our prince in search of his bride. Clearly no stranger to Gilbert and Sullivan, both his acting and singing are spot-on in every respect. Assisting him in all endeavors are Rick DuPuy (Cyril) and Bob Gudauskas (Florian) who are equal parts talented singers and uproarious comedians at ease with what might be considered esoteric dialogue to many modern practitioners. Together, these three men easily bring the audience along for their various hijinks and frivolities and are easy to like and laugh along with.
Blair Eig is perfectly at ease in his portrayal of King Hildebrand, father of Hilarion and cunning ruler of his kingdom. Despite occasionally struggling to keep time with the orchestra, he is otherwise a solid and dependable performer who easily mixes joviality and the stolid force of nobility.
A comic delight, John Barclay Burns deftly balances the sarcastic and cynical King Gama in a delicate tightrope of razor tongue and curmudgeonly charm. His performance of "If You Give Me Your Attention" had audience members in stitches as he exclaims his delight in pointing out the flaws of others and yet is utterly mystified why this seems to earn him few friends. His sons, played by Michael Beder, Timothy Ziese and Joshua Milton, are equally uproarious in their portrayal of the singularly militant men who inherited none of their father's wit.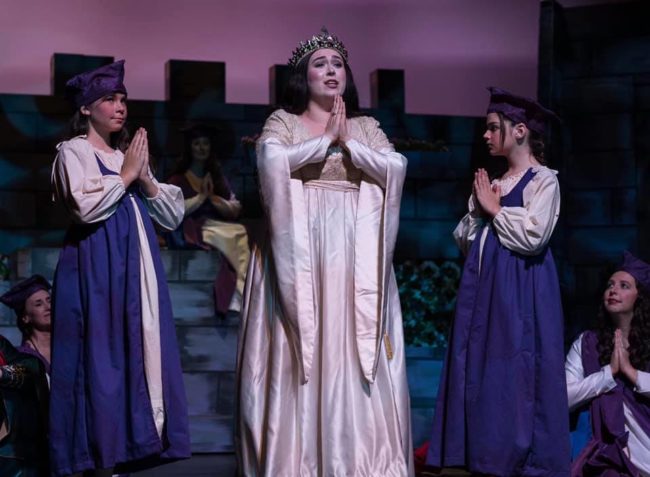 Not nearly enough can be said, however, of Princess Ida, portrayed by Erica Ferguson. In another's hands, what might easily become a shrill denouncement the likes of which would validate the worst fever dreams of masculists everywhere, is a confident, learned woman with goals, will, and agency to pursue them. Ferguson's portrayal feels organic, deeply human, accessible, and easy to root for, despite the tricky labyrinth of unavoidable social commentary that the source material brings with it.
The original 1847 blank-verse by Tennyson, though revised by the author in 1850 due to public misconceptions regarding his intent, carries a controversial tone that is interwoven into its very foundation, one that most would agree satirizes Feminism, Women's education, and Evolution, While later attempts by the author try to balance this (his own son claims that Tennyson saw women as not "undevelopt man, but diverse"), the source material, especially though the modern lens, paints a very clear picture that is impossible to ignore.
Acknowledgement of its inherently socio-political nature is necessary in this case, primarily due to the director's stated goal of breaking from traditional norms and creating a new norm of "of compromise and respect". In this instance, though the effort to counterbalance the source material's clear opinions is both natural, valiant and thorough, Aberger's production is ultimately unable to overcome the clear message of the source material's open contempt for free-thinking women and undermining norms that the narrative has baked into the story.
That should not, however, diminish the tour de force of this company, crew, and production team in keeping opera alive in community theater. Those looking for a fun night of laughs or a romp of Classic Gilbert and Sullivan Operetta will definitely not be disappointed.
Running Time: 2 hours and 40 minutes with two intermissions
Princess Ida plays through June 16, 2019 with the Victorian Lyric Opera Company at the F. Scott Fitzgerald Theatre— 603 Edmonston Drive in Rockville, MD. Tickets can be purchased by calling the box office at 240-314-8690 or by purchasing them online.