When the whistles blow and the cymbals crash and the sparklers light the sky— it's time to call on The John F. Kennedy Center! Because this summer they're raising the roof; they're carrying on; and you'll want to have an old trombone and an old baton before the parade of Hello, Dolly! starring Betty Buckley passes by! Appearing live for one sizzling summer month on the Kennedy Center's Opera House Stage, the time-honored classic of Jerry Herman & Michael Stewart's Hello, Dolly! has its old spirit showing in resplendent jubilation. Directed by Jerry Zaks and Choreographed by Warren Carlyle (with the original production directed and choreographed by Gower Champion), this cherished musical theatre gem marches through the heart of the nation and the hearts of audiences everywhere with exuberant pomp and circumstance, reminding theatergoers throughout Washington DC of the golden era of stage musicals.
Harkening back to the grand old days of actual sets and vivaciously painted backdrops, Scenic Designer Santo Loquasto appears to spare no expense when it comes to the breath-taking scenic scrims and mobile set units that populate the stage for this production of Hello, Dolly. There is a classy timelessness to Loquasto's painted street scenes, almost pencil sketched and delicately colored to showcase the street of Yonkers, New York and New York City, respectively. The attention to detail, particularly in the enormous set construct that is Vandergelder's Hay & Feed shop, is stunning. The humorous functionality of this particular set piece is whimsical in its own right, with various male ensemble and principal characters popping in and out of underfloor spaces and barrels during "It Takes a Woman." The pièce de résistance on Loquasto's scenic designs should be the grand sweeping staircase in Harmonia Gardens and while the staircase is marvelous, it's the full size, moving steam-train that chugs its way onto stage during "Put On Your Sunday Clothes" that truly takes the breath away.
Spreading visionary talents into other elements of the production's aesthetic appeal, Loquasto serves as the show's Costumer Designer, creating elegant and extravagant pieces that create a visual smorgasbord upon which the eyes of the audience can feast at will all throughout the performance. The ultra-saturated hues featured in the resplendent array of costumes seen during "Put On Your Sunday Clothes" are vivacious and all but leap off the stage into the audiences' eyes. Bold, rich shades of lemon, teal, bubblegum, fuchsia, and more are promenaded all through that number really proving that there is no blue Monday in those Sunday clothes. Loquasto pays close attention to the outlandish fashions of the time, particularly when it comes to hats and fits some fanciful ones all around the lady's heads. But it's the iconic dresses that are seen on Dolly Levi that really make the show's sartorial selection complete; every piece exactly as you imagined it and yet uniquely suited for the production at hand.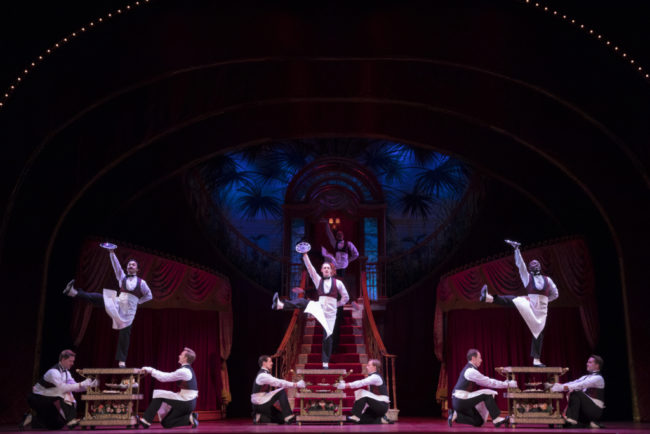 With Gower Champion's original choreography in mind, Choreographer Warren Carlyle pumps the production full of enthusiasm in every dance number, even if some of the routines are more subtly executed. The shuffling, Vaudevillian cake-walking, the leap-turned high kicks, all of these fashionable dance styles are executed with precision and create clean, energetic routines with broad consistency throughout the performance. Carlyle and the Waiters (Daniel Beeman, Giovanni Bonaventura, Darius Crenshaw, Julian DeGuzman, Dan Horn, Corey Hummerston, Ben Lanham, Kyle Samuel, Scott Shedenhelm, Davis Wayne, Brandon L. Whitmore, Connor Wince,) deserve extraordinary applause for their wildly chaotic and extremely impressive execution of "The Waiters' Gallop" which incorporates a series of indescribably complex dance moves and routines, which keep the audience rapturously engaged in their antics all through the top half of the Harmonia Gardens scene.
While Director Jerry Zaks has shaped the production broadly without the deep emotional potential or earnest of the story ever coming into clear and specific focus, the overall result is a polished piece of classic musical theatre that looks lively, flows smoothly, and shows audiences what they expect to see from a Broadway-caliber tour. There are moments, particularly with Irene Molloy and the comic-relief duo of Cornelius Hackl and Barnaby Tucker that drift too far into the waves of modernity, but Zaks reigns them back into the 1895 era of the production with little difficulty. At times, Zaks' direction feels a bit loose; comic delivery of particular lines or little shenanigans that happen between actors or with actors in direct address to the audience, feel a bit contrived for the sake of receiving a laugh, but this ultimately does not diminish the overall stellar experience of this production of Hello, Dolly. Props to the raunchy Ernestina Money (Jessica Sheridan) for shaking her money maker all over the Harmonia Gardens in her featured scene; while this is a moment scripted clearly for comic intent, it arrives naturally and lands superbly with both the on stage characters and the audience.
Analisa Leaming, as the widow Irene Molloy, does have a flush of modernity about her, which does situate her just outside of the performance's existence bubble, however, this is readily overlooked for her serene soprano sound which sails melodiously through "Ribbons Down My Back." The sound of the performers on the whole, particularly the powerful and radiantly robust ensemble, is a most rewarding experience all on its own. Nic Rouleau's Cornelius Hackl has sublime vocal prowess. When he welcomes the audiences' ears to "Put On Your Sunday Clothes" and when he features in his solo, "It Only Takes a Moment", your heart just melts. Rouleau's character choices become more exasperative and over the top as the production grows, making him a rather phony caricature of the character, though he does find a moment of true sincerity deep within "It Only Takes a Moment."
Kristen Hahn's Minnie Fay grows you. At first a rather strange blend of awkward spinster and observant narrative force, her pre-hat-shop meet-cute with Barnaby Tucker (Sean Burns) on the street is adorable and helps establish a semblance of normalcy in her character Burns' Tucker, whilst a bit on the overly dramatic side when it comes to interacting with Cornelius Hackl, is a superb dancer. The number, "Dancing" starts off teaching Cornelius how to dance, but the dance break is heavily dominated by Burns' intrepid and magnificent dance moves. Burns also possesses the felicitous youth often associated with Barnaby Tucker, giving him a natural fit in this production.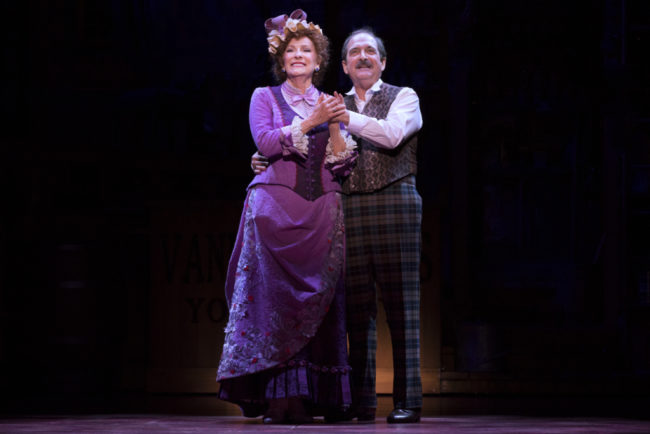 Molding Horace Vandergelder into a leading role, Lewis J. Stadlen makes the audience love this miserable curmudgeon right from the moment he starts grumbling and shuffling through his Hay & Feed shop. With the perfect balance of vocal affectation to articulation, Stadlen has the audience laughing and loving his bitter personality every step of the journey. While the number, "Penny in My Pocket" appears from virtually nowhere (cut from the original Broadway launch, reinstated for the 2017 Broadway revival, but not licensed with stock and amateur productions), Stadlen's rendition is full of pluck and panache. His comic timing is diabolically delightful, each of his moments landing a zippy blow when he punches his way through scenes. "It Takes a Woman" becomes a comic thrill all its own as Stadlen leads the male ensemble through this rollicking number.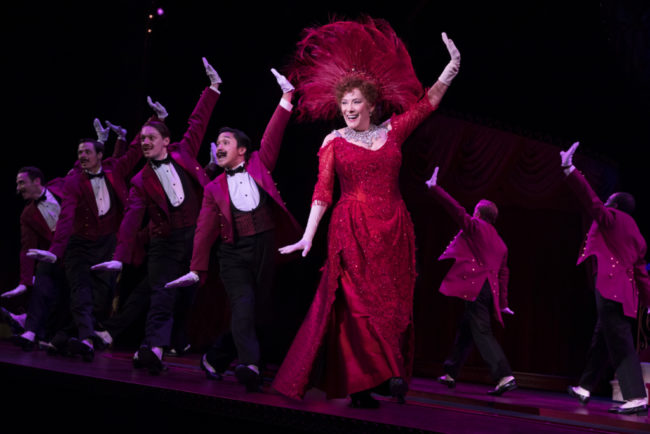 Hello, Betty! The list iconic greats who have passed through Yonkers, New York by way of Horace Vandergelder's Hay & Feed now includes the talented Betty Buckley. Her own signature stamp on the production is her genuine moments of heart-breaking sincerity when speaking and praying to her late husband Ephraim Levi. There is a nostalgic, bittersweet twinkle in her eye that glistens all the way down into her voice, really tugging at the audiences' heartstrings in these moments. The way she faffs about with her dinner in the courtroom scene becomes a long-running comedic bit that the audience just cannot get enough of; her overall presence just dominates in her street-car arrival and continues to carry strongly throughout the production. Buckley's airplane-penguin walk with the waiter's during "Hello, Dolly!" is marvel that wins her thorough applause from the audience, as does her solo renditions of "Before the Parade Passes By" and "So Long Dearie."
Holy cabooses, Washington DC! It's here, Washington, full of shine and full of sparkle. Come and see it glisten, Washington. Listen, Washington! There's no time like the present to get tickets to see Hello, Dolly! starring Betty Buckley, and you must, must do so before this parade passes you by!
Running Time: Approximately 2 hours and 40 minutes with one intermission
Hello, Dolly! plays through July 7, 2019 on the Opera House Stage of The John F. Kennedy Center for Performing Arts— 2700 F Street NW in Washington, DC. For tickets call the box office at (202) 467-4600 or purchase them online.
Listen and hear that brass harmony growing
When the parade passes by
Pardon me if my old spirit is showing