In Rapid Lemon's Variations on Myth, director T. P. Huth takes advantage of the emotional ride a series of ten-minute plays can create if presented in an order that allows them to strengthen one another. It is too often that a series of smaller plays is presented as hors d'oeuvres, being consumed individually without thought to if the first appetizes the audience for the second, whereas this collection of ten-minute plays formed a cohesive experience.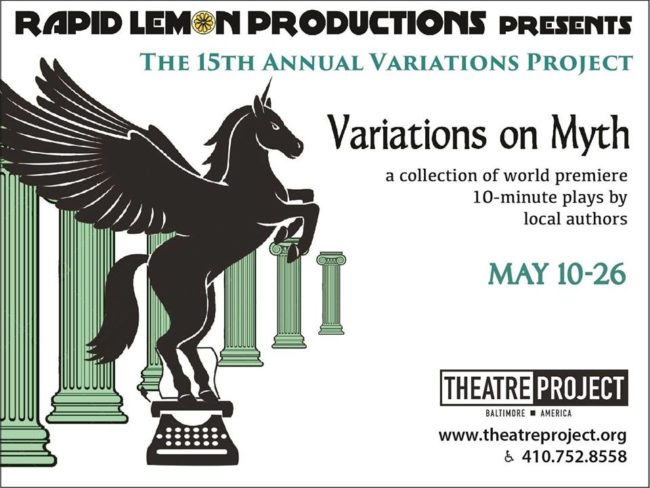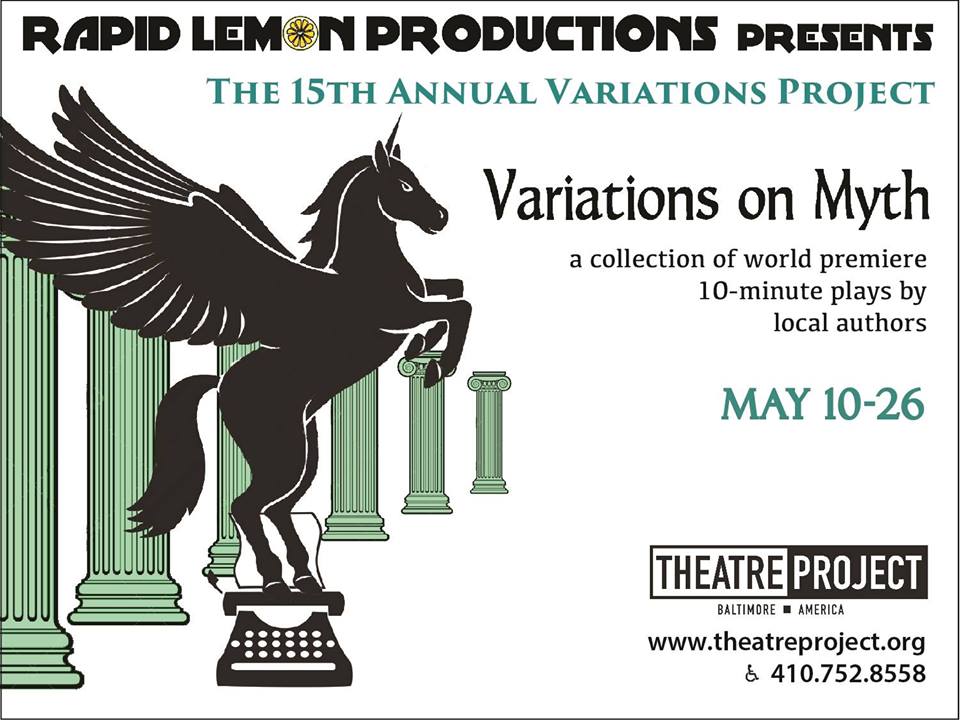 Bolero by Amy Bernstein introduces a large cast of momentary characters arguing over the definition of a word. As I sought meaning in a book smashing into the ground, comedic use of digital assistant technology, and the conviction of those arguing on stage, the experience began to feel like those first seconds of a drag race, where I was alright being left behind, under the presumption the excitement would be justified by an understanding that lie further ahead. Their use of lighting reinforced the idea that great things were to come, if I could only just hang on.
Gorgonia by Alexis M. Skinner drew the scattered excitement to more of a focus as characters and story became more pronounced. The costume designs of Deana Fisher Brill helped create an inviting world of ancient Greek deities, without the need of a complex set, doing the work of wood and nails with but a few feet of purple robe. There is a depth of feeling you can reach in a 10-minute period, but rather than spending the whole play diving as deep as possible, sometimes more can be achieved by lighthearted banter as actors and actresses prove they have what it takes to connect with the audience as real folks. This was an excellent way to bring an excited audience to a place of comfort and set the stage for what was the come.
(Un)Veiled by Crystal Sewell spent each of its moments carefully, not wasting a second of audience attention on set design or by making the characters come alive through interaction, but instead went straight for the on-going controversy surrounding organized religion that lives within each of us by projecting a slideshow of footage and stills over the sound of what sounded like news reports about the same. Keeping the room as dark as possible, symbolic of the darkness that often turns to religion to illuminate, we were also in the dark, looking toward the few bright spots that showcased Valerie Lewis' hope melted into tears and terror in her riveting performance as the Nun. Unexpectedly reflecting on slideshow bits about child and adult sexual abuse surely was an uprooting of any comfortable digestion I expected to occur after the excitement and breeze of the first two plays, and being only 25% through the production, I was on the edge of my seat thinking about where this voyage was taking me. Lighting really made this piece as Daniel Weissglass demonstrated how effectively less can do more.
As the deepest pit of despair at the fruit of our own worst humanity had surrounded us, The Hounds of Actaeon by Casey Jacobs was cleverly waiting to lift us out of it with hysterical, rhyming poetry spoken as a seamless discussion between hapless hounds whose very existence was the unabridged version of one of those internet memes in which ancient wolves are condemned to become silly looking companion animals, like pug dogs. Tigris (Crystal Sewell), Chorus (Rachel Reckling), Theron (Mani Yangilmau), and Thoos (Christine Demuth) had laughter filling the room, as they passed a lyrical baton so smoothly there was hardly time to laugh, for fear of missing something. Continuing the theme of acting and well-told story being more of a focus than the set, props, or costumes, it should be noted that minimalistic, cloth dog ears did add charm and bring this much needed levity to life.
Savior by Sharon Goldner seemed to take a stab at the concept of "chosen one" rising from among normal, everyday people to be a deity, by exploring the worries of a mother who has become aware their child is so terribly special. This seemed well directed and acted for the fact that I could imagine my own aunt spouting the same lines as Rachel Reckling, perhaps while gossiping in a laundromat. A slice-of-life situation like a mother worrying about their child's potential was good, firm emotional footing to allow the audience a rest after the rollercoaster ride of the previous plays.
Where political commentary had been a blade slashing in a single direction earlier in the evening, Nothing Taste as Good as Skinny Feels by Katie Hileman allowed us a sample of the pain our insecurities inflict on us, regardless of our weight, whether we are victimized for it or a victimizer. As serious as this sounds, I enjoyed the surprise of seeing our first case of the amazing use of a prop, as Before (Mani Yangilmau) scarfed down a slice of cheese pizza, in an erotic fit of caloric passion. Perhaps I should not have been surprised with the subsequent method Before and After employed to come to terms with one another, but the moment was wisely brief thanks to a fade to black which completed the crescendo.
Bruce Kapplin's projection designs connected with a laughing audience as potential loves test one another in the office of a relationship counselor, prior to their first date, in Tom Piccin's Match. By this point in the series of plays, we had seen a relationship forming between Before and After, who may actually be the same person, if we take their names to be more than symbolic, so it may not be surprising that we now meet a couple so cautious about commitment that they run compatibility tests before their first date. The actresses do an excellent job of selling their characters but it is the hilarity of Noah Silas' facial expressions as Doctor that set the mood throughout.
Flesh or Stone deserves special mention, for Christine Demuth takes an argument that seems too serious for its subject and allows the audience to slowly realize more is motivating this disagreement than the love of a great artist. As Hunter (Rachel Reckling) starts to question if art is really worth all of this emotion and comes to realize Cora (Mani Yangilmau) is, possibly unknowingly, discussing her rape, the audience is taken through having to re-process all of the outstanding acting Mani Yanglimau has been using to portray a victim we were ignoring, up until this point. The story is a trip back to the darker side of the play series, but rather than reflecting on a political issue or building to ultimate shock, we have been lead somewhere closer to home, where the erratic behavior around us might be a symptom of something bigger. Both actresses deserved their applause, as did Amanda J. Halcott for positioning them in a way that emphasized the consoling and the hiding of Cora's shame, despite facing squarely upstage.
The show's penultimate play, World Leader by Tyrone Chapman & Archie D. Williams Jr., injected a palette cleansing burst of political humor à la pumpkin colored flesh, and the final 10 minutes brought us full circle as the crowd was treated to a closing burst of high energy arguing between a believer, atheist, and a deity seeking to validate their own existence in the way many people do, by asking others for their opinion, in Mind of God by Jack L. B. Gohn. Huth, the cast, and everyone involved did an excellent job of conveying many small pieces as a single, cohesively entertaining experience very much worth the time and the discussion afterward, if you attend with a friend.
Running Time: 2 hours with one intermission
Variations on Myth is a Rapid Lemon Production playing through May 26, 2019 at Baltimore Theatre Project— 45 W. Preston Street in the Mt. Vernon district of Baltimore City, MD. Tickets can be purchased at the door or in advance online.