Somebody ought to open up a window! So that they can hear the bellowing cries of the second continental congress as they piddle, twiddle, and resolve over whether or not to start a revolution and declare independence from Great Britain. Ready for America's spirited beginnings? The Woodbrook Players, successfully settled into their new home at Govans Presbyterian Church on York Road right near Belvedere Square, are pleased to presenting to the masses their spring musical: 1776! Directed by Ron Oaks with Musical & Assistant Directors Jocelyn Taylor and Sherry Peck, this staunch and stalwart tale of a nation trying to be born will appease history buffs and musical theatre devotees alike. There's a little something for everyone and by God, sweet Jesus do they manage with this show!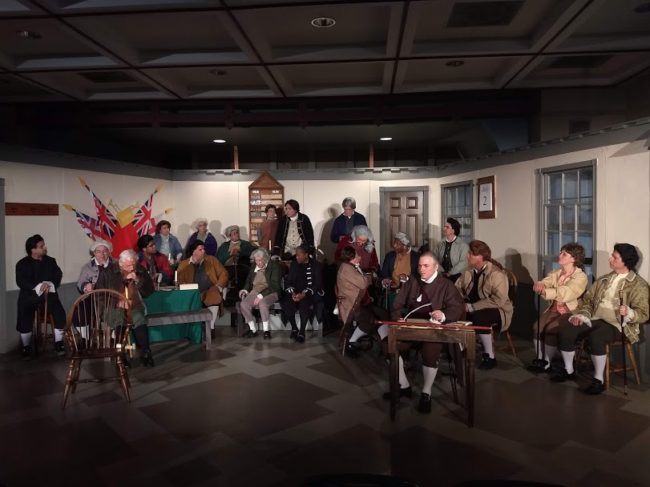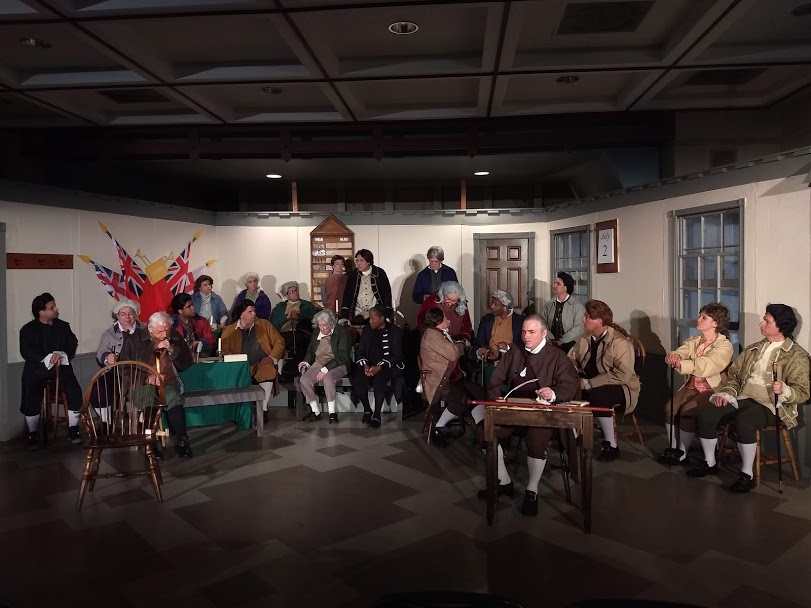 Despite the music needing somewhat of a kick in the tempo (though Pianist Jeanne Klusewitz, Drummer John Laube, and Fiddler Matt Schnell do a resplendent job of bringing live music to the production) and the overall show dragging in places (many of which can't be helped simply because of the dialogue heavy nature of the script), The Woodbrook Players produce a noble and admirable production of 1776. Director Ron Oak, who also fills the role of Set Designer and John Hancock, president of congress, gets clever with his casting, disguising talented women into the congressmen, and doubling up congressmen where necessary. One might not think that the same actor playing Richard Henry Lee could double up as the Courier or that Abigail Adams could also be the Rev. John Witherspoon of New Jersey, or that McNair and the Leather Apron could be women keenly guised as men, but Oaks' casting makes it work. 1776 is not a show where you can cheat missing characters or filter them out into the ensemble, and Oaks does good work of getting all the roles covered, in addition to providing a tightly compacted set, which mimics the "hot as hell in Philadelphia" conditions.
Sherry Peck is to be praised for her fine costumer's eye. All the knee-cuffed and buttoned breeches pants that are complimented by long white stockings make these indecisive grenadiers look the part (even if their grenades are only the brutally volleyed arguments spat back and forth across the congressional table at one another.) Peck gathers up an assortment of period wigs and sets them appropriate to each congressman, making sure the frazzled signature hair of Ben Franklin and the robust red of Thomas Jefferson are aptly in place. There are even shiny shoe buckle-covers (better than boot covers!) to give everyone the "congressional pilgrim shoe" appearance. Peck deserves one more round of props, though perhaps one should abstain, courteously, from praising her work as a congressman. Just kidding, she makes a fine Lewis Morris from New York, insisting upon those courteous abstentions with vim.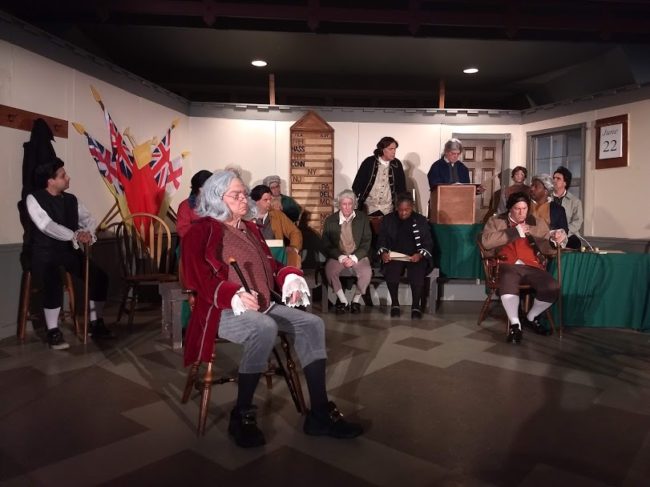 As an ensemble, the performers are strong of both spirit and voice. The big opening number, "Sit Down, John!" is a rowdy cry of trying to shut-up John Adams, Public Agitator Number One! In here we get a surprising burst of sound from Samuel Chase (Rich Reichley) of Maryland, yawping out "somebody open up a window!" This is followed by the sublimely superb high-end tenor sound of Robert Livingston (Stephen Gaede) of New York, echoing those same lines throughout the number. Gaede's dulcet voice is blissfully revisited in the number, "But, Mr. Adams" where he, Roger Sherman (Rafael 'Spike' Regales), Ben Franklin and Thomas Jefferson tangle with John Adams over who is going to write the darn declaration of independence. Both Gaede and Regales have fine voices and a sharp sense of rhythm, putting them to task in this number.
Unsung in this production, literally because McNair has no solo song features (and the blended harmony support at the end of "Mama, Look Sharp" is so minimal that if you blink you'll miss it), is Jenn Mikulski as the rogue clerk of congress. With a rich and consistent accent, Mikulski drops her vocal timbre, convincingly passing herself off as a proper man, so much so that when she attempts to add McNair's objections to The Declaration, you feel sorry that McNair gets so readily shot down by John Hancock (Ron Oaks.) Elena Storey, who plays the Leather Apron (essentially the assistant to the assistant of congress) bustles about quietly, mostly unheard, but blending beautifully into the background of the congressional chamber. Mikulski is also really entertaining in the background, watching her facial expressions and her occasional outcry of "Sweet Jesus" brings just a bit of humor to this otherwise rather long, and straight-forward production.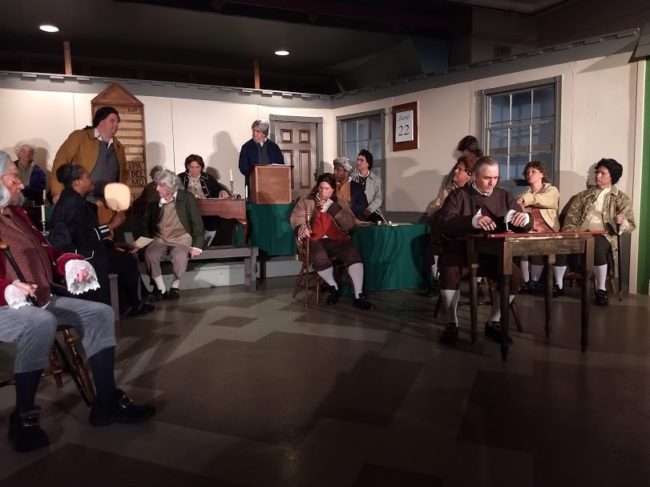 Whilst on the track of accents, Col. Thomas McKean (Scott Gielda) of Delaware, brings forth a pretty solid Scottish one all throughout his spoken lines of the play. And although he doesn't have an accent, he's got a belly growl that earns him the nickname "Grape-n-Guts, does that Stephen Hawkins (Dave Guy) of Rhode Island. Dr. Josiah Bartlett (Anthony Newton) dispenses sagely advice during his spoken moments, and the congressional secretary, Charles Thomson (Lenny Miller) has a surprisingly clear voice when he takes up a verse during "Is Anybody There?" Even the humbly sincere Caeser Rodney (Ed Migol) of Delaware has this deeply moving moment when he apologies to John Adams for leaving him a divided Delaware. Everyone finds their moment in this production, whether its blasting out for rum or threatening to shoot less pleasant members of congress.
The often cut number, "Cool, Cool Considerate Men", remains intact for The Woodbrook players production. John Dickenson (Doug Storey) leads the conservatives— Dr. Lyman Hall (Richard Pardoe) of Georgia, Lewis Morris (Sherry Peck) of New York, Robert Livingston (Stephen Gaede) of New York, Judge James Wilson (at this performance Karl Starks) of Pennsylvania, George Reed (Jonathan Newton) of Delaware, Joseph Hughes (Ariel Edler) of North Carolina, and Edward Rutledge (Paul Ballard) of South Carolina— in a smooth, albeit disconcerting song and minuet. Storey, as the antagonistic foil to John Adams, gets his digs in well, and although the initial "hard debate" scene between the two of them starts off rather slow, by its bursting climax Storey is right up in John Adams' face, shouting out his opinions for the whole countryside to hear.
Paul Ballard as the ruthless Edward Rutledge, is drenched in southern gentility. His South Carolinian accent is superb and drips from his tongue like molasses. Eloquent, poised, and charming, all of the qualities readily expected from a southern gentleman. But the moment Ballard stands to contest a particular paragraph in Thomas Jefferson's Declaration— even if you've never seen the show or movie and have no idea what's coming— you're on edge with disquieting feelings. Ballard struts with purpose into his diatribe, building a slow, smoldering rant about slavery and eases into the despicable number, "Molasses to Rum." The song is so vile that it becomes unbearable to watch Ballard strutting around the stage performing it, but he does it with such vocal perfection that you find yourself torn right down the middle by the entire experience. When you play a baddie that good, it deserves some sort of praise, even if praising the baddie in that moment makes you sick to your stomach. Hats off to Paul Ballard for his handling of that character and that number.
On double duty in this production, Brad Harris is both the singular most hysterical element of 1776 and the sincerest. Playing the Courier, with a boyish sound in his song, he brings "Mama, Look Sharp" to a somber conclusion, drawing forth all the tears when he delicately lets the lyrics tumble from his lips. But sweet Jesus when he's playing Richard Henry Lee, bouncing all around like a popinjay peacock who's been packed full of espresso, try not to laugh, I dare you. His rendition of "The Lees of Old Virginia" will certain-LEE have you rolling in the aisles, clutching your sides delightful-LEE. He' a hoot. Sweet Jesus!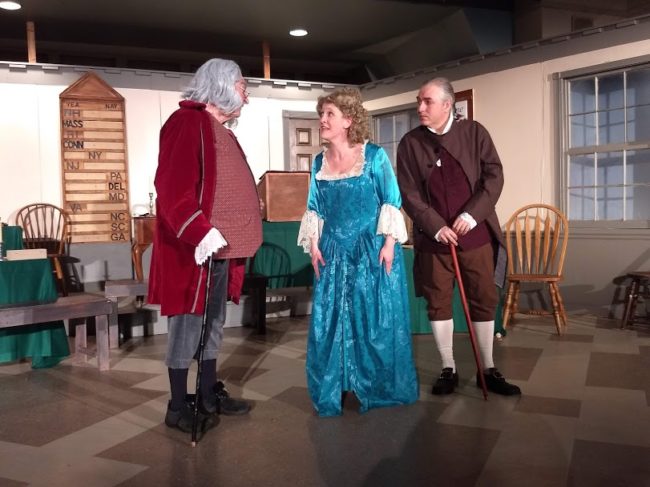 One might not pay much attention to Joseph Hughes (Ariel Edler) of North Carolina, especially since North Carolina is forever yielding to South Carolina when it's time to vote. But how could one miss the lovely Martha Jefferson when she arrives to be with her beloved Thomas? Edler, one of several females tucked away in the congressional house, doubles up as the effervescent Martha and is a bubbly delight to watch and hear in the role. Simply over the moon in love, Edler showcases this both physically and vocally as she sways all through the number, "He Plays the Violin." With a bold belt to carry out some of the longer sustains of that number, and flawless vocal technique to manipulate her way around the music when necessary, Edler is a divine addition to both congress and the wives of congress in this production.
And much like Joseph Hughes, the Reverend Witherspoon isn't written to be a particularly memorable character, but Abigail Adams certainly is. Jocelyn Taylor has a stellar voice that makes contracting dysentery sound delightful. When she sings her missives in the first incarnation of "Till Then", there is a phenomenal emotional essence and gorgeous vocal quality to her singing. She could sing the entire show as a solo concert and audiences everywhere would simply be mesmerized. It's truly extraordinary to hear her pristine emotional sound that capture the honest nature of Abigail Adams and her feeling towards John Adams. Getting right up in his face, though the characters are separated by many states and miles, she finds the witticisms and humors of Abigail with ease, whilst still preserving the sentimentality of the character.
A nervy, ginger tombstone is an adequate description for Jim Rafferty's Thomas Jefferson. There is an impeccable balance between his dry sense of humor, his deep sincerity, and his overwhelmingly melodic sound. Though Jefferson's character doesn't sing much in a solo fashion, when Rafferty gets the chance he puts his golden boy vocals on display. These are best experienced during "But, Mr. Adams" and again during "The Egg", a trio shared with Franklin and Adams. Playing as one third of the mighty trio that is Franklin, Jefferson, and Adams, Rafferty holds his own against these demigod characters and finds his footing in the historical aspects of the play.
Dr. Benjamin Franklin (Rodney Bonds) inventor of the stove? Yes, he pipes his two-cents in here and there…when he's not sleeping. Bonds does an excellent job of sleeping on stage, really popping to life whenever someone shouts at Franklin for dozing. Bonds also has a fine handle on the patois and languidly sage delivery that one associates with Franklin's speech patterns. He adds a noble voice to the trio, "The Egg" and looks surprisingly like his character's namesake after an appropriate amount of padding, makeup, and wig. His comedic timing is also noteworthy as it adds some little bristly moments here and there that others weren't expecting but it is also well tempered against his more grave moment, steeped in the gravity of the situation.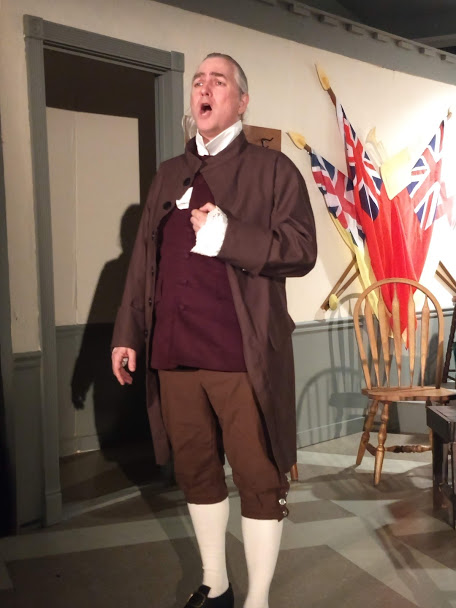 With a belly full of fire and liberal bleeding that never stops, Robert Hitcho plays John Adams with gusto. Full of passion and a burning desire to push a new nation into existence, Hitcho manages to ground his character into more than just a footnote of history. (Eat your heart out, Alexander Hamilton.) With a voice like the liberty bell— before it was cracked— Hitcho resolutely plods through some of the more stagnant musical numbers that 1776 has to offer, but fills them with hope and optimism, even if it is done so at obnoxious volumes (as so is intended by the scripting of the John Adams character.) He carries the torch of a revolutionary both physically and vocally and rings home the cries of freedom America needs to get underway in this production.
So don't piddle, or twiddle— but do resolve! To get your tickets to see The Woodbrook Players 1776 this spring! And vote yes! For independency!
Running Time: Approximately 3 hours with one intermission
1776 plays through May 19, 2019 with The Woodbrook Players yin their new home at Govans Presbyterian Church— 5828 York Road near Belvedere Square & The Senator Theatre in Towson, MD. Tickets are available for purchase at the door on in advance online.